Interested in working with Joy in the Works? I have a variety of opportunities available to fit your company's needs.  I offer sponsored posts, reviews, sidebar advertisements, affiliate programs, social media campaigns and more.  Please contact me for more information or a copy of our media kit at info@joyintheworks.com or use my contact page
You can also find me on social media as well.
Facebook
Twitter
Instagram
Pinterest
Or have you seen an article by Joy in the Works that you are interested in sharing or syndicating on your site?  Please contact me for more information at info@joyinthework.com or on the contact page. All articles are copyrighted by Joy in the Works and may not be shared without prior permission.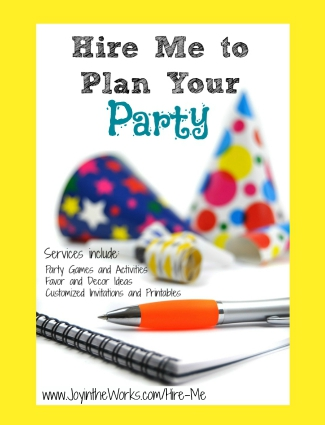 Last, are you a mom planning your child's birthday party and need some inspiration?  I can help!  I offer consulting on games and activities (the key to a successful party in my opinion), as well as decor and favor ideas.  I also do some design work and I personalize invitations and party printables.  Contact me here for more details.
I look forward to hearing from you!