It's Back-to-School time and that means it's time to appreciate our teachers! As a former teacher myself, I know how much work goes into setting up a classroom and preparing to welcome all the new students.  Add in Back-to-School Nights with presentations and packets and meeting families, teachers put so much of their heart and soul into the beginning of the school year.  In order to recognize all the work that teachers do, we always try to give our new teacher a gift at the beginning of the year- whether on the first day,the first week or anytime in the month of September! In order to make life easier for you (isn't that my goal really??), I have put together 18 different themed teacher gift tags with coordinating gift ideas.
**This post contains affiliate links which means I could earn a small commission on anything you purchase through them at no extra cost to you.  See my disclosure policy for more information.  Thank you for supporting Joy in the Works.**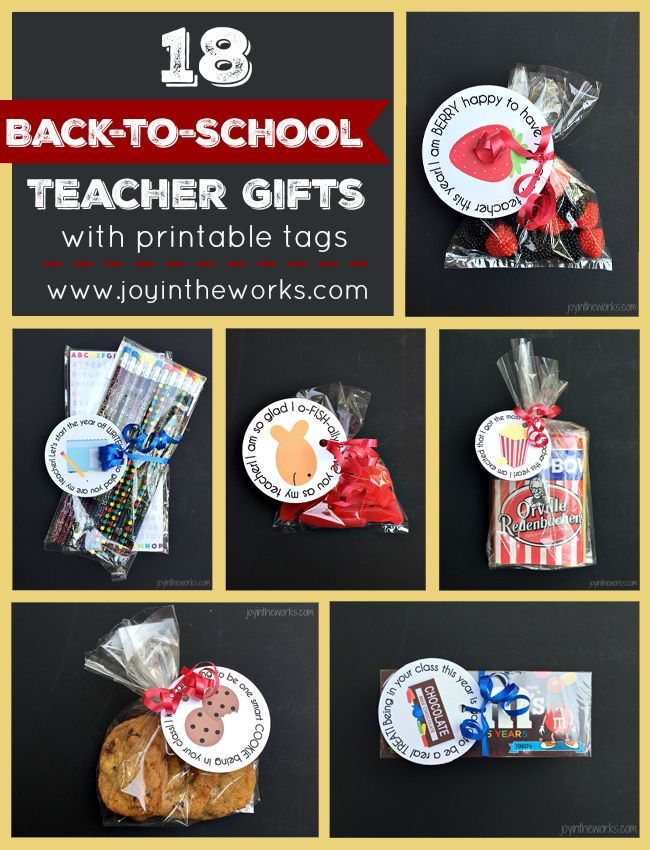 With this printable, you will get 18 different themed Back-to-School Teacher Gift Tags.  18!  That is enough to give you a gift idea for your child's teacher until your kid graduates from high school! =) Anyway, the directions are simple enough.  Start by going to my shop and purchasing and printing out a complete set of the Teacher Gift Tags.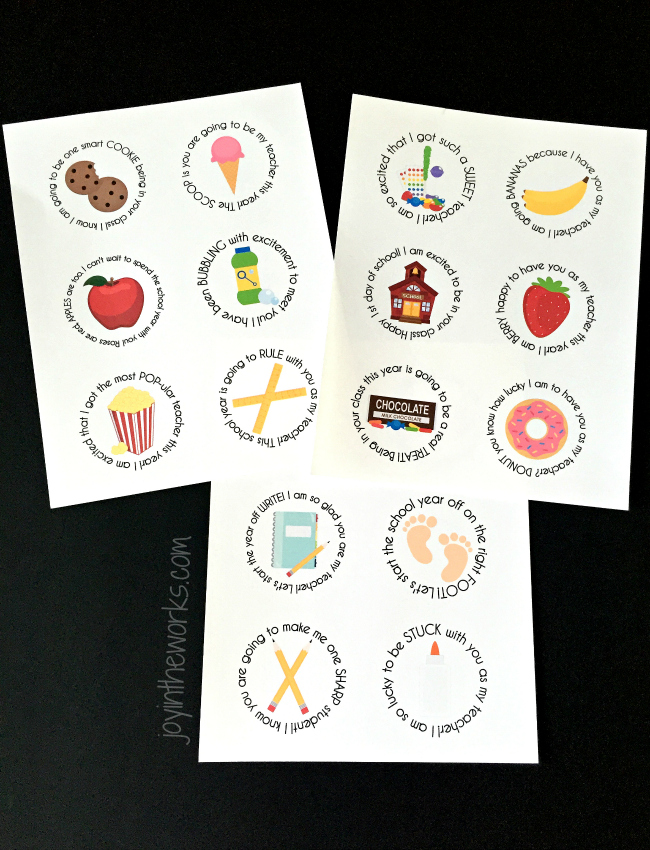 Next grab your scissors and cut out each circle tag.  If you have a 3 inch circle punch, you can simply punch out all the gift tags. A circle punch makes it so easy,too. Then, depending on what gift you are going to give (see ideas at the bottom of the post), gather supplies like cellophane gift bags, ribbons and a regular hole punch.  Assemble your gift, using the ribbon to attach the Teacher Gift Tags.  See below for some of the fun gifts we put together.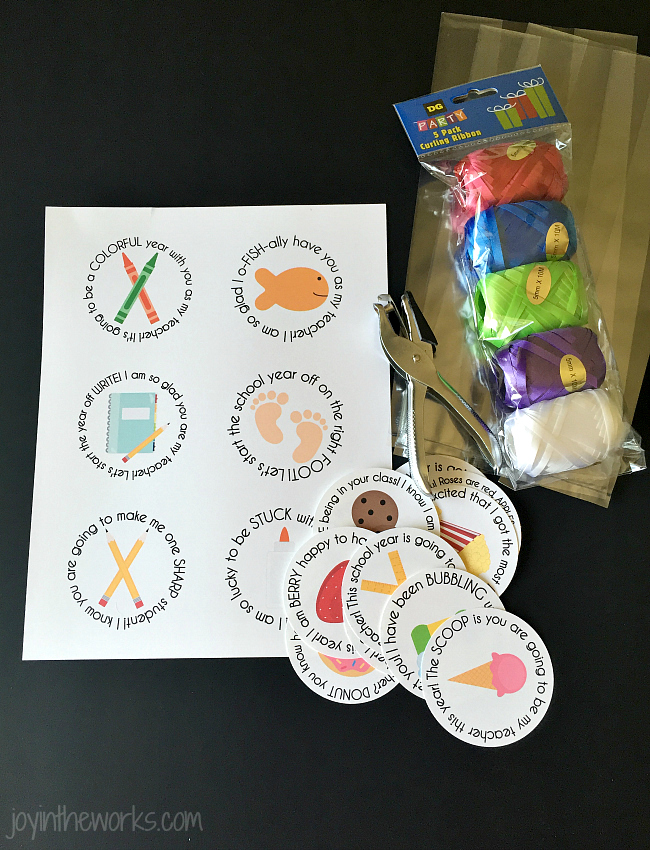 Themed Back-to-School Gift Ideas and Matching Teacher Gift Tags
There are 18 different themed gift tags on this printable.  Check out the wide variety of gifts ideas to go with each one listed below. Each tag picture/theme is listed in order of placement on the printable.

Cookie: You can make or buy any cookies to go with this Back-to-School Teacher Gift Tag.  You can even do a jar of cookie mix with this one.  My personal favorite is a plate full of school themed sugar cookies.  Check your local bakeries for some you can just pick up at the last minute (not that I ever do that! ;)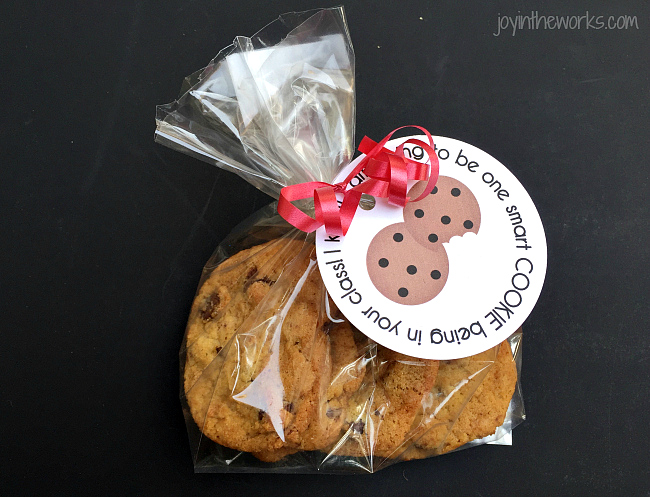 Ice Cream Scoop: You can give a simple ice cream shop gift card with this teacher gift tag or how about putting together a simple gift basket with an ice cream scoop, sprinkles and ice cream toppings?
Apples: There are so many apple gifts you can give a teacher.  I prefer to stick with apple themed food instead of tchotchkes that will just gather dust. We gave an apple shaped cookie on the 1st day of school, but we also considered giving apple gummies or one of those fancy caramel apples, complete with cookie crumbs, sprinkles and chocolate drizzles. I am drooling just thinking about it!
Bubbles: I think bubbles make a great 1st day of school gift for a Preschool or Kindergarten teacher.  Bubbles are always a great way to entertain the little ones. Plus if you add these shaped bubble wands, your teacher is sure to love it this gift!
Popcorn: There are lots of options with the popcorn gift tags.  You could go as simple as a few packets of microwave popcorn or get fancy with caramel popcorn, kettle corn or a candy popcorn trail mix you put together on your own.  You could also make a gift basket and add flavored popcorn seasonings.
Rulers: You don't have to do a simple ruler with this gift- look for a fun, colorful one with shapes inside for tracing.  How about this one? Or what about making a craft with a ruler? You can glue on clothespins and put a hanger on the back for a display in the classroom.
Sweets: Any type of sweets will do.  I gave candy in a jar one year with one of those old fashioned metal scoops.  I love that you can refill it throughout the year as needed.
Schoolhouse: This teacher gift tag is great for any Back-to-School Gift you want to give to your teacher. The sky's the limit! Or just check out these ideas on my Pinterest Back-to-School board!
Berry: While I did these candy raspberries to go with this teacher gift tag, you could do anything with a berry theme.  What about a berry scented candle or lotion? Or a blueberry scone mix with some strawberry jam? There are lots of possibilities with this one.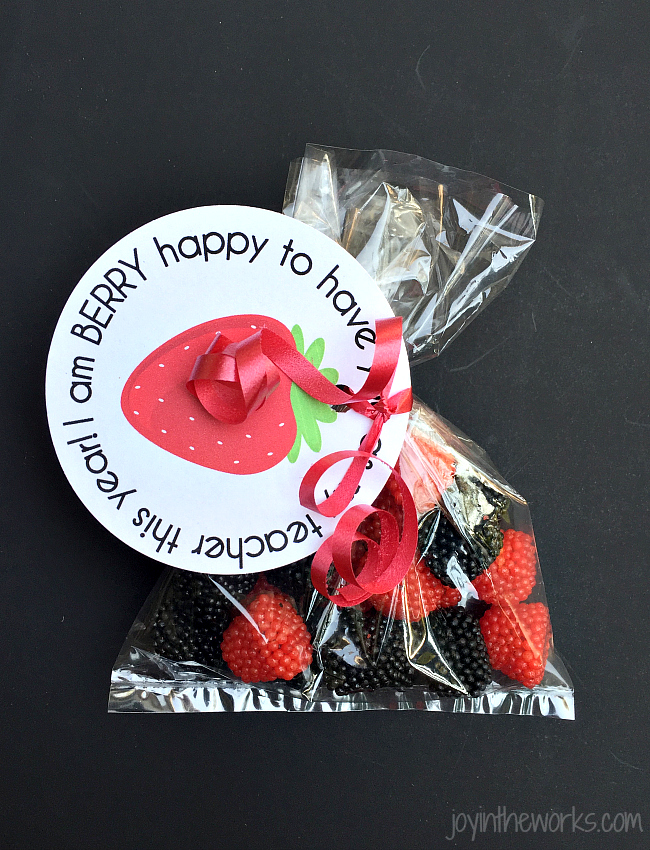 Treats: This Back-to-School Teacher Gift Tag works for any "treat" you can think of.  I went simple with boxes of movie candy.  You could also add a movie gift card for a night out to celebrate making through the first week of school!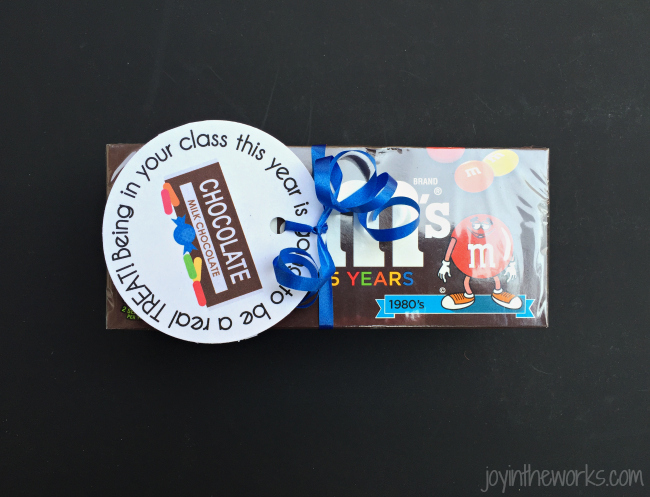 Donuts: You can never go wrong with donuts, in my opinion!
Colorful: All teachers can use some new colorful pens, sharpies or writing utensils.  Not for use by the students, but brand new pens just for the teacher are a special treat!
Fish: Did you know that there about 100 different kind of goldfish crackers now?  You can give a bag of s'more flavored goldfish,vanilla cupcake goldfish or some other fun flavor.  I am also a huge fan of Swedish fish in red or multicolored, so we bagged up some of those as a teacher gift.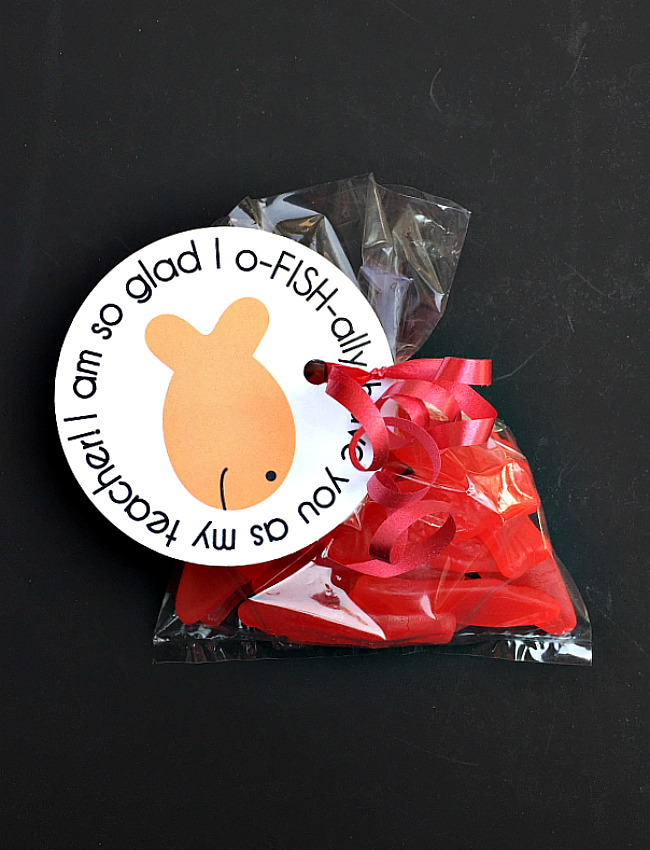 Write: I think this is my favorite of all the Back-to-School gift ideas.  You can give any sort of writing utensil or a special journal to write in. Or I found these really cute school themed pads of paper and pencils in the Target dollar bin just last week!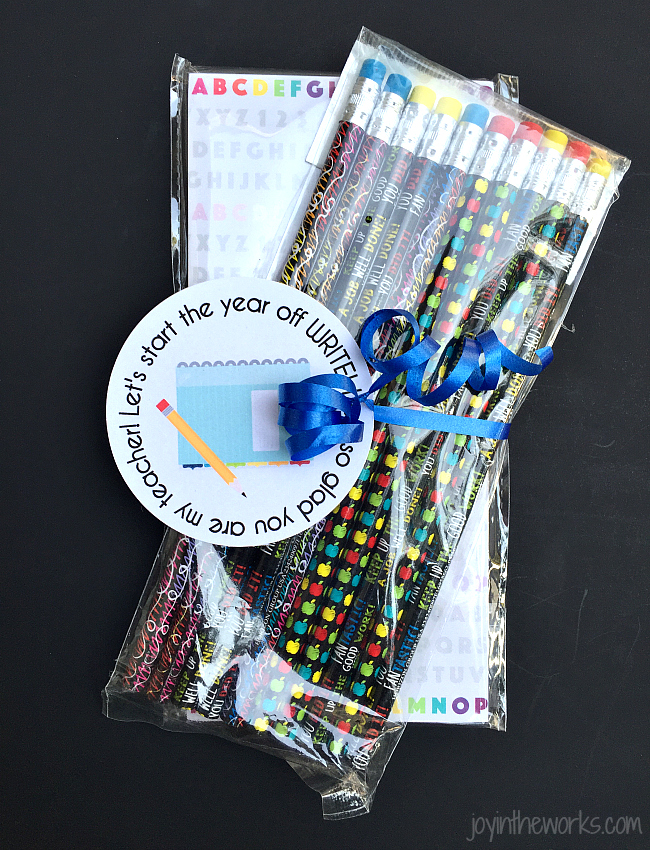 Foot: Starting off on the right foot is a perfect gift for a teacher another child in your family has already had.  If you feel comfortable enough, you can give a small gift bag of nail polish, nail clippers and other pedicure supplies.
Pencils: There are so many different fun, colorful pencils you can give a teacher with this.  How about these colorful pencils or these?
Glue: Have you seen this cute glue stick wreath on Pinterest? Or the school supply cake surrounded by glue sticks and bottles of glue?  Or maybe your child is in Kindergarten and you know that they can never have too many glue sticks and you just want to give them a big box!
I know there are tons more of great Back-to-School Teacher Gift ideas out there.  I would love to hear about them.  Please share below!