I have been through labor exactly 3 times.  And each time was worse than the last.  Not to scare you, but I wasn't one of those, "labor gets easier each time because your body knows what to do" people.  I mean, there were extenuating circumstances each time that contributed to its horridness.  It was usually an epidural gone wrong- like only working on one side or not enough and then too much so I couldn't feel my legs.  Or the anesthesiologist was busy with a C-section, blah blah blah.  But my biggest regret about labor?  It was how I handled the pain of it all.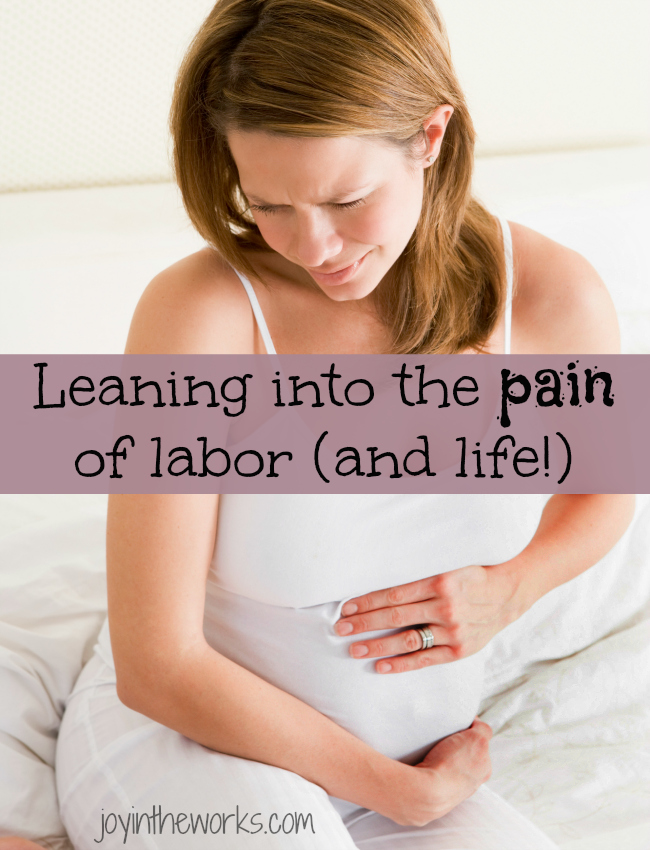 You see I did the labor class before the first one and learned all about the breathing techniques, but once labor started and the pain started to get a little more intense I opted for the drugs, the pain relief.  Now there is nothing wrong with that, especially when it works.  But when it doesn't work, then what are you left with?  Well, that was me with the third labor.  Part of it was that I had to be induced (after an already difficult pregnancy) and so I was already dealing with a faster, more intense pain due to the effects of the labor inducing medication.  But then the epidural didn't work.  Twice.  As in, they came in and completely re-did it and I was still in excruciating pain.
The problem was, as I look back, was how I responded to the pain I was experiencing.  I was stuck in bed, on my back, dealing with intense contractions and I had no coping mechanisms.  In hindsight, I should have just given up on the epidural and gotten up and used some strategies to work with the pain.  In other words, I should have leaned into the pain of labor.  As it was, every time I would feel a contraction, I would tense up, panic that that the pain was coming and grab on for dear life.  What I should have done was accepted the pain.  Accepted what it was.  Accepted what my body was doing.  I know now I should have let the pain wash over me and used it and breathed through it because it had a purpose.  I was so busy fighting it that it made it ten times worse.
And now as I am dealing with another health issue, I realized I am doing it again.  I have been struggling with vertigo for the last few months.  And even though I have experience with bouts of dizziness, I still tense up every time it happens.  Whenever I move my head a certain way, I get this scary spinning feeling and I tense up and I panic.  I immediately try to change positions to get away from the pain or the problem.
Recently I realized if instead of reacting to the dizziness, if I lean into it and breathe through it, it dissipates within 10-20  seconds.  10-20 seconds.  That's it! And I actually think when I whip my head back to a position that I think will alleviate the symptom, it makes it worse.  Instead, now I am trying to accept it and ride it out.  It actually goes away pretty quickly if I do that.  And I never knew that because I was so busy trying to get away from the pain.
I kind of think that is how we react to any pain or problems in life.  We instantly try to make it go away or get better.  We tense up and go into a panic, trying to control everything which can sometimes make things worse.  Instead of just accepting that pain is a part of life and it won't last forever.  And sometimes it actually can be helpful and lead to better things.  I mean, isn't labor a perfect example of that?  Pain that makes you feel like you just might curl up and die and it leads to the greatest gift you have ever received?
I think it's easier for us to see that with labor because the gift is tangible.  We are holding this newborn, this sweet smelling, precious life in our arms, so its pretty easy to see its worth it.  (I mean, why else would we keep doing it?) But with problems and suffering in everyday life?  I think it is harder for us to see that good can come out of that.  But if I rely on my faith (which is my goal in life, really), God makes it clear in the bible that "He who began a good work in you will carry it out unto completion" (from Philippians 1:6) Honestly, I think it is another example of needing to live out a life that not only believes in God, but actually believes God.  Believes His promises and His word.
So, even though its really hard for me to sit with pain or fear (because this is my goal with my anxiety too), I am going to work on trying to accept and breathe through the pain of life, just like I wish I did with the pain of labor.  If I lean into hardships and suffering, not only could it make it shorter and less agonizing, but maybe it will also open my eyes to the lessons and blessings that God can bring through it. Now if only those gifts were as good as a sweet, cuddly newborn…