Searching for a grad night theme or want to decorate your school or church to look like Disneyland for a carnival or other large scale event? Or how about going all out with a Disneyland party theme for someone's birthday? Check out how we helped transform my son's school into "The Happiest School on Earth" in honor of his principal's retirement!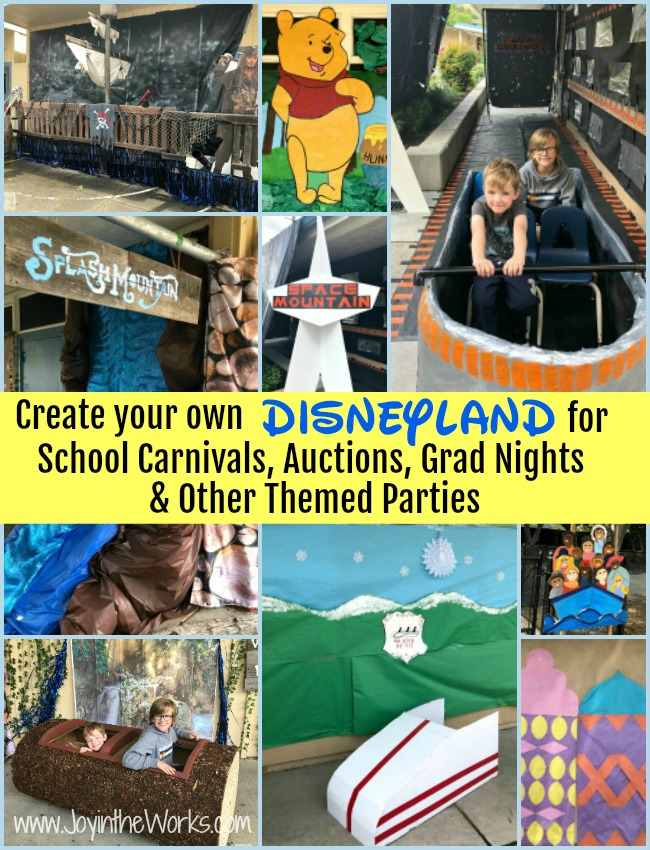 This post may contain affiliate links. You can read more on our privacy policy page.
Disneyland Party Theme
We had something big to celebrate when we learned our principal of 24 years was retiring. Not only have 2 out of my 3 boys had her as their principal, but she was the principal when I was student teaching at the same school 19 years ago!
Needless to say, I signed up to help right away when the teachers and school staff decided to run with a Disneyland party theme and turn our entire elementary school into "The Happiest School on Earth"! Our principal is a huge fan of "The Happiest Place on Earth", so it was the perfect way to honor her and all her hard work and devotion to our school.
The teachers started by dividing up the school into different lands and each classroom became a different ride. The outside of each classroom was then transformed into that ride's theme using paint, props, wood, cardboard, fabric or whatever other materials they thought would help transform our school.
I tried to take pictures of all the major attractions and Disneyland party theme ideas for all my fellow party planners, but since there were SO many, I couldn't possibly cover them all. My hope is that I got enough images to inspire you as you create your own Disneyland at your school, church or even in your backyard!
The Happiest School on Earth
On the day of the retirement party, you could tell how hard all of the teachers and parents had worked to create "The Happiest School on Earth. It showed in the little details- like when you drove up to school, you were greeted by an electronic parking sign that read "Disneyland Parking" and "The Happiest School on Earth". It was the perfect way to let our principal in on the surprise party theme when she arrived. Depending on your event or special occasion, you can adjust the wording to match. I think the little details make a big impression.
Fantasyland
After you followed the signs to "Disneyland" parking, you walked up to the school and were greeted by enormous castle! A very talented parent took large pieces of plywood, assembled them and painted them to look like castle walls made of individual stones. She even added towers on the sides to give it an authentic castle look.
When I asked the artist how she did it and if she had previous art experience, she joked that you can find instructions for almost anything when you search online! So if you want to build your own Sleeping Beauty's Castle as a part of your Disneyland party theme, apparently you can simply google how to paint castle bricks! =)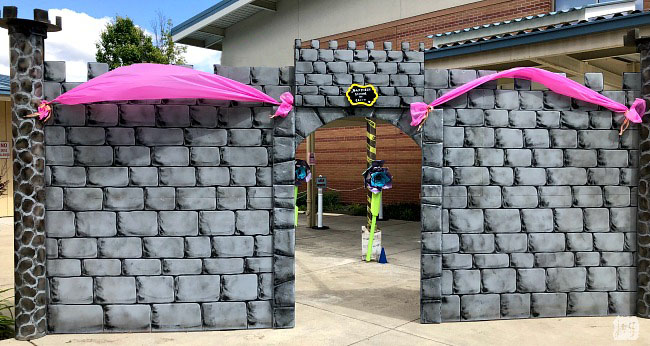 In the picture above, you can tell it was a windy day as the pink garlands that were added to the castle were blowing upward and everywhere. Below you can see that someone also created this beautiful decorative pink castle piece as well.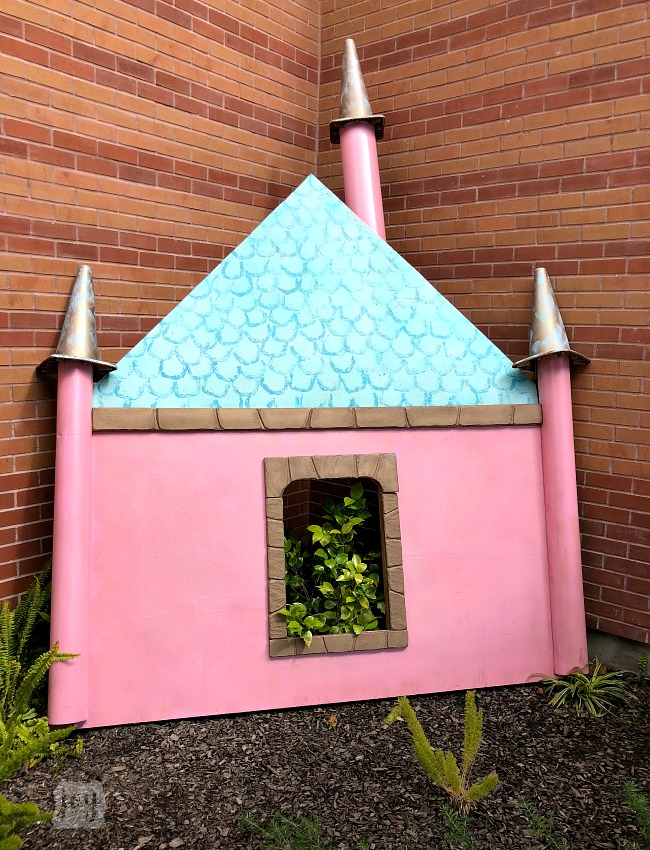 After you walked through the castle, you have entered Fantasyland! There were signs and decorations (like a crooked door and funny signs) for Alice in Wonderland, but I was drawn instantly to the Matterhorn across the way! The mountain was made of paper and "snow" and the bobsled was constructed of cardboard. It was a great picture spot for all the kids!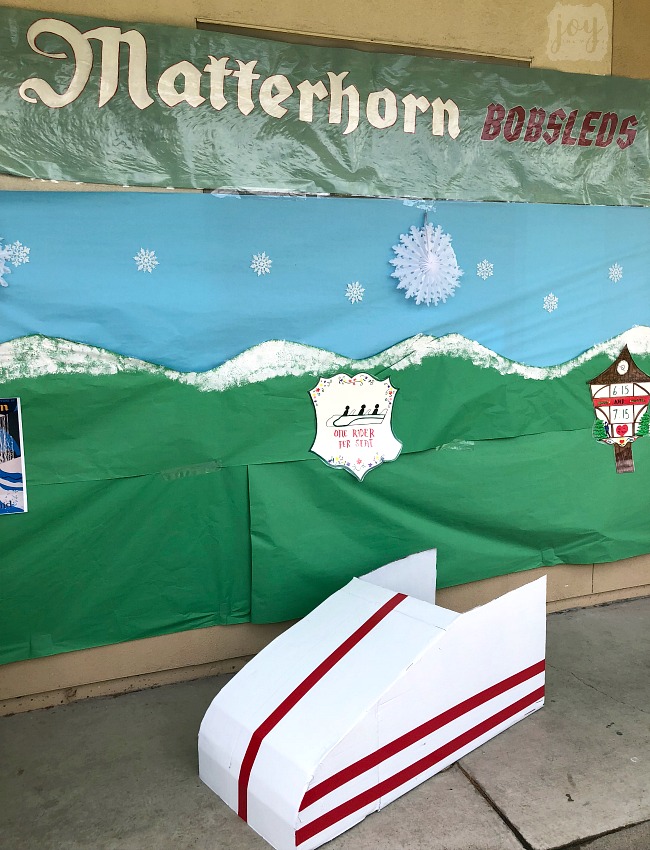 Next up in Fantasyland was the "It's a Small World" display. The Kindergarten classrooms and playgrounds were completely transformed! There was a hand painted sign made out of wood when you walked up to the attraction.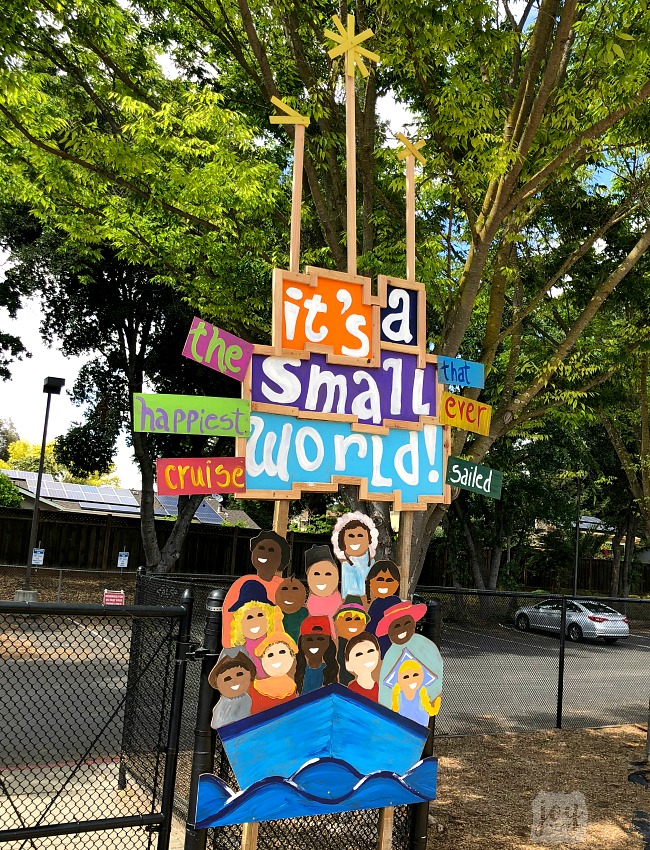 Along the walls of the buildings, around the playground, were construction paper children (Made by the Kindergarteners!) from different countries, as well as different greetings in different languages. It said things like Hello, Konnichiwa. Bonjour etc.
My favorite thing was how the Kindergarten teachers recreated the Small World building designs, however. Well, that and how they played the actual Small World music!! It really transported you to the Small World ride at Disneyland!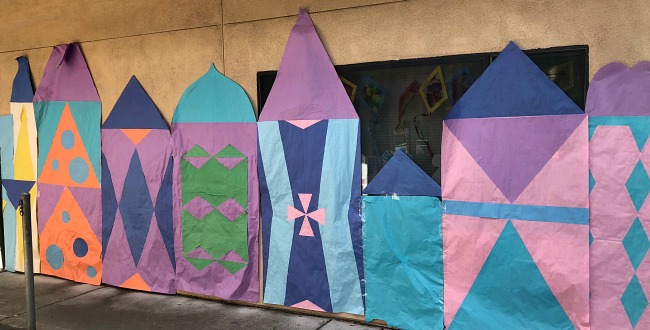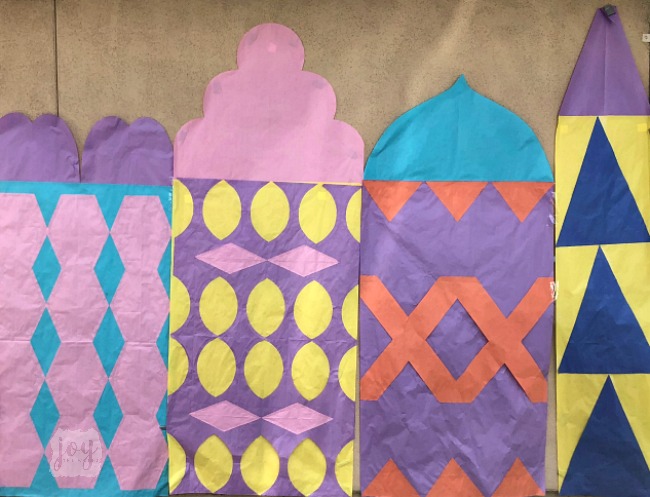 Toontown
While I didn't get to see a lot of Toontown, I did snap a quick pic for you. It was another case of amazing artwork and colored paper! I love how they made it look like a train depot.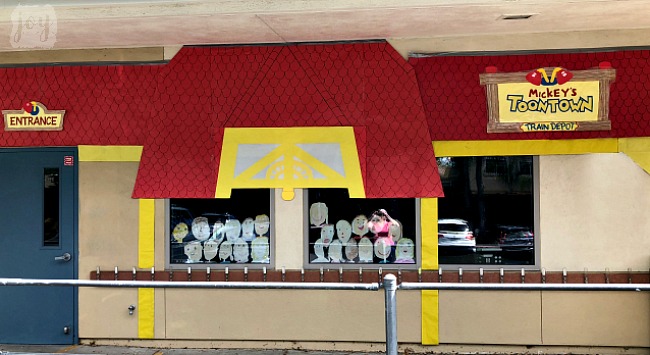 This is also where they put an actual train ride! It was one of those small colorful trains that you can rent for parties, festivals etc. The kids had a blast taking short rides around the school blacktop!
Adventureland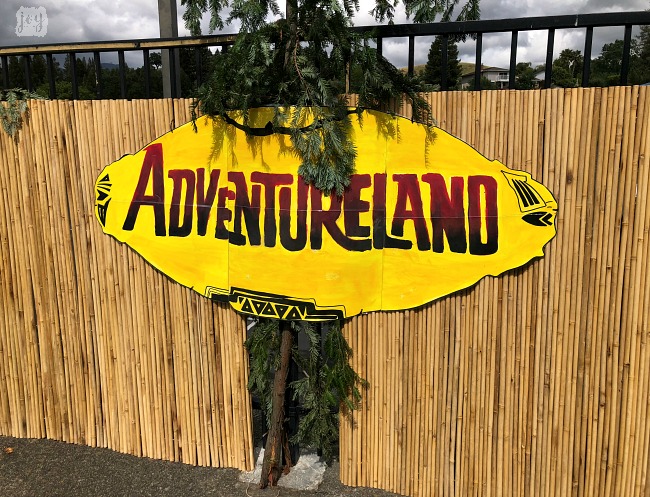 I am sure I am not remembering the order of the "lands" correctly, but I am doing my best to share a little bit of everything I can remember! In Adventureland, there were replicas of the Jungle Cruise and the Indiana Jones Ride, among others.
I loved the way Mrs. Jones' class clearly worked as a team to transform the area outside their classroom into the Indiana Jones ride. Right away I noticed the "stepping stones" they made that led right to the classroom door. They used square pieces of Kraft Paper and then drew Hieroglyphic symbols on each one. Because they had created their own symbols and language, it required a key to decode the language, which was put on a poster outside the classroom. I could tell the kids in this classroom put their heart and soul into creating The Happiest School on Earth!
New Orleans Square
I think the very best Disneyland landmark replicas of the whole day were in New Orleans Square! 3 portable classrooms with ramps in front were transformed into a Pirates of the Caribbean Ship. They even hooked up a smoke machine to a black metal pipe and timed it to blast out smoke like it had just shot out a cannonball- exactly like the real ride!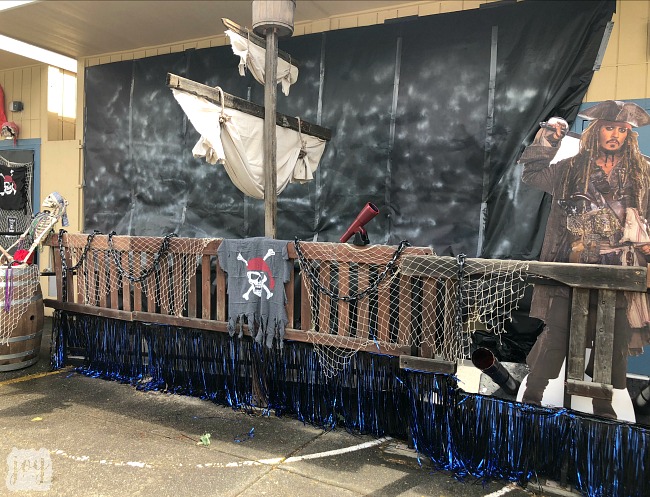 In this bottom picture, you can also see the canvas sails with the crow's nest at the top. And I don't know who climbed up there to add the parrot, but I love it! This picture also gives a better view of the skeleton covered in treasure as he sits in the big barrel! To make the outside of the classroom look more like a pirate ship, a pirate flag, fishing nets and old chains were added as well. I think the Johnny Depp as Jack Sparrow cutout was the perfect finishing touch, though!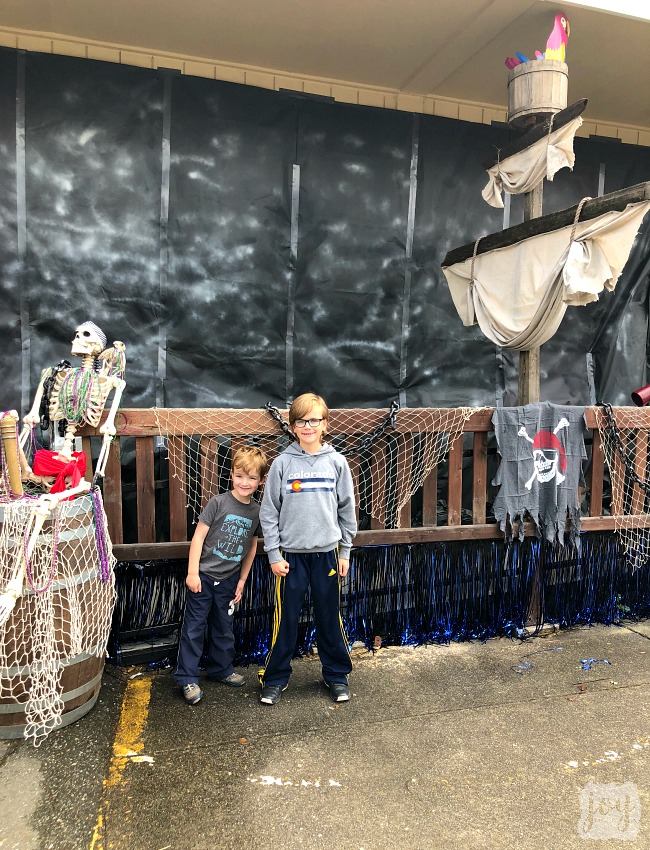 Across the courtyard in "New Orleans Square" was the Haunted Mansion. It started with a graveyard with gravestones and skeleton bones on the grass and then the school staff created a facade of the haunted mansion with columns and a pediment (a fancy name for a triangle roof in Greek Architecture).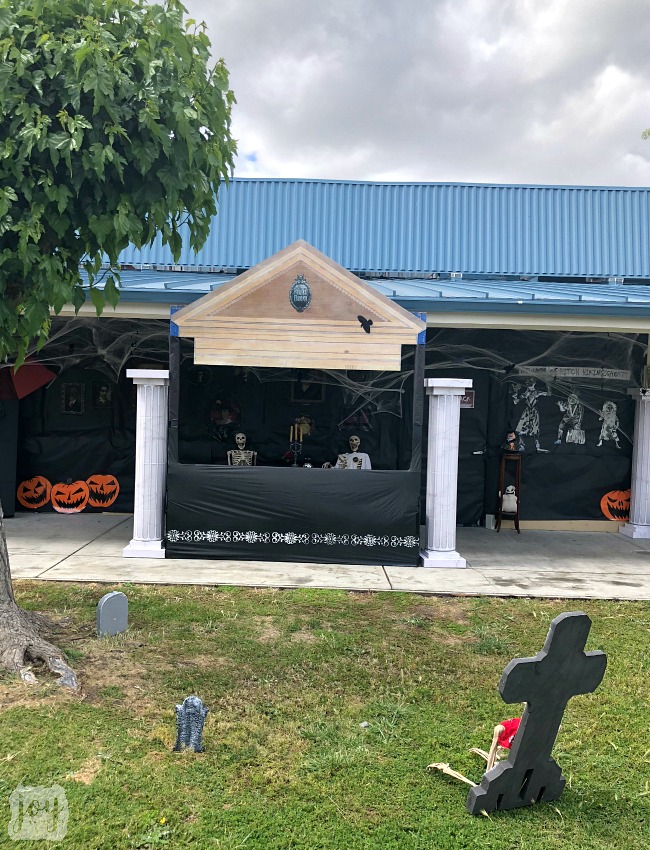 If you look a bit closer, you can see there was a table set up with skeletons sitting together at a table with decorations all around. From cobwebs to a candelabra to "moving" portraits to the Hitchhiking Ghosts, the Haunted Mansion attraction was so similar to the original, that it scared my kids at least!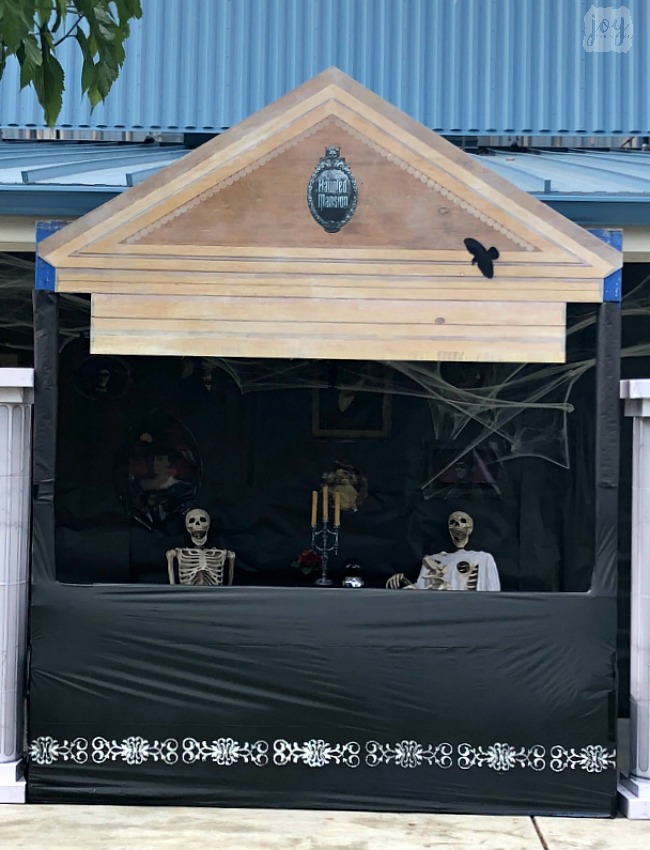 Frontierland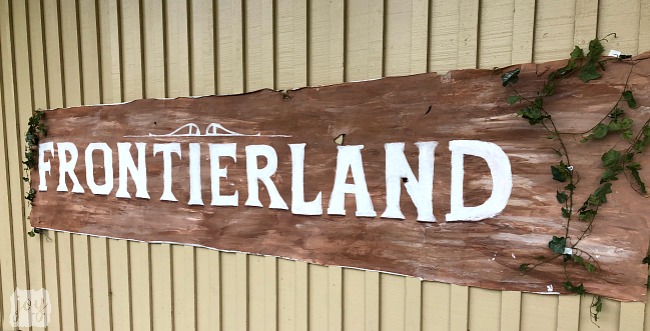 In Frontierland, the teachers and parents re-created Thunder Mountain Railroad and the Pirate's Lair on Tom Sawyer Island, among other things. The "island" was decorated with ivy leaf garlands like the ones shown above. The class created cute signs with poems for our principal and hung them on display. They even made a miniature suspension bridge out of tiny planks of wood and attached it to the roof overhang. Unfortunately, I was rushed off by my kids to the next "ride" before I could discover more!
Critter Country
But rushing over to Critter Country was worth it! I loved the way Splash Mountain was recreated with shimmery fabric and a parent even made a log flume for the kids to climb in! It was made of wood and chicken wire and was covered with real bark on the outside. They even added a waterfall backdrop to make it the perfect picture spot!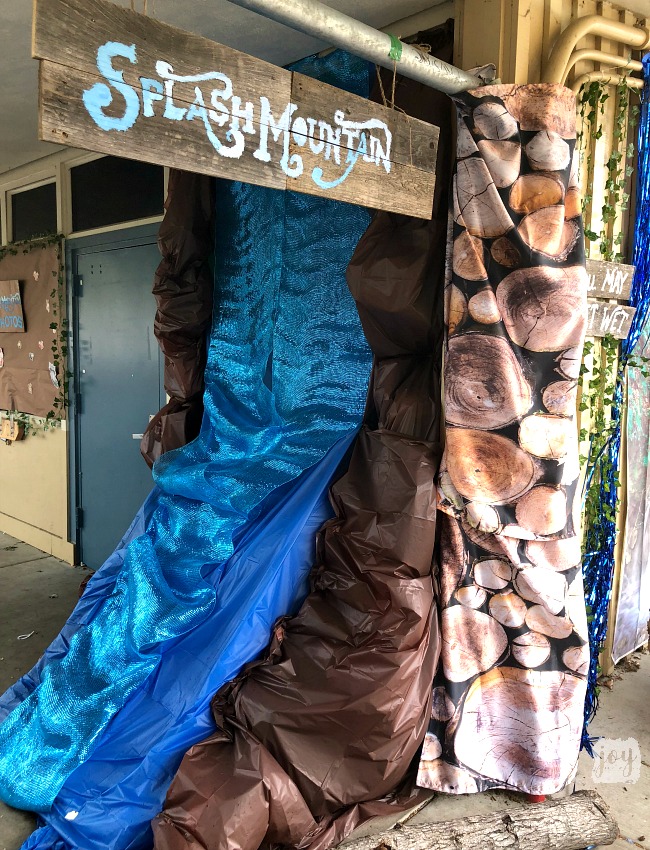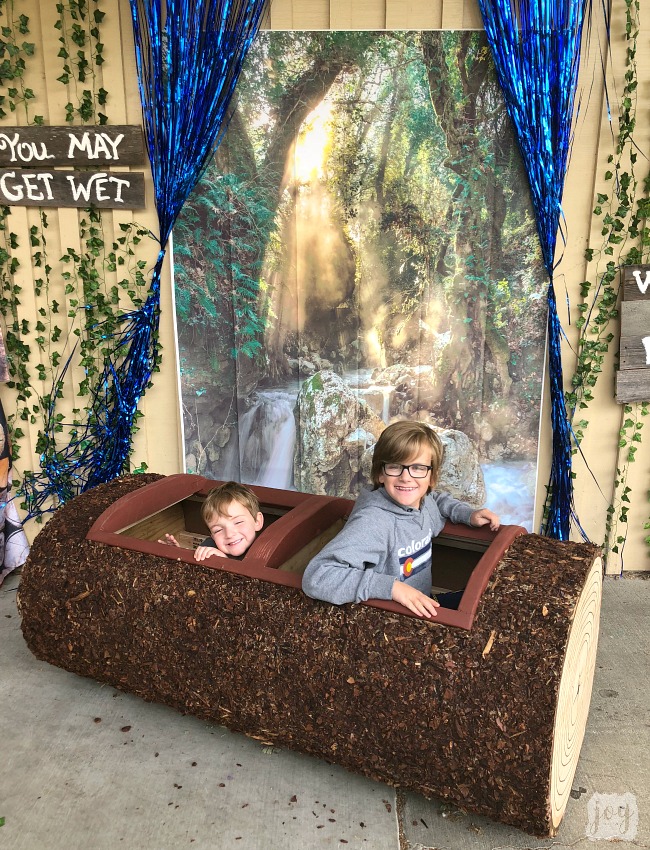 Next was my son's classroom where I was happy to help volunteer my husband's artistic services! While another parent painted the 100 Acre Woods backdrop, my husband was kind enough to hand paint this Winnie the Pooh and his honey pot! The Room Mom and I assembled the display and added lots of green and brown paper to make 3D trees. Because this was all made out of paper, paint and tape, I thought it could easily be saved and re-used as a Winnie the Pooh Bulletin Board display for the classroom!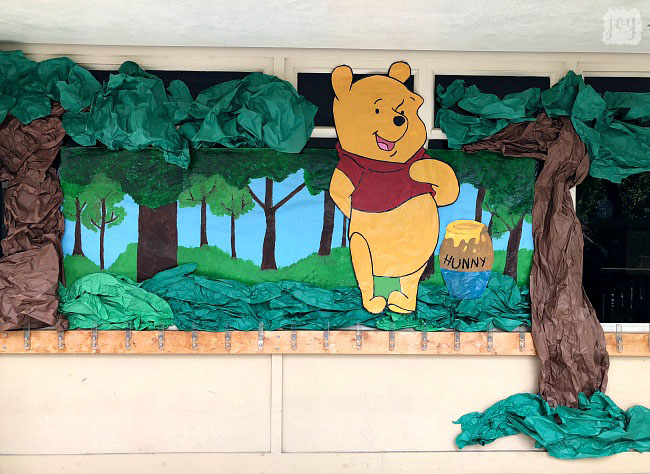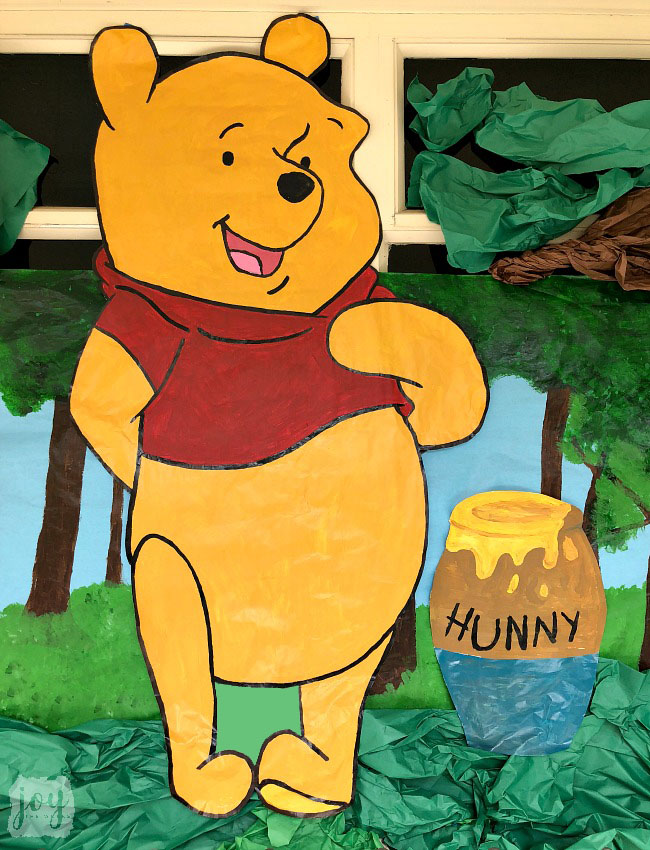 Tomorrowland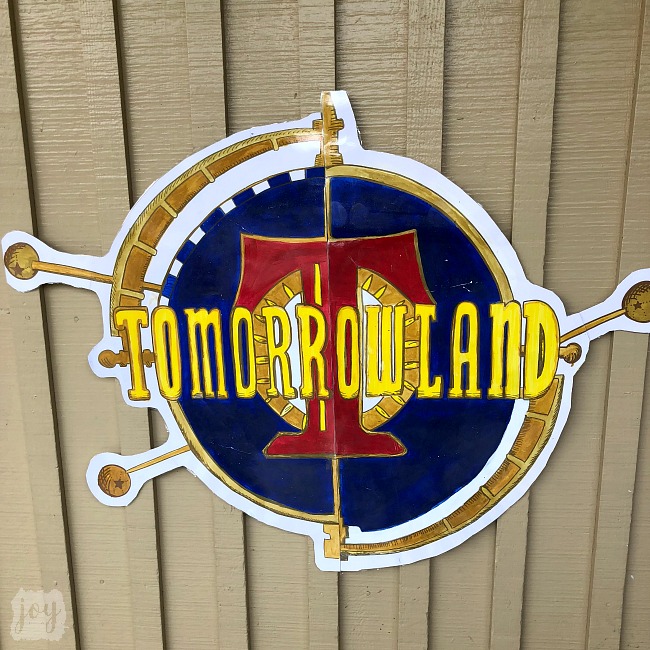 Around the corner from Critter Country was Tomorrowland and Space Mountain! I loved the way they added a backdrop that was set far back and put a roller coaster car in the front to give it perspective. It made it look so similar to the current ride! The Space Mountain sign was a nice touch too!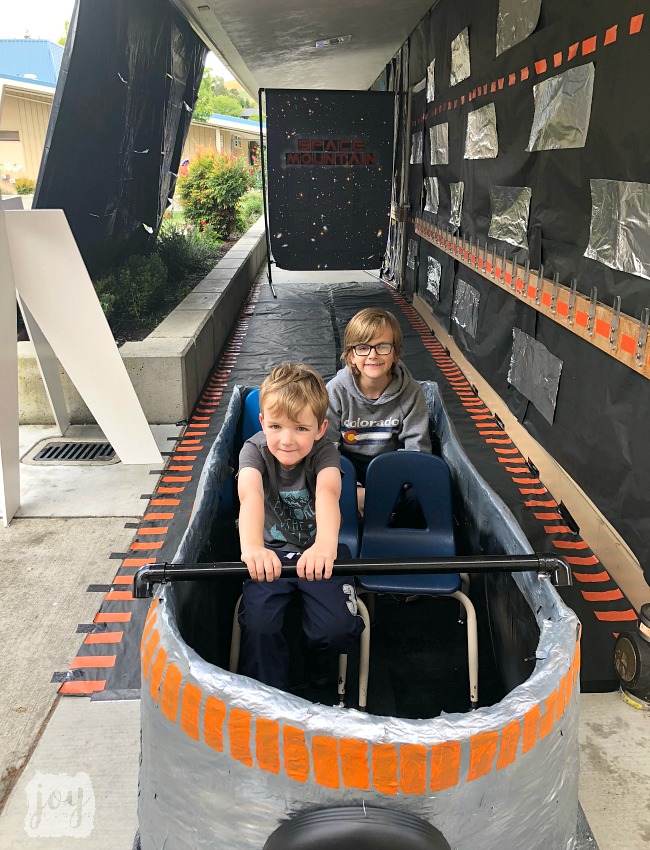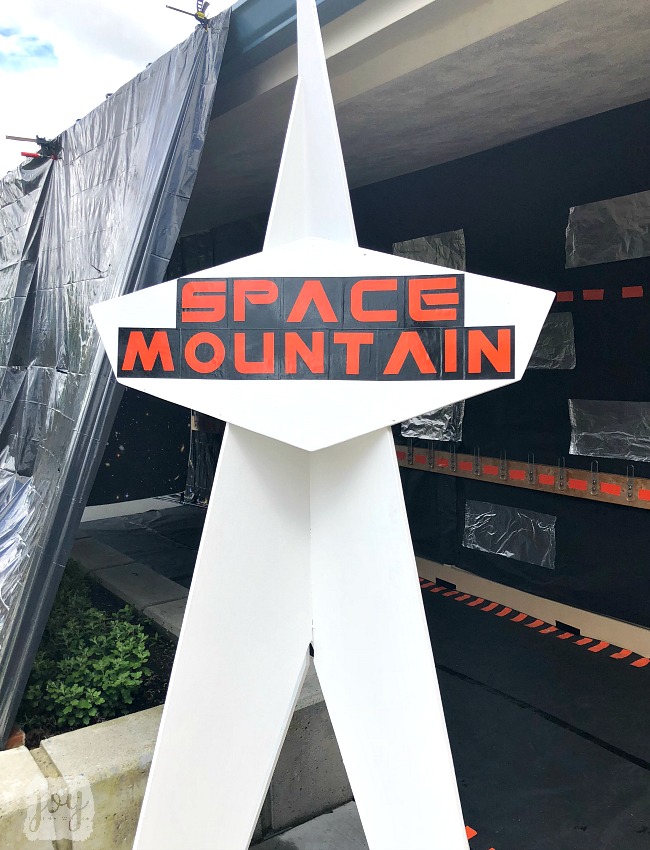 I spoke with the mom who created the Space Mountain Car and she said for anyone who wants to make one like it, she used cardboard boxes, chicken wire, paper mache and a black pipe for the lap bar in front. We added small chairs from the Kindergarten classroom for "seats" so the kids could pretend they were on the actual roller coaster! The rest of Space Mountain was made using rolls of black paper, tin foil and orange paper and tape.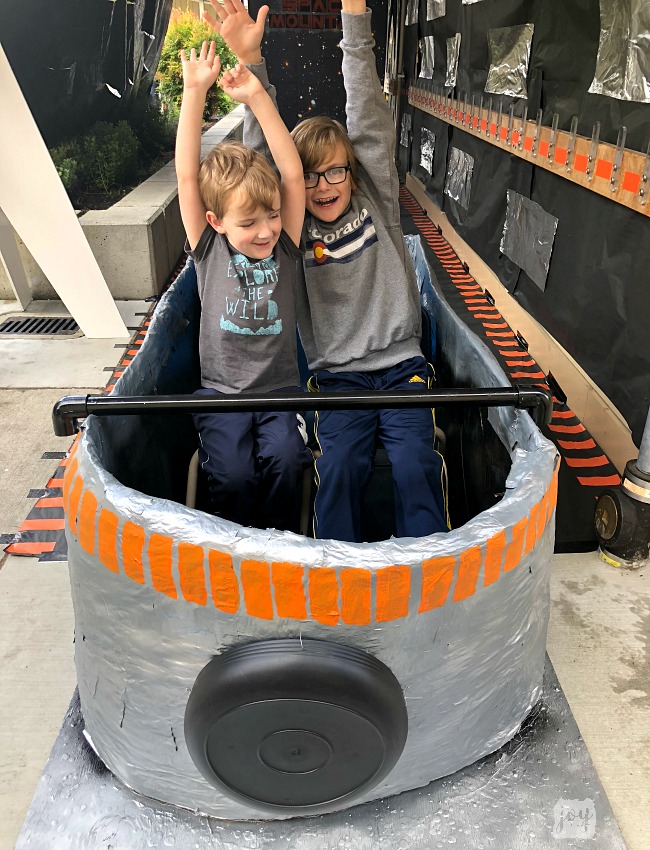 Again, I am sad I didn't get pictures for each and every ride and Disneyland party theme decoration that was used to transform our school into Disneyland, but as you can see if I had done that, this post would have gone on forever!!
But my hope is that you will see what a little paper, chicken wire, plywood and paint will get you! It definitely took a lot of time and effort, but with an entire school staff and parents who love their principal and wanted to celebrate her retirement in style, they didn't think twice about jumping in and getting their hands dirty.
Would love to hear your thoughts on how we took a Disneyland Party Theme and transformed our school into "The Happiest School on Earth"! Any ideas to add? Anything we missed? How would you recreate Disneyland? And for what occasion? We thought about saving the decorations for a local grad night, a school carnival or a large event like an auction, but we are open to anything! Share below! =)