Another Friday night and the kids just want to play video games and eat pizza?  You know you should actually think of something to do together for once, but if you have to play another endless game of Monopoly, you might just poke your eyes out.  Forget the endless board games or trying to muster up enough energy at the end of a long week for a Wii Dance Party, you can pull together your own Family Cookie Wars in no time flat!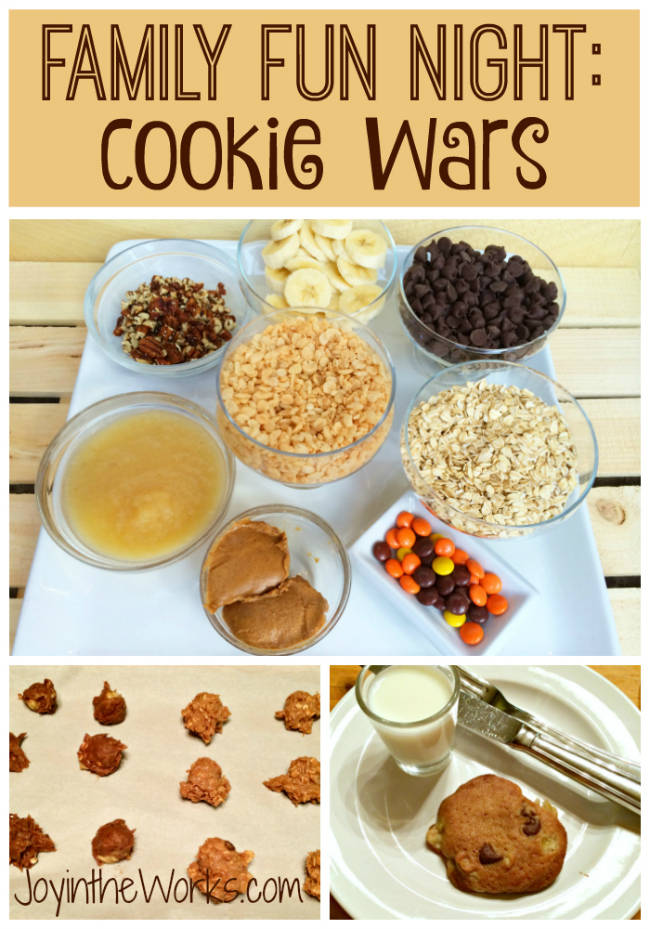 Family Cookie Wars is really easy to do- I promise! Start with a basic cookie dough recipe.  I usually just use a basic chocolate chip cookie recipe.
Next, I rummage through my cupboards for whatever I have on hand that might work.  On this particular night, we used the leftover candy from the cookie jar, the last little bit in the bag of chocolate chips, krispy rice cereal, oatmeal, peanut butter, cocoa powder (not pictured) and chopped nuts.  Oh and we also gave a fruit option with applesauce and bananas.
Next, we picked a judge for the final tasting of our Family Cookie Wars.  On this night, Daddy got to be the "impartial" judge while the kids and I competed.  Everyone got a bowl of cookie dough and a spoon and we were all free to mix up our concoctions!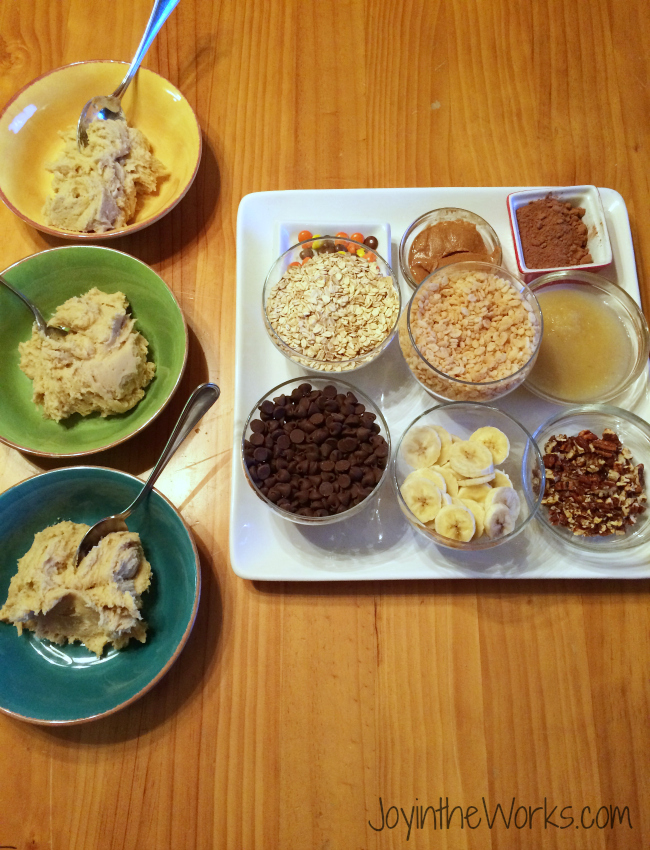 Other than giving our 6 year old a few tips (like 8 tablespoons of unsweetened cocoa powder will make it inedible!), we really let the kids come up with what they wanted.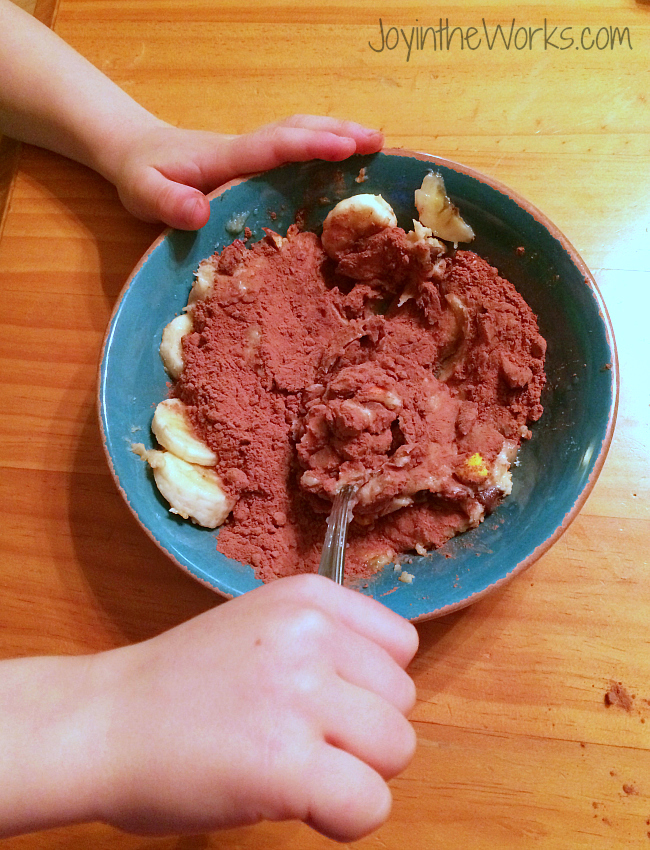 And boy did we get a kick of watching what they came up with!  My 12 year took the whole process very seriously, the 6 year old just dumped a lot of his favorite ingredients in the dough and I tried to work with ingredients that I thought might go well together.  (Oh and the 2 year old was already in bed- he would have had his hands in every bowl!)
For the baking, we simply scooped up our cookie dough onto cookie sheets, keeping them separate for identification, but also for varying cooking times.  A cookie dough with applesauce is going to take longer to cook than one oatmeal.  Each contestant got to determine when they thought their cookies were done.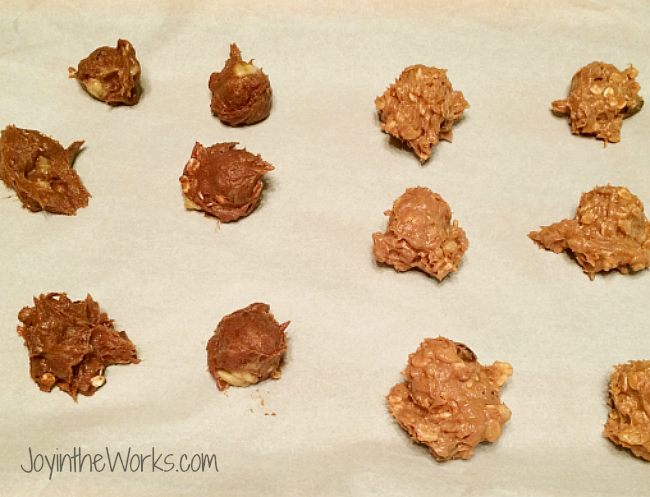 After the cookies baked and cooled, we presented our masterpieces to Daddy.  The 12 year old took his presentation very seriously and presented his cookie on a plate with a glass of milk and a knife and fork!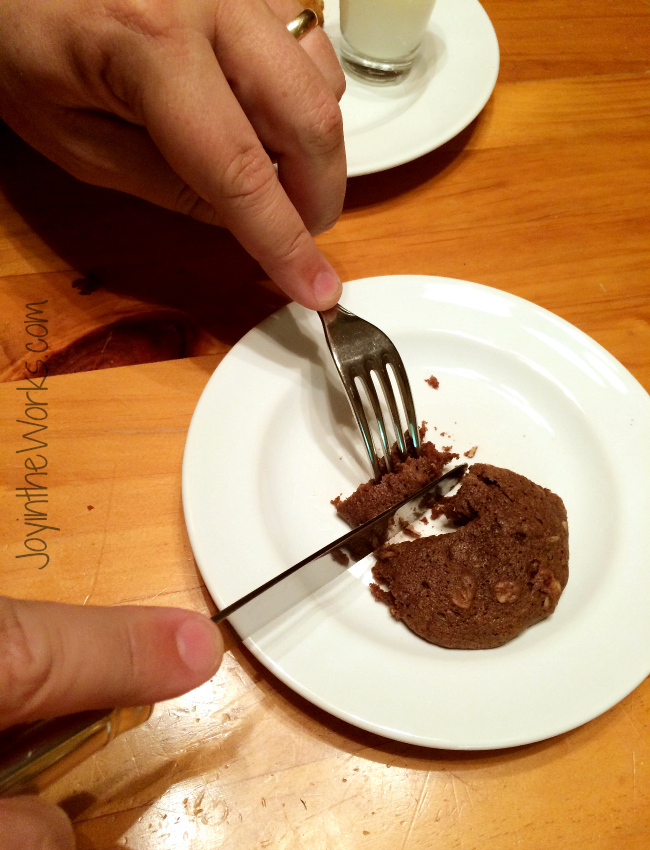 And would you believe it?  He won!  And I actually got LAST place!  Seriously?  Baking cookies was the thing I thought I didn't actually fail at in the kitchen!  Oh well, fun was had by all and it's not like I needed to eat more cookies anyway!
What about you?  Do you like to bake with your kids?  Do you think your family might enjoy this Family Fun Night activity?  Do you have any Family Fun Night activities you want to share?  I would love to hear more simple ideas that don't involve going up and down chutes and ladders all night! ;)