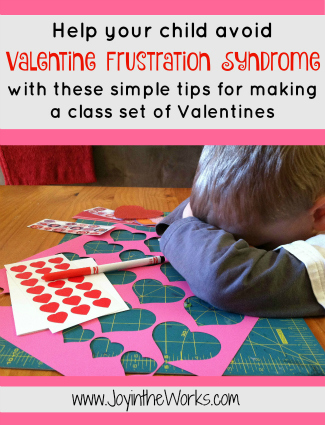 Are you or someone you know being affected by Valentine Frustration Syndrome? Valentine Frustration Syndrome (or VFS) is a serious disorder that can affect every household in America.  Symptoms include complaining, whining, tantrums and even fits of crying when your child is required to make or sign 25 or more class Valentines….
In all seriousness, I don't know if it just because I have all boys, but making class Valentines can be a source of real stress in our house (oh and by "make", sometimes I just mean signing their names on those annoying perforated pieces of cardboard).  Perhaps it is because they went to big schools and they had to bring over 25 Valentines to share on the big day, but we are working on these things for weeks in advance!  And I tell you, there are tears and tantrums Every. Single. Year. Now I know what you are thinking, why don't you just buy Valentines at the store and write their names for them and be on your way?  Why torture yourself?   Well, it is probably the crafty former teacher in me, but I think Valentines are a great way for the kids to be creative and practice writing their names.  So, even if we do buy them at the store, I still require that my boys contribute somehow (depending on age and ability) and usually that involves at least signing his name (or at age 3, just writing the first letter).  But writing his name 25-30 times in the course of a week (or less!) causes a great deal of grief in our house!  And then on the years that I refuse to shell out the money for the store bought kind?  It is all out Armageddon around here!
Making Class Valentines
So, this year, I found a way to prevent Valentine Frustration Syndrome with a few simple tips:
The first trick is to start early! I mean, like right after those Christmas thank you notes (another post for another day, by the way) go in the mail box, start planning the class Valentines!
Check in with the teacher about any class guidelines or rules. Will children be passing out Valentines' this year? Do they allow candy or any other treats? (ours never have) Find out how they want the cards addressed. Is there a class list you can have? Or in some cases, envelopes and the "To" section should be left blank and only signed with your child's name. This makes for much easier distribution with larger classes.
Next, decide on store bought or homemade. Or how about a happy medium and purchase and print your own from websites like Etsy or Minted?
If you go with homemade, decide if the kids will follow any sort of structure or theme or follow a model. Or perhaps they will just make a collage card with a variety of Valentine's stickers and paper. You and/or your child can simply fold up patterned paper and cut out hearts, cut up lace doilies and glue everything on a folded piece of paper or card stock. If you are extra crafty, you may even have some heart stamps and paper punches laying around. The key here is to let your child just create!
Another option for homemade Valentines is by following one of a million darling ideas you can find on Pinterest (check out my board). If you go this route, narrow down a few options based on ease and theme. Let your child help you pick! My kids love looking at things I have "pinned" just for them. After you have agreed upon a Valentine that you both like (and doesn't require you to be Martha Stewart! ) and gathered the supplies, I like to have my kids help put them together, even if I am doing most of the heavy lifting! You can almost always find the smallest ways for your kids to help you along the way- it might be simply coloring in a border or putting tape on a lollipop. Remember, these are their cards!!

So now you have come to the hardest part of the project: the name signing! Again, if you have girls (or boys who enjoy sitting down and doing work!) maybe this all a dream for you and you aren't pulling teeth to get your child to sit down and do anything! But in our house, this takes work! We start by signing only a few a day. But even that can be challenging, so last year I made Valentine's on the computer and used a tracing font to write my son's name. That way he only had to trace his name 30 times! And it was a great way to teach him proper letter formation at the same time. This year, I made things even easier on myself by buying Valentine's at the store and printing out address labels with my son's name on them for him to trace. The progress he made on writing his name the "Kindergarten way" was amazing and then he just stuck the labels on the cards and we called it a day! The best part of it? He was actually smiling through it all!
So, there you have it!  These tips have helped control the symptoms of VFS in our house.  What about you?  How do you do Valentines for your child's class and/or friends?  Store bought or homemade?  Do your children enjoy the process?  If not, how do you survive?!  Please share your ideas- I would love to add some more tricks to my repertoire!
*Disclaimer: Just in case it's not clear to those of you who don't know my sense of humor, VFS is not a real disease!  Any resemblance to real conditions is purely coincidental. ;)