Looking for a fun, but simple Christmas activity to do with the kids this Christmas season? Check out this easy Gumdrop Catapult where the kids can use catapults to compare how far gumdrops and mini marshmallows fly!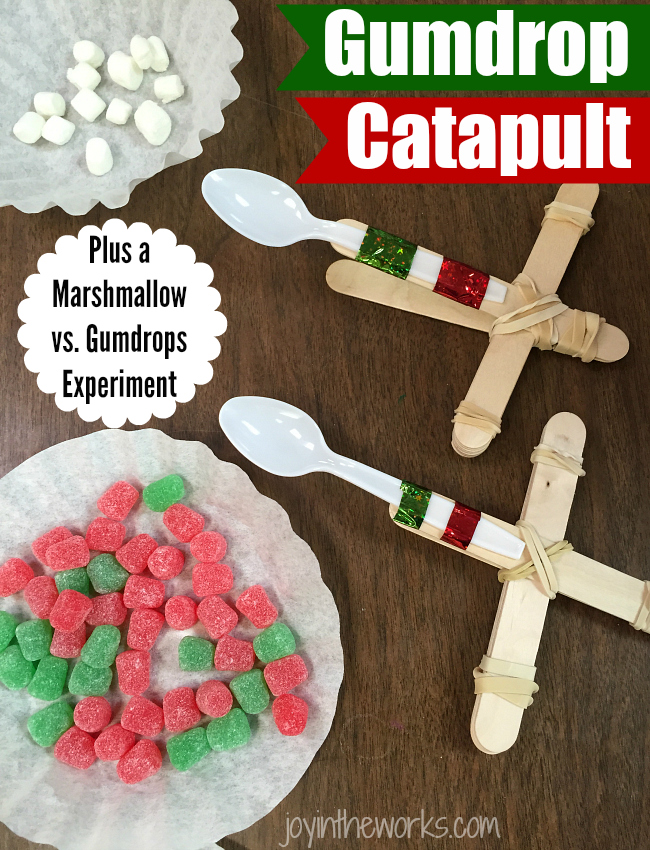 Supplies:
Gumdrops
Mini Marshmallows
Catapults (Jumbo Craft Sticks, Rubber Bands, Plastic Spoons)
Christmas Tape (optional for decorating your catapult)
Masking Tape and Sharpie (optional for marking the results of your experiment)
Christmas STEM Activity: Gumdrop Catapult
I don't know about you, but somehow I feel like the month of December is the time I get to pull out the craft box with my kids and make them craft and do games with me. You may not believe this, but I am a kid blogger who doesn't craft and do STEAM projects on a regular basis. I know, the horror. I want to, simply because I love it and because it can be a great way to connect with my kids but come on, let's be real, I am just trying to stay afloat most days! But in the holiday season, when there are grandparent gifts to be made and ornaments needed for the tree, I kind of get on a roll and we do lots of festive activities.
One of the activities my kids insist we do every year is decorate gingerbread houses. And one year I was trying to figure out what to do with all the leftover gumdrops and I came up with this fun Christmas Gumdrop Catapult. Because my boys would do anything to be able to throw candy as an approved activity! But the truth is, science and engineering are not my strong suit, so I went to my resource for creative (Duh, Pinterest!) and searched for some help. I found this easy explanation by Devin Collier on How to make a catapult I followed his directions exactly and was able to help my boys create their very own catapults. The only adjustment we made was attaching the spoons with Christmas tape instead of the rubber bands he suggested. It worked well for us, but is an optional festive touch.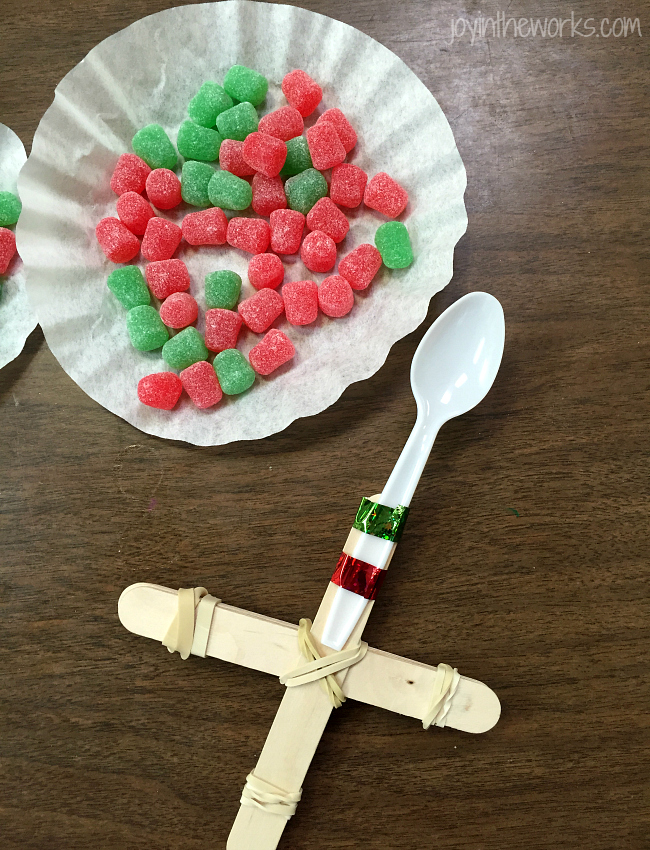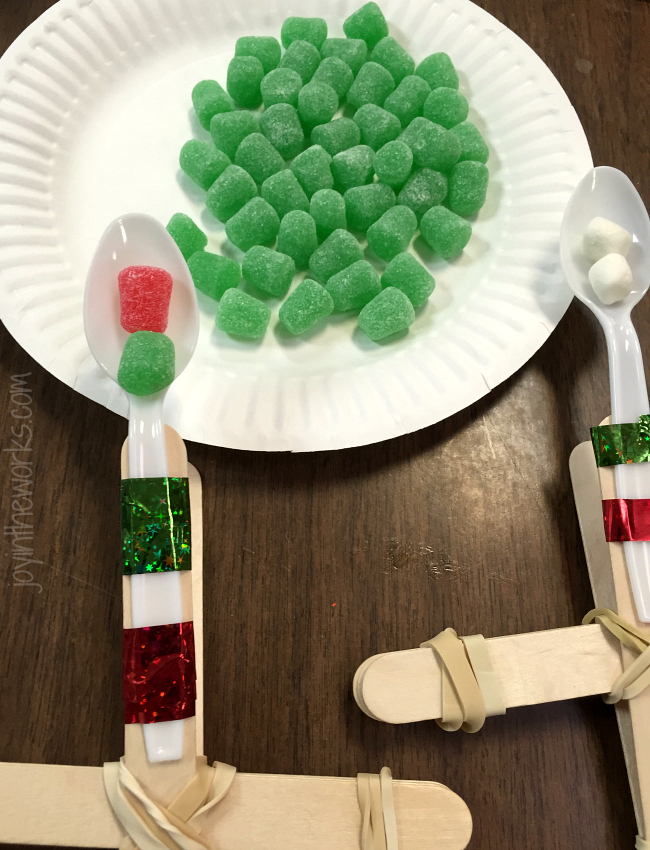 The next thing we did was get out some masking tape to mark a starting line and to be able to mark how far each of our gumdrops went (We added a few friends to our fun, so we really needed to keep things separate). And then, honestly, we just let them fly!! As we played around with the catapults and the gumdrops, the kids drew some conclusions that convinced us to launch some other items as well to see if we got different results (no spoilers but we had more luck with the lighter items!).
We added mini marshmallows (Devin Collier's original instructions) and were able to do a comparison between marshmallows and gumdrops. Next time, I think it would be fun to play around with all different kinds of Christmas candy and do a chart comparing the results and drawing conclusions based on that. But I would probably need study physics before I was qualified to lead that, so for now, this simple Gumdrop Catapult was great for a non-science mom like me! =)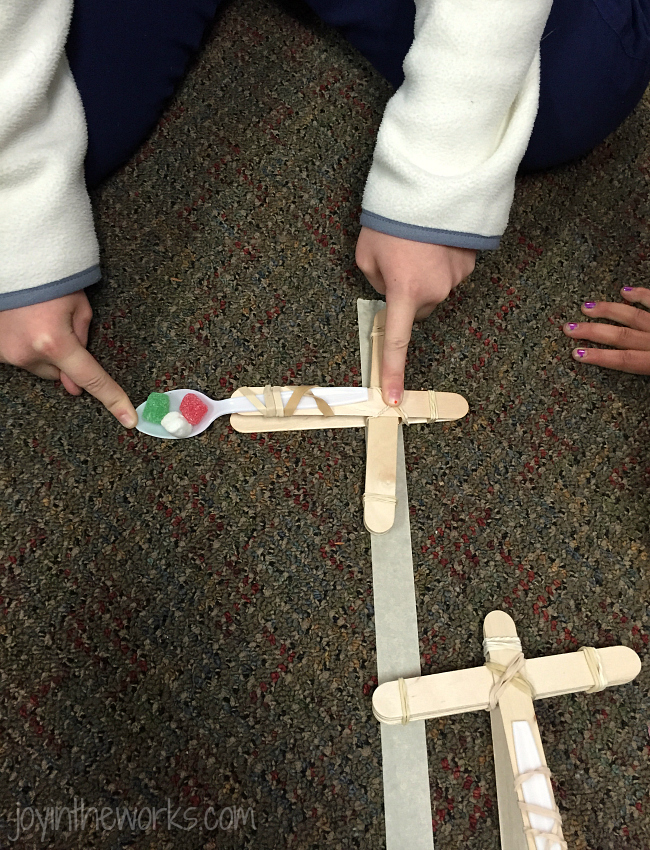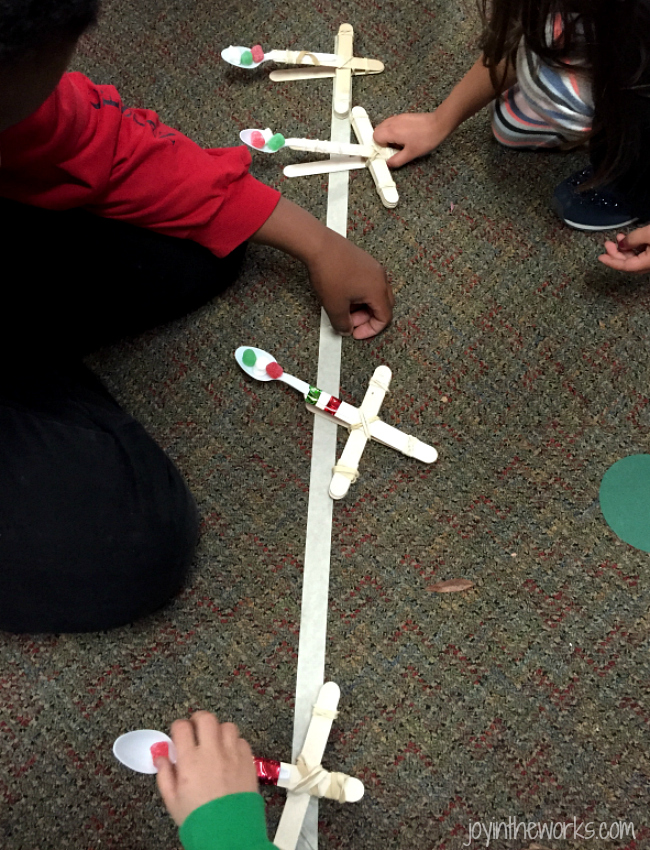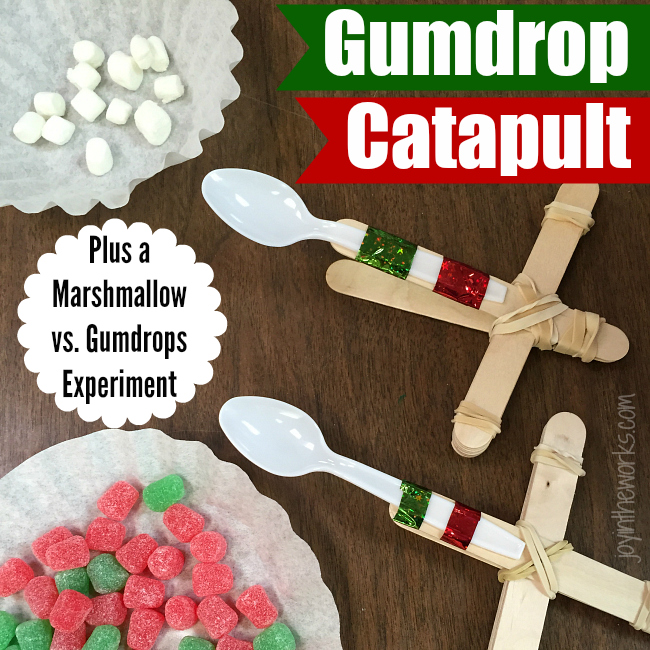 Save
Save
Save
Save
Save
Save
Save