Valentine's Day is just around the corner and you know what that means…I won't start thinking about what to do for a few more days. =) You know how I love to celebrate the days…but usually with easy, last minute ideas. I thought I would share a few simple ways that we celebrate Valentine's Day as a family in our house.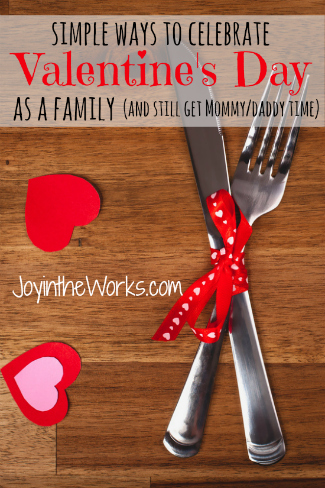 I need to start with a disclaimer though, as my husband and I have never really bought into the commercialism of Valentine's Day and while we do celebrate in simple ways at home, we don't go all out for some fancy, expensive date night out. In fact, my husband has boycotted buying red roses around Valentine's Day because he gets so annoyed that the retailers charge so much more just because it's the month of February! Luckily, I am more of a tulip girl anyway (although, he has also been known to come home with red roses in the month of March, but I digress….)
Here are a few simple things we do to celebrate Valentine's Day as a family (and yes, we get some Mommy/Daddy time in there too):
Before Valentine's Day:
-Decorate sugar cookies
This is one of my favorite Valentine's Day traditions.  My mom and I have been doing it for years.  For Halloween and Valentine's Day, we always bake and frost yummy sugar cookies and wrap them up for neighbors and friends.  Plus, we use a recipe that makes a cookie that is strong enough to be sent off in a care package to my nephews at college.  They expect them every year.  I also love that my mom is making this tradition with my boys, as some years she will come just bake with them!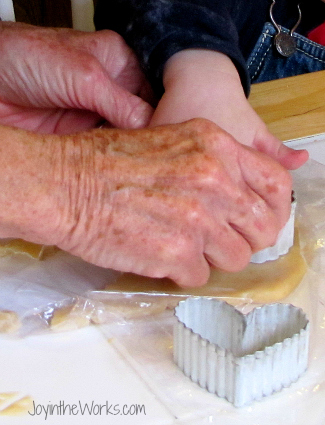 -Make Valentine's for the class and/or friends and neighbors
On a good year,the kids and I will be searching Pinterest for fun, homemade Valentine card ideas.  Some years, its off to Target we go for the boxes of cheap Valentines.  There is nothing wrong with those, of course, but the years we make something, the kids have such fun helping and getting the cards and candy ready for their friends.  Now, the name signing is another story.  If you haven't already, check out my post about how to make Valentine making and name signing (almost) painless!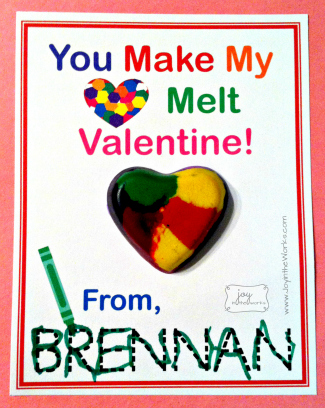 -Share God's love with others
On a really good year, we do something like this where, instead of doing random acts of kindness, we do 14 Acts of Sharing God's Love.  We decided to take the theme of love during February and use it to share the never failing love of God with others.  From card making and delivery to nursing homes and delivery candy secretly to the neighbors at night, these 14 activities were a great way for us to celebrate Valentine's Day as a family.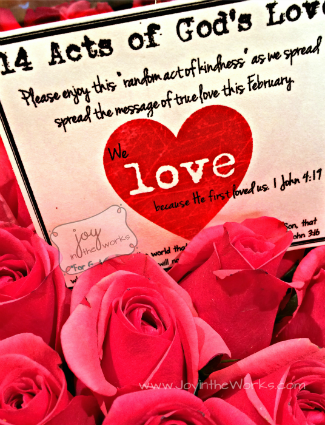 On Valentine's Day:
-Valentine's Day family breakfast:
Although it isn't a surprise anymore, every year when the kids wake up on Valentine's Day, they find the breakfast table decorated for the occasion.  I use paper hearts, garlands and Valentine confetti.  I also get out the Valentine plates and pitchers and we make pink heart shaped pancakes, as well as use our Valentine mugs for hot chocolate and marshmallows.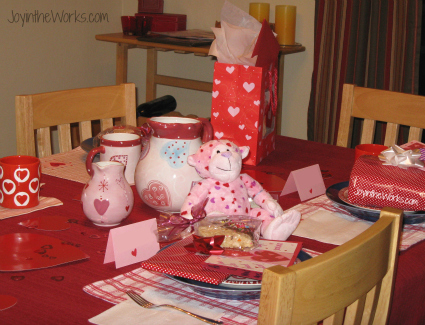 -Homemade cards, small gifts and treats:
At each table setting, I always add a small treat, a gift and a homemade card.  I love that my kids get a homemade card from their mom every year- even if they don't appreciate it, I have fun making them! Since we just got through Christmas and I don't like to give my kids a lot of chocolate or candy, I end up doing something simple like a small treat and a small toy or a Valentine's Day book or movie. I posted some (affiliate) ideas at the bottom of the post if you are looking for ideas of you own.
-Special Art Activity:
If I have a preschooler at home with me on Valentine's Day, I like to do a special art project with the him or her.  We have had fun with red playdough and heart cookie cutters or one time we got messy with pink gak (corn starch and water).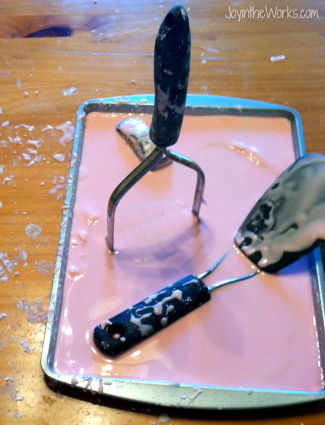 One year I was extra motivated and I finally did that cute project I have seen all over Pinterest: celery rose prints.  Here are the ones we made, but there are lots of variations like this one from Mum in the Madhouse or this one from Crafty Morning.
-Special School Lunch:
For the older kids, I like to send something fun and festive with them to school for lunch (and something that will help offset all the sweets they get at the class party!).  There are a ton of great ideas on Pinterest that range from simple (think "heart shaped" strawberries) to the complex (heart shaped BLT sandwich where even the bacon was cooked in a heart shape, anyone?)
-Movie and popcorn:
Sometimes after school or while I am getting dinner ready, we might get to watch a special Valentine movie (check out my picks below).  And if the kids didn't have too many treats at school, we might enjoy some Valentine confetti from Nest of Posies or Smores Valentines Mix from A Night Owl blog.
-Family dinner:
This actually might be one of my favorite times of the day on Valentine's Day and I am not a fan of cooking, so normally I dread the dinner hour!  But there are some great, easy ideas out there.  Again, check out my Pinterest page for ideas and inspiration.  My personal favorites have been ordering a Heart Shaped Pizza from our local Papa Murphy's Pizza.  Or you can often buy heart shaped pasta and pair it with red sauce from Cost Plus World Market.  Sometimes we just pick up Chinese food and pair it with some sparkling cider for the kids. We toast to each other and everyone shares what they love about each other.  But mostly, the kids just love being included in the celebration and the special meal makes them feel happy and loved.
After the kids go to bed:
If we got in an early dinner, there might be time for a family game (or the movie could be held until after dinner), but usually we are just trying to get the kids in bed so we can get some time just for Mommy and Daddy!  In fact, we let the kids know that it is important that we get time together too!
Here are just a few simple things you can do to have a Valentine's Date Night In, while the kids are in bed:
-Table for 2:
This takes a bit of prep ahead of time, but set up a small table in your bedroom (or other private spot) with a tablecloth, candles, flowers and a special dessert (I am partial to cheesecake myself ;)
-A movie and dessert:
There are so many good romantic movies you can watch together after the kids are in bed.  Pick one, add a special dessert, a blanket and maybe a fire in the fireplace and you are set for the perfect romantic evening!
-Read to each other:
Reading to each other can be surprisingly romantic.  And it doesn't have to be Emily Dickinson's love poems either!  Any poetry or short stories will do.
-Play a game:
Again, this could be a regular board game like Monopoly or your own special version of the game.  Check out The Dating Divas for great couples' games you can create yourself.
-Art:
I may only draw stick figures, but I would still be willing to sketch my husband!  Or take it one step further and set up canvases and paints and a vase of flowers or paint a landscape like they do at all those wonderful wine and paint places that have opened up recently.
–Spa Night:
Create a spa at home.  This could include a bubble bath, massages and pedicures. Don't forget the fruit infused spa water and relaxing music!
Those are just a few ideas to get your creative juices flowing for a date night at home after the kids are in bed on Valentine's Day. Do you have any others?  Do you include your kids in your Valentine's Day celebrations?  Are you more likely to go out or stay in?  Would love to hear what other couples and families to on this special day.