This shop has been compensated by Collective Bias, Inc. and its advertiser. All opinions are mine alone. #SuperAbsorbent #CollectiveBias
I might get in trouble for saying this, but I think the best kind of baby showers are actually for 2nd and 3rd time moms.  Some people might say that after your first baby a shower isn't necessary, but I think birthing another human being is always a big deal even if it's your 8th time.  But the main reason I love these kind of showers is because there is less pressure to do it up and put on a show.  Especially about motherhood.  You can be real and share your experiences because you have been there.  We did a baby shower for a "been there done that" mom and I am teaming up with Collective Bias and Costco to showcase their exclusive line of Huggies Little Snugglers Plus and Little Movers Plus to tell you about some of those experiences. Plus, I will tell you how I made these easy baby shower favors for the special day.  Check out this line of diapers on Costco's site and read below for instructions on how to make these easy marshmallow pops. And as an added bonus, you can print out your own pink and blue thank you favor tags to go with them!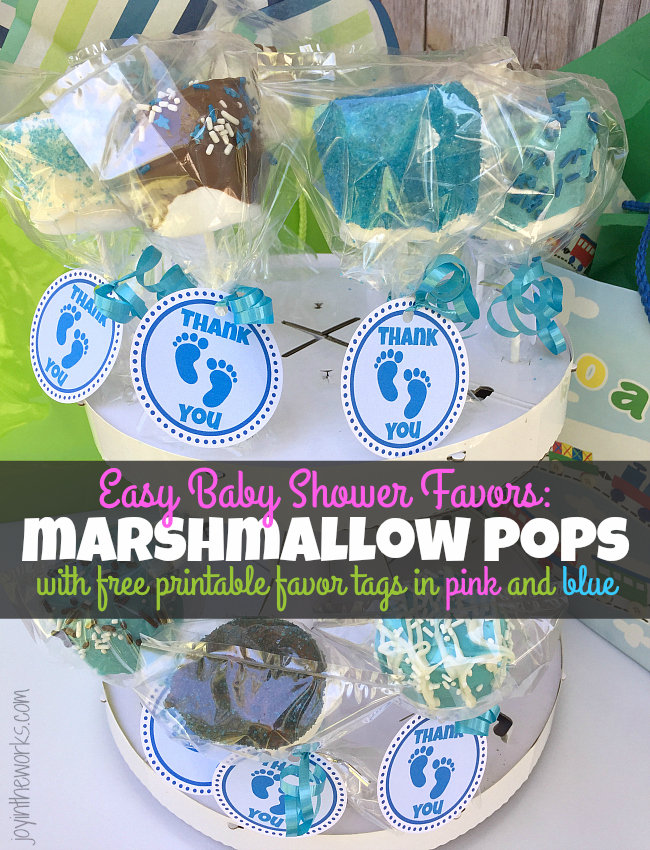 When I got together with a few friends to throw a baby shower for a fellow mom having her 3rd child, I was lucky enough to be in charge of the favors for the party.  There are so many great options for baby shower favors out there, but I chose dipped marshmallow pops because not only are they easy, but they have the added bonus of giving the appearance of a lot of effort! Plus, I think anything you wrap in cellophane and attach a cute tag to is a win! And to make your life even easier (because don't all moms need that?) I am giving you a free download of pink and blue baby favor tags for you to print out. But first, the marshmallow pops:
Marshmallow Pops Baby Shower Favors
Supplies Needed:
Jumbo sized marshmallows
Lollipop or treat sticks (I used 8 inch sticks, but other lengths and widths work too)
Melting chocolate or candy melts
Sprinkles in your color theme
Cupcake liners (optional)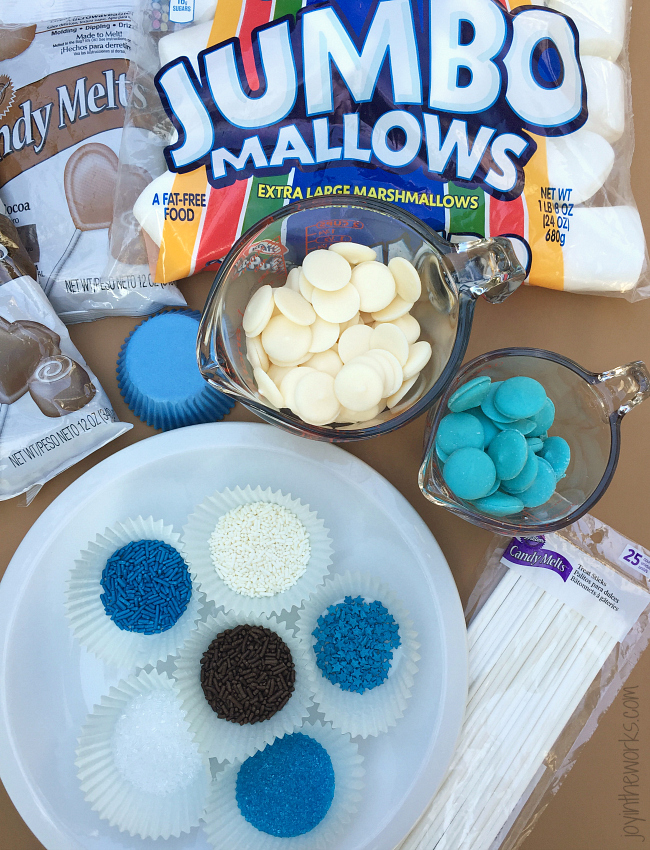 Step 1: Insert lollipop or treat sticks into jumbo marshmallows.  If desired, place in cupcake liners to keep marshmallows separate.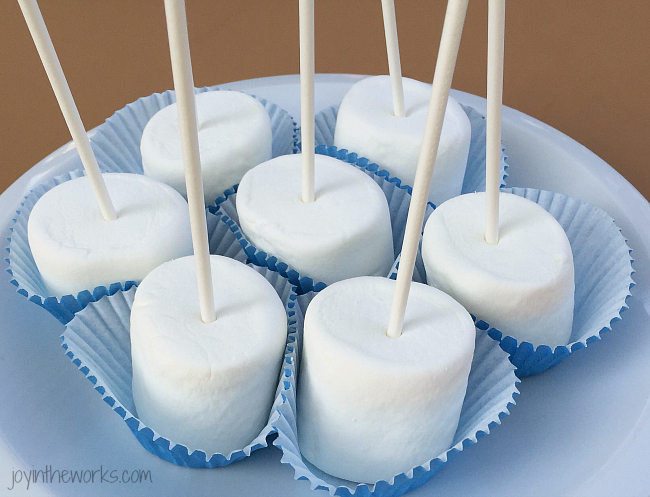 Step 2: Melt chocolate or candy melts by following the directions on the package.  There are usually some simple microwave directions as well.  I don't have time for that fancy double boiler action! When the coating is melted and smooth, holding the stick, dip the marshmallow in and swirl around until it is covered evenly.  You can also use a spoon to help spoon it on when covering the marshmallow.  If you want more of a smooth look, grab a knife or a spreader and spread it evenly as if you were frosting a cupcake.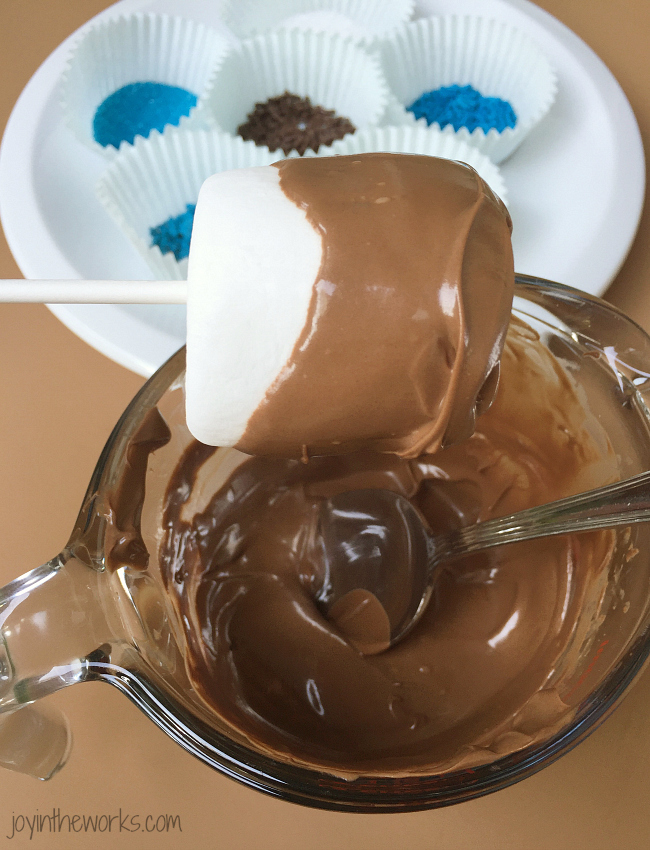 Step 3: Before the coating hardens, choose your decorations.  Here are a few tips depending on what topping your choose.  The jimmies and shaped sprinkles work best if you drop them on a few at a time and rotate as you go.  The sugar crystals work best if you roll the marshmallow pops in them for complete coverage.  If you want to add a swirl of icing, simple put the melts in a piping bag and pipe on.  It all depends on the look you are going for. The possibilities are endless!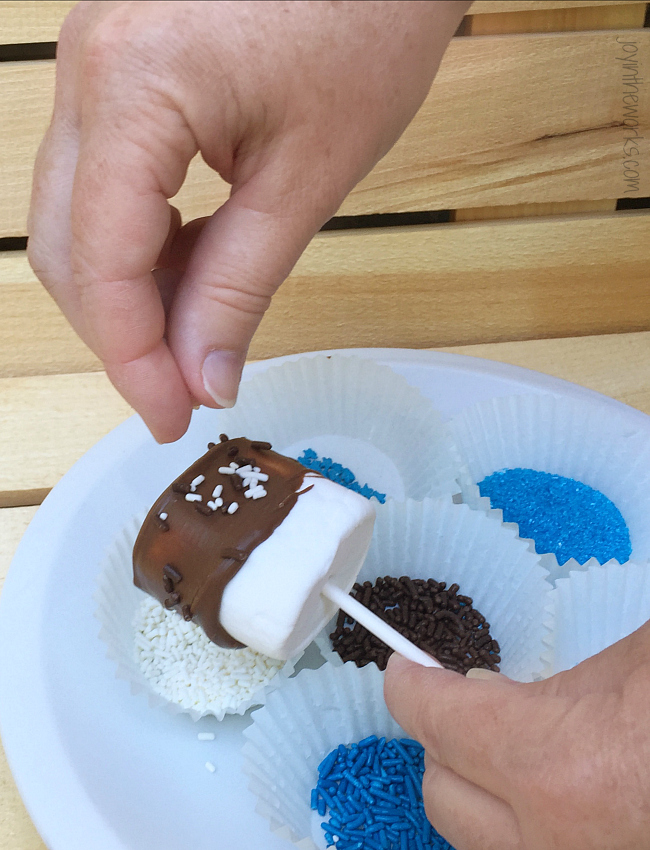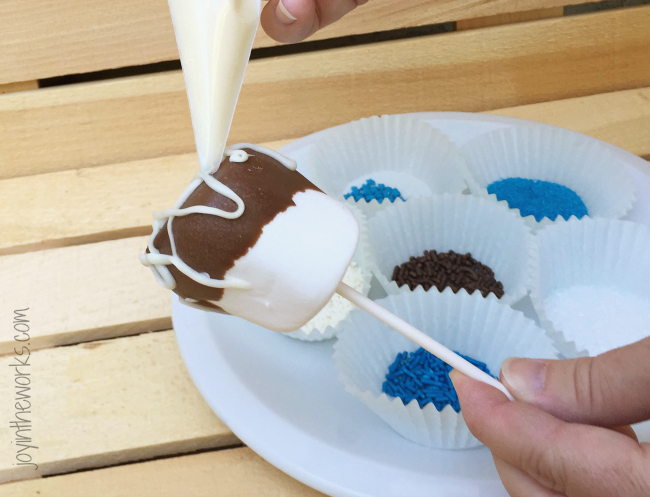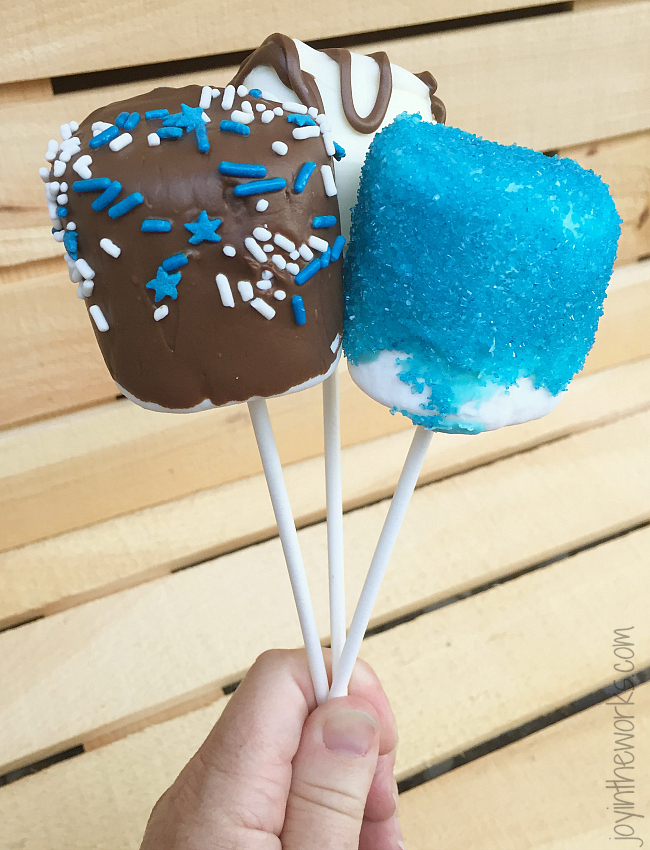 Step 4: Let dry.  There are a few options for drying your marshmallow pops.  If you have a cake pop holder like the one pictured below, that's your best option for drying.  You can also punch holes in a shoe box and let the pops dry in there.  If you can't find any boxes, simply grab several glasses or jars, depending on the height, and put the marshmallow pops in there to dry.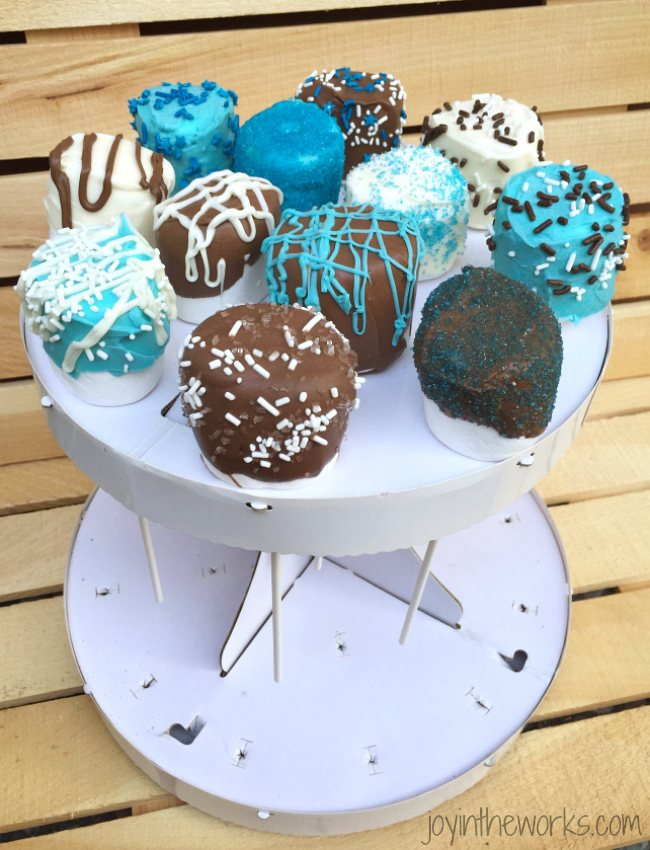 Now for the finishing touches.  Clearly I am no perfectionist when baking, crafting or making gifts.  So I use special wrapping to make it look extra ordinary. There is just something about sweets on stick wrapped in cellophane and tied up with a ribbon and favor tag that makes people ooh and ahh. You can get the bags and ribbon at any craft store.  Feel free to print out the baby themed favor tags in pink or blue, whichever ones suit your needs.
Start by printing out your gift tags on white cardstock. Next you can either cut out the circles by hand or use a craft paper punch.  The circles work perfectly for the 2.5 inch circle punch. The regular hole punch isn't pictured below, but you also need it to punch a hole for the ribbons and to attach the tag to the gift bag. With small packages such as these, I use a curling ribbon and curl it with scissors, but you can use whatever kind of ribbon that you have on hand.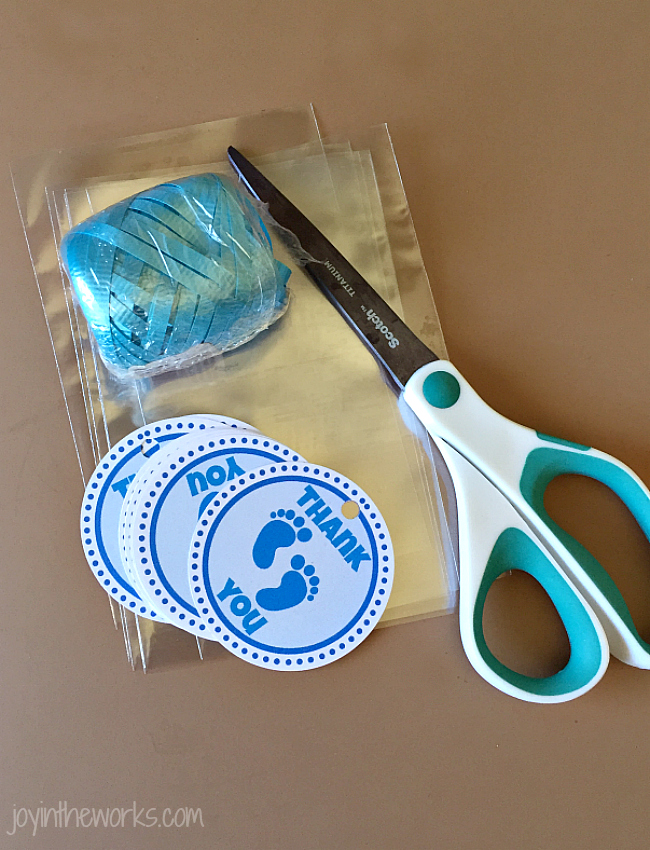 The finished product.  It's amazing how many imperfections a cellophane bag covers up! =) You can display them at your baby shower in a cake pop stand, a covered shoe box or a simple basket.  Don't forget to pass them out to your guest at the end of your baby shower!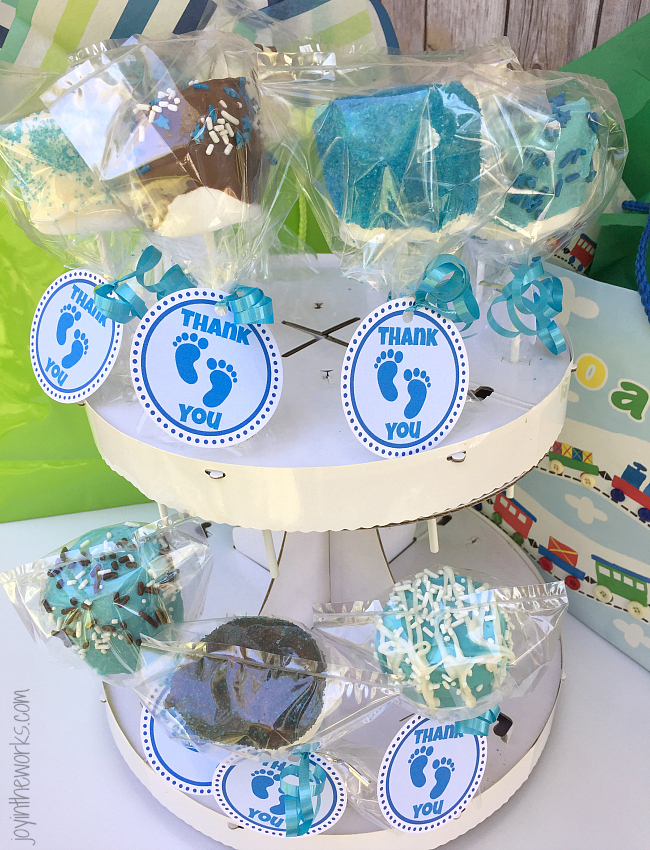 I had so much doing these marshmallow pop favors for my "been there done that" mom friend.  The favors were the only thing I had to do for this shower as we decided to do everything simply for her as this isn't her first baby or shower!  Now that most of us have done this motherhood thing a few times through, we know that none of the extra stuff really matters in the end.  The toys aren't going to matter because babies will just want to play with the boxes.  The latest bouncy seat or rocker will sit unused a majority of the time because your baby will just want to be held.  And for those moms who have done this before, they know that they need to spend every moment they can holding that sweet little bundle.  They know how quickly this time passes and before you know it, they will be off to Kindergarten!
The other thing experienced moms know?  Where to get the best diapers and which ones work and fit the best.  After doing this for 13 years now, I know that Huggies is the best brand because they are the softest, the most absorbent and have 12 hour leak lock protection. I was so excited to hear that Costco, my favorite place for deals, is an now exclusive carrier of a new line of Huggies diapers called Little Movers Plus and Little Snugglers Plus.  The word "Plus" means that this line of diapers is their most absorbent too! So with Costco's prices and Huggies' quality products, the Little Movers Plus (for my littlest one) and Little Snugglers Plus (for even littler ones) diapers are now this experienced mom's diapers of choice.
In September, Little Movers Plus (Size 3, 4, 5, & 6) are $42.99 and $36.99 after a $6 discount, plus free shipping if you need to buy them online. And for the littler ones, Huggies Little Snugglers Plus (Sizes 1 & 2) are $37.49 and $31.49 after $6 discount. Both of these offers are valid 9/1 to 9/25.  Also starting in August, Costco is going to have the newborn size for $29.99 as well. You can find all these deals in store and on their website.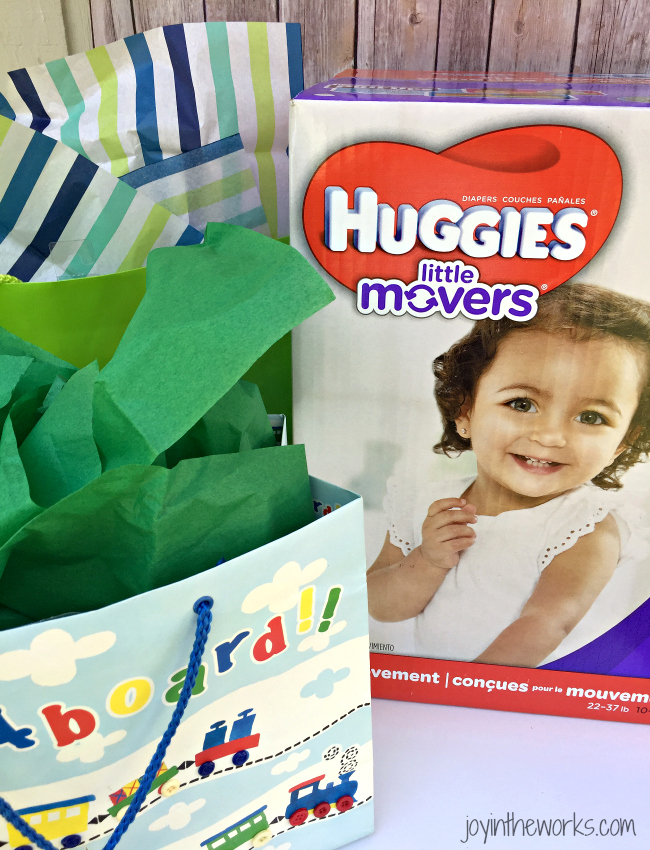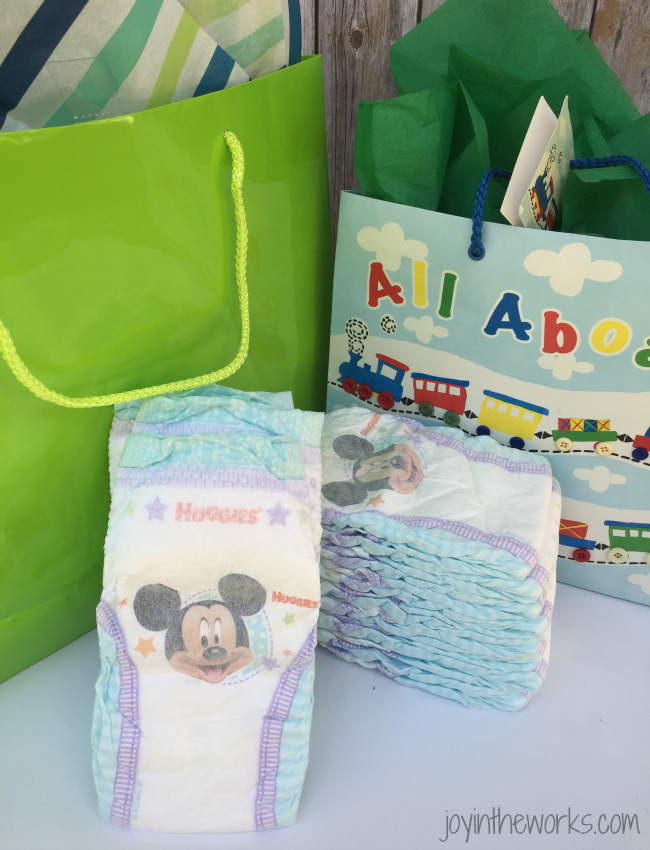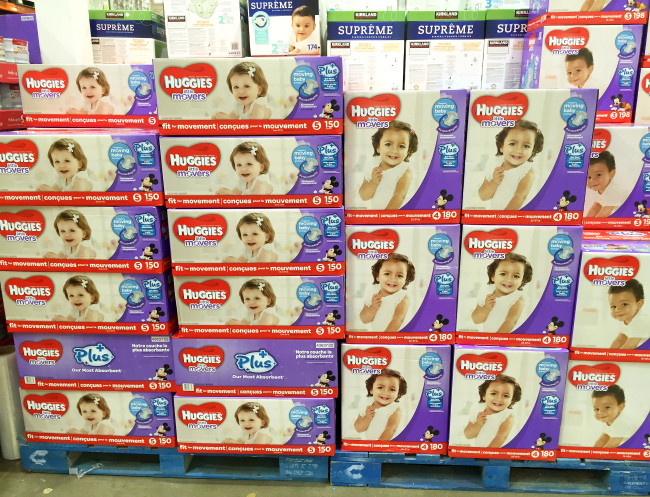 So what do you think?  Do you think these marshmallow pops look easy?  Have you ever done a baby shower for a "been there done that" mom?  Do you have any tips you can share with other moms based on your own experience?  We moms need all the support and mom hacks we can get!!