I just can't believe that we are nearing the end of the school year already! The end of the year brings about lots of fun events and activities at school, including Teacher Appreciation Week. I have so many ideas and gifts I want to share with you, but it's been a pretty crazy spring around here, so I wasn't able to get them up on the blog (yet?!). But I still wanted to show you one idea I came up with for a small Teacher Appreciation Gift: chocolate flowers! And of course I had to make some Chocolate Flower Gift Tags to go with them!
This post may contain affiliate links. Please refer to our disclosure page for more information on our policies.
Chocolate Flower Gift Tags for Teacher Appreciation Week
At our school, we organize Teacher Appreciation Week into different themes and gifts for each day of the week. For instance, on Monday, a parent might bring the teacher a coffee and a pastry. On Tuesday, the kids bring in handmade cards. On Wednesday or Thursday, kids are told to bring in a flower from their yard to create a large bouquet for the teacher. But the thing is, not everyone has flowers in their yard (because maybe, like me, their thumb isn't so green!). Another difficulty with flower bouquets? Around here, allergies can be pretty bad in the spring so you might have some sneezing kids in the classroom.
In order to deal with the issues that flowers often bring during Teacher Appreciation Week, a few room moms got together and brainstormed some alternative solutions. One year we had just one parent bring in one large plant that the teacher could take home and plant in his or her yard. Another year, we did paper flowers. It was cute, but a lot of work.
But this year when I saw these chocolate flowers I knew we had another possible solution! Although an entire bouquet made entirely of chocolate flowers would be heavenly for a chocoholic like me, but since it might be a bit much for someone else, you could always have some kids bring in real flowers and some bring in chocolate flowers. Maybe just suggest it as an option? Or perhaps, have some kids make paper flowers and fill in the rest with chocolate flowers to make the bouquet extra special?


Whether you do chocolate flowers or real ones or another gift altogether, I came up with a few free printable gift tags for you. You can use the Chocolate Flower Teacher Appreciation Gift Tags that say "Thanks for helping me grow" or you can use the simple teacher tags with the classic red apple. I made a few different varieties to give you as much flexibility as possible.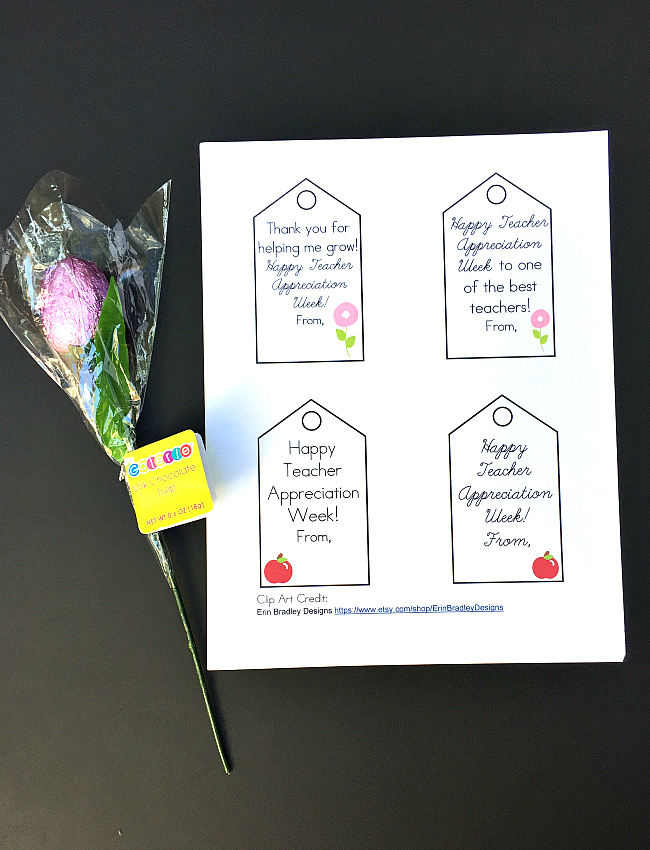 In the end, it's not about the gift though. In fact, please don't feel like I am pressuring you to give your child's teacher a gift! Because I love doing little themed gifts, I like to use my blog to share what I do for those who might be similar. What really matters here is just that we show our teachers lots of appreciation. Speaking from personal experience, teachers work really hard! We don't do it for Teacher Appreciation Week or the gifts or even the paycheck (obviously!), but simply because we love teaching and we love the kids. But a nice note or something thoughtful sure does help on those tough days!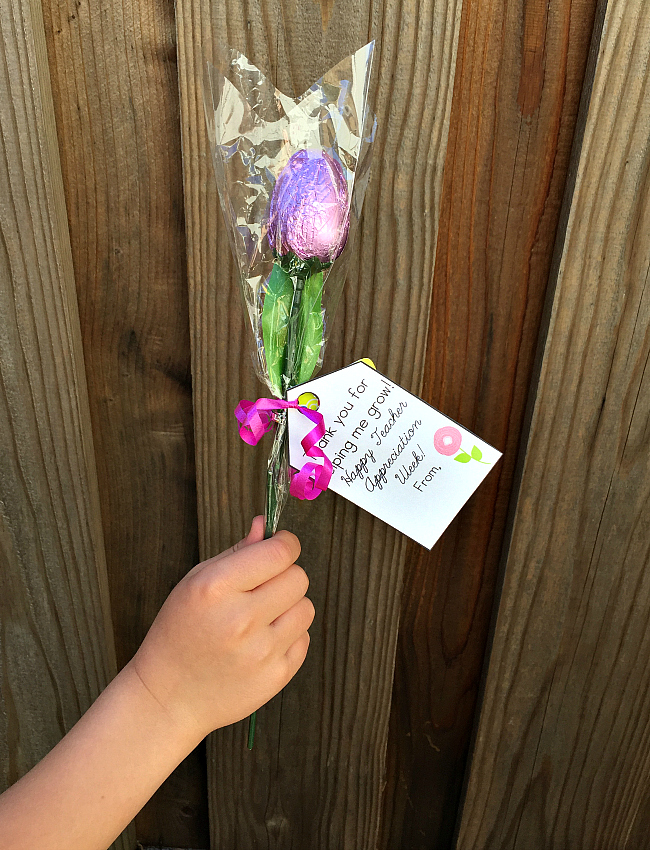 I still hope to share some other ideas with you all when I can (especially the year we did Charlotte's Web as our theme for the week!). But in the meantime, I hope you enjoy these apple and chocolate flower tags for Teacher Appreciation Week. You can download them below.

I would love to hear how other schools in other areas celebrate Teacher Appreciation Week. Or does your school do anything at all? Maybe the schools around here make it a bigger deal than others. If you are willing, share your experience with Teacher Appreciation Week in the comments below. Thanks!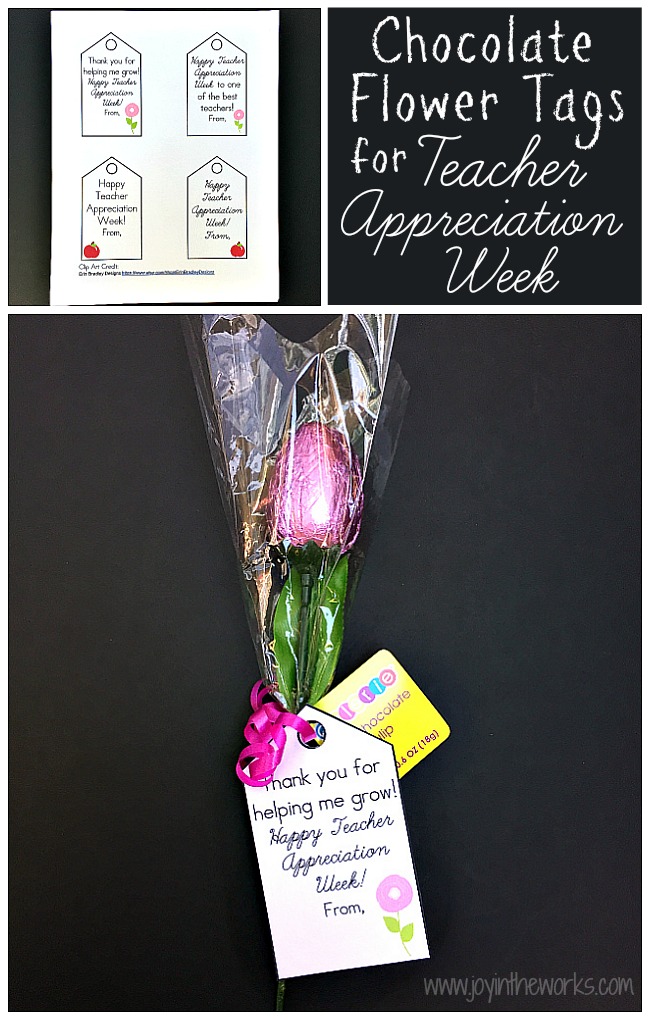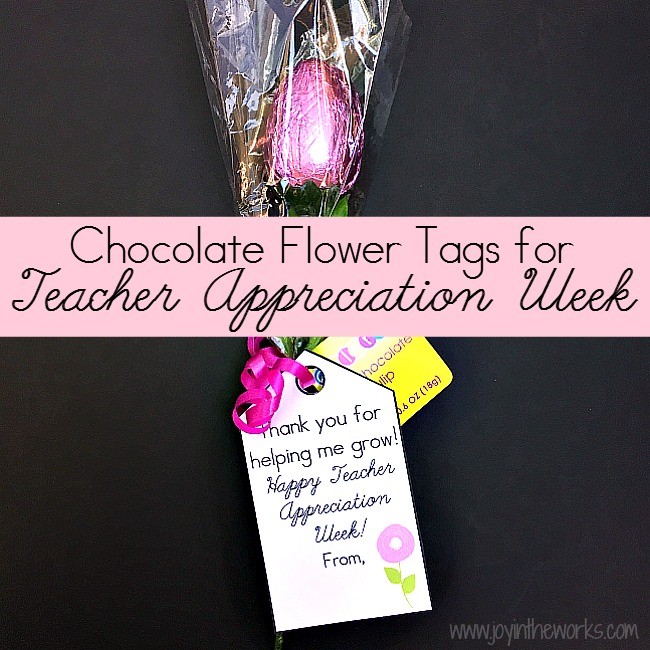 Save
Save