Looking for a fun way to send your kid some mail while at summer camp?  Or what about how we moms are always longing to hear from our kids while they are gone?  This fill-in-the-blank letter from camp is so simple, if you put it in a stamped envelope for them, you just might actually  hear from them!!
This post may contain affiliate links. See our disclosure page for more information.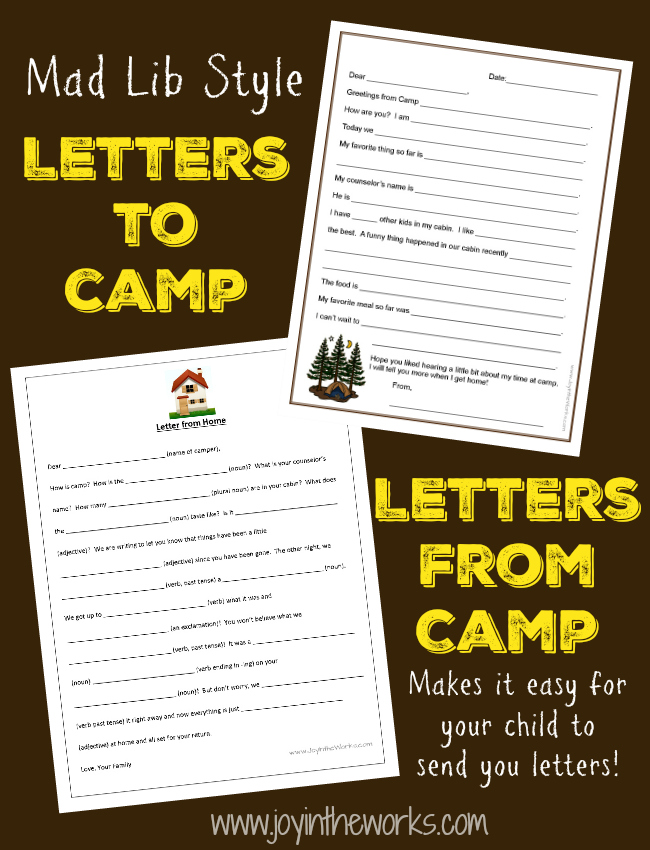 I can't believe this day is here.  5th Grade Camp. Outdoor Education.  I have been dreading this day since I started my son in Kindergarten.  I knew it would be painful to let my "baby", my first born go away to camp with his class, so I told myself it would never actually happen…but yet, here it is and I can't get out of it.  He needs to go.  He wants to go. I need to let him.
Part of the packing process involves sending letters to your kid at camp.  I guess mail is a big deal while they are there.  Either that or they want to teach kids what real mail actually is.  Either way, have you ever tried writing a letter to your child in the future?  And one that doesn't involve many details about home? (They say too many details or stories about home can make them home sick).  I can squeak out one letter that fits the bill, but 3? Not happening.  So I came up with the following solution and I am sharing it with you. After all, Moms need to help each other out!
So, here was my solution- I wrote one letter, my husband wrote another and we did a Mad Lib style camp letter for the 3rd. We have been obsessed with Mad Libs lately around here.  It has been such a fun family bonding activity at the dinner table and with a wide age difference in my children, it is rare to find something that engages everyone the way Mad Libs do.  Now, they actually make a Camp Mad Libs that you can purchase, but as usual, I am too late for that!
But if you are like me and you are always scrambling at the last minute, here is a copy of the Fill-in-the-Blank Letter from Home to send to (or with, in my case) your child at camp. My 5 year old and I filled it together and ours came out great.  Hope yours does too!  You can download it at the bottom of this post.
I also came up with another (more serious) version for my son to send to us. Now I wouldn't expect him to write us from a short camp like this, but we are planning on doing the real deal this summer.  He will be gone 7 whole days!  And I just can't go that long without hearing something from him (oh, I won't tell him that- I will claim that his little brother will miss him or something).  I know he would never write us an actual letter on his own, but they do get daily cabin time where they can read or write letters.
So my plan is to stick an addressed, stamped envelope in his suitcase with a letter that is practically written for him!  All he has to do is fill in the blanks, seal the envelope and stick in the camp mailbox.  That isn't too much to ask from the child I carried inside me for 9 months and spent 12 hours in excruciating pain with as I gave birth to him, is it? (I am an easy mom, you can tell ;) Anyway, we will see if it works.  Feel free to try it too! You can download both types of letters at the bottom of this post and have them delivered right to your email inbox. In the meantime, here is a sneak peek: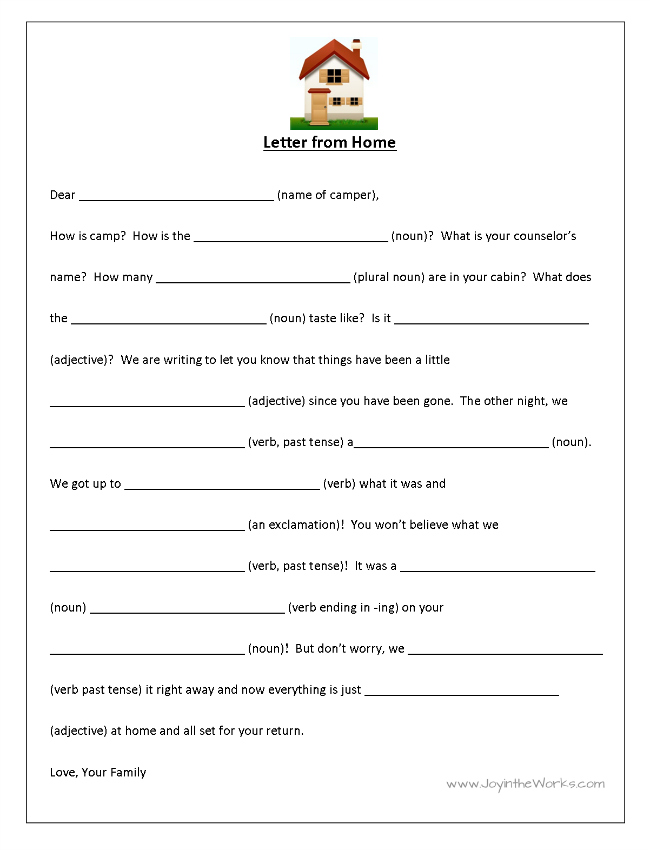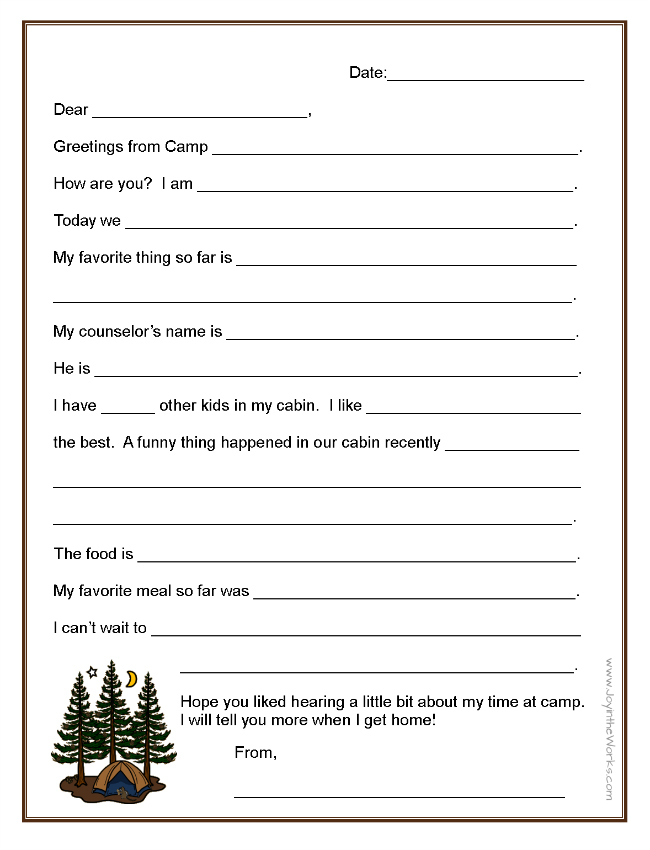 Would love to hear about your child's experience with camp just to calm my nerves. Will they survive? Will they like it? Will I survive a week with a hole in my heart? ;) Will my son actually write us back?! I know these Fill-in-the-Blank camp letters definitely will increase the odds of that! Download them below:
Save
Save