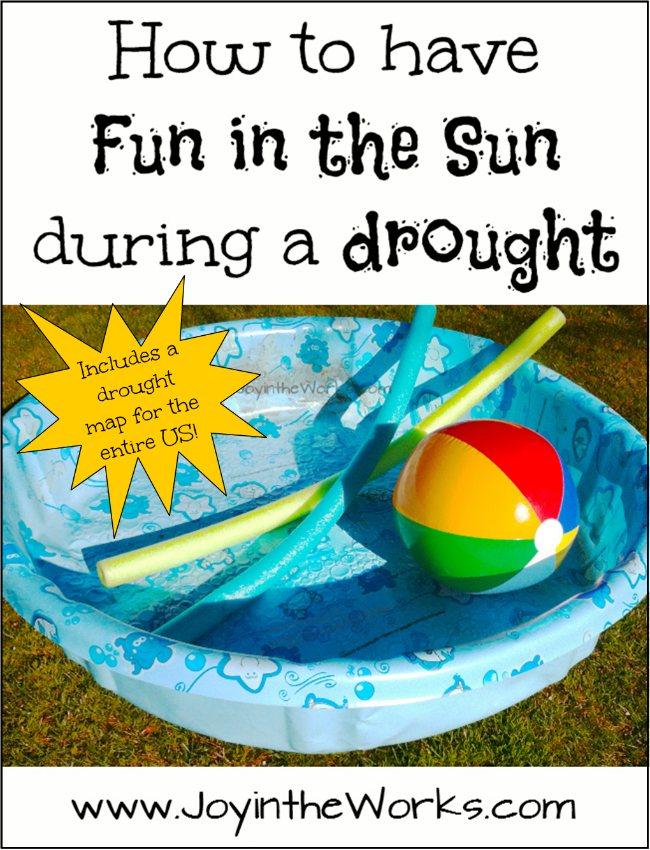 The time has come for moms far and wide to start planning their kids' summer activities (or as some of us look at it: find ways to fill the endless hours when the kids would normally be in school!). There is an increase in summer activity "pins" on Pinterest, emails going back and forth about who is signing up for what summer camps and for those who are really lucky, flights are being booked and rental cars are being reserved. But are you worried about fun in the sun during a drought?
My family falls somewhere in the middle. We might take a road trip somewhere (an "airplane" vacation hasn't happened since we grew by 2 members!). My boys do a few day camps offered through the city (like Lego Engineering or Movie Making), some local day excursions with me and a few crafts or science experiments, if they are lucky! The rest of time, my kids just enjoy the freedom of being a kid during summertime and they play, play and play so more!
But this year, we have a problem as we, in California, are faced with a severe drought. And typical summer fun around our house involves a lot of outdoor play with water. In fact, my kids spend most of their time at home in the summer soaking wet. We just love water play. Some days, the boys simply run in the sprinklers, others they get out the kiddie pool or the slip and slide.
But more commonly, I try to help them get more creative- putting the plastic slide directly into the kiddie pool and running the hose down it creating our own "water slide". Or my boys will swing on the rope swing while I try to spray tag them with the hose. Other days, the hose gets left on in the sandbox and they build a "river". Some days we put soap in the baby pool and wash all their toys and dishes. The list goes on and on, really.
And if you have watched the news at all, we are going through a severe drought in California, our home state. So, clearly, not only is California in trouble, so am I. (However, upon reflection, it appears that my family may be solely responsible for the current drought in California, so I may have bigger problems to deal with! ;)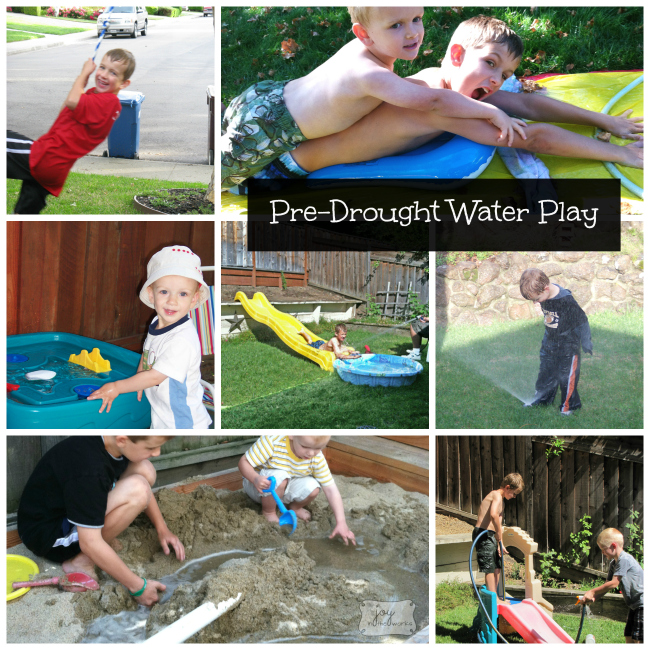 Either way, it's time to get serious about conserving water on the West Coast. While I have been teaching my kids some things they can do inside the home (like turning off the water while they wash their hands or brush their teeth, collecting a bucket of water while they shower to water the plants), I have also come up with some tips to help kids have "fun in the sun" during a drought.
(Warning: I began this list last year when the drought wasn't quite as scary, but now things are so bad in California, we might just want to stick with #1 on the list and spend the summer at the pool! This list still may be helpful for some- especially those in other areas where the drought conditions aren't as severe. Curious where your state stands? Check out this US Drought Map)
13 Ways to Have Fun in the Sun Despite a Drought
(This list contains affiliate links. To see my affiliate policy, click here)
1. Become Members at a Neighborhood Pool (Or better yet, be bold and ask friends, family or neighbors with a pool if you can schedule a weekly time where you can come over and go swimming) Now this one is definitely more effort and involves packing up what feels like the whole entire house to actually get your family there, but this is the number one way I could come up with to keep my kids having fun with water during a drought. I will encourage them, however, not to splash all the water out of the pool (like when we used to try to splash away dead bees or cool down the pavement when we were young) because pools do have to be refilled as well.
2. Instead of getting out (and overflowing) a kiddie pool, buy a small water table (We like Step2 Naturally Playful Sand & Water Center
) or a large plastic basin and fill with water for water table play. Depending on the age of your children, you can add so many different things. We like boats with people or sea life. Better yet, add a fishing pole and net and go fishing!
For the little ones, a water wheel, strainers, measuring cups and pitchers provide lots of entertainment. In fact, anything from the kitchen cupboard can be pretty exciting to them. I like to put soap and play dishes and sponge and have my kids "wash dishes" (although really, when I will ever learn not to put anything in there that I actually want them to clean?!)
My older one could be enticed with things like magic grow capsules. Toss them in and watch the sponge shapes reveal themselves. Have a race to see who can identify each object first. Sometimes the oldest likes to freeze his favorite action figure in ice and watch it melt in the water or chip away at it a la Hans Solo in carbonite. (Although have you seen this? An actual Star Wars Han Solo Silicone Tray
!)
3. Speaking of freezing things, playing with simple ice cubes is a great drought friendly activity! Other than freezing small items in the ice cub tray (from small plastic bugs or animals to Lego minifigures to beads that you can string on a necklace when it melts to items from nature) you can also color different cubes and the kids can have fun with the color mixing as they melt.  Ice cube racing down a hot wheels track or blowing them with straws will always entertain!   You can also get creative with the shape of your ice cubes- you can also use a mini-muffin tins or we have a heart shaped brownie tin that we could use to make heart ice cubes.  Plus, there are so many different shaped silicone ice cube trays now with lots of fun shapes.  I have to say my personal favorite however, is using Lego Minifigure Ice Tray and Ice Brick Tray molds
and making Lego minifigures and bricks out of ice. Add some food coloring and they can build with ice Legos! I don't think they will miss the drought with that one!  And last, but not least, don't forget the classic (and inevitable!) ice cube down the shirt trick (that could be turned into a game of tag?!).
4. When playing in the sandbox, instead of letting the hose run freely, turn it on to a "dribble" and set a timer for when it needs to be turned off. Better yet, use it as a "teaching" opportunity to measure how many gallons of water come out of the garden hose per minute. Compare that to the amount of time they normally have the hose running and have the children decide how many gallons of water would be acceptable for them to play with.
5. Another good way for your child to have conservative water play and learn is to help you water the plants. Discuss how much water each plant needs and how to divide it up. Fill up a watering can or measure out the amount in a pourable pitcher. My kids aren't the neatest, most careful, kids, so they always end up wet (and happy!) with this one!
6. Just because we are having a drought, doesn't mean kids can't enjoy an occasional water balloon fight (or target practice on a chalk drawn bulls eye, my preference). Instead of letting your bigger kids use the hose spigot to make water balloons and have all that extra water run everywhere, buy a Pumponator
! The kids fill up the bottle once or twice and can only make as many water balloons as they can fill from the bottle. (Remember to pick up those tiny pieces of rubber after the balloons are popped- they are a choking hazard for little ones and birds!)
7. Have a Sponge Toss/War. This idea is great for those of us who don't like cleaning up the broken water balloon pieces we find everywhere for weeks afterward. Fill 2 buckets of water and add clean, new sponges. Draw a line of chalk and have the children invite neighbors and friends to play a sponge version of dodge ball! There are actually a lot of great uses for play with sponges that don't use a lot of water. In fact, add sight words or letters on the sponges and this is one of my favorite "Summer Slide" activities for my tutoring students.
8. Play scoop water ball! This is a great outdoor game: Geyser Guys Geyser Scoop Ball
There are a variety of ways to play this one.  I would start with 2 small buckets of water (not included), the 2 plastic scoops and the ball with holes in it.  The kids take turns soaking (and filling) the foam ball and then they throw it back and forth using the scoops. Honestly, there are so many versions of this game though- put one bucket in between 2 people and have them race to scoop out the ball first.  Add more people to this game and make it a relay with tossing or spraying the water ball.  Or for the younger ones, use the scoops and ball to play a version of the Egg spoon race to see if they can keep the ball balanced inside the scoop.  There are a lot of fun possibilities with this toy. Make sure to play it on the grass though (if you are still trying to keep it alive, that is!)
9. Try water painting. Water painting is another idea I have adapted for my summer tutoring program (I am working on that post- how to prevent the "summer slide" while still having "summer fun"). For little kids, get small buckets and fill with water (1-2 times max) and give them clean paintbrushes. For wide brushes, they can "paint" the fence or house with water. With smaller brushes (and a little "teaching" snuck in), we write words in the sunshine and watch how quickly they dry. Or we write out letters with chalk and "paint" over them with water (great spelling game for the big ones and good name practice and letter identification game for the littles)
10. Use spray bottles. The reason I recommend Spray bottles instead of squirt guns when you are trying to conserve water in a drought is that spray bottles end up (usually) being a calmer activity and one where you could get away with only refilling the bottles once or twice. Squirt guns are often hard to refill and you end up spilling a fair amount of water. Also, people get so pumped up with this game, they don't give much thought to how many time they are refilling and how much water they are wasting. Squirt bottles are usually available in the dollar bins at Target or Michaels or at the dollar store and my kids love spraying plants, targets and each other!
11. For those older kids who love squirt gun fights in the summer, we did find this great small version that will prevent a lot of water waste with a lot of quick refills and gives a it fun twist by attaching it to your kids' bike! Check it the Skyrocket Cyclone Bike Mounted Water Blaster
!
12. Use misters to keep cool. We love our MistyMate 20009 24 Deluxe Personal Mister
! The misters we use are like the size of a large water bottle and can be turned on to a constantly flow or can squirt/mist people. I love these for hanging up on the fence while we have a neighborhood game of kickball and everyone can go get refreshed, with very little water use. The kids also love just walking around with them, spraying themselves and each other!
13. Do set aside one day a week or so where the kids do get to pull out the kiddie pool.  Either buy a hard plastic baby pool at a local drugstore or toy store (don't wait to long like I did one summer and they were sold out everywhere! Or get an Intex Inflatable Kiddie Pool
Either way, discuss how much water should go in it. Place a piece of masking tape as a guideline as to how high they can fill the pool and help them to follow through. When the kids are finished playing, give everyone a bucket to scoop out the water and carry it around to different plants that are in need.
Bonus Tip: Create other uses for your "baby pool". Use that baby pool and fill it with balls and make it a "ball pit". If it is a hard plastic pool, then you can easily add hot wheels cars and tracks and make it a race track or you can use golf balls, paint and paper and make a giant "marble painting", by rolling the golf balls in different paint colors and then tipping the pool to make a swirly picture. Add bubble solution and a step stool and learn how to enclose children in giant bubbles! The possibilities are endless!
I hope I offered you one or two new ideas for how to conserve water this summer. Or at least got you thinking about how important this issue is right now to those of us in the Western States. What are some other ways our kids can have "fun in the sun" while conserving water? I look forward to hearing your ideas too!
**Just a reminder to SUPERVISE YOUR CHILDREN AT ALL TIMES AROUND WATER! They can drown in as little as one inch of water! Always keep those precious ones always close by!