There are a ton of great ideas out there for class Halloween parties and I did A LOT of research because as you know, I believe good quality, engaging activities make a successful (and fun!) party. And when you have to entertain 50 Transitional Kindergarten students after they have already walked in the school Halloween parade (read: they were wired!), you had better have a good plan! Thankfully we had 3 moms working together and the classroom teachers gave us a list of required activities as well.  Read on to see what we came up with.
This post may have affiliate links.  Please read our policy for more details.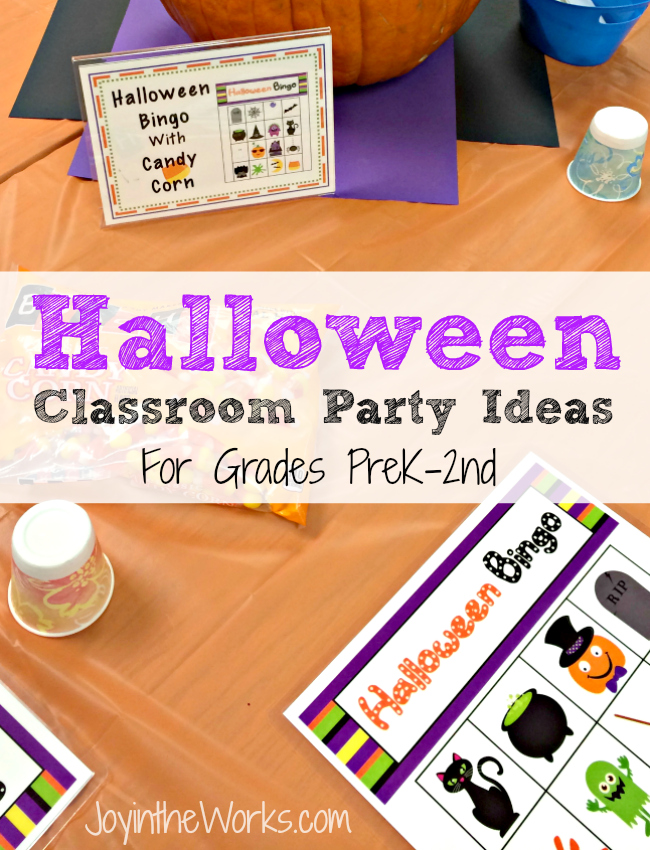 For our first craft, we chose the Spider Web Craft.  We originally found it here. We followed their directions pretty closely, except we changed the spider on the front.  For our purposes, we simply added a spider ring to the front of the paper plate web. It was one less step for our young students to accomplish.
I would caution those who do this activity with young children, however.  It is great fine motor practice, but it can be challenging.  Our students were in Transitional Kindergarten (just turning 5), so unless you have a lot of support, I would recommend it for older students, mainly Kindergarten and 1st graders.  Although truth be told, many of the moms really enjoyed the web making process!!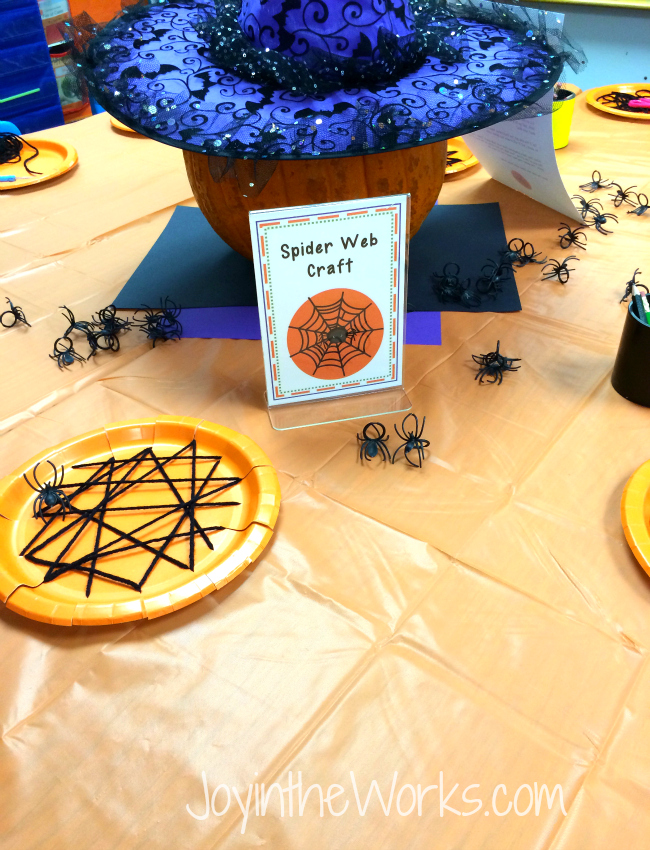 Another activity we set up at our party was playdough.  I think it's always a good idea to have a quieter, independent activity at a party so that those children who prefer to be alone or would just like a break from all the excitement of the day, have something to do.  We did orange playdough (of course!) and included plastic Halloween cookie cutters, rolling pins and even a spatula for those that wanted to pretend to make a batch of yummy "cookies"!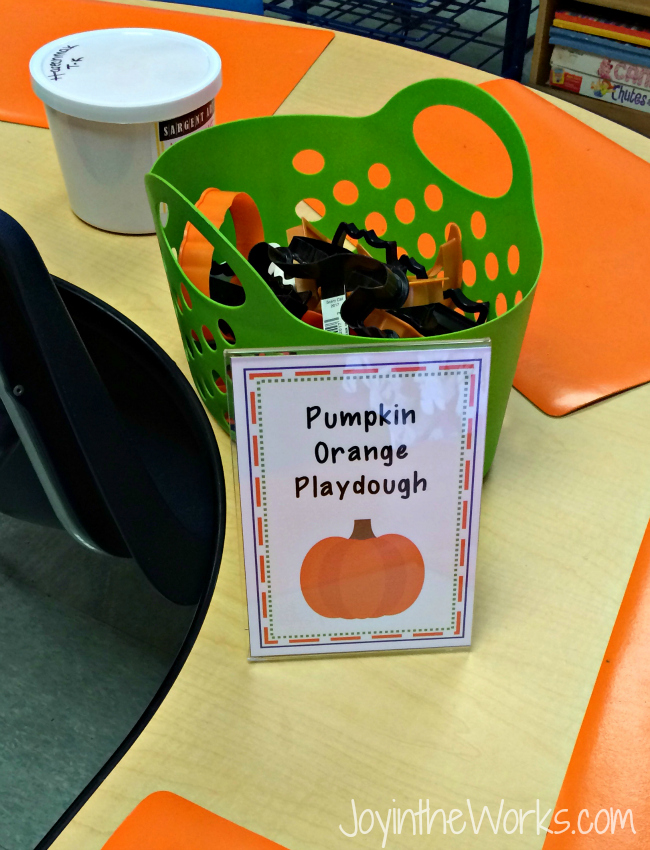 One of the most popular tables at our Halloween party was the Halloween Bingo table using candy corn as game pieces.  While I made my own Bingo boards, unfortunately I can't share them with you due to licensing issues of the clip art I purchased.  BUT I did find you your very own free printable Bingo set on Pinterest.  You can print your own version here. You can also purchase candy corn here if you would like to use those for bingo game pieces!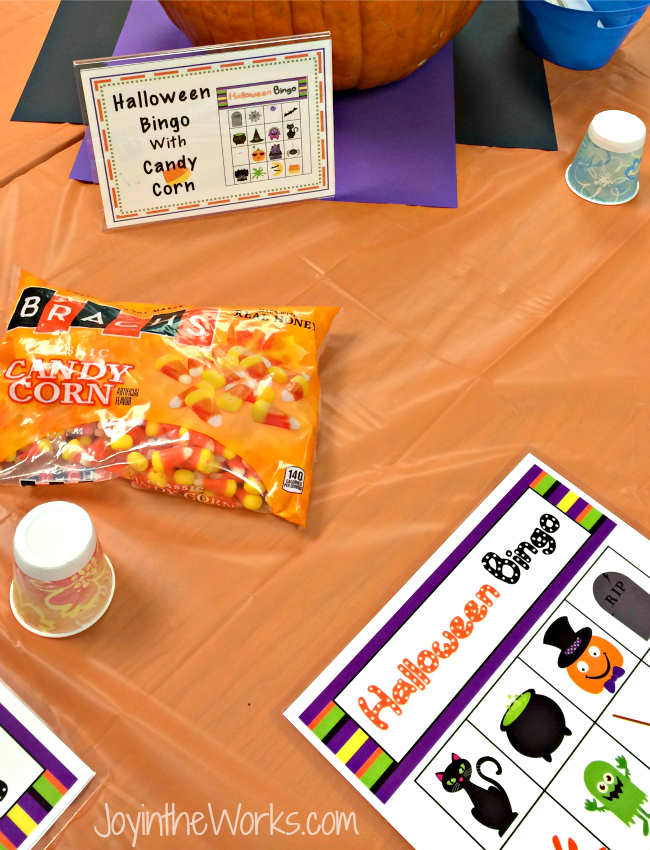 I think the Halloween Boo Mix we did for the class party was my favorite, simply because we added an educational element.We made a sign for the kids that showed them how many of each item that should add to their mix. It was great counting practice- especially in the beginning of the school year like this.
Even better? I made a separate post just for you to make your own Halloween Boo Mix and download a free printable follow-along sign! You can get your own Boo Mix Sign and I even made some Boo Mix Treat Bag Toppers so the kids could take home the extra as a favor!
And then because I am a total overachiever, I realized that some people don't want it to be a Halloween mix for one reason or another. So I did another version of the snack mix and called it a Fall Snack Mix. I also made a separate Fall Snack Mix Treat Bag Topper that would be perfect for a Fall Festival or another Fall themed party! I also use snack mixes to give away to friends and neighbors!
Onto our outside activities! On the playground, we followed through on what the teachers requested.  We had "Scare-a-Ghost" which had white cups with black ghost eyes and mouths.  The children used a ball and stood back at a marked line and tried to knock them over.  It was a fun, carnival type game.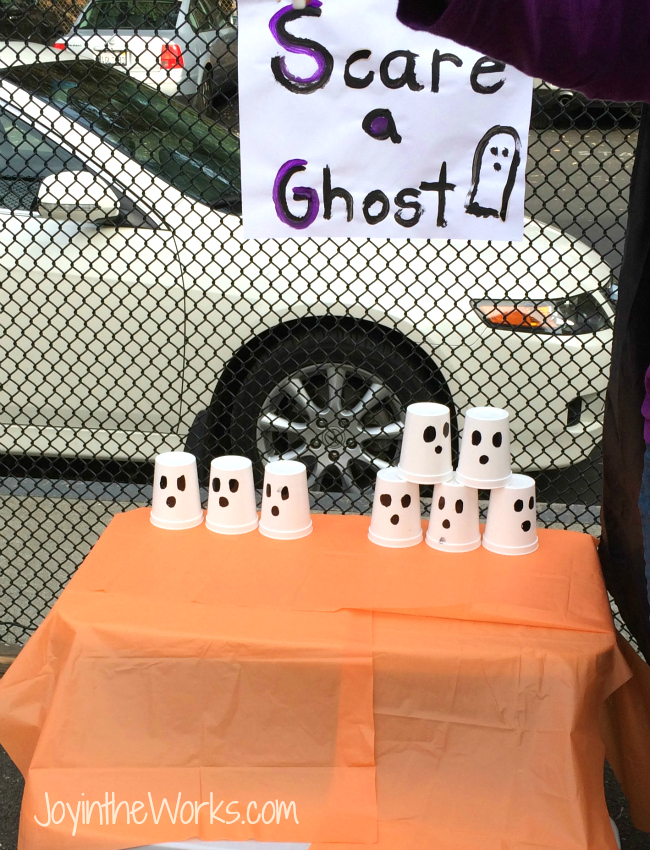 Another carnival Halloween game for young children is "Boo-ling".  For this game, you use white bowling pins decorated as ghosts and you use a small pumpkin as the bowling ball.  The kids got such a kick out of this!  As a tip, try to use the roundest pumpkin you can find so it rolls well!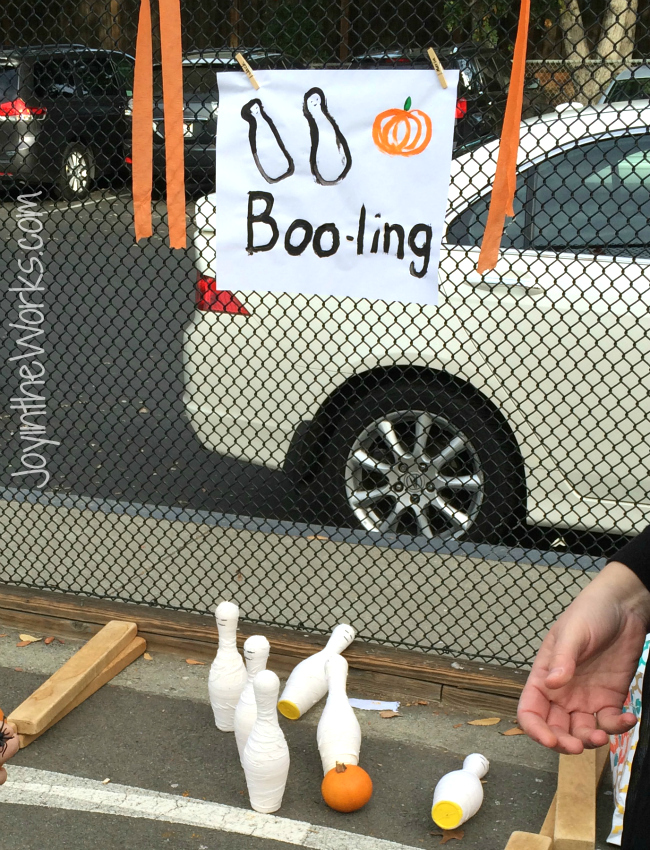 Next, we did a "Witches Hat Ring Toss". This was another fun outside game that involved good skill practice for the children.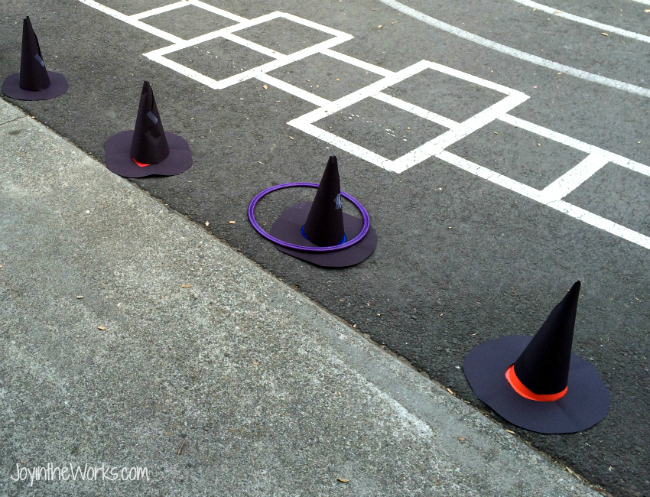 Last, we played the classic "Pin the Tail on the Cat" game.  This can be played inside or out and although you can't see it here, you definitely need a blindfold or some sort of eye cover to make the game more challenging!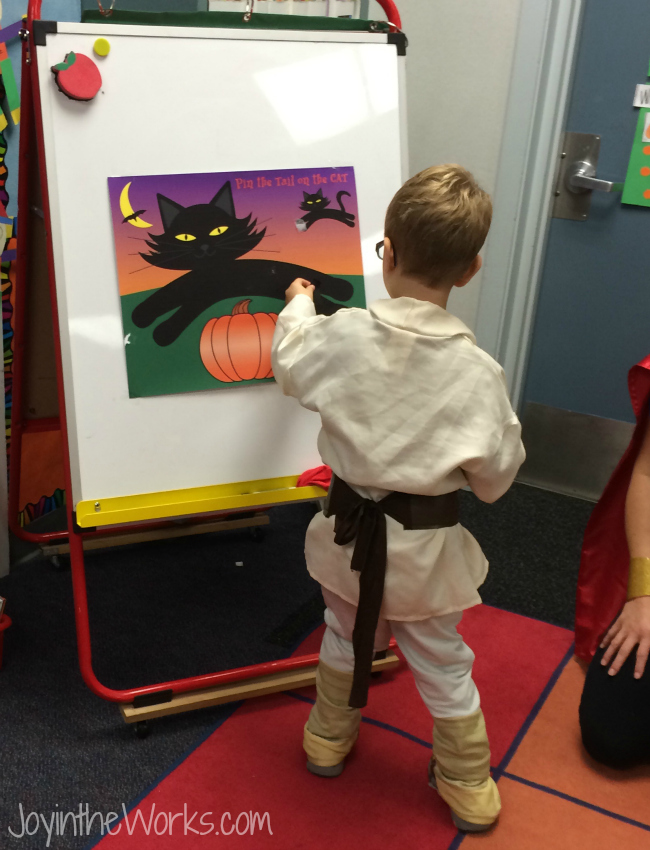 This was my first time running 2 class parties simultaneously!  And although I wouldn't recommend it =), I think both turned out fairly well.  If you want to see what I did for my older son's 5th grade class party, check it out here.
Looking for more games and activities for your class Halloween party? Follow me on Facebook where I am sharing lots of fun Halloween activities, crafts and foods perfect for school or home!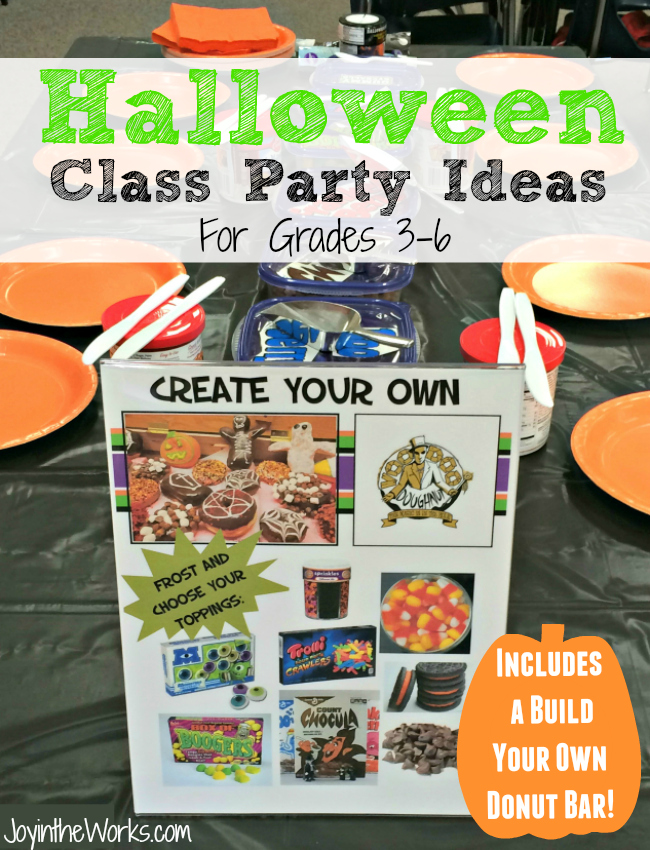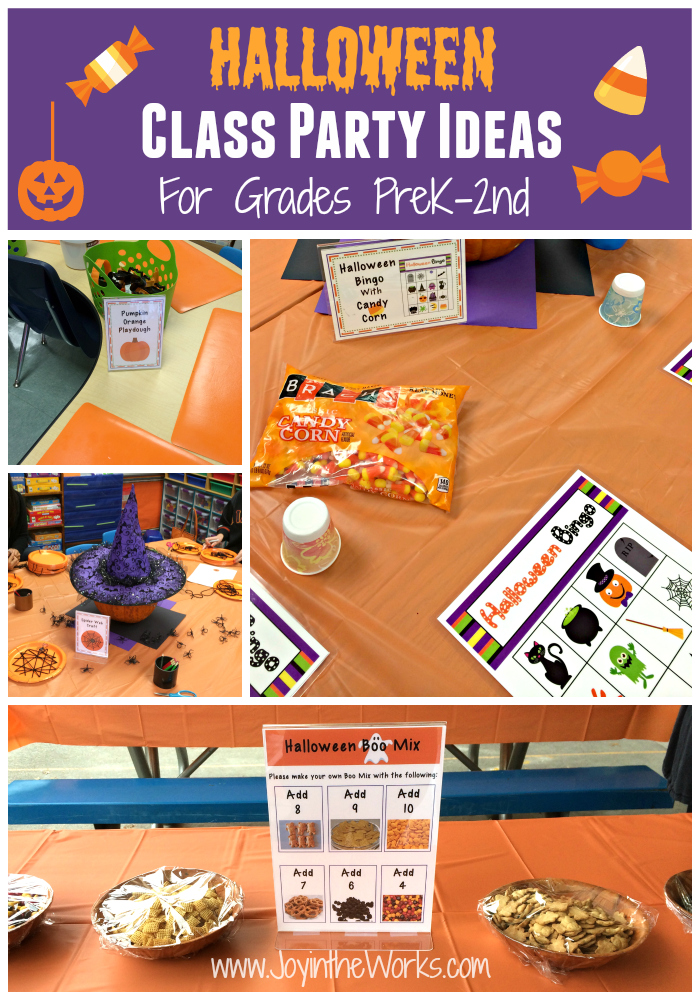 Or if you are still looking for more ideas for your younger child's class Halloween party, check out my Pinterest board too!


Save