We have a love/hate relationship with Halloween in our house.  On one hand, my kids absolutely adore all the fun activities, candy and costumes. On the other hand, there are plenty of opportunities for them to want to run and hide until November 1st. From bloody handprints in the front window of a house to decapitated heads on the front lawn, people have taken Halloween decorating to a whole new level.
We have tried a ton of strategies through the years to help them cope with their fear of scary decorations and not let it take away from all the Halloween fun. This is extra challenging with all the creepy decorations popping up all around us on our street. In fact,  the  majority of the houses on our street go all out when it comes to Halloween decorations.  Last year,  a news crew even came to showcase my neighbor's decked out home.  It takes my neighbor days to set up the scary scene and  it includes things like dead people hanging from the trees. Ugh. Definitely not my cup of tea.
In order to make living on our street a little more bearable during the month of October, we came up with a creative way to embrace the gore! =) My kids just love scavenger hunts (and most things Halloween related) so we have created a Neighborhood Halloween Scavenger Hunt! This is a fun, simple way for children to objectively examine some of the Halloween decorations that they see every day. From witch's feet to spider webs to spooky eyes in the bushes, your kids will love searching for all things Halloween and right in your own neighborhood! You can download your very own Neighborhood Halloween Scavenger Hunt card too just by signing up for emails below.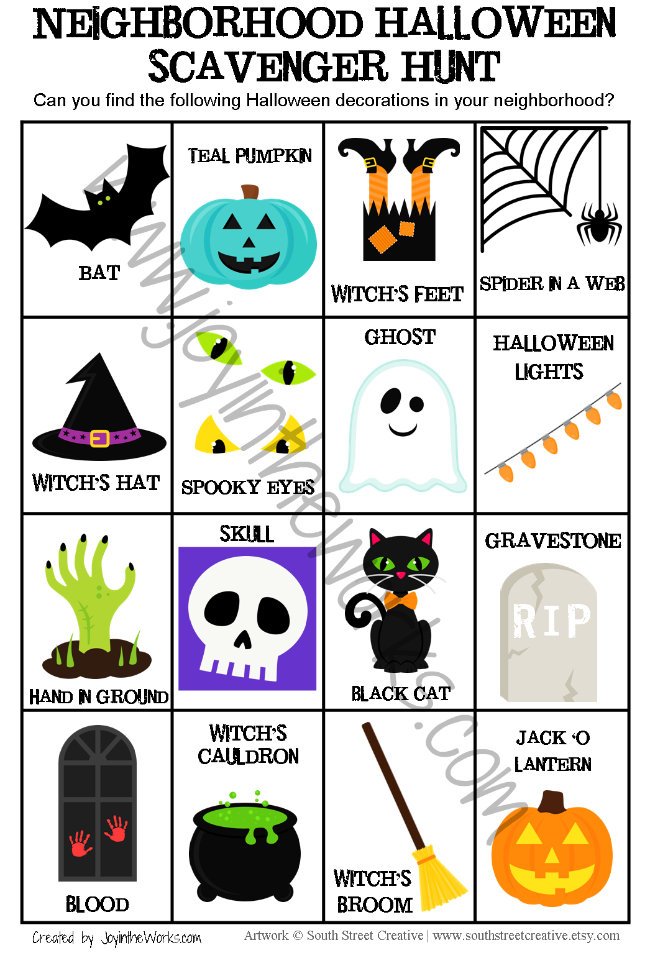 Looking for another holiday scavenger hunt? Check out this new one I just posted! Christmas Decoration Scavenger Hunt