This post is sponsored by Nakturnal. All views are my own.
It's common knowledge around here that cleaning isn't my thing.  Or cooking.  Basically anything domestic, really. ;) But the thing is, I really like it when things are neat and clean and organized.  Like really like it.  Like it fills my heart with joy.  But due to a myriad of reasons, I am not able to accomplish a lot of cleaning on my own.  So I just had resigned myself to the mess, especially in the car where we seem to be spend most of our day.  Until I figured out this trick.
Usually when you read about tips and trick for keeping your car clean, the first thing to go is food in the car.  But I am living in reality here, so I know that if I banned food from the car, then my 3 kids would be hungry a large majority of the time.  Surprisingly enough, the secret I discovered changed my entire mindset about the cleanliness of the car. Implementing this one change even made it manageable to still have food in the car.  Now I could never chauffeur the Queen of England around in my car, but doing this has at least made it less embarrassing to drive carpool!
How to keep your car clean
So what is this life changing trick?  Well, it all started when I got my car professionally detailed for my birthday (I know, I really live it up for my birthday!) and the kids and I were discussing different strategies we could use in order to keep the car clean afterwards.  While we did brainstorm little things like using a big paper grocery bag on the floor next to where my toddler drops all of his stuff out of his car seat and adding more trashbags everywhere, the thing that made the most significant difference was actually really simple. I discovered that the simple act of unloading everything out of the car when we get home makes a huge difference.
That meant every time we got home from soccer practice we had to collect the water bottles, the snack wrappers, the soccer bag and those smelly cleats, socks and shinguards that got peeled off in the car after a game and lug it all in the house.  It also meant that several people had to work together to get it all.  And sometimes it meant that I had to take several trips back and forth from the house to the car to accomplish the task if no one was home to help.  But it was worth it.  Because all of sudden, I was thinking differently about my car.
The simple act of emptying out our stuff every time we pulled up to the house (yes, it has to be every time!) made a big difference in the overall cleanliness of the car.  I think it had something to do with the fact that it began to look cleaner because there wasn't junk and trash everywhere, so it made me want to keep it up and even do more.  I found myself actually wanting to vacuum it out and even wipe down the console from time to time as well.  Plus, because it wasn't such a big job anymore, I could actually do it when I only had a few minutes to spare.
I think what had been happening before was that my car was already so messy and trashy looking that I didn't care if we added one more toy or cereal bowl.  And I was in no rush to clean up the spill or recycle the old mail that got left in there on the way to baseball practice. I just felt overwhelmed by the mess and felt like it was too big of a task to tackle. So I just stopped trying. Therefore, the mess just kept multiplying. And boy did it! For fun, I thought I would give you a real life glimpse into my messy car AND I even got a few more messy car mamas to expose their "dirty laundry" to the world! Go easy on them! We all have our mess and our weaknesses. But here are a few of the best messy mom cars I could find: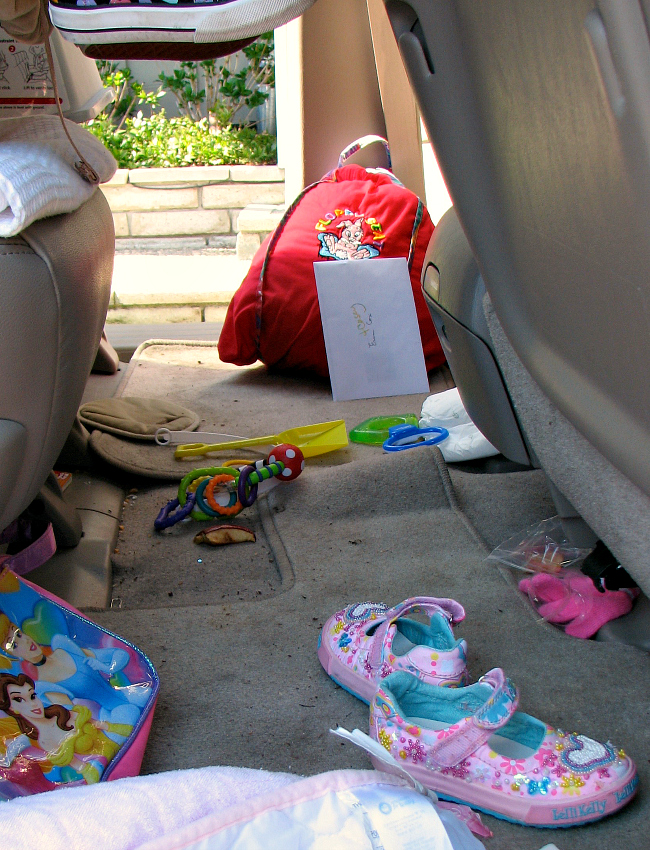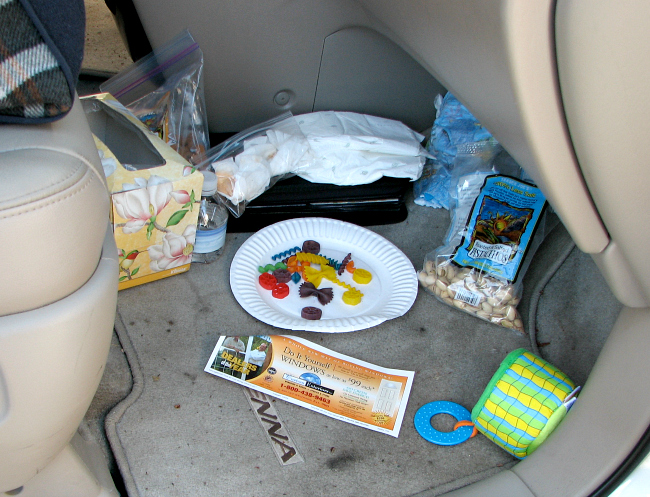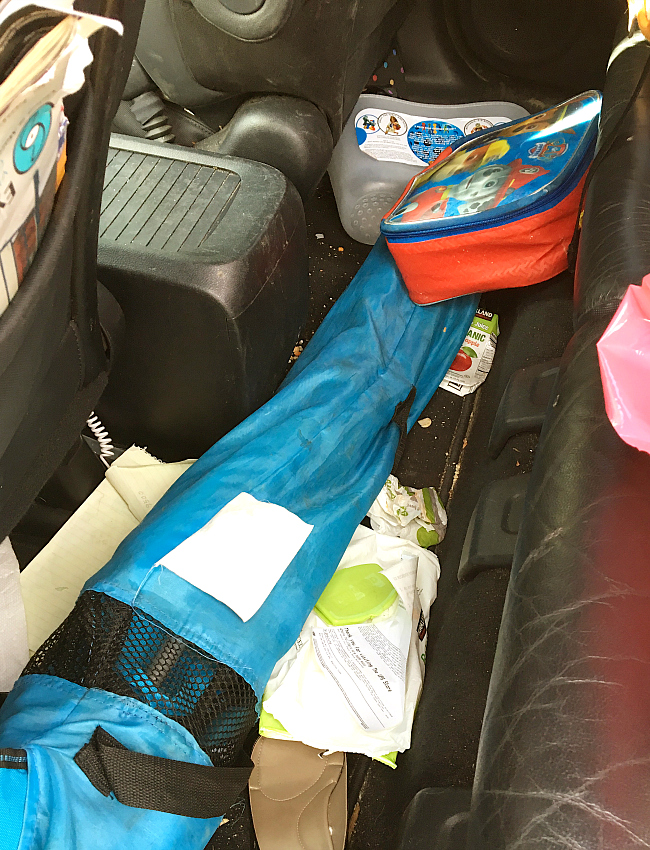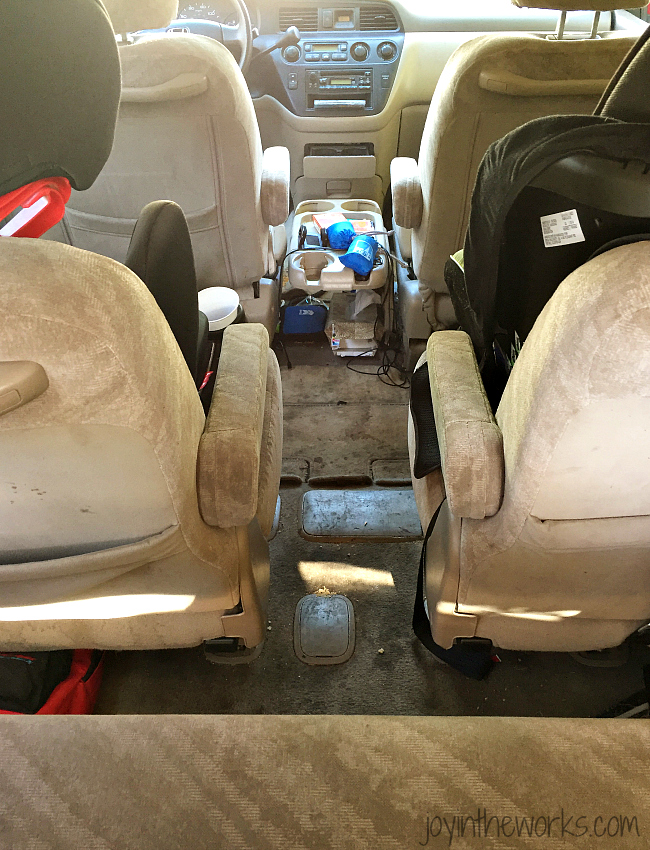 And the messiest spot of all in my car?  The car seat of course!  That's where the most spills happen as well as the spot where your bored toddler will grind his goldfish crackers to a pulp. This picture doesn't even do it justice, but just trust me it's bad.  Thankfully, he is actually growing out of his car seat anyway, so it's a perfect time for a new one!  What about you?  Are you in need of a new car seat soon?  If so, you have to enter this giveaway for $50 toward a new Britax car seat!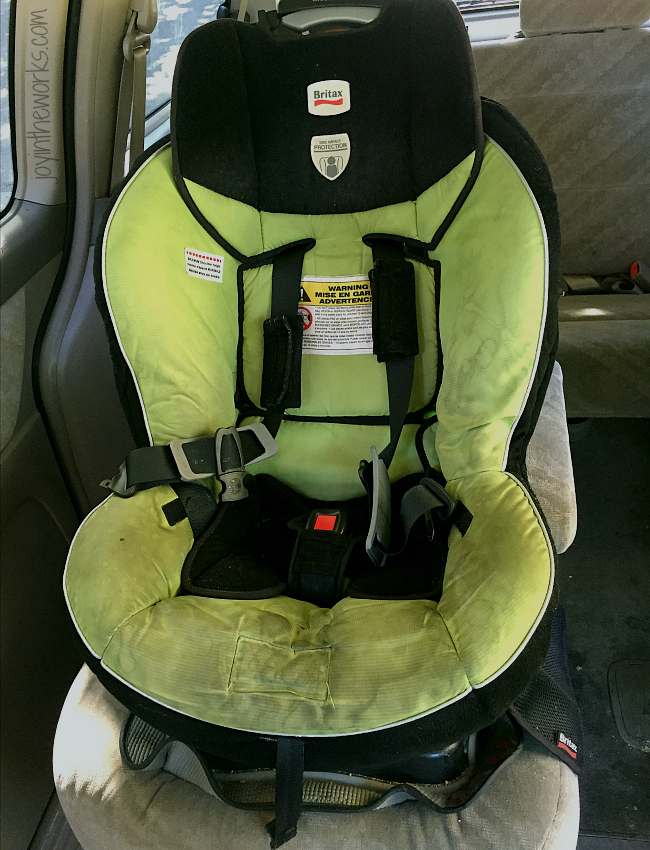 After 13 years of kids in car seats, we are still going strong with Britax for our littlest one. They always get outstanding ratings in all the testing and is often the number 1 recommended car seat.  I know they aren't cheap, so hopefully this $50 USD will help with the purchase.
Simply enter by commenting below. Let me know if you are a clean car mama or a messy car mama! And if you are a messy car mama and want to share your car seat with the rest of us, feel free (winner will be picked at random and has nothing to do with your comment or the state of your car ;)
Oh and if you're looking to take things one step further with your car care? How about adding some organizers for the car? Check out this DIY Car Seat Organizer by Keeping it Simple Crafts or this one from Kids Crocheting and Cupcakes. Not a sewer? Check out this Ikea hack for a simple car seat organizer. I think these are great solutions for the stuff that needs to stay in the car on a regular basis.  But the rest? Empty it out every time! I guarantee you will be surprised about the difference it makes in the cleanliness of your car!
The giveaway is a partnership with Nakturnal, with a prize of a gift certificate. Winner will be chosen at random through the comments and the gift certificate will be emailed to the selected winner.  One entry per person. Giveaway begins on October 13, 2016 and ends on October 21, 2016. THE GIVEAWAY HAS ENDED AND THE WINNER IS BEING CONTACTED. THANK YOU FOR YOUR ENTRIES.