This shop has been compensated by Collective Bias, Inc. and its advertiser. All opinions are mine alone. #RestEasySolutions #CollectiveBias
With 3 boys and a total of 10 years between them, I have been buying diapers for over 12 years now.  If you do the math, you will realize that more than one of my boys have worn "diapers" longer than the average kid.  While we don't actually consider them diapers, both of my boys have worn GoodNites Bedtime Pants until they were over 6 years old. However, now that I am on my second kid who wets the bed at night and I have learned that it isn't that uncommon (in fact, 1 in 6 kids ages 4-12 still wet the bed at night after being daytime potty trained), I have changed my approach.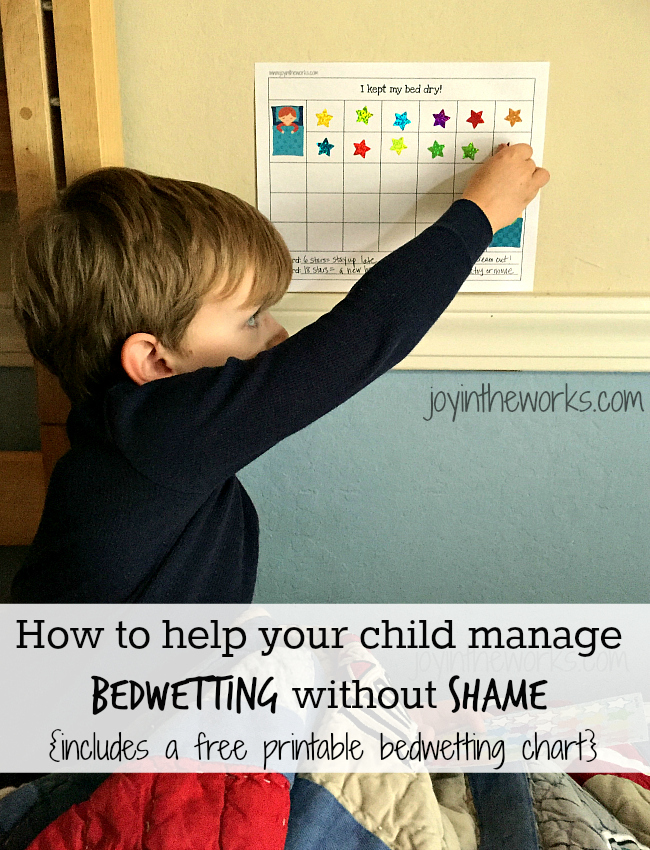 So what's different this time around?  Well, now that I know that my kids probably won't be wetting the bed when they go off to college, as most kids simply outgrow it, we are focusing on helping my son manage his bedwetting, instead of rushing to cure it.  And while I have talked to my pediatrician about it, I am more concerned that my 6 year old doesn't feel any shame or embarrassment about his nighttime wetness and takes ownership over the problem, than I am about the fact that he is still wears "diapers" at night.
The reason we don't consider GoodNites Bedtime Pants diapers is because of their look and feel with the stretchy sides and the cool designs that make them more like underwear.  We recently discovered that GoodNites actually makes nighttime underwear as well, called GoodNites TruFit Underpants.  They are regular cotton underpants that have a disposable protective insert worn inside them at night and then easily removed in the morning. The TruFit Underpants work really well for us as my son is getting closer to the sleepover age and it helps boost his confidence to be wearing real underwear to bed like his friends. And when you have a bedwetter, you really have to make sure his self-esteem isn't affected as there is often a great deal shame and embarrassment about it.
Here are some other tips for helping your child manage bedwetting without shame:
Have your child pick out their own nighttime wear.There are several options when you have a bedwetter and I think it is important for your child to be able to choose or at least contribute to the decision making process.  The more in control and empowered they feel, the more successful they will be and the less shame they will feel. There are people like us who have done the GoodNite Bedtime Pants and/or the GoodNights's TruFit Underwear.  But another option is to have your child wear regular underwear to bed at night and use an absorbent pad underneath in case of an accident.  GoodNites also has a disposable Bed Mat with plush layers that can hold as much fluid as one of the L/XL Bedtime Pants, which makes it another viable option for your son or daughter.
Give your brain a pep talk at bedtime.This is actually a trick our pediatrician gave us. Because the issue is that the bladder doesn't wake the brain in time to get to the bathroom, our doctor told my son that it is his job to talk to his brain before he goes to bed.  He needs to tell it that he is going to wake up to go the bathroom.  It sounded funny at first, but once I heard the research about the brain, it actually made sense.  Even if it doesn't "work", I think it still contributes to a child feeling in charge and empowered and that's what is important when you deal with long term night wetness.
Make sure they know the truth.Often times kids feel ashamed or embarrassed about things because of the way they are talking to themselves in their mind. Their internal "self-talk" is negative and full of lies.  I think it is important that kids know the truth.  I have sat down with my son several times and told him why he is still wetting the bed (because his bladder isn't waking up his brain), how he isn't the only one (1 in 6 kids have occasional nighttime accidents until the age of 12), how it will stop someday (most simply outgrow it) and how he is special and loved and a work in progress, just like the rest of us! If you are looking for more facts and resources to help you tell your kid the truth about bedwetting, check out this website for some great information.
Have your child change his own sheets when accidents occur.I actually heard this tip from a pediatrician as well. Putting your child in charge of changing the wet sheets encourages independence and puts them in charge of their nighttime wetness.  It also helps motivate them to stay dry at night.  A child is going to be more likely to want to stay dry if they know that they have to clean up after themselves.  Using an extra pad like GoodNites Bed Mats or doubling the sheets makes this manageable for your older children.
Use a reward chart.As you know I am a big proponent of star charts and tracking and giving rewards through positive reinforcement. Here is the one my son is using right now.  Have your child help determine the rewards as you want them to be as invested in the end result as possible.  Remember the rewards don't all have to be big things either- one of the things my son picked out as a reward was getting to stay up later than his brothers.  Whatever works, right?!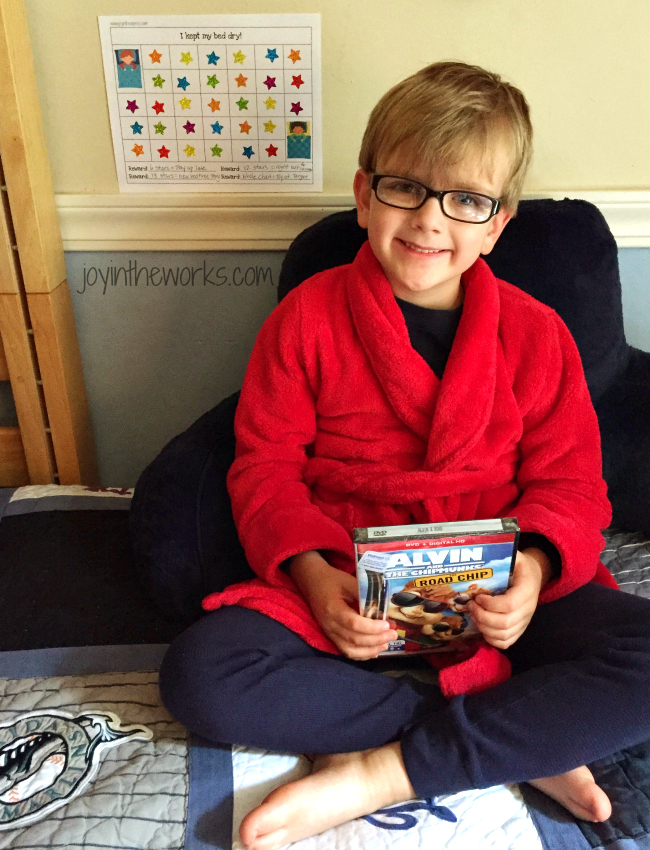 Overall, I think ongoing bedwetting can be a challenging problem, but mostly in the way we approach it with our kids.  I think it can be really detrimental to their self-esteem if we let it, so my goal is to take a challenging situation and use it as an opportunity for my son to grow into a stronger person.  I want him to be independent and feel empowered despite the fact that his body isn't co-operating and I think some of these tips might help make that possible.
Wondering how to implement these ideas?  Start by printing out the reward chart here and then head to Walmart for a wide variety of GoodNite products.  Not only are their prices lower (how do they manage to do that??), but you can also print out this $2 off coupon while supplies last (It's only active during certain times, so keep checking back for more offers!)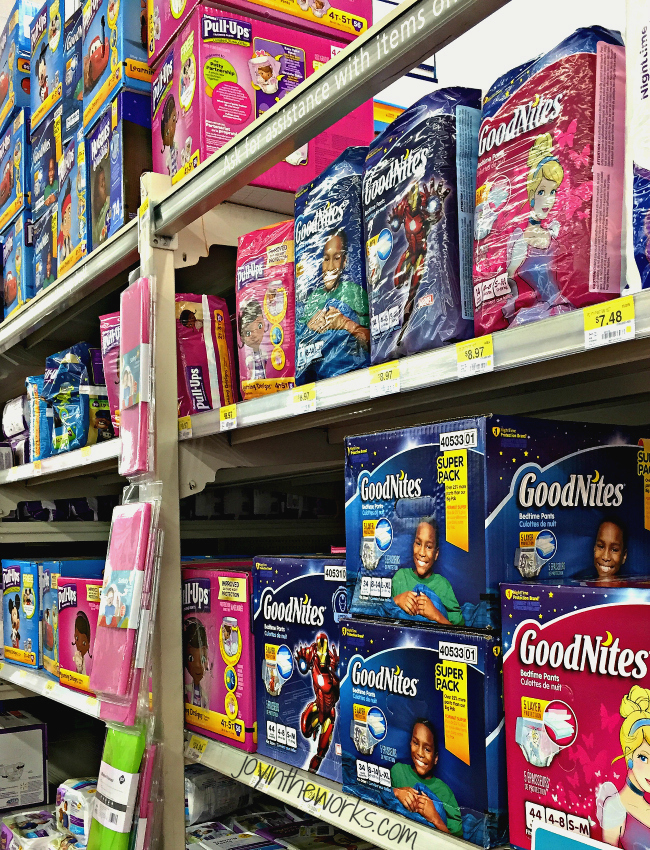 Last, just a reminder that I am no expert on bedwetting, parenting or any other issue for that matter! ;) For real answers, check out the resources here and always talk to your child's pediatrician about bedwetting. While most kids do outgrow it, there are cases that need intervention and you don't want to miss that.  But whatever route you end up going, remember, they probably won't be wetting their bed in college! =)
Got a bedwetter at home?  Got any ideas to share? I would love to hear them (and know I am not alone on this journey!)