It's true, I am back with yet another Valentine's Day party activity! I can't help myself- Valentine's Day is my favorite holiday! <3

I got lots of requests for a similiar printable for my snack mix from the Halloween Party for grades PreK-2nd, so I decided to make one for Valentine's Day as well. As I said in my Valentine's Day Food Craft Round-up, I love for a Children's Valentine's Day party to have a snack that the kids can create or build themselves. Snack mixes are great on their own because of their simplicity, but I like to add an educational element to it by adding printable directions for kids to follow that also involve counting.
This post contains affiliate links. Please see my disclosure page for more information on our policy.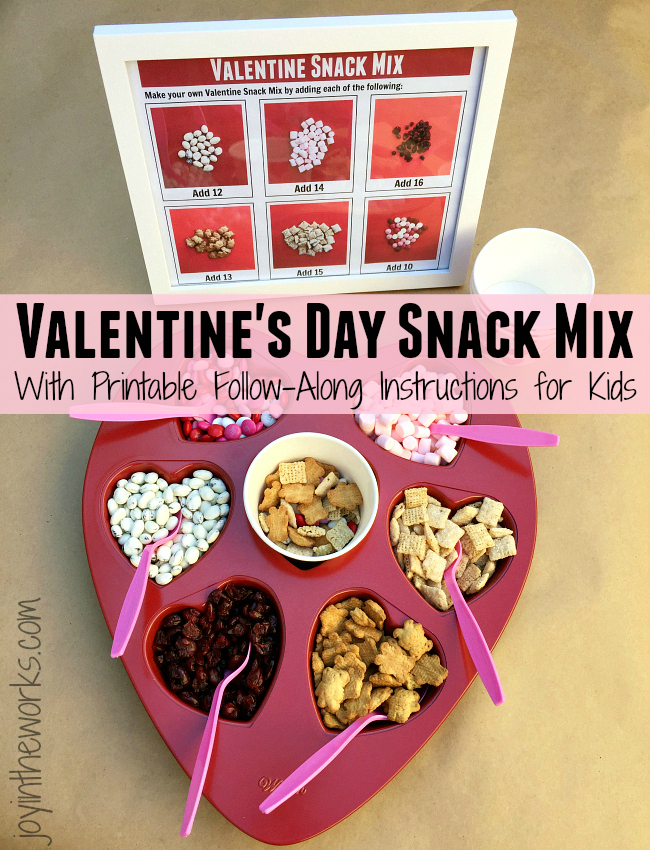 Valentine's Day Snack Mix with Printable Follow-Along Instructions
You can put anything you want in a Valentine's Day Snack Mix, but if you want to use my printable with follow-along directions for the kids, then you will need to purchase the following items: Teddy Grahams, Chex cereal (Vanilla is our favorite), yogurt covered raisins, dried cranberries, Valentine colored M&M's and mini pink marshmallows (we separated them out of the multi-colored marshmallow bag, but you could also just use plain white).
There are also a number of ways to display the snacks. You can put each food item in a separate bowl lined with a napkin like this: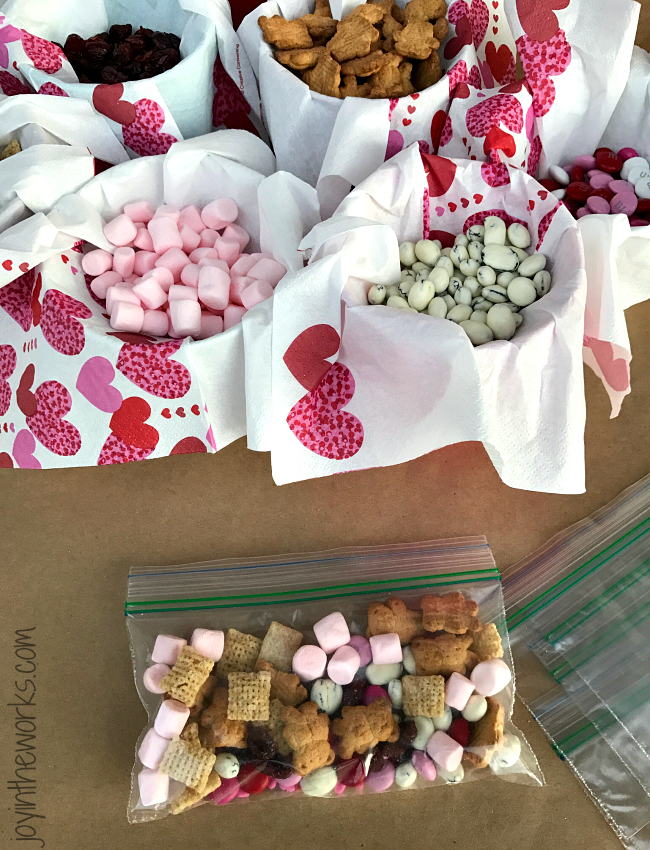 Or if you are just doing this at home with your own kids, you can simply separate them into groups on brown kraft paper. Like this: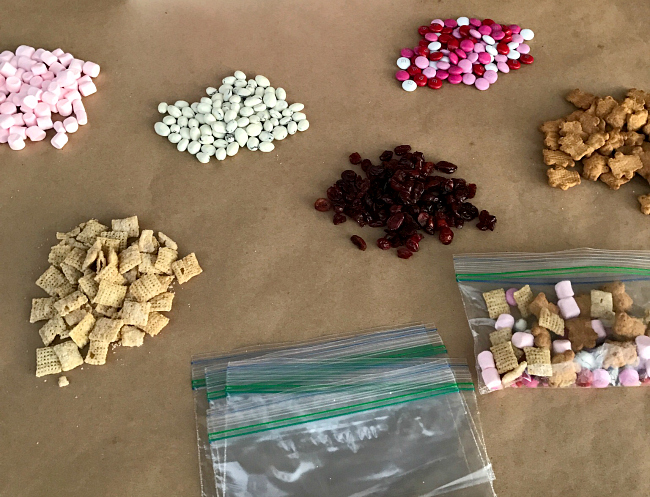 But my absolute favorite was the heart tray from Wilton that I found that had six different compartments and a middle hole to hold the bag!! I am so excited for all the uses this tray has!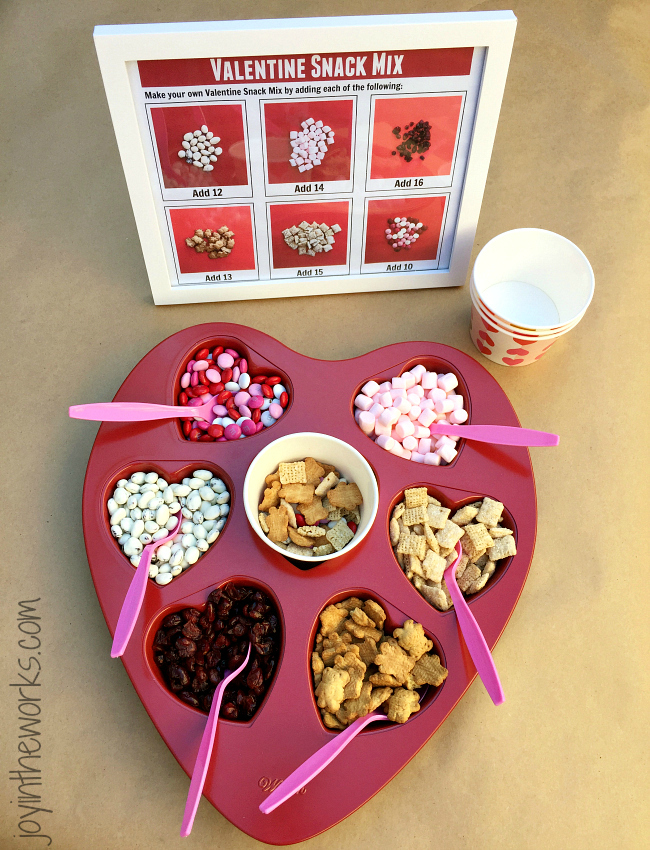 You also have the option of using snack bags to hold the Valentine's Day Snack Mix which works great if the children want to bring it home after the party. The other option if the snack is going to be consumed at the party is purchasing little paper ice cream bowls/snack cups like the ones pictured above. I got mine at Target, but you can find similar paper Valentine Snack Cups/Ice Cream Bowls on Amazon.
A quick tip: You may notice that I added spoons in each food for scooping and serving. If you are doing it at home or if you have older kids that understand you only touch the food you take, then you probably don't need spoons. It was just a last minute attempt to help with the spreading of all those winter germs with the little ones! If not, you may need to also bring your child's teacher the In the Pink Valentine's Gift Basket as well! ;)
The last thing you need for the Valentine's Day Snack Mix is the printable direction for the kids! I made the following sign with photographs of each food item. I checked it out with my own kids and they were able to follow along pretty well. I did larger numbers this time (as compared to the version I did for Halloween in the fall) because at this point in the school year, the TK and Kindergarten kids can easily count and read teen numbers like this. If you are doing a younger age group, feel free to white out the numbers and write your own. But either way, I think the visual directions are a must for kids to do this activity independently. Plus, I think anytime you can add in an educational element, it's a good thing!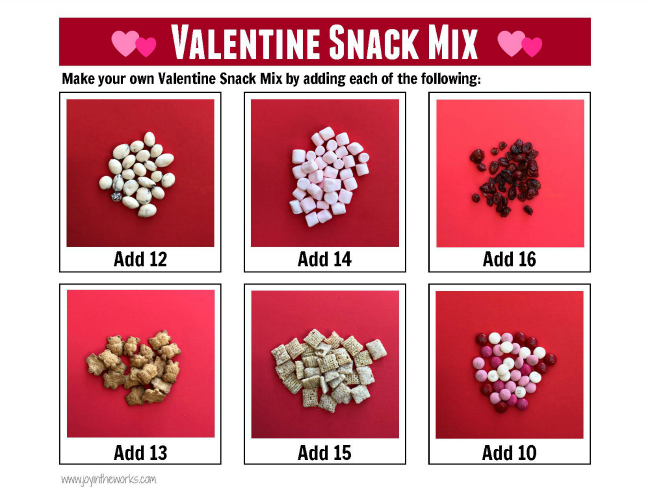 DOWNLOAD PRINTABLE VALENTINE SNACK MIX DIRECTIONS HERE
Hope you enjoyed the Valentine's Day Snack Mix with Printable Follow-Along Directions for kids. Do you like the items I included in the mix? Do you have any other festive Valentine food items you might add? Comment below!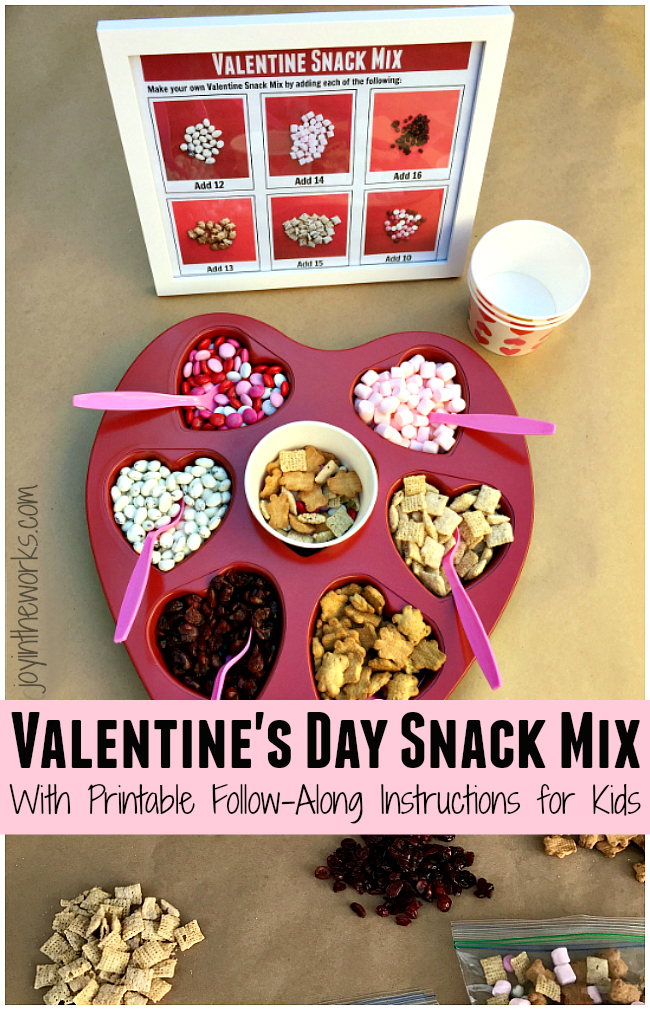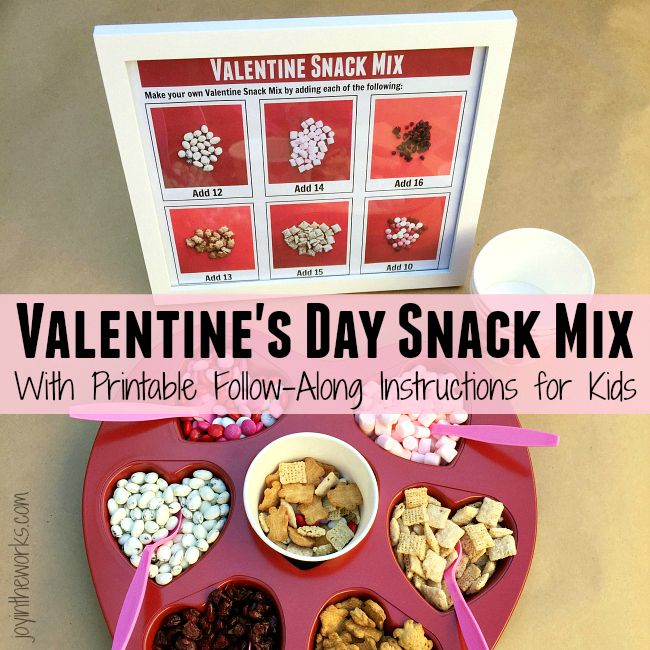 Save
Save
Save
Save
Save