I promise you, this is one of the easiest Valentine treats you can make! You actually don't even have to dip or melt anything if you don't want, you can simply use sprinkles to make Cupid's Marshmallow Arrows!
This post may contain affiliate links. You can read more on our disclosure page.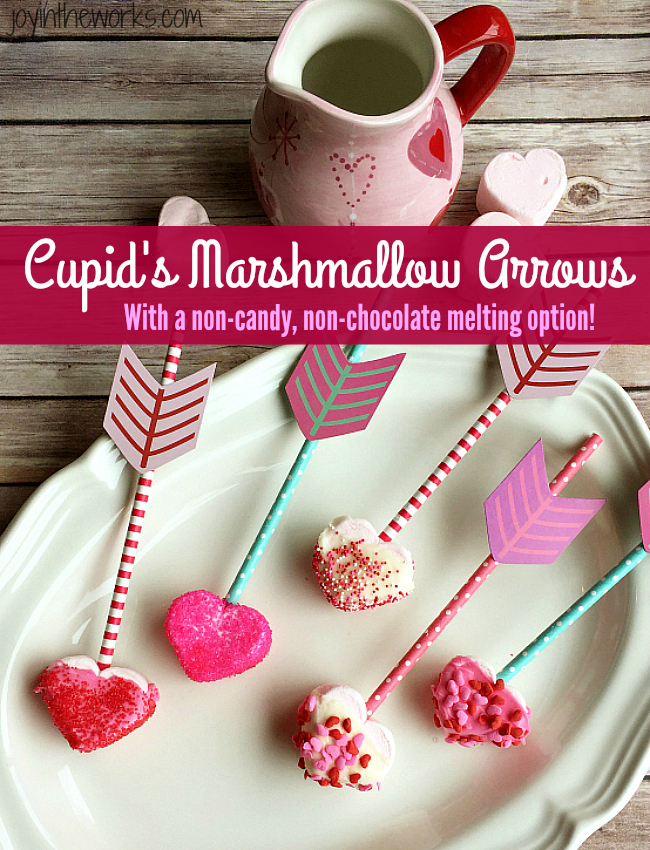 Cupid's Marshmallow Arrows
Supplies Needed:
Jumbo Marshmallow Hearts (I found mine at Target, but here are some similar versions on Amazon: Cupidmallows, Jet Puffed Strawberry HeartMallows and Peeps Vanilla Creme Marshmallow Hearts)
Arrow Straws (I found mine in the Target dollar bins. so if you have one local, check there first. I couldn't find any on Amazon for you, but I was thinking that maybe some Valentine straws might work if you add the fletching (the official name for the part on the back end of the arrow) on your own using card stock.)
Valentine Sprinkles (You can use Valentine sprinkles or just plan red or pink sugar crystals)
Candy Melts (This is optional. If you want to dip them, you can dip them in chocolate, white chocolate or one of the Wilton color candy melts: red, pink or white)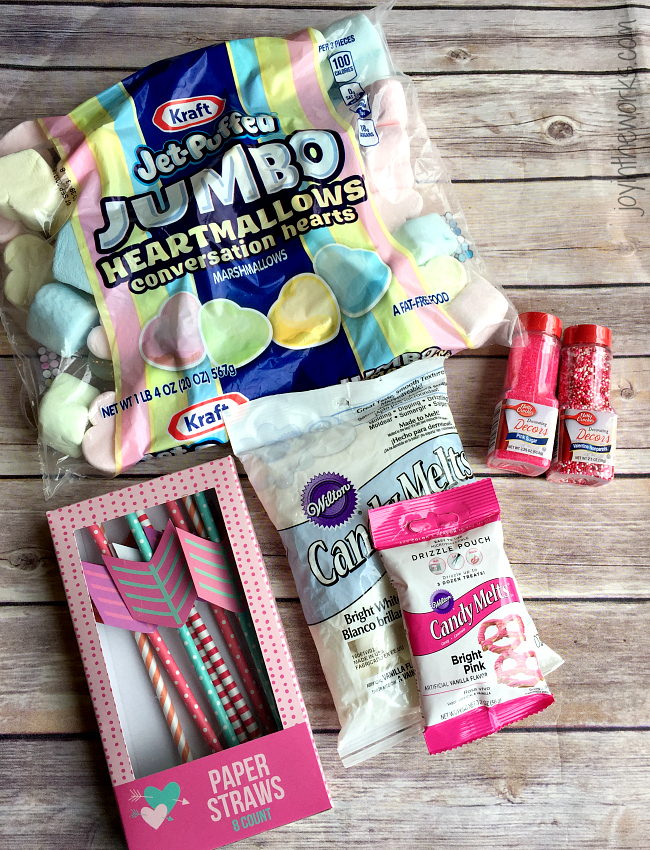 Instructions:
Non-candy melting method:
Step 1: Lay out your supplies. If you are just going to do the sprinkles, you will need one plate that has a wet paper towel on it.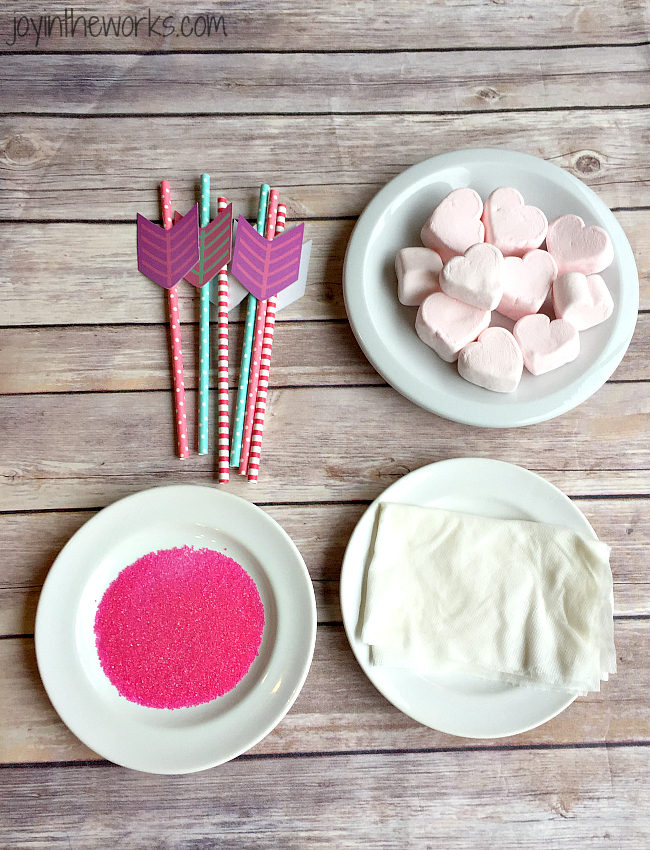 Step 2: Insert the marshmallow on the end of the straw (opposite the fletching!)
Step 3: Get your marshmallow wet. Wet enough that the sprinkles will adhere, but not so wet that the marshmallow gets gummy.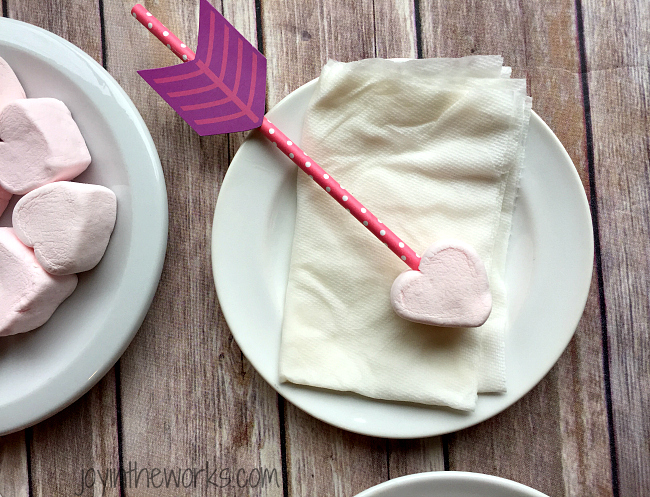 Step 4: Once the marshmallow is completely damp, shake or roll it in sprinkles (the sugar crystals are the only ones that will stick with this version.)
Step 5: Let the arrow marshmallow dry.
Instructions for Chocolate/Candy Melts Method:
Step 1: Follow the directions on the package regarding how to melt the candy or chocolate.
Step 2: Dip marshmallow (while on the end of the arrow straw!) in candy or chocolate.
Step 3: Shake Valentine sprinkles on the outside. Let dry.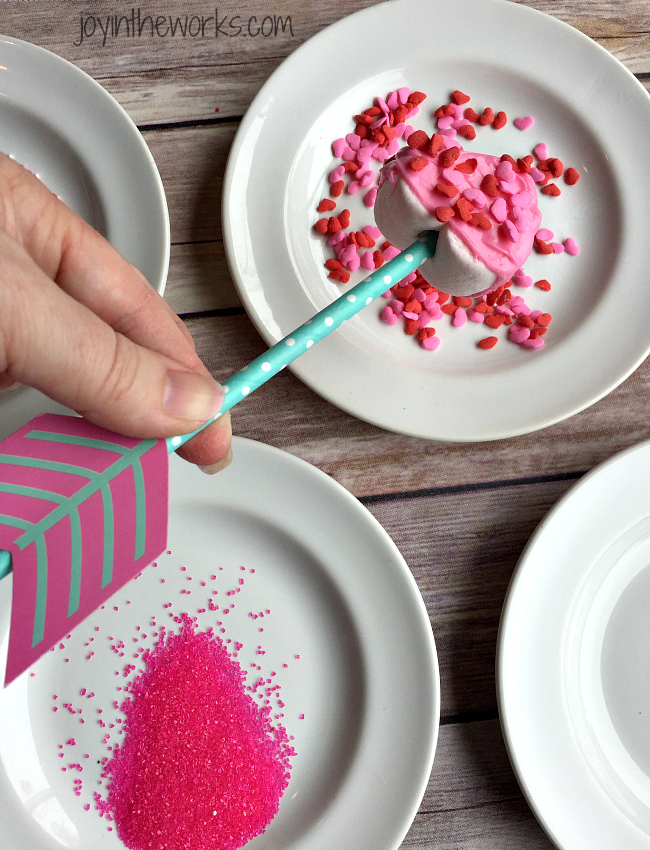 Step 4: Enjoy your yummy Cupid Marshmallow arrows!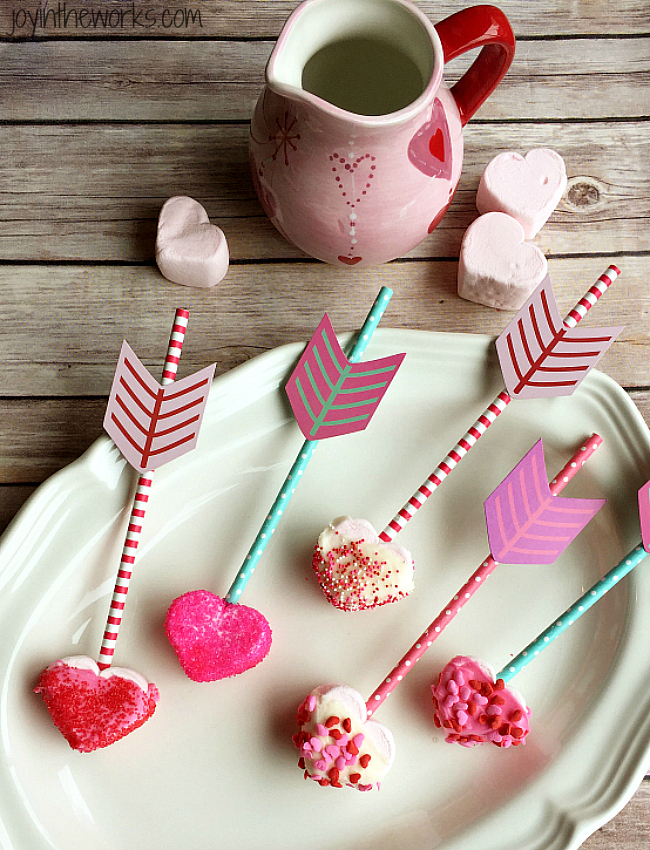 What do you think? Were they as easy as I said? Do you think the sprinkle version that just uses a wet paper towel would work at a Children's Valentine's Day party as a food craft? I think it is simple enough to assemble and roll in sprinkles and with so few steps, just might work!  Although I am sure the kids would much rather just blow the arrow straws all over the place instead of make a craft! (Don't worry, that game idea is coming soon!)