Everywhere you look on Pinterest, it seems that there is another post about Lego organization.  It's a real problem, I tell you! ;) Anyway, here are 5 MORE ways to organize your kid's legos.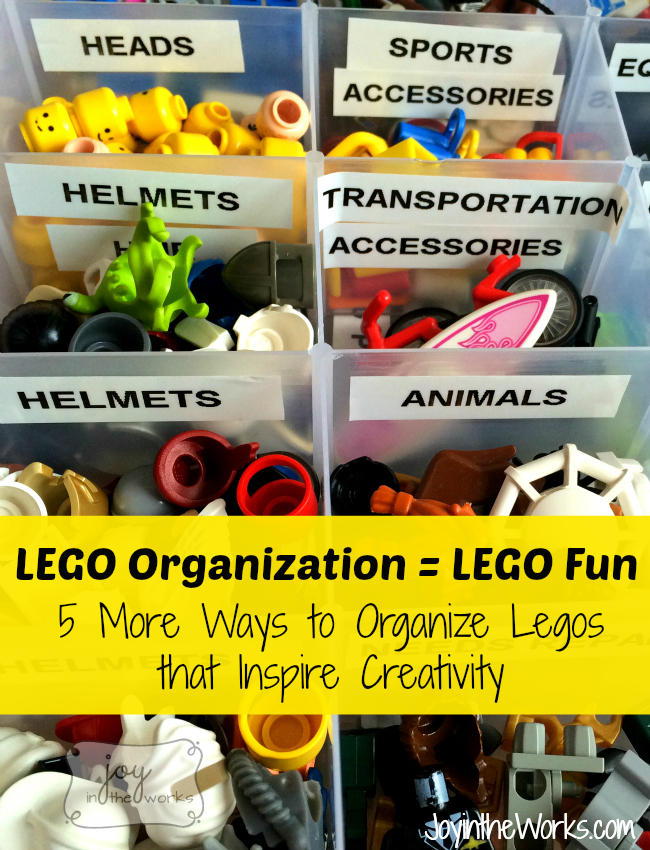 IWith a house full of boys and a husband who saved his childhood toys and me, a former teacher who saved her classroom supplies and toys, we are inundated with Legos around here.  Don't get me wrong, we absolutely LOVE them. In fact, we have every different version of Lego for every different age group.  We have Lego Primos for the baby, Lego Quatros for toddlers, Duplos for Preschoolers and then enormous amounts of regular Legos as well. Even though a lot of the styles for the younger children have been discontinued, check out what we have collected through the years: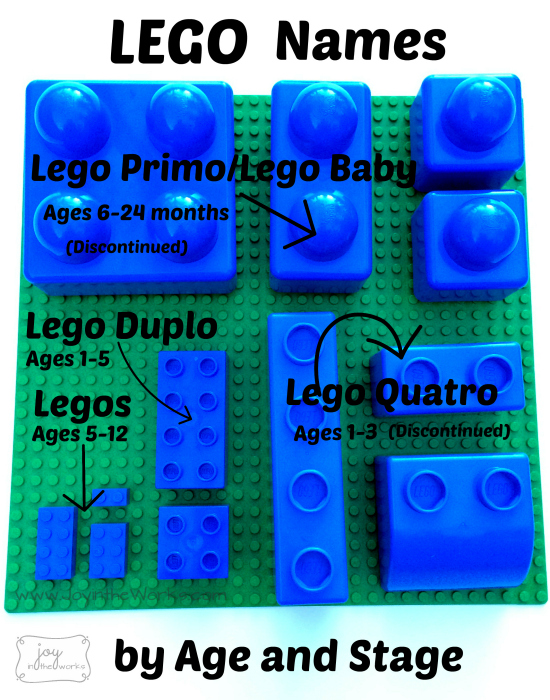 Lego Organization
The question then becomes, how do we keep from drowning in all these Legos (and Primos, and Quatros and Duplos…but that post is for another day)? How do we organize them successfully? There are so many amazing blog posts involving tips and tricks for how to keep your child's Legos in order.  And honestly, I have tried a lot of them!  But we had to find what worked best for our kids organization and playing style.
These are the 5 most recent (and successful) methods for organizing Legos in our house these days.
1. File Folder Box of Instruction Manuals
Now some parents find that keeping sets of Legos together in a large ziplock bag with the instruction manual works well. However, my kids never keep the pieces together in one spot.  But if they ever want to put a set back together, we have an entire file folder box of instructions.  We have labels on the folders for Super Hero sets, Star Wars sets, Mixels, City Sets and Miscellaneous sets.  The kids helped label the folders and sort the instructions so that they could not only take ownership over the whole process, but so they could also find the booklet at a moment's notice.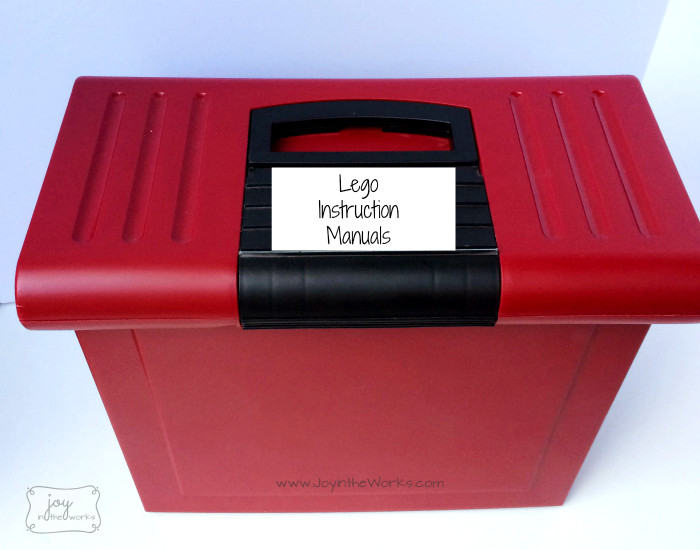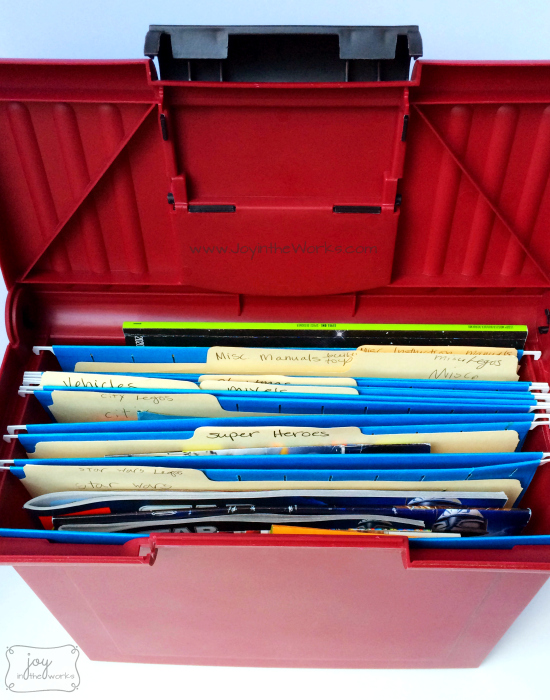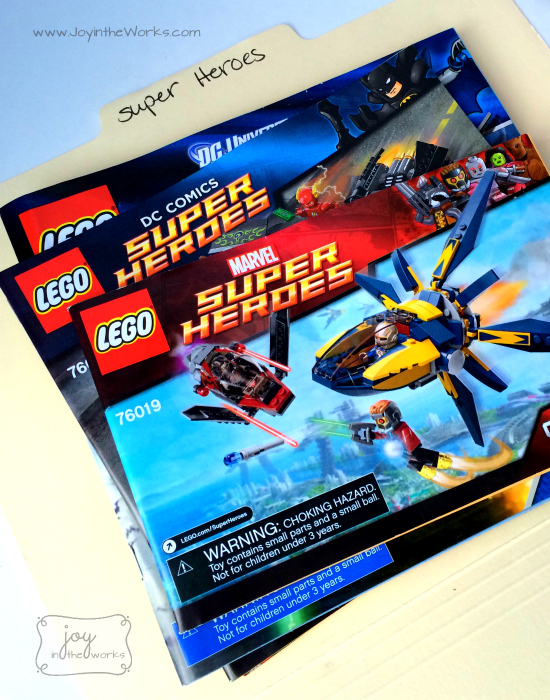 2. Lego Bins by Color
Another great trick I have seen is Legos sorted by color in sets of pull out drawers (sometimes even part of a building table).  My son decided this didn't work for him because he likes to pull out the drawers and bring them with him wherever he wants to play.  With drawers and rolling carts, that isn't always possible.  He prefers Legos to be sorted into bins that he can carry around with him.  We also opted to sort our legos by color (instead of sets) because when our kids are following an old instruction manual (after the original set has been played with and taken/fallen apart) and they need to find a 6×2 blue brick, at least they know where to start their search.  We also have a bin for all vehicle parts, and one for all Star Wars parts, Coast Guard parts etc.  And secretly one of the reasons I love this sorting method is because it is easy for me to do on my own (instead of constantly asking if a piece goes with The Hobbit set or the Harry Potter set!) and I just love the beautiful colors in each bin (OCD, I know!).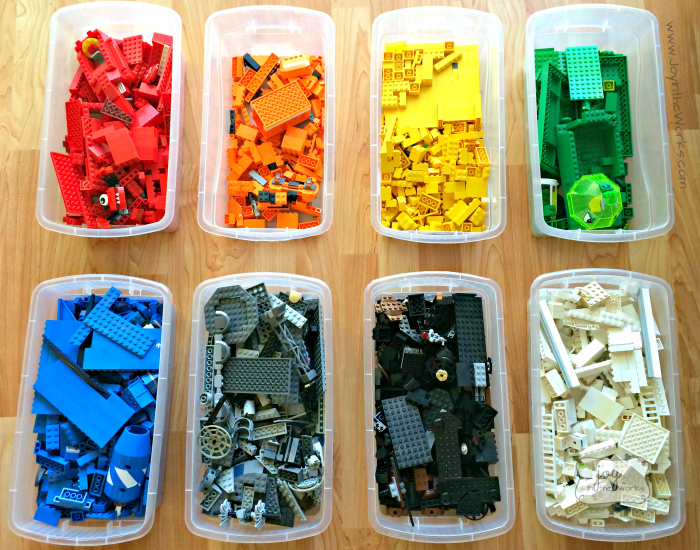 3. Minifigure Parts Organizer
Am I the only one that loves to go to the Lego store at the mall and stand and create at the Minifigure station for a good 30 minutes? As a mom to only boys, it is one of my only opportunities to play with "dolls" and dress up different characters.  Well, now the kids (and I) can enjoy that can kind of fun at home!  By putting all the different minifigure parts and accessories in one divided organizer, they feel like they are at the store all over again!  There are so many creative options for them when I put the parts sorted this way.  They were much more accessible than when the boys are just digging through a huge bin just to find a hat for their guy.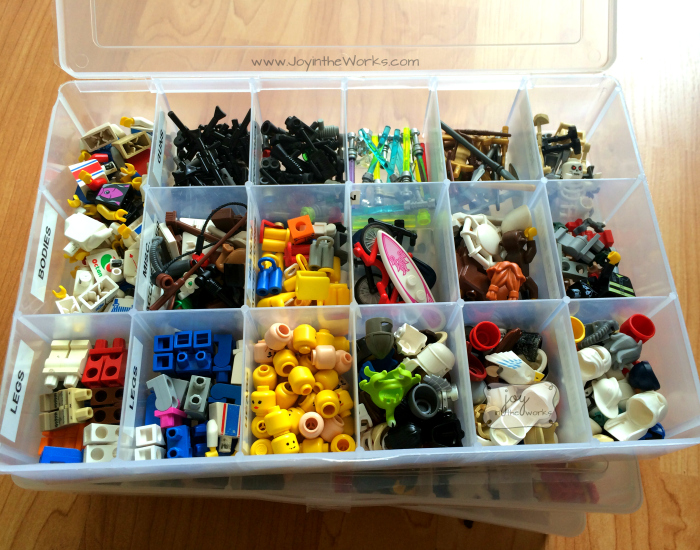 4. Under the Bed Storage Bin
This is one of my latest solutions that I came up with in response to a frequent occurrence in our house.  It became commonplace in our house that we would send our boys to their room to get dressed and they would never return.  And then we would notice the sound of rustling Legos.  We would go to their room to see what had happened and we would usually find them half dressed in the throws of a battle between clone troopers and super heroes.  So what I did was purchase a large bin made for under the bed storage and labeled them with each child's name.  Now, at night, all Legos that are being played with currently go into the bin (an entire green board will fit in there at an angle) and get closed up until an appropriate time to play again.  As it was, the boys had Legos out all the time and they would see them, get distracted and would lose focus on the task at hand.  Having a large bin to hold all items that are "mid-play" works well to hide the distracting toys.
5. Minifigure Magnet Board

There are tons of great blog posts about different ways to display your child's minifigures.  The one that worked best for us is doing a magnet board of minifigures.  We simply attached magnets to the backs of the standard 2×8 bricks and the boys put their favorite minifigures on display.  The magnets work well for us because they are easily moveable and because some of our minifigures actually came as magnets from the store and so they fit in perfectly!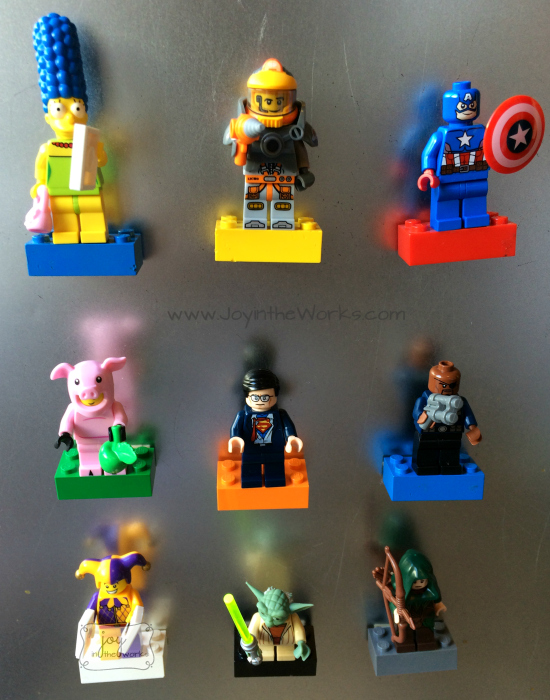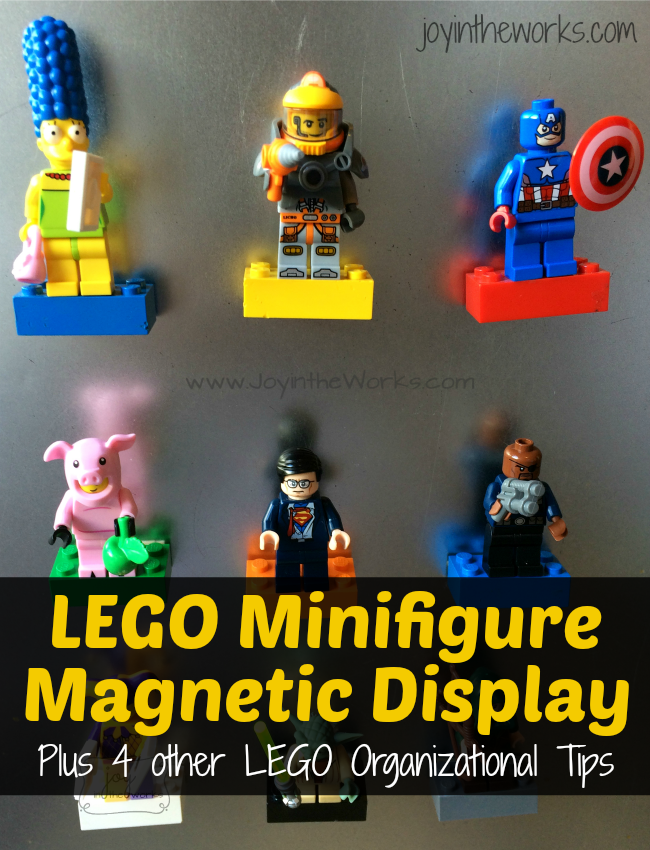 Well, there are our 5 most recent lego organization tricks.  I am sure as the boys grow and change, so will their playing habits and we will be looking for other options!  I have a lot of  ideas at the ready on my Lego Pinterest Board if you want to check it out. Or do you already have a great system in place?  Or a blog post on the topic?  Please share it below!
Interested in finding your own storage case like the ones described here?  Or some fancier versions? How about a magnet board? Check out these links (they are all affiliate links which means I get a tiny percentage of your purchase-thank you for your support!) =)