So I am all about EASY activities that build great family memories and the Jelly Bean Taste Test definitely fits the bill!
When I was a kid, I hated Jelly beans because there was only one kind- the Brach's Classic Jelly Bird Eggs. I have just never cared for them. But in the last 10 years or so, I have seen more and more jelly bean flavors introduced- from Laffy Taffy flavored beans to Starburst to Skittle flavored, every kind of candy has now been made into a jelly bean.
Well, we decided to find the very best of all those jelly bean brands out there! We bought ten, yes, TEN different brands (out of the 50 gazillion types out there! If you do this activity, I recommend doing less than we did and drinking a lot of water while you do it!) Or if you would rather just take our word for it, we are sharing our top picks for the very best jelly beans at the end of this post!
This post may contain affiliate links. For more information, see our disclosure policy.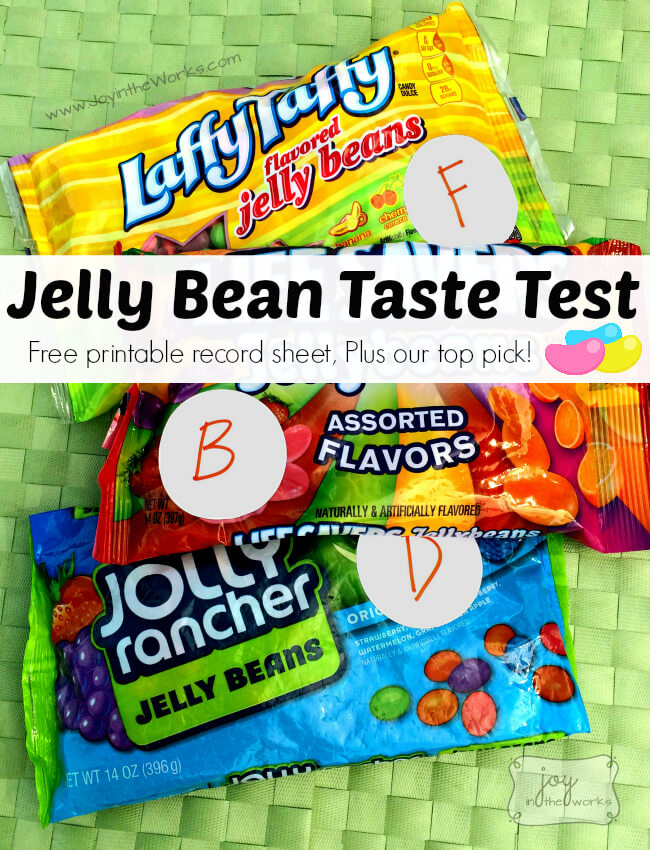 Jelly Bean Taste Test
The great thing about this activity is that you don't need a lot of supplies to conduct your own Jelly Bean Taste Test. You really just need the record sheet (available at the end of the post) and lots of jelly beans! (Check out some of the varieties below)
I also used brown lunch bags, plastic cups and round circles to help me with the labeling, but how you do that actual tasting and reveal is up to you.
For me, I started by working in secret and put each bag of jelly beans inside a labeled paper lunch bags. It's optional, but because we had a large group, I also labeled plastic cups with the corresponding letter and put a few of the same brand of jelly beans in each cup. In front of each lunch bag, I filled and labeled a plastic cup with one of every flavor jelly bean for each person participating. So, if you have 4 taste testers, a bag of SweeTART Jelly Beans hidden in a lunch bag would have 4 cups in front of it. The cup would be full of one pink, one green, one orange, one turquoise and one purple jellybean (those are the only colors). You don't have to do it this way, you could just pour them in a large bowl, but I like the idea of not swapping all those germs!
Next, I pulled out the Jelly Bean Taste Test Record Sheet "answer key" and I put down each brand name next to the correct letter. I always use letters when doing taste tests so there isn't any confusion if we decide to do  a number rating system as well.
Last, I did one final verification process in case I got the jelly bean bags got pulled out of the lunch bags and I added a matching round sticker directly on each jelly bean bag and wrote the corresponding letter on it that matched the brown lunch bag and cups. It isn't as complicated as it sounds, just check out the picture examples below. Also, feel free to organize it in whatever way works for your tasters!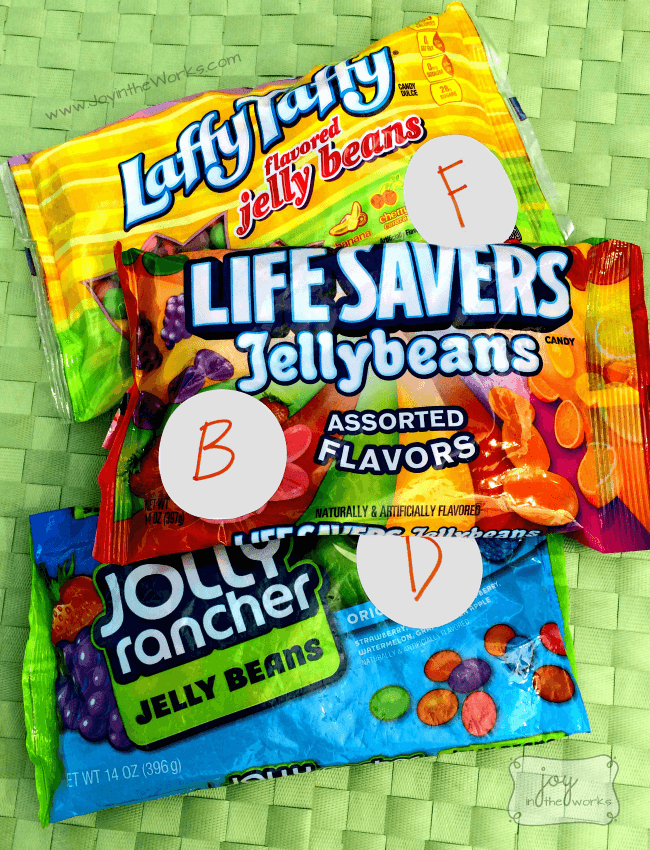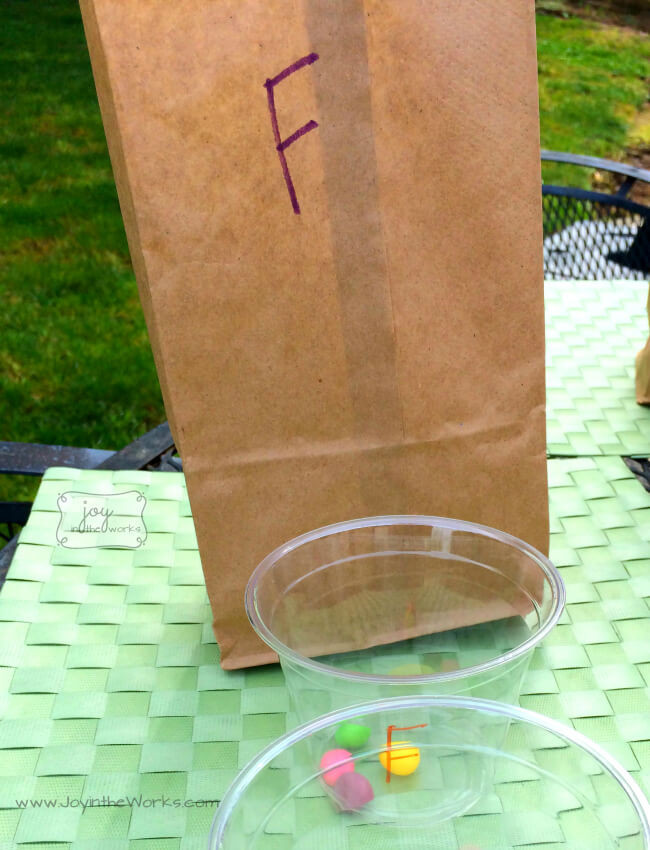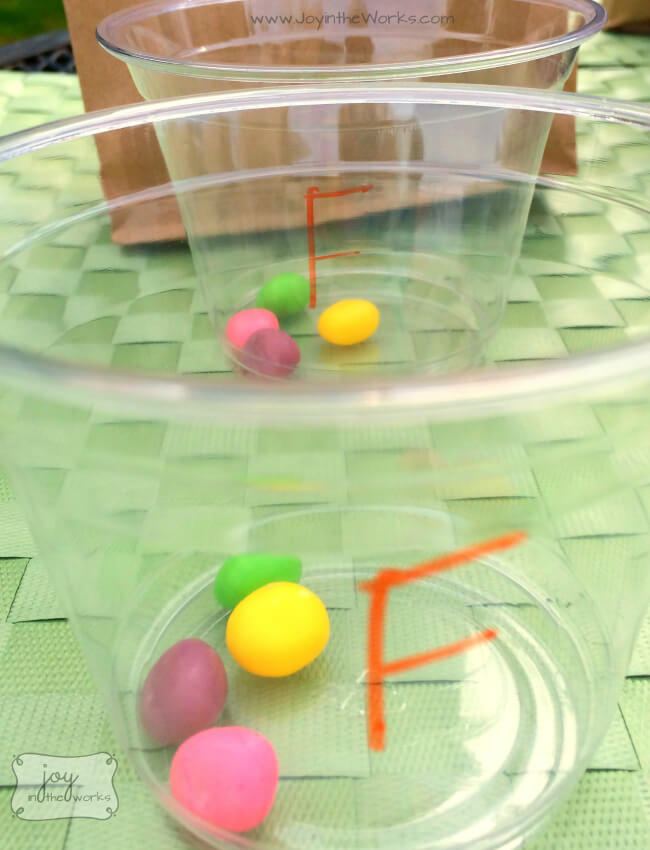 Then we were ready to get started so we passed out our rating sheets and put our names on the top. You can get a copy of the Jelly Bean Taste Test sent right to your email inbox by signing up at the end of the post. I purposely made the record sheet to be open ended and have several possibilities for rating systems so it could be adjusted to the group that is using it.
For us, the adults used the large boxes to write down descriptive words and phrases (tastes like soap, outer shell too hard) and the small squares within the boxes to rate each one from best to worst). The adults discussed attributes like texture, flavor and after taste. We also commented on how much each color tasted like its corresponding flavor. Some yellow ones tasted like lemonade, some like sour lemon and some like the classic "artificial lemon flavor". The red beans got descriptions that ranged from cough drop flavor to cherry to watermelon to "pink flavored!" (a direct quote from one of our family tasters!)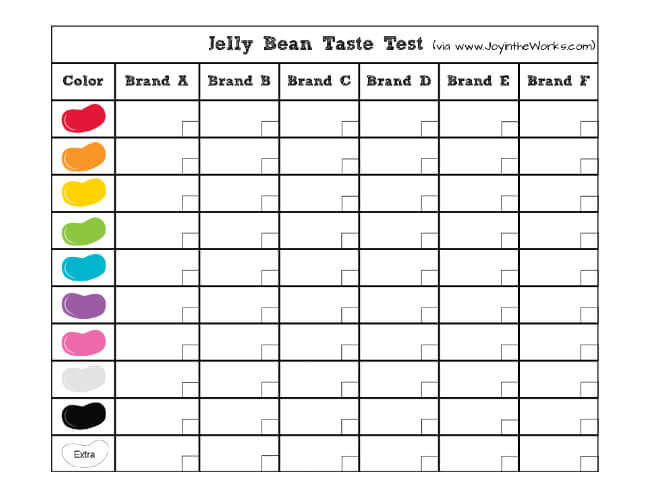 You could even go one step further than we did and print out one sheet for each category. For instance, you could print out a record sheet and label it texture and print out another and label it flavor or color and so on. We judged primarily by flavor. We also decided to judge by what we considered to be the best flavors, not necessarily which jelly beans tasted the most like its corresponding fruit name or tasted the most like the classic jelly bean flavor. (Interestingly enough, this doesn't happen all that often because each candy company makes the beans to taste just like their signature candy!)
The kids used the sheet a bit differently. The 5 year old just made smiley face, a regular face or a yucky face if he didn't like it all. Believe it or not, there were a few that actually got yucky faces! The 11 year old even spit some out; he was so disgusted by the flavor! He also used his rating sheet differently and just focused on the number ratings. (He didn't approach it as a wine tasting like the adults did!) There are a wide range of options for using the Jelly Bean Taste Test Record Sheet, but what's important is that you make it work for your participants so that everyone understands and has a good time.
But onto the best part, the tasting and the results! We went through and tasted each color together. So, we tried all the red jelly beans at once, discussed the flavor and other aspects, marked down our opinions on the sheet and moved on to try all the yellow ones of each brand. Doing it together like this made it much more fun and interactive. It also helped us be really attentive to the details and comparisons of each bean. You can tell by the photo how seriously we took this project. We believe that it is our responsibility to let America know we have identified the very best Jelly Beans of Easter 2015!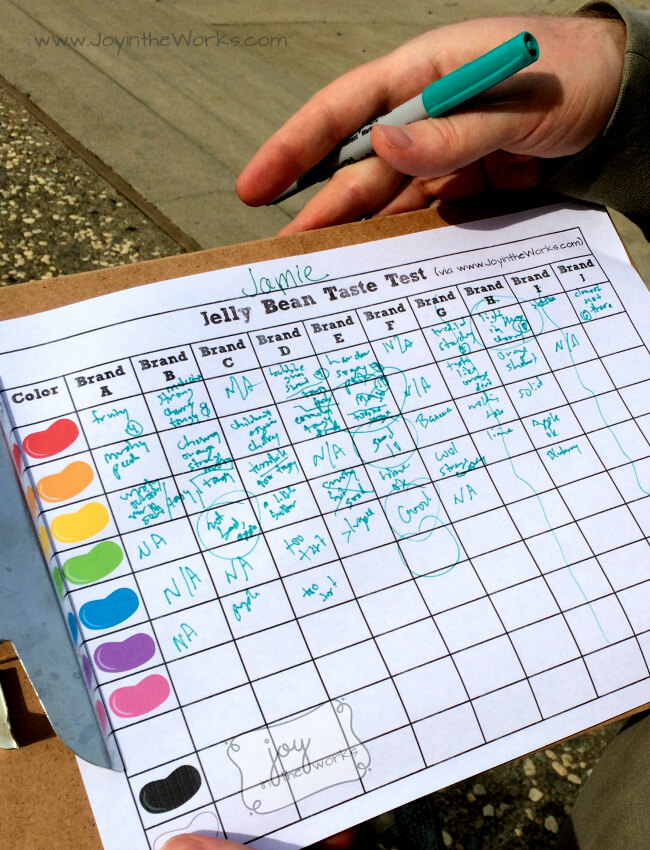 Here is the summary of our results and a few notes, but remember we just did this for fun- there is no scientific method or evidence involved, so don't count this as truth! Conduct your own taste test! I promise you it is simple- print out the record sheet and buy a few bags of jelly beans (Feel free to do more or less as yous see fit, but speaking from experience, 10 is a lot at once!) Then, organize a taste testing with your family (grandparents too!), neighbors (a great way to build community), families from church or school or just a group of friends.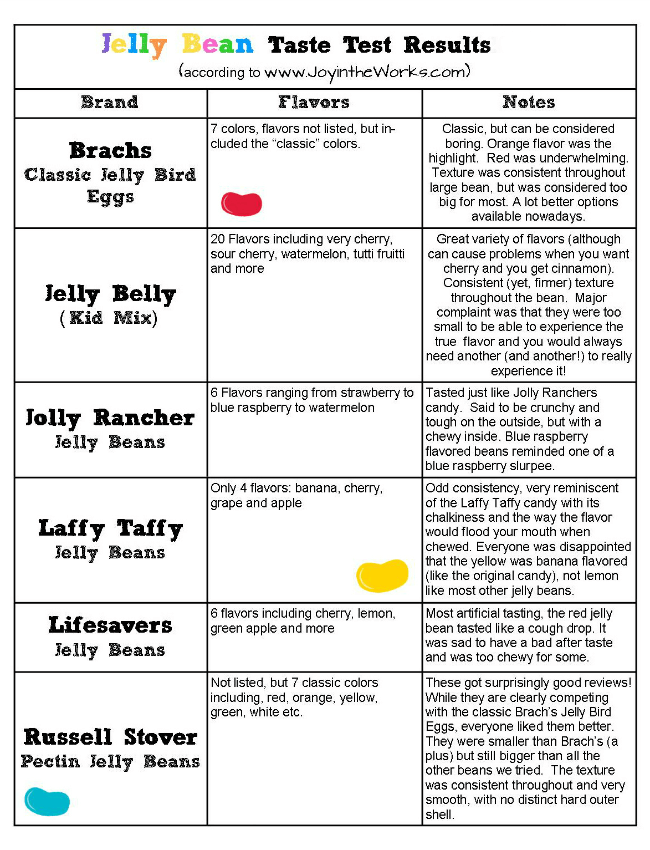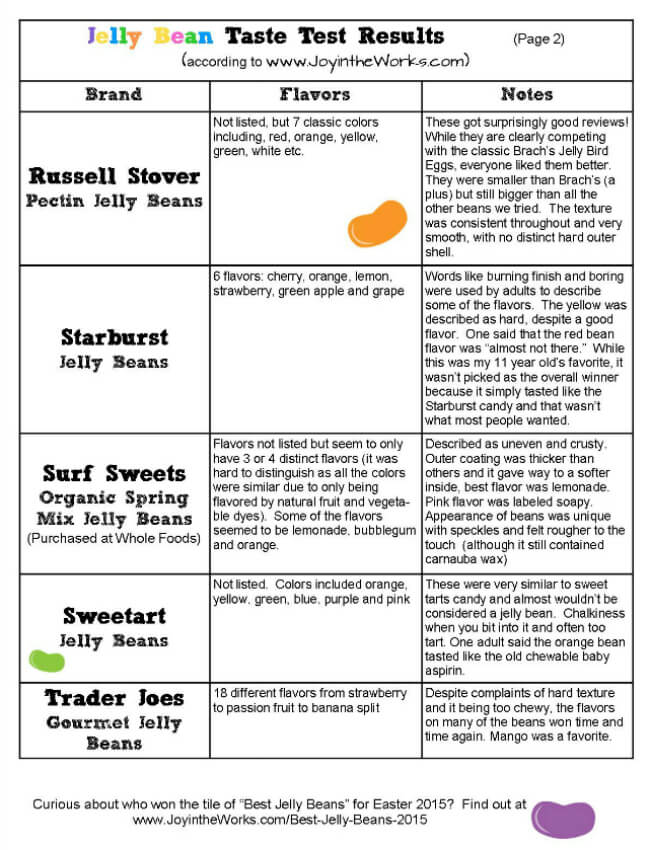 After all of our tastings, discussions and debates, we have added up our scores and found that the overall winner of "THE BEST JELLY BEAN" of Easter 2015 is
Winner: Trader Joe's Gourmet Jelly Beans!
*While it did not win for all 18 colors, it won the most overall and received the most accolades including "most natural", and "good variety of flavors". Complaints were mostly around the texture as it was a bit too tough and chewy for some. But it did win, hands down, for flavor.
Runner Up: Jelly Belly Jelly Beans
*I think we all LOVE Jelly Bellies, but don't consider them a classic Easter Jelly Beans. Also our group couldn't get over the size. However, with the Jelly Belly Factory only 45 minutes from our house with free tours, we will always rate them extremely high!
Kid Favorite: Starburst Jelly Beans
As I mentioned, as a whole group, we could not pick this for the overall winner because it was too reminiscent of the Starburst candy. However, my kids could not get enough of these jelly bean candies!
So what do you think? Have you tried any of these brands? If so, do you agree with our findings? Interested in conducting your own Jelly Bean Taste Test? Download the record sheet below and record back on your findings!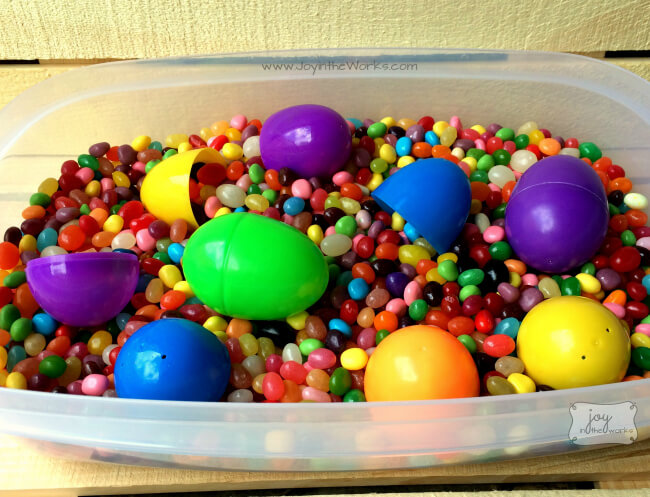 Considering having your own Family Fun Night with a Jelly Bean Taste Test but worried about what you will do with all those extra beans? We opted to bag them up and give some away to neighbors as gifts and also to play with them. They made a great sensory bin!
Want a copy of the Jelly Bean Taste Test Record Sheet so that you can make your own judgements? Simply sign up below!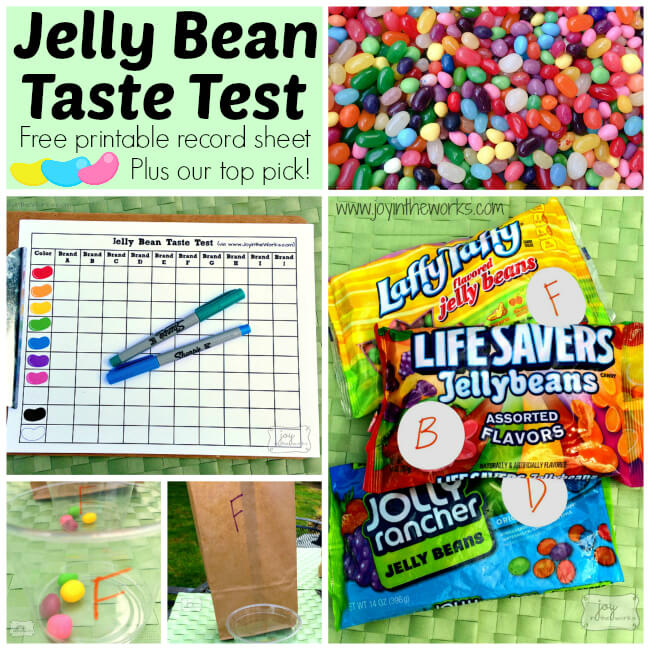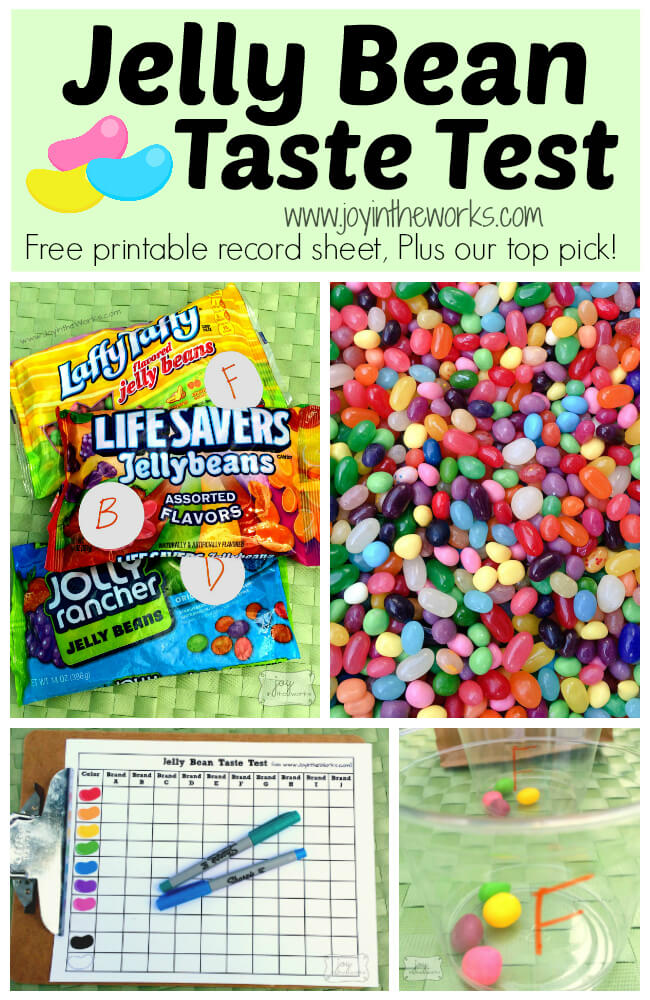 Save