We all know that kids love crafting with candy, so this year for St. Patrick's Day instead of making a Leprechaun trap with the kids, we made a Leprechaun Graham Cracker House with lots of green and rainbow candy!
This post may contain affiliate links. You can see more details of our policy on our disclosure page.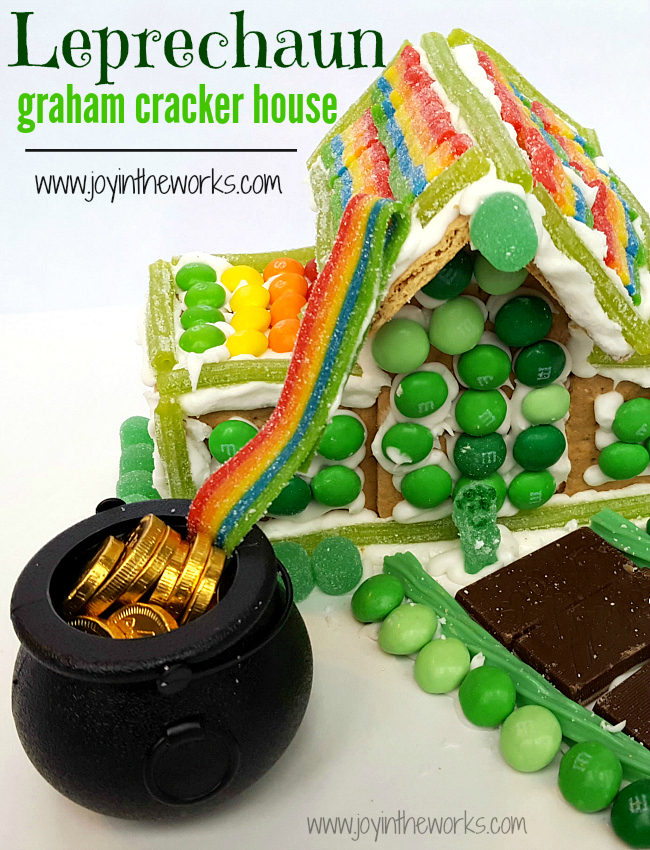 Leprechaun Graham Cracker House
Supplies Needed:
Graham Crackers
Royal Icing (We used this recipe)
Green Candy (We used Mint M&M's, Sour Punch Apple Bites, green gumdrops/spicedrops, green Twizzlers from the Rainbow Twizzlers, Andes mints and a green Sour Patch Kids for our Leprechaun)
Rainbow Candy (We used Skittles, Airhead Extreme Rainbow Berry Bites and Airhead Extreme Rainbow Berry Belts and Rainbow Twizzlers)
Green tinted Shredded Coconut (optional)
Chocolate Gold Coins
Mini Black Pot of Gold
Looking for other candy ideas for decorating your Leprechaun Graham Cracker House? Here are some other Rainbow and Green Candy options: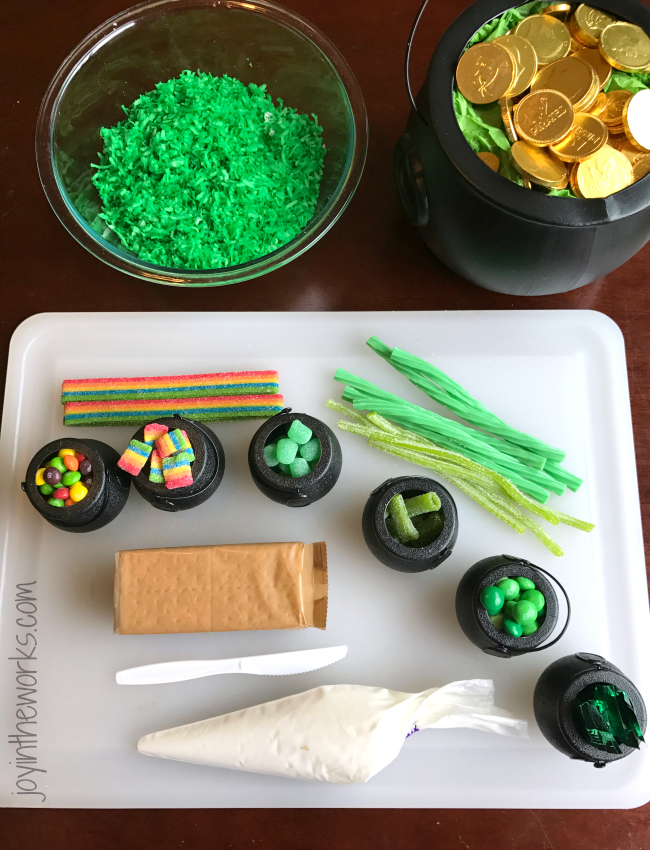 If you are a regular reader at Joy in the Works, you know that we recently built a Valentine Candy House as well. That house design was pretty fancy too (I am all about the basic design, like the one shown here) simply because my husband with his creative engineering brain stepped in! And while you are more than welcome to go simple, he did make a new design this time and we wanted to show you the steps if you wanted to replicate his Leprechaun Graham Cracker House design. You can see the steps below: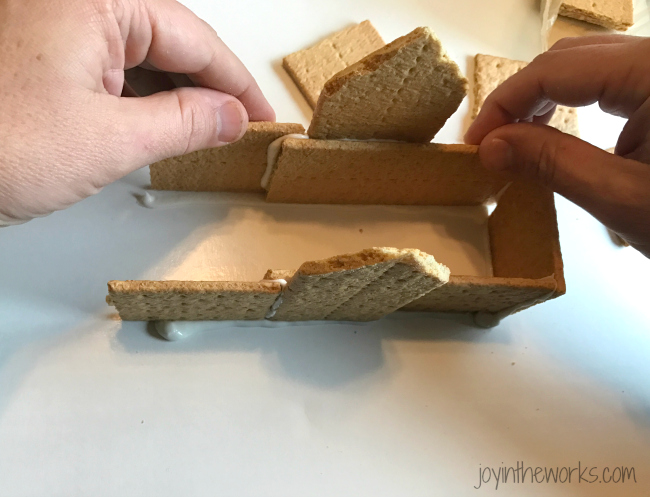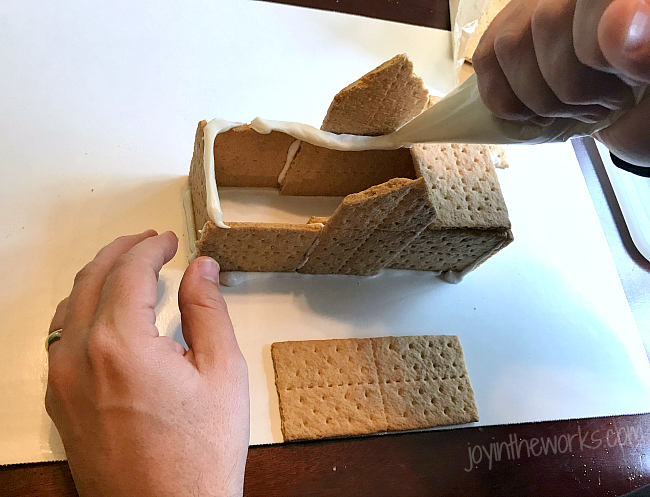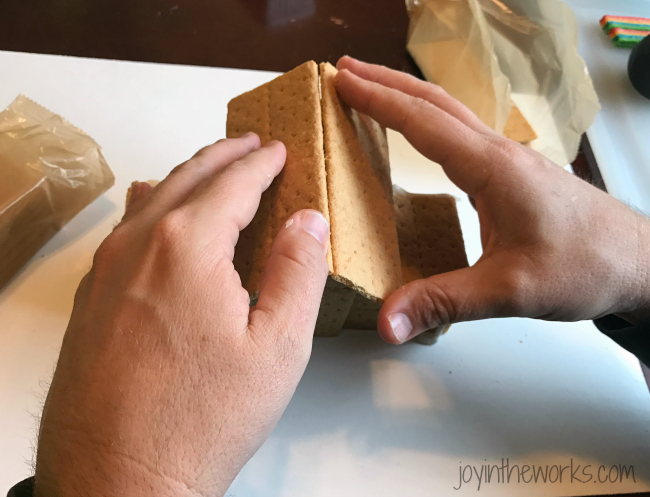 After the royal icing was dry (the kids were chomping at the bit behind the scenes!), the kids and I started decorating the house. Each child took charge of decorating a part of the house- from the rainbow roof to the green M&M siding to the Andes Mint path, each kid had a great time crafting with all the St. Patrick's Day candy.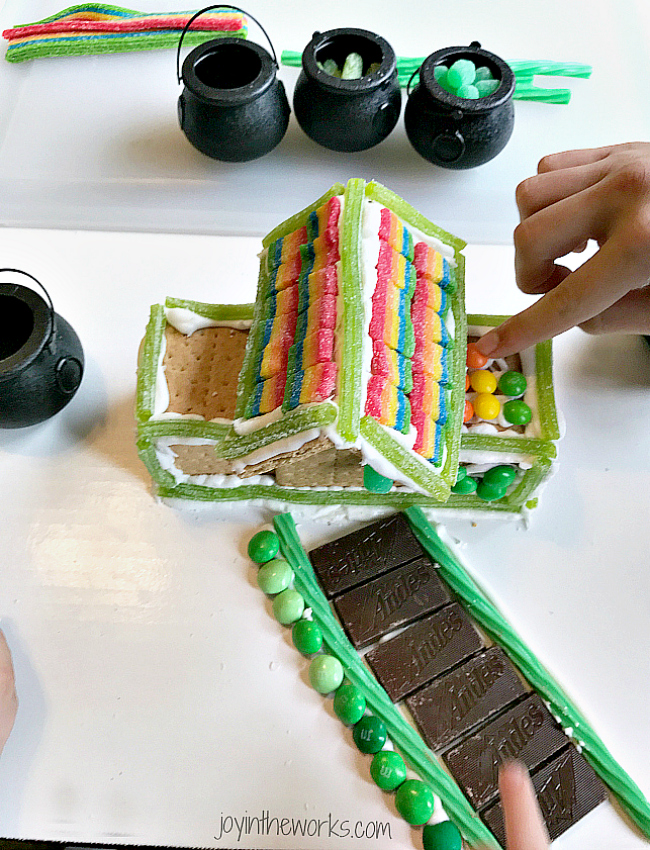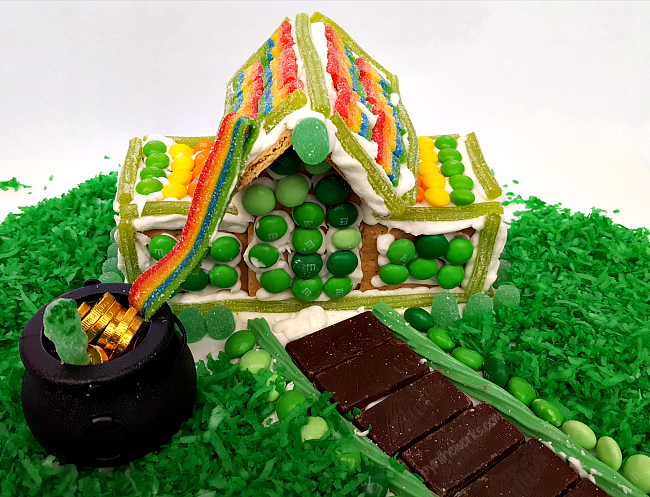 Honestly, my kids love anything I do on the blog that involves sweets (like the catapults), but these candy houses are quickly becoming their favorite! We can't wait to show you what we have come up with for Easter. In the meantime, enjoy this St. Patrick's Day activity with the kids. It's way more fun than building Leprechaun traps out of shoe boxes and other recycled materials because this one involves candy! =)
Looking for more St. Patrick's Day activities? Especially ones that would be perfect for a St. Patrick's Day Party? Check out these ideas from some of my favorite fellow bloggers!
Luck of the Irish Mickey Mouse Oreo Pops from Crafty Mama in ME
Easy and Fun Ways to Celebrate St Patrick's Day with Kids from Mama Smiles
Leprechaun Graham Cracker House from Joy in the Works
Lucky Clover Wood Magnet Craft from Playdough & Popsicles
Gold Glitter Slime Recipe from The Moments at Home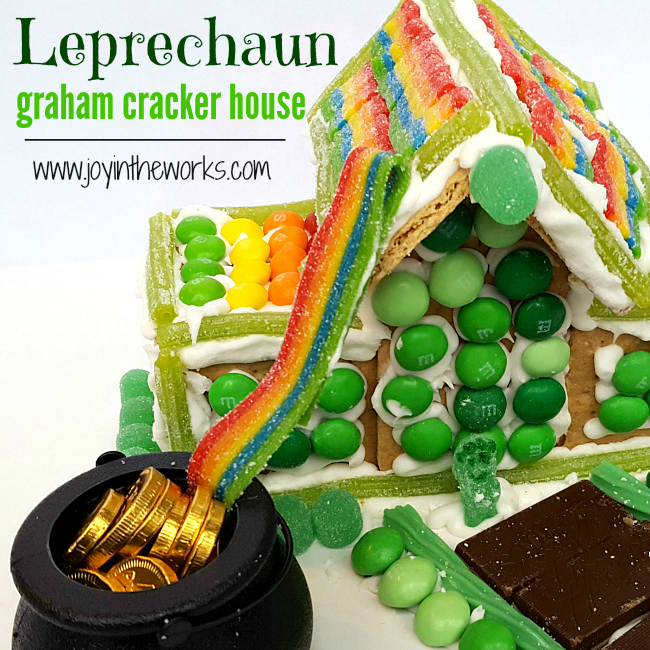 Save
Save
Save
Save
Save
Save
Save
Save