I must admit that Marshmallow Pops are my go-to treat for lots of different holidays. They are just so easy to make and there is something about putting something on a stick, dipping it in chocolate, adding festive sprinkles and wrapping it in cellophane that makes it look like you are super  crafty and put in a big effort. I promise you, especially with these St. Patrick's Day Marshmallow Pops, I didn't. They are so easy!
This post may contain affiliate links. You can read more on our disclosure page.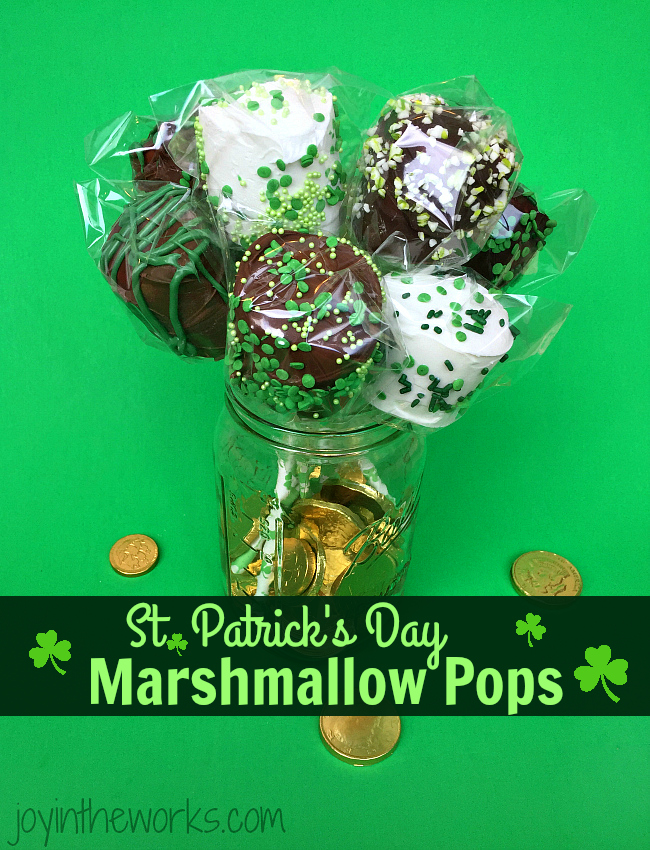 St. Patrick's Day Marshmallow Pops
Supplies Needed:
Jumbo Marshmallows
Lollipop Sticks OR St. Patrick's Day Straws
Dipping Chocolate (I just grabbed whatever I had on hand, which also included chocolate chips)
Green Drizzle Packs OR Green Candy Melts and a disposable decorating bag (optional)
Shamrock Sprinkles OR Shamrock Sprinkles
Cellophane Bags
Shamrock Washi Tape (I skipped the ribbon this time and just used the Washi tape it went extremely well!)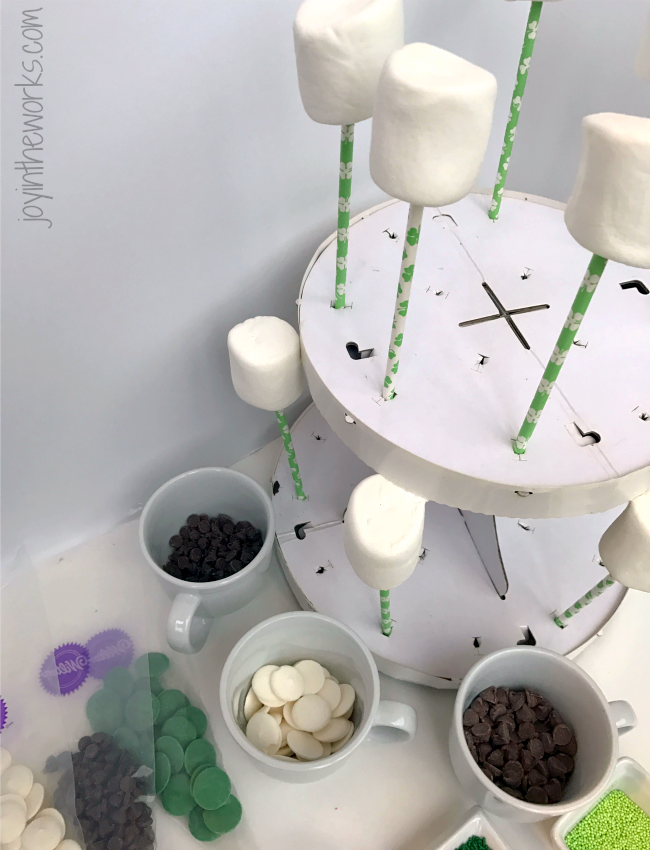 Step 1: Insert straws or sticks into jumbo marshmallows. Set aside (I like using a cake pop stand but a shoe box with holes in it will work also, as well as tall glasses.)
Step 2: Set up your decorating station so, everything is ready to go when you have your chocolate melted. I set some chocolate up in mugs for dipping and created my own drizzle bags for decorating.)
Step 3: Melt chocolate. If you have special dipping chocolate, simply follow the package directions. They usually say melt in 30 second increments and stir until melted. I usually do about the same for the chocolate chips.
Step 4: Dip the marshmallows in the chocolate. I am going to tell you my trick though- sometimes I just spread the chocolate on the marshmallow (or Oreo) using a butter knife. It gives a thinner coating and sometimes looks neater. I figure if you are covering it with sprinkles, you can't really tell anyway.
Step 5: Holding your chocolate covered marshmallow over a bowl, drop a few sprinkles on as you rotate the stick (or straw) around. I never roll directly it the sprinkles. It would create a huge mess. I also never use colored sugar sprinkles on dark chocolate. It just doesn't show up and it doesn't give the same look as the other types of sprinkles. A note about the sprinkles, you can order shamrock sprinkles, but I couldn't find any in the store and I wanted to do the project now (I am terrible with waiting!). I think the straws and the green sprinkles I used look plenty festive and make the perfect St. Patrick's Day Marshmallow Pops!
Step 6: Get creative with your toppings- you can drizzle green candy coating on them. You can crush up Oreos, mints or even (as I did), break up some chocolate gold coins!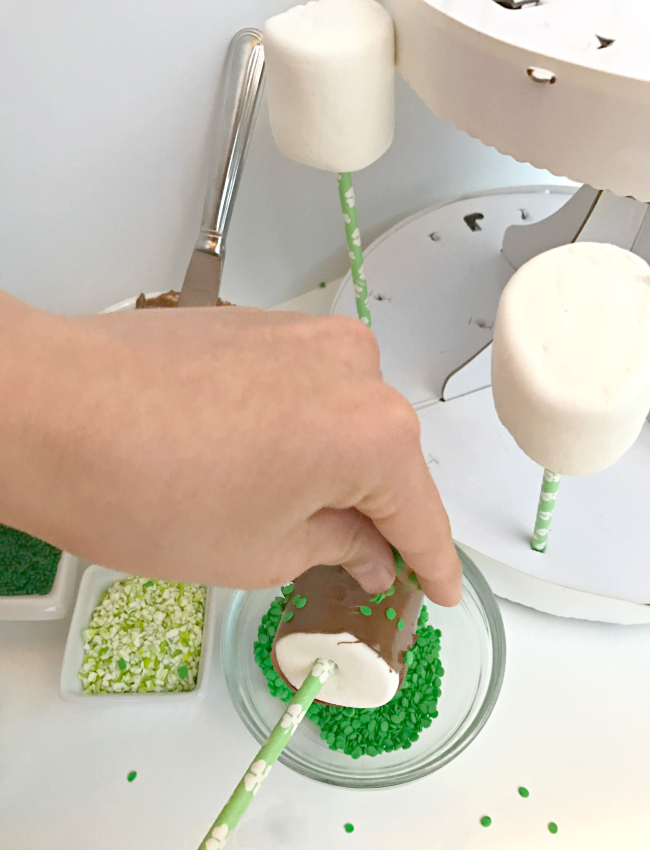 Step 7: Let your Marshmallow Pops dry. It doesn't take long. When completely dry, insert pops carefully into cellophane bags. Seal with twisty ties, ribbon or washi tape. Add a gift tag if you like. I didn't make any for this batch, but if I do make some, I will come back and add them to the post! We devoured ours too quickly to give them away! lol In the meantime, enjoy!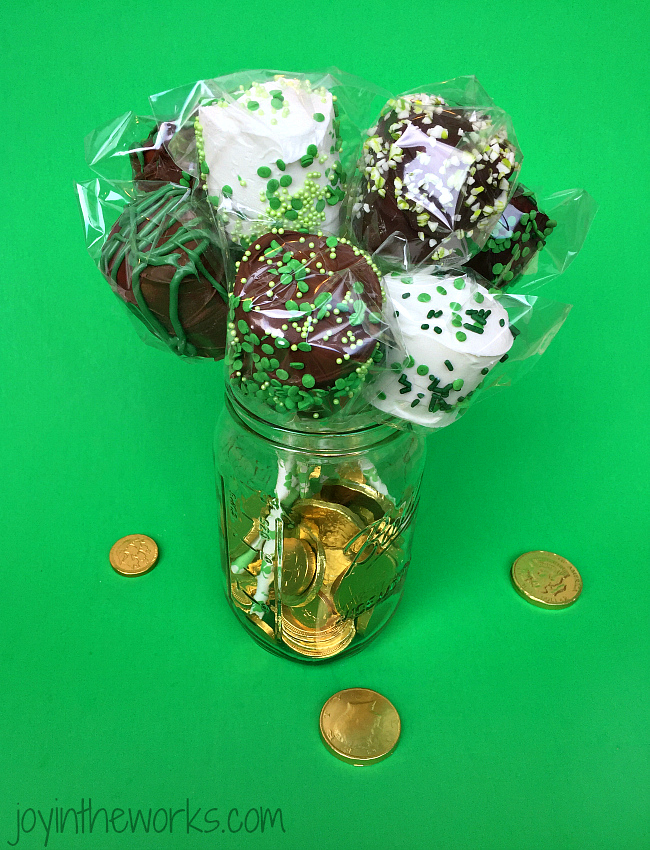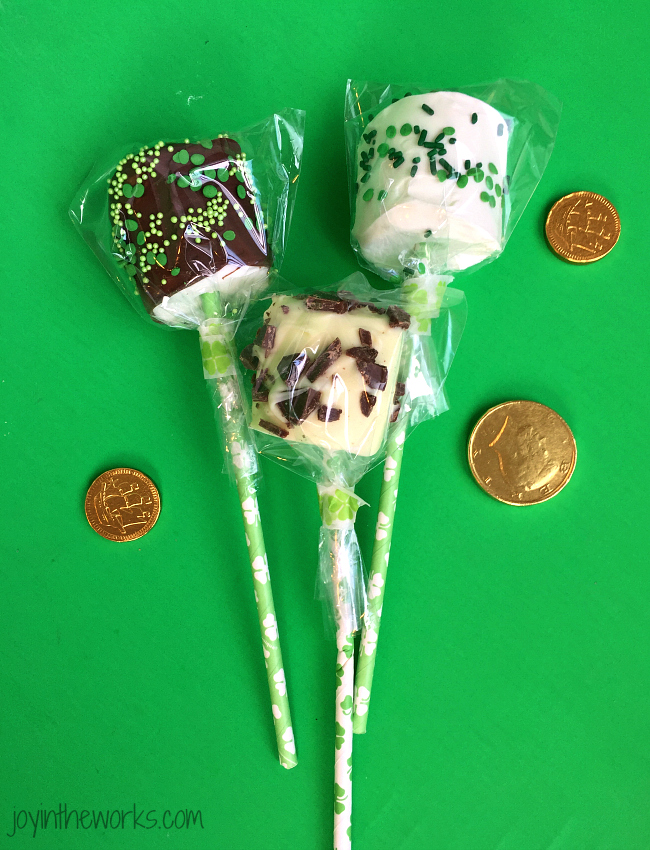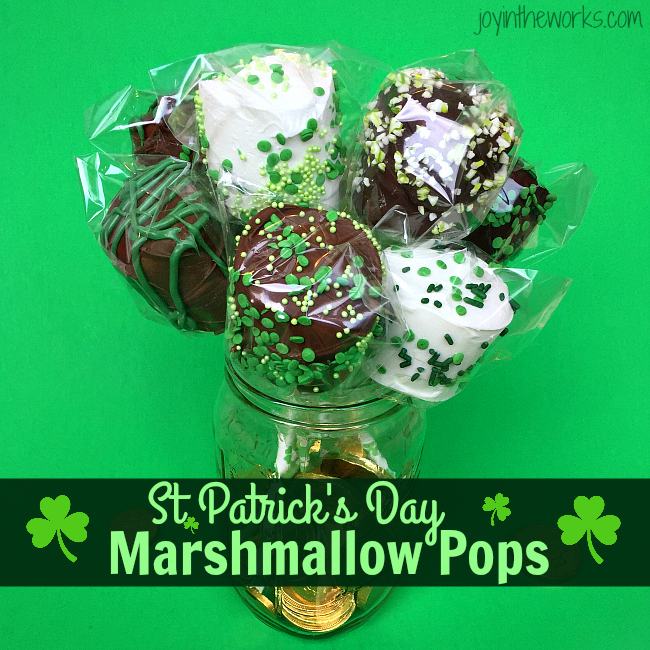 Save
Save
Save
Save
Save
Save