I don't know if it is that I grew up watching my mom give Christmas gifts to all her friends and neighbors, but it is a tradition I have carried on as well. It's always a small token gift, some years it's just a plate of cookies, but I always do something small for my close friends, neighbors and my children's teachers. But as I have grown up and I have begun trying to focus on what really matters, I have been making an effort to give more meaningful Christmas gifts that come with a deeper message.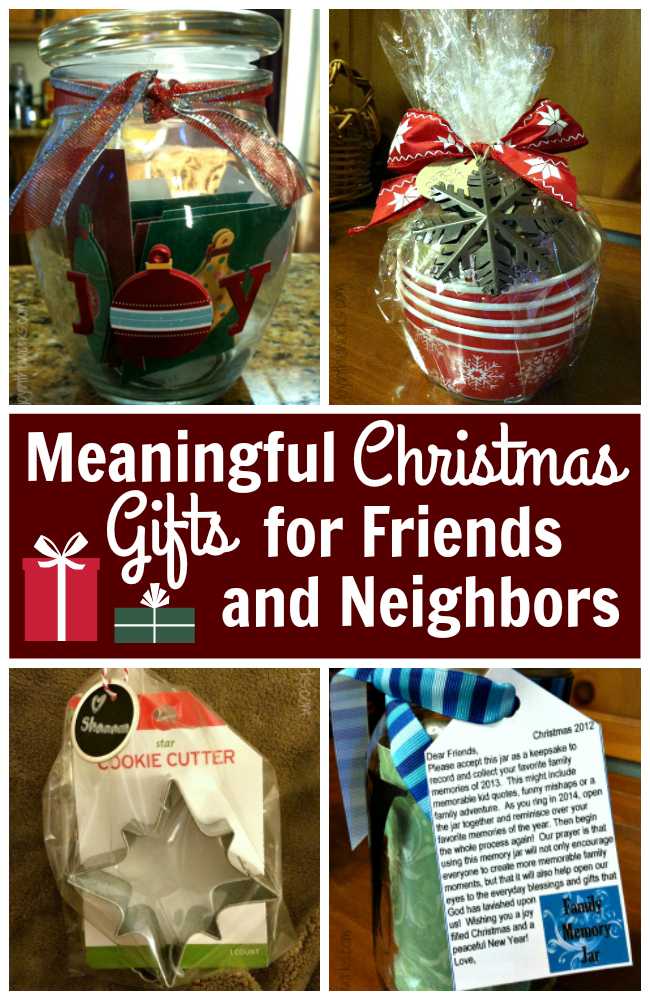 I apologize in advance for the poor photo quality- some of these photos were taken quite awhile ago before I knew anything about photography and cameras. Or basically before I had an iPhone! ;) But I felt like the ideas were good enough to share that perhaps you would be able to see past the poor lighting! =) Also, this post contains affiliate links, meaning I get a small percentage of any purchases you might make through my site, at no increased cost to you.

Meaningful Christmas Gifts
Joy Jar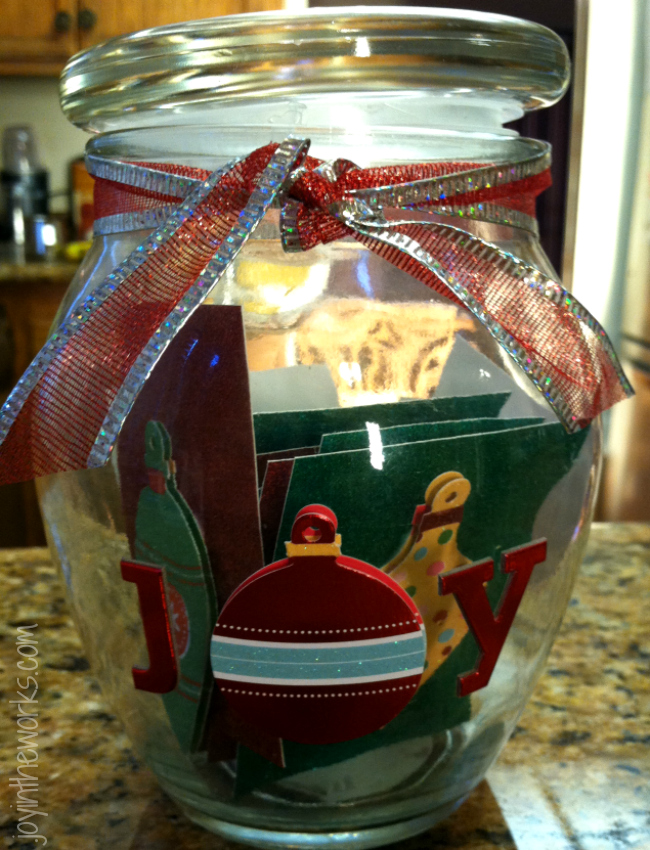 The Joy Jar was actually a Christmas gift for one of my son's teachers from the whole class. I gathered some Christmas stickers, paper and other scrapbook supplies and the class and I made some small festive cards. On the back, we wrote messages to the teacher. Some kids would tell stories, others would say why they liked her and others would try to get away with just saying she was nice! I wouldn't let them stick with that, don't worry! Either way, the goal was to fill a jar with notes or stories that would give the teacher joy whenever she opened it. It sat on her desk throughout the entire rest of the school year!
I think a Joy Jar would be a great gift idea for lots of people in our lives. Consider doing it from all the grandchildren to the grandparents or even just to Daddy from the kids. Everyone could use more joy in their life, right? I think the Joy Jar is the epitome of a meaningful Christmas gift, don't you? If you want more details, check out this post.
Christian Themed Cookie Cutters with Bible Verses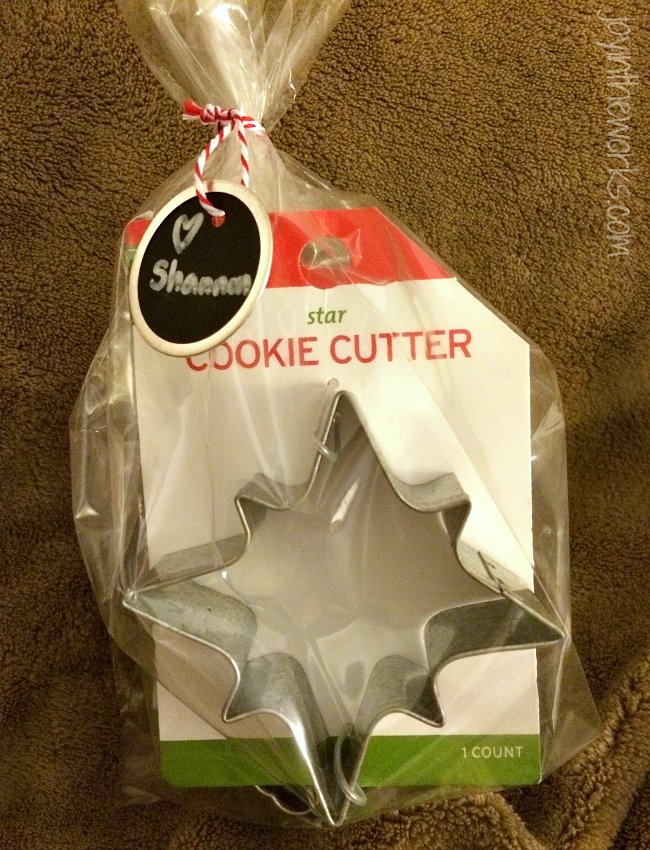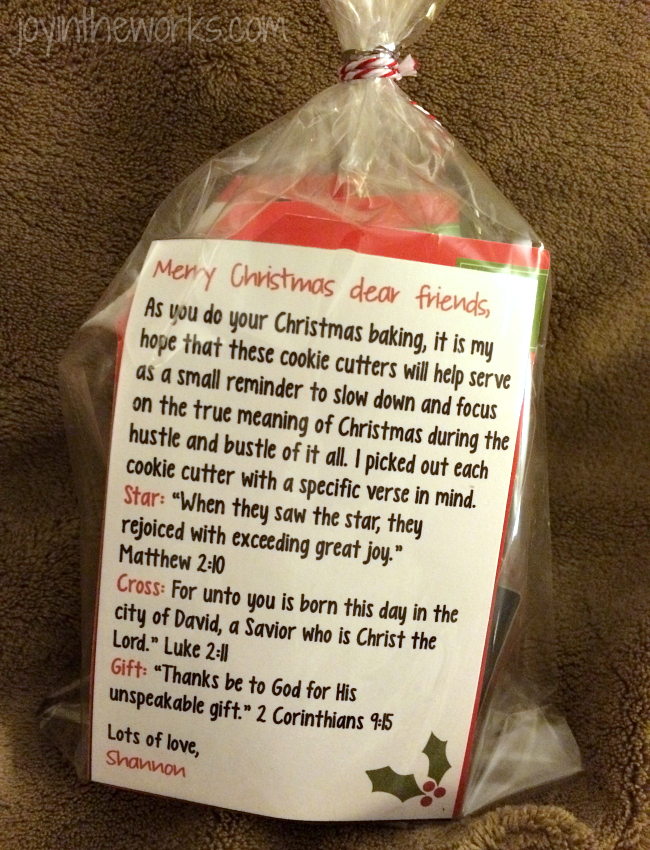 I confess, I love Christmas baking! In fact, I have a very special Christmas tradition of baking Christmas cookies with a friend of mine that I copied from my mom and her friend. My college roommate and I have been baking together for almost 20 years now too! My mom and her friend probably wouldn't want to admit how many years they have been baking together at this point, but suffice it to say, it is a lot longer than that! =)
Anyway, because I love Christmas baking, I always keep my eyes open for good deals on cookie cutters during the Christmas season and I found some great ones at Target a few years back. I just loved the Star of Bethlehem cookie cutter and was so impressed that there was a cross one as well. It inspired me to collect a few and give them as a gift with a few bible verses to go with them. You can see the note I came up with above. Interested in getting help with a personalized printable note? Send me an email at info@joyintheworks.com and I can design one for you!

Monogrammed Family Memory Jar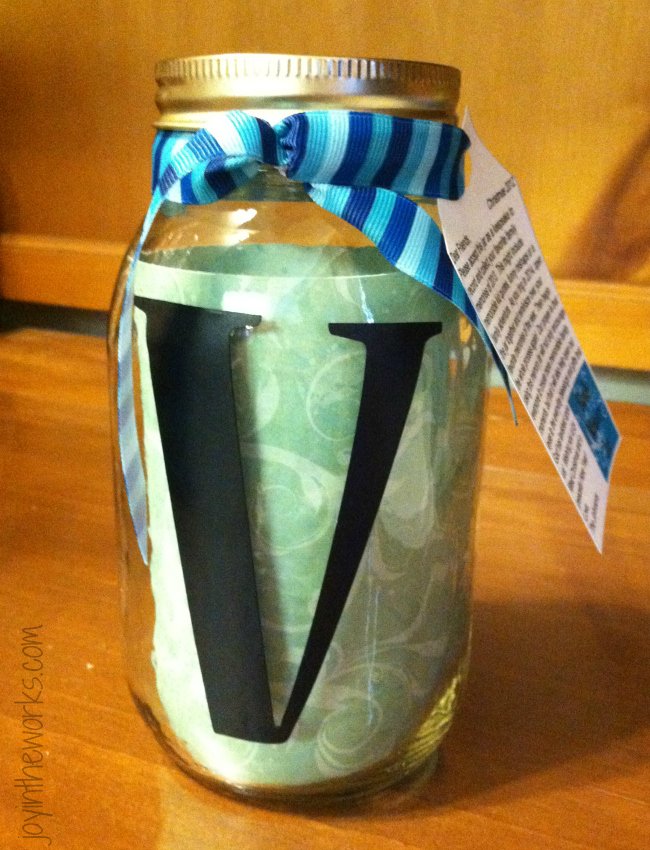 You may have seen Memory Jars on Pinterest, but what makes this one a bit different is the way I presented it and that I did it as a gift. In fact, I thought it was pretty funny that while some people are giving food and such in a jar for Christmas, I was actually giving people an empty jar for their Christmas gift!
But I think encouraging people to create family memories is a great idea and it is simple to make, too. I found mason jars, black vinyl letters and a variety of scrapbook paper and ribbon I had on hand at home. I put each family's monogram letter on the front of the jar, lined the inside with scrapbook paper and tied a ribbon and a note on it (email me at info@joyintheworks.com if you want me to design a personalized note for you!). It is optional, but you can also use a circle sticker on the lid and print or write the family name on it.  I really liked the way this Monogrammed Memory Jar came out and I thought the sentiment really made this one a meaningful Christmas gift.
Ice Cream Bowls and Toppings for a Family Fun Night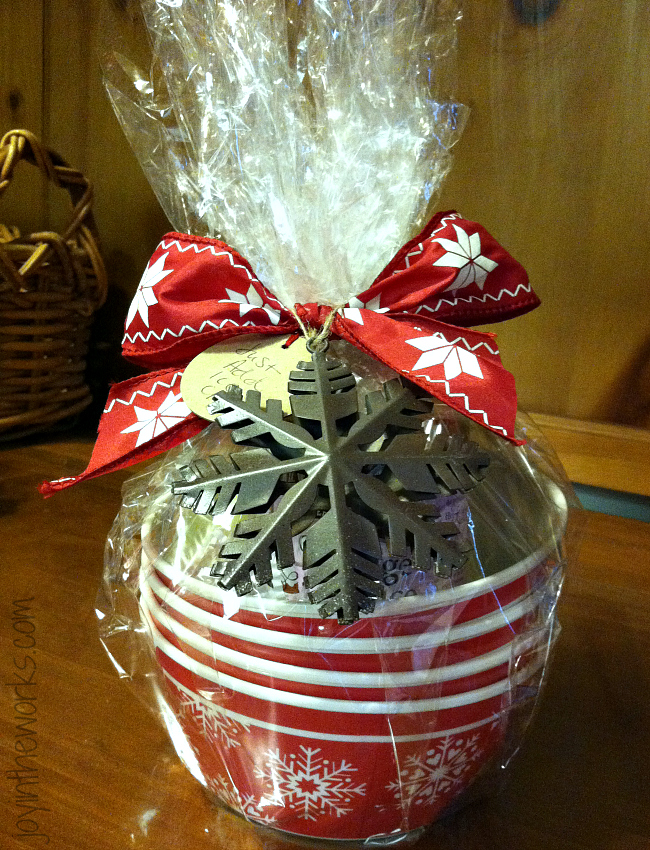 Now at first glance, you might not think a family set of ice cream bowls and toppings are meaningful, but it's all about the presentation! Simply include hot fudge sauce and mini candy canes that the kids can crush themselves and add a tag with instructions to stop and slow down and have a family night in! Better yet? Add a Redbox gift card or a DVD to really encourage some family fun!
Mom's Relax and Rejuvenate Kit (Not Pictured)
I was so sad to see I didn't get a picture of this gift.  It is simple enough for you to recreate on your own, however. All I did was go to Target and look for small, travel sized, lotions, soaps, body wash and bubble bath.  I wrapped up a few items in a small bag and attached a note that encouraged moms to take the time to slow down, relax, rejuvenate and enjoy the holiday season. Moms are asked to do so much at this time of year and I wanted to remind them in a small way that they deserve a break because they are constantly giving to others. I also reminded my mom friends that often it takes a concerted effort to "Be Still and Know that I am God" (Psalm 46:10 ) to really understand what the true gift of the holiday season really is.
Gratitude Journal (Not Pictured)
Believe it or not, I have also given gratitude journals as a token gift. It really depends on the person and the relationship, but a regular journal or a gratitude journal can be a great way to give a meaningful Christmas gift. I found a few different ones for you to choose from:

What do you think? Would you ever considering giving a more meaningful Christmas gift to friends, neighbors or teachers? Do you have any ideas to add? You also may have noticed that most of these gifts are reliant on the special gift tag that comes with it. If you would like me to design you one, please contact me at info@joyintheworks.com and I can give you rate and details.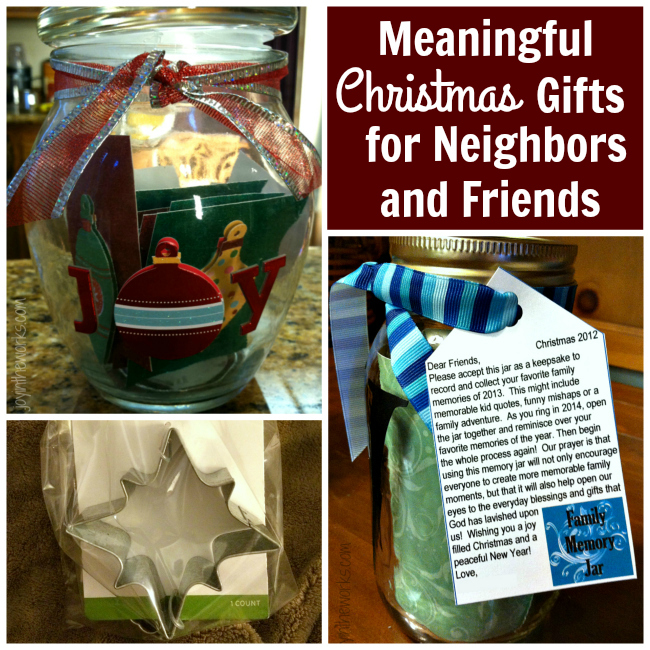 Save
Save
Save
Save
Save
Save
Save
Save
Save