You know how much I love celebrating birthdays and my son's 13th birthday was no exception. Except now that he is older, he doesn't let me throw big, themed birthday parties for him. No Lego Star Wars or Super Mario Parties for him. =( I actually came up with a lot of teen and tween birthday parties (blog post coming soon), but he was insistent that we don't go all out for him with a party. However, that didn't stop me from creating a memorable gift. And boy did I! For my son's 13th birthday, we surprised him with a trip with a friend who is also turning 13. And after I fill you in, you will be able to surprise your kids with a vacation to anywhere as well.
How to Surprise Your Kids with a Vacation
So being that my friend and I are the coolest moms ever (obviously not according to our sons!) and we thought of this amazing Mother/Son Road Trip idea to celebrate them crossing the threshold into the teen years, we had to come up with a creative way to surprise them with the news as well. My anti-crafty, anti-Pinterest friend actually came up with the concept of using Dr. Seuss's book,  Oh, the Places You'll Go (affiliate link) to tell our boys about the trip and she did the text as well. I just did all the crafty, cute presentation part! =)
Of course, as you will see, the only challenging part is actually the writing!  My friend took the original Dr Seuss book, Oh the Places You'll Go (affiliate link) and adjusted and added personalized verses to the text. Your wording is going to vary based on where you are go, but I will show you what we came up with to help inspire you. I can't show you a majority of the pages as they show personal information, but just know that sometimes we changed the names on the pages to match our sons and we even put all of our photos on one page!
In terms of the presentation, all I did was type up the verses and words in a word document using the Times New Roman Font (it matched the best). After I printed out our additions, I cut and glued on the words. On the last page, we added a personalized birthday message as well. Oh and of course, I was working on this in the wee hours of the night before my son's birthday so the photos reflect that (Read: Not the best lighting and quality). But I still think you will get the idea and you can easily come up with your own version of this gift using the book to surprise your kids with a vacation!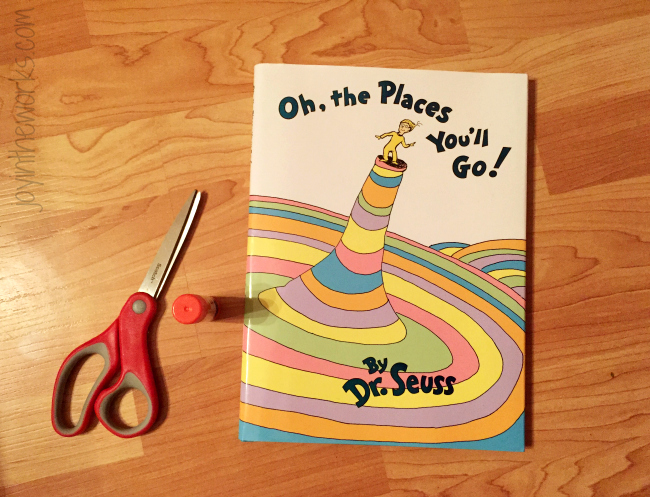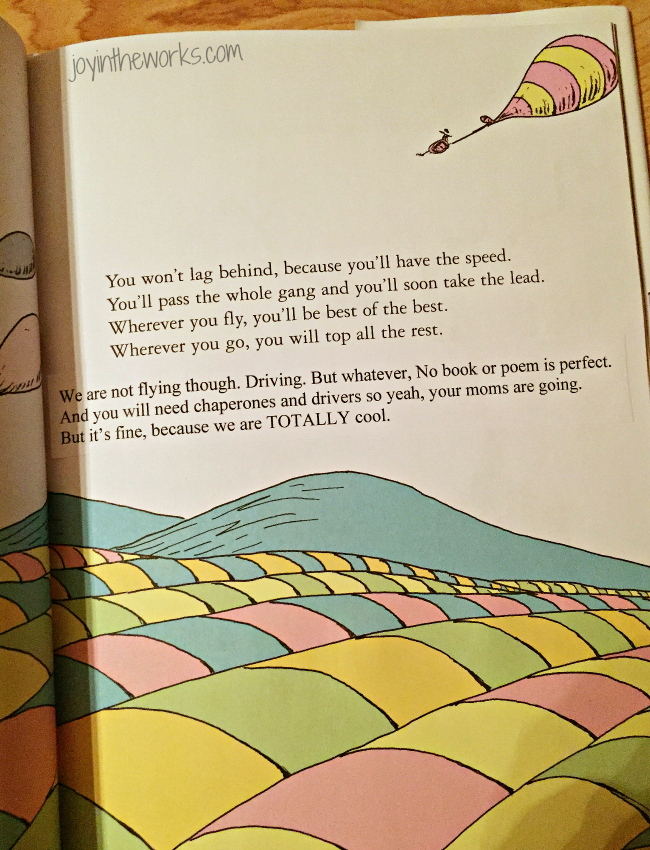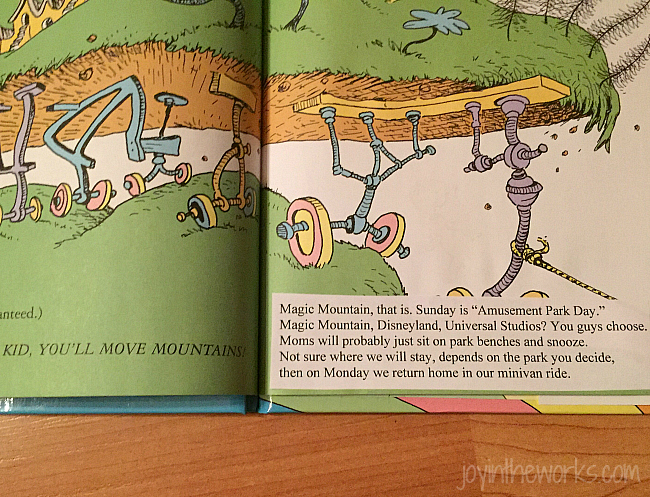 Hope this gives you some inspiration on ways to surprise your kids with a vacation! I have heard lots of stories of families telling their kids they are all getting flu shots or going to the dentist and then driving them straight to Disneyland instead! Doing a book like this seems much more fun to me because your kids will have a present to open and the anticipation and fun that comes with planning a vacation with their family ahead of time. Have you ever surprised your kids with a vacation? How did you do it? Did you use the flu shot story? Would love to hear how you convinced them (and got them all in the car kicking and screaming?!)
Looking for more gifts for your kids to open when you are giving them an experience? If you are tired of all the "stuff" and your house already looks like a toy store (like mine!), considering giving your kids an experience instead. Amusement park tickets, horse back riding lessons and a zoo membership are all great experiences to give your kids at Christmas or on birthdays. Check out my post on ideas on how to wrap up these gifts so your kids aren't stuck only opening an envelope on their birthday! =)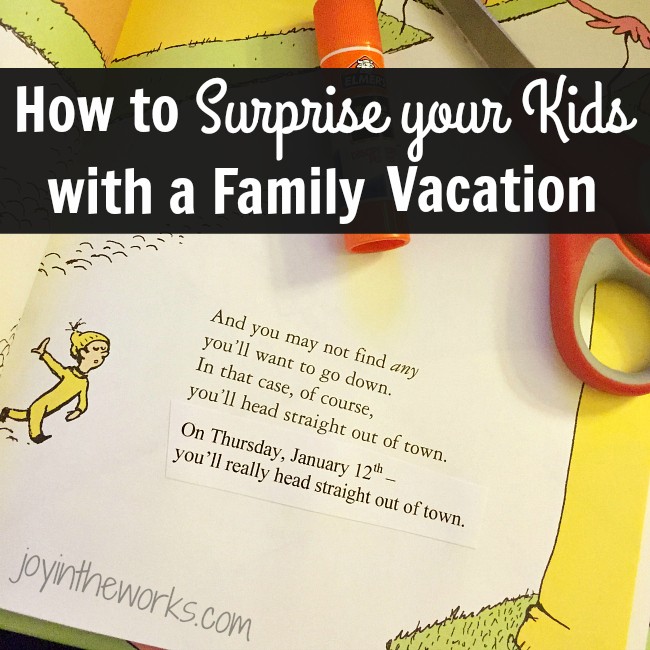 Save
Save
Save
Save
Save
Save
Save
Save
Save
Save
Save
Save

Save
Save
Save