Who says Thanksgiving dinner has to be fancy? If you live somewhere where the weather is warm enough, why not host Thanksgiving dinner outside? A rustic, outdoor Thanksgiving tablescape for dinner can be so warm and inviting with just a few tips.

This post contains affiliate links. If you purchase anything from these links, Joy in the Works receives a small percentage to support the cost of this blog.  See the full disclosure policy.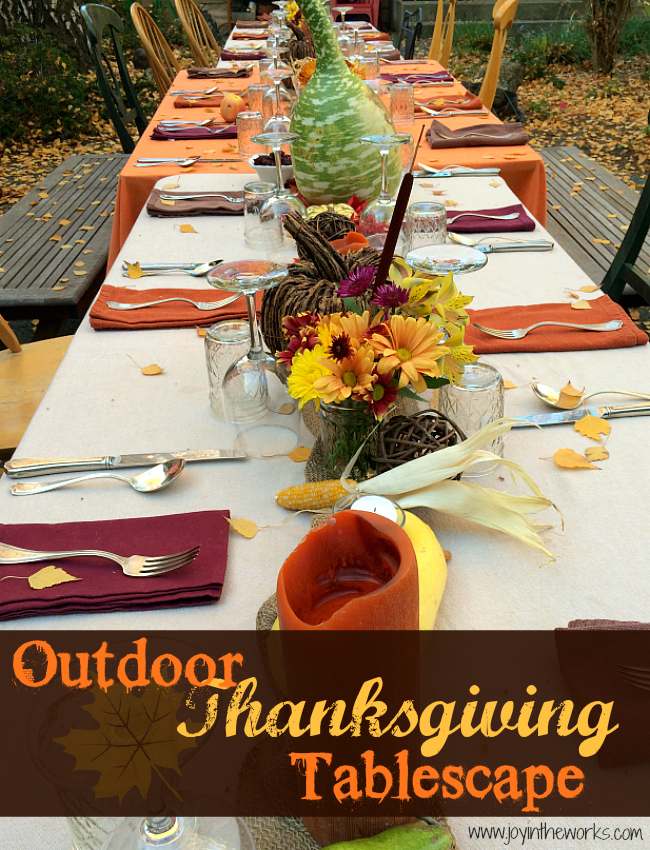 Hosting dinner outside is also a great option if you have a large family, but not a large space!  Not only do we have a bigger family, but we also like to invite all the people we know who don't have somewhere to go.  Whether they don't have family nearby or a place that they enjoy going, we invite them to join us and our family. The more, the merrier on Thanksgiving is our motto! Of course, then we need to find a place for everyone to sit and eat their dinner!
Because we live in California, if the weather is predicted to be nice that day, we often try to host Thanksgiving outside in the backyard.  The backdrop of the fall leaves everywhere creates the perfect setting. For this outdoor Thanksgiving tablescape, we even incorporated the fallen leaves on the ground by adding them to the table decor.  Real fall leaves are the perfect accent to a rustic table setting. We also added real gourds, mini pumpkins, apples and dried corn on the cob.  Wooden fruit, like pears and apples, will also fit in well with the natural decor. The perfect addition to this table, but not pictured, would be the pear monogram place cards I shared last year using fresh pears and cloves.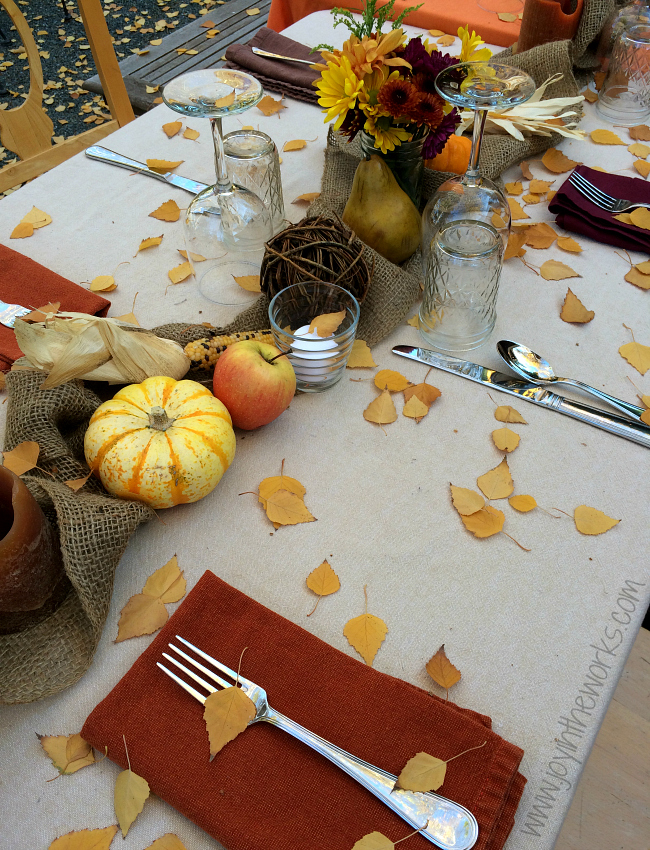 Another material and texture that works for creating this look is burlap.  You can start building upon a burlap runner if you have a smaller table or if it is a larger table like this one, use several spools of wide burlap ribbon.  Don't lay it flat, however. You want to twist it and bunch it up in places to create a 3 dimensional look.  You can place candles on it in certain spots to ground it through the tables.  (Speaking of tables, did you notice we simply put several long tables together?  With an outdoor Thanksgiving tablescape, it works- even if they are different levels! Simply coordinate the colors of the tablecloths and you are all set!)
Twigs and twine are the perfect compliment to this tablescape as well.  If you have any twine or twig pumpkins or twig balls, feel free to incorporate them!  While we didn't do it this year, you can also add brown kraft paper. It can be a table runner or even work as the table "cloth". If you add crayons, this is the perfect entertainment for the kids while they are waiting for the turkey to finish cooking!
If you want to re-create the feel of this table, think mix and match! This goes for the colors, the napkins and the tablecloths.  If the colors and items help create the harvest feel, you are on the right track!  You will notice we continued with the mix and match theme for the silverware and the dishes as well.  We used a variety of white and cream plates and serving bowls, but you could incorporate color as well.  For drinkware, jelly jars work for water glasses and look nice alongside the wine glasses.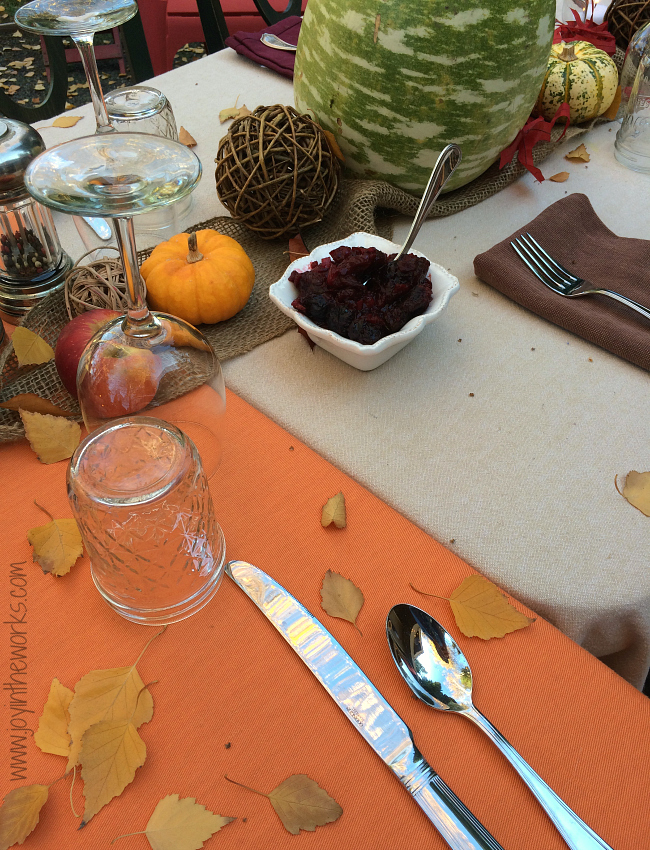 Something that I consider an "extra", but really adds that special touch are adding a few bouquets of fall flowers.  You can actually find these bouquets at the grocery store, but they often need to be paired down to get rid of the extra green fillers they use.  A tight bouquet of flowers in a mason jar is a great addition to the Thanksgiving table.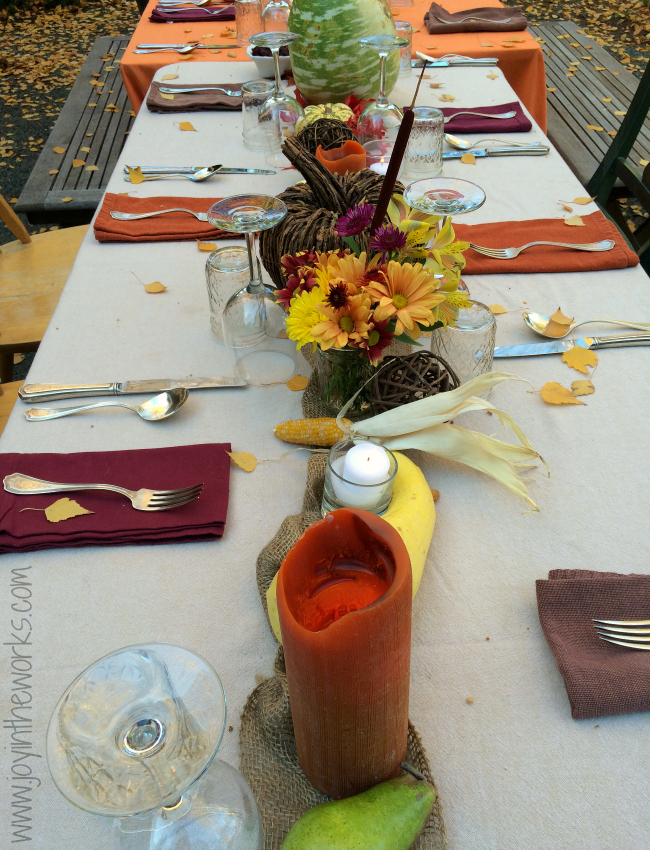 There are so many ways to create this bountiful outdoor Thanksgiving tablescape. I would love to hear any ideas that you have as well. Or if you are looking for more inspiration, check out these ideas from Amazon: