Hosting Thanksgiving is a lot of work. From cooking a giant turkey to coordinating all the side dishes to be ready at the right times to providing appetizers and desserts, the host or hostess works hard! Even those who don't do all the cooking, but simply open up their home and set the table, clean the house, provide the dishes and silverware and so on deserve a little recognition!  Now most people just bring a simple bottle of wine or bouquet of flowers as a thank you, but I say it's time we get a little more creative with our hostess gifts on such a special day!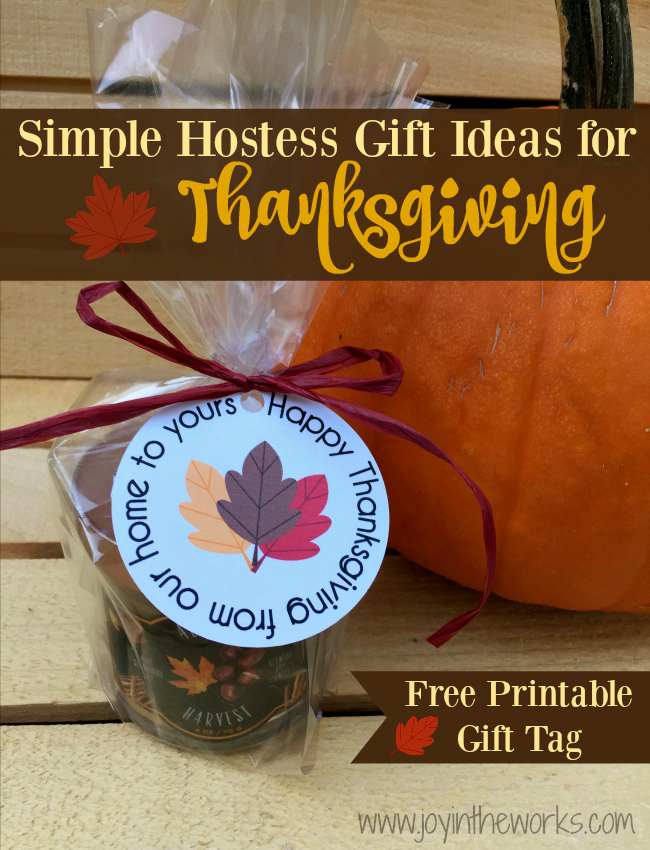 Hostess Gifts Ideas for Thanksgiving
While I happened to find all of these pictured items at Target, they are general ideas that can be purchased most anywhere. I have included a few (affiliate) links for you throughout the post, plus added a few other creative hostess gift ideas at the bottom of the post through Amazon. Whatever you decide to give as your hostess gift, don't forget to download your free printable gift tags at the end of this post as well.

Pie Plate
You don't have to actually bring the pie to Thanksgiving dinner- you can just bring the pie plate!  Unless, of course, they are counting on you for dessert and you came with an empty pie plate, then that would be bad..but if not, there are tons of cute ones around and some even have the recipes on them! Or even better, how about including a pumpkin pie recipe dishtowel with the pie plate?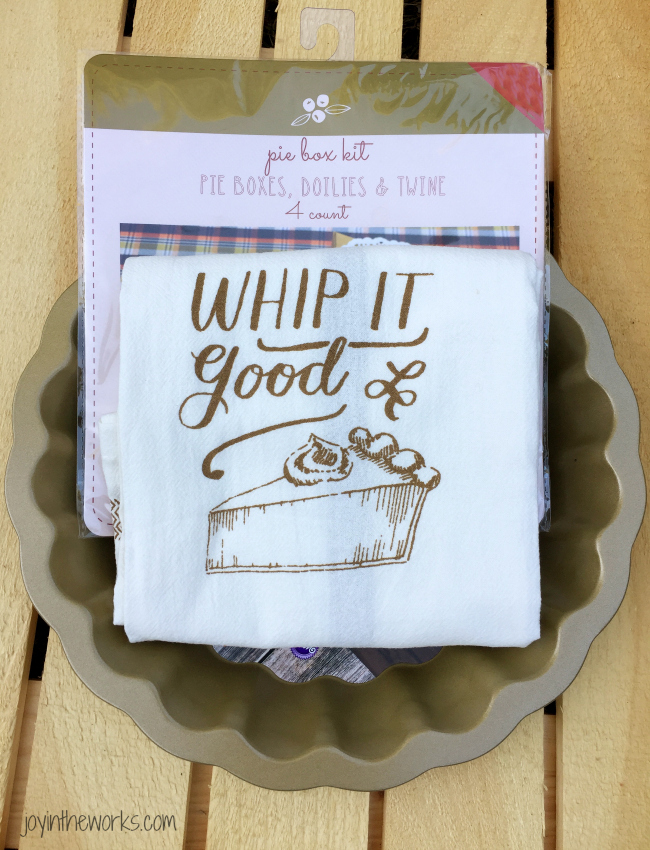 Recipe Book
I think this might be my favorite of all the ideas. I love the idea of collecting family recipes in a book and passing them down through the years. Thanksgiving is the perfect time to do that.  There is also something about the kraft paper brown recipe binder that I love for this time of year.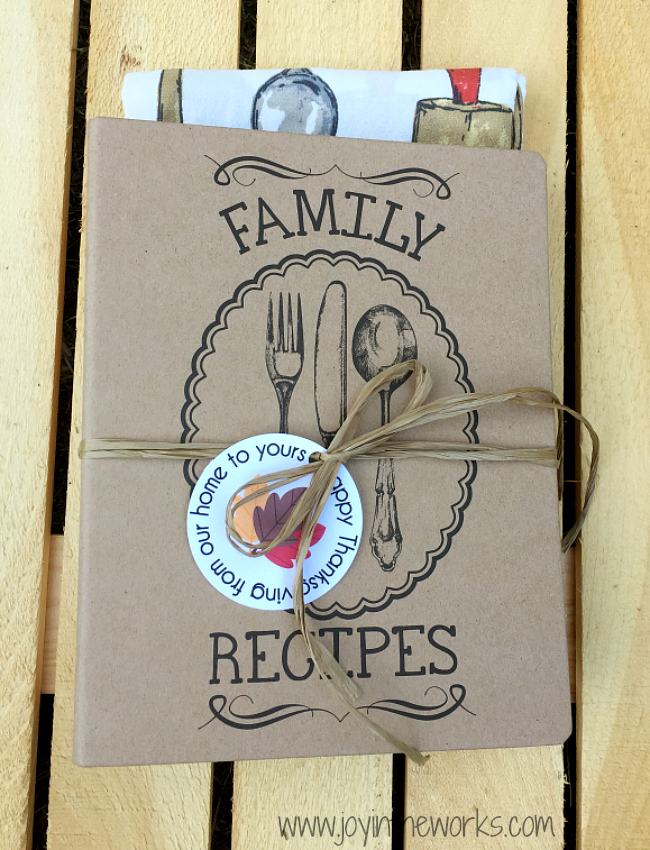 Cookie Cutters
I confess I am kind of obsessed with copper lately. There is something about it that makes the item seem extra special. Fall copper cookie cutters would making the perfect small hostess gift for Thanksgiving, especially if you pair it with a fall dishtowel!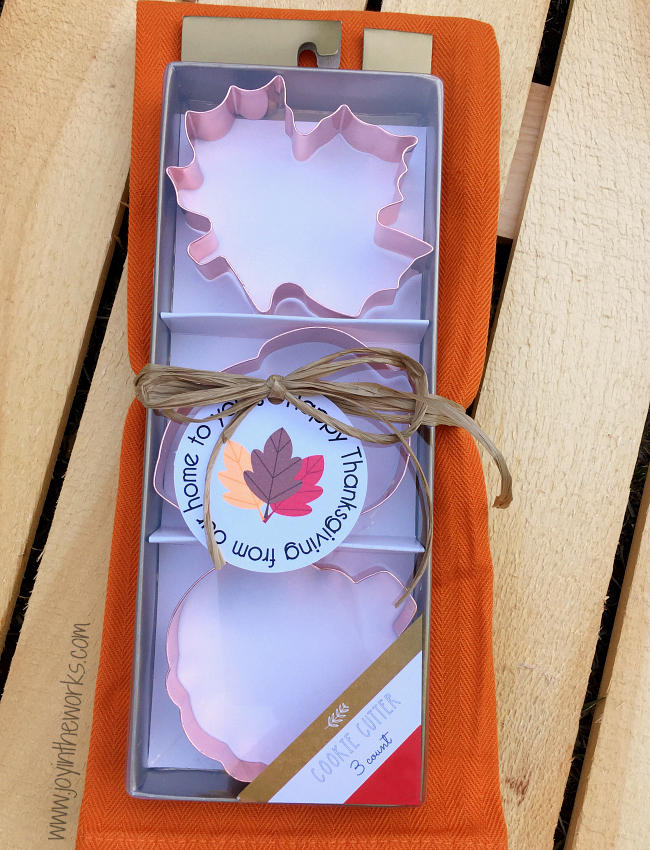 Candle
Candles are a simple, but festive, gift idea for a hostess gift on Thanksgiving.  There are so many amazing smells at this time of year replicated in candles.  I do think it's important to get a nicer one or simply wrap it up in cellophane and add a gift tag to dress it up a bit!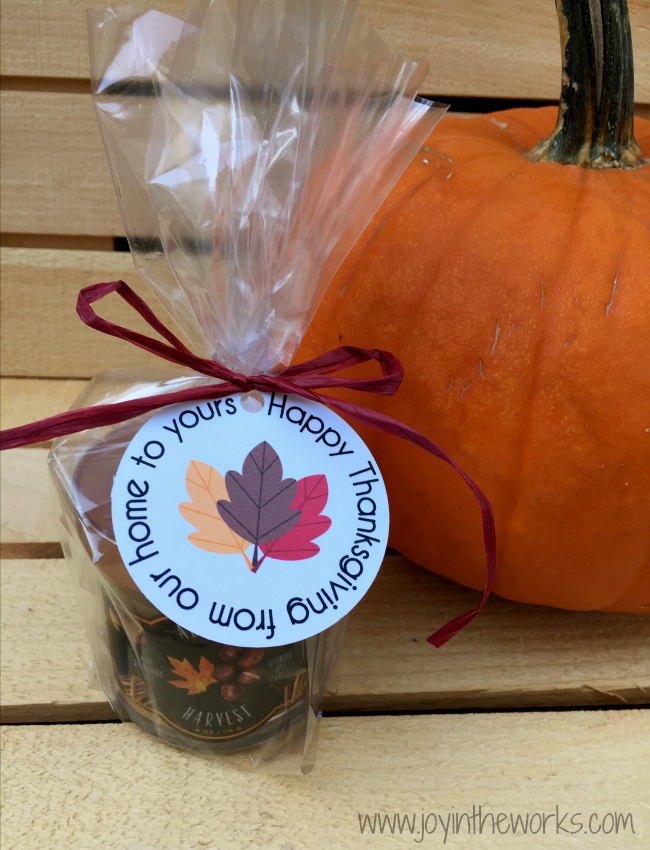 Gratitude Tree
I have found different versions of these Gratitude Trees several places this year. From Amazon to Target to Michael's, it's nice to see everyone acknowledging how important gratitude it.  I also really like this because it can be a Gratitude Tree OR a family tree and both would be great activities for the whole family while waiting for the turkey to finish cooking.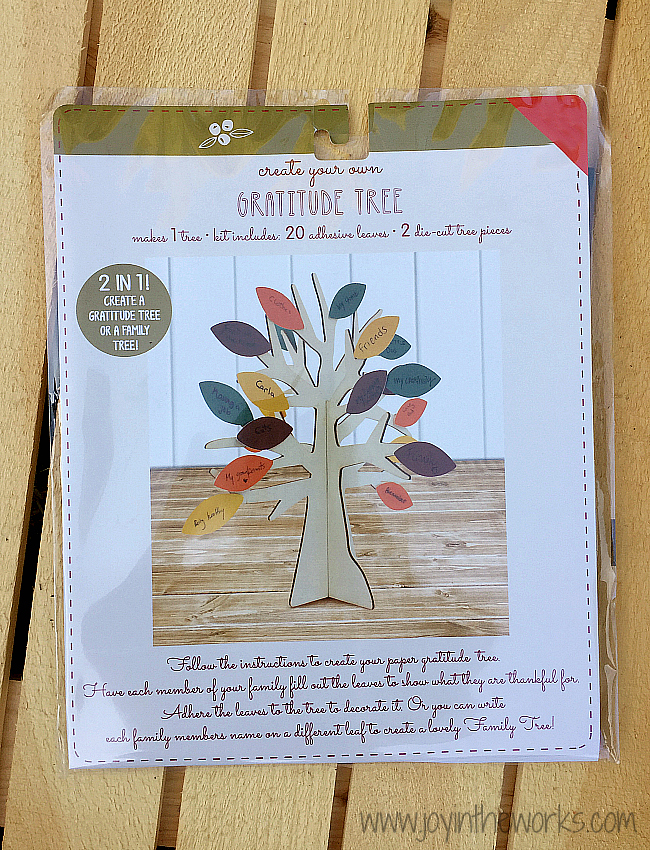 More ideas
Looking for more creative ideas for a hostess gift for Thanksgiving? Check out these ideas I found on Amazon (A bottle of Garlic Infused Olive Oil seems like a creative alternative to a bottle of wine, provided someone else is at least bringing some! ;)


So now that we have a few simple hostess gift ideas, it's time to print out the gift tags! The directions are attached when you download the PDF file, but if you are using a large circle punch to cut these out, make sure you print them on cardstock and then use a 2.5in circle punch. You can also just cut them out using regular scissors and then use a regular hole punch to attach a ribbon to the top of the gift.
Free Printable Thanksgiving Gift Tags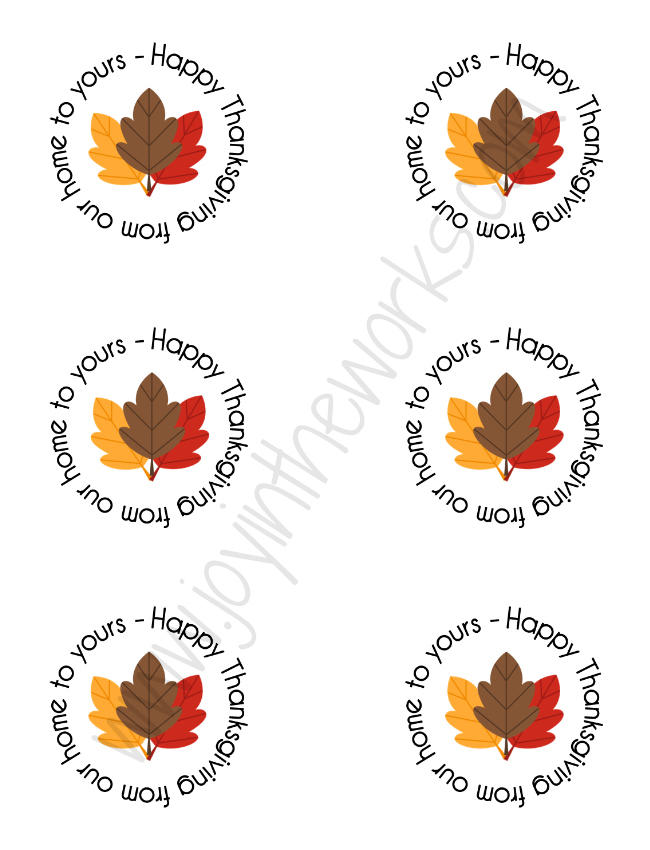 What do you think?  Do think any of these ideas will work for a simple hostess gift for Thanksgiving?  Do you usually go somewhere for Thanksgiving so you would need a hostess gift or do you usually host at your own home? If you do, can I just say you are amazing?? The very few times we have done it, I have barely made it through intact! =) Whether you go somewhere or stay home, I pray that is a enjoyable day with plenty of opportunities for gratitude! Happy Thanksgiving friends!