Looking for a fun, but simple Easter dessert? How about one your kids can help with? When it comes to holiday desserts, cupcakes tend to be my "go-to" dessert, but I don't have the skills to make them fancy or "Pinterest-y" like I want. But I recently discovered Push-Up Cake Pops. They are so easy to make and don't require much beyond the regular cupcakes with frosting. However, with Peeps being so popular at Easter, I decided to combine all the yumminess of cupcakes and Peeps into one Easter dessert making Peeps Push-Up Pops! And they were so easy to make that my kids could have probably made them without me! (That's the goal right? To raise kids who make us dessert? ;)
This post may contain affiliate links. You can read more about our policy on our disclosure page.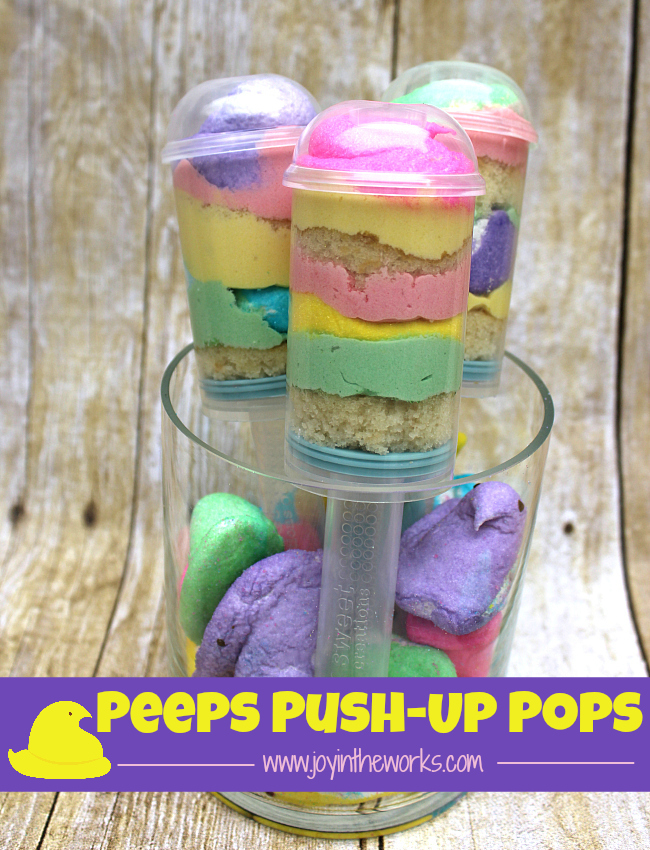 Easter Peeps Push-Up Pops
Supplies Needed:
Push-Up Cake Pops Holders
Peeps (I used various colors, but you could just use one)
Frosting (I colored the frosting with various spring hues, but you could stick with one color or even leave it white)
Cupcakes (Mini cupcakes would work or you could cut out the shape needed from regular cupcakes also)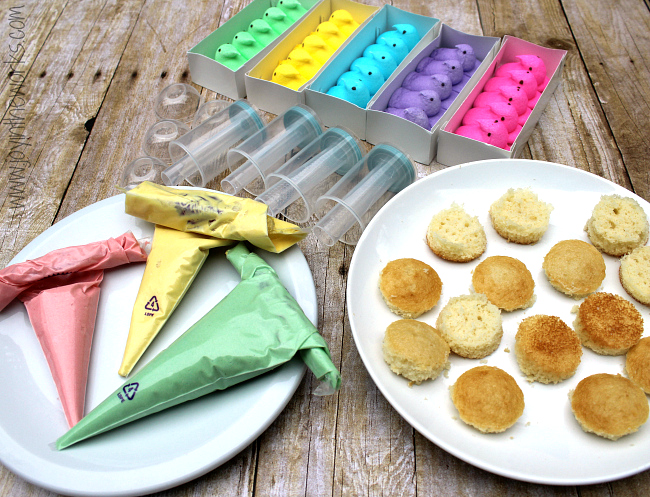 The first thing you need to do when making Peeps Push-Up Pops is to make cupcakes. If you have a mini-cupcake pan, those are the perfect size for the push-up cake pop holders. However, if you are like me, than you just work with what you got! I started by making vanilla cupcakes in a regular cupcake pan. After they had cooled completely, I took the push-up cake pop holder and used the edges of the plastic to press out the correct size cupcakes. There will be a small edging leftover if you start with regular sized cupcakes, but we didn't have any problems putting it to good use. =) I also sliced my cupcakes in half horizontally so that I could fit more layers in each push-up cake pop holder.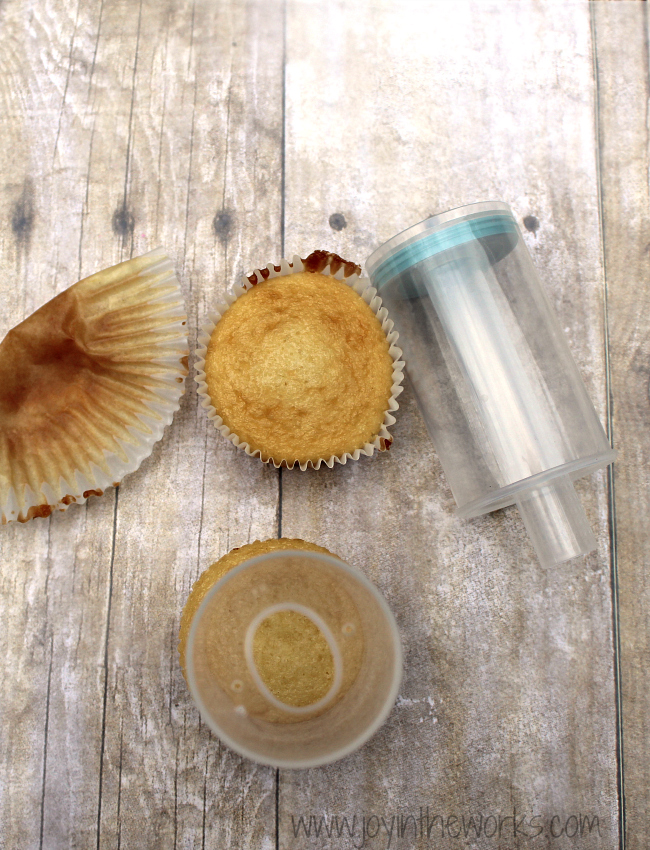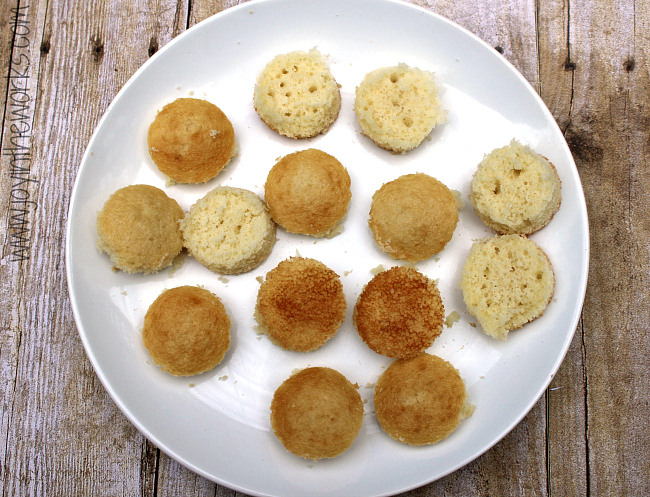 The next thing we did was take the frosting and color it various spring colors and fill up frosting decorating bags with each one.
Now comes the fun part, the layering! This is where the kids can really get their hands dirty (with frosting! =) and help. We started every Peeps Push-Up Pop with a mini cupcake and then squirted in some frosting. This is where the decorating bags really come in handy.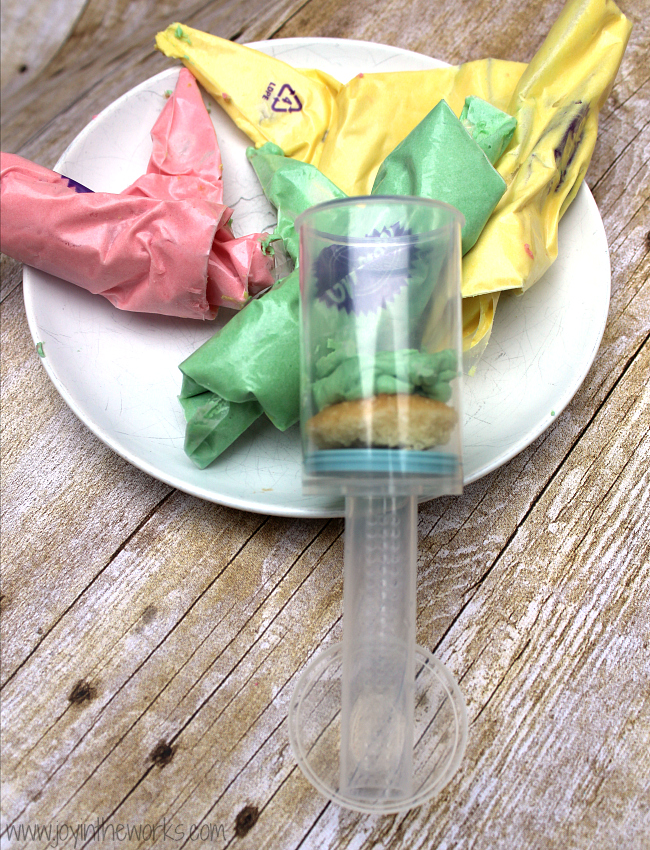 You can really layer the goodies in whatever order you want, but we chose to layer them with the cupcakes first, then the frosting and last, the Peeps. I can't think of any reason it has to be in that order, though. I just wanted them in that order in my mouth!! ;)
The one thing we made sure to do with each Peeps Push-Up Pop was to top it with a Peep. It was fun that it could be squished in at the top with the lid snapped right on!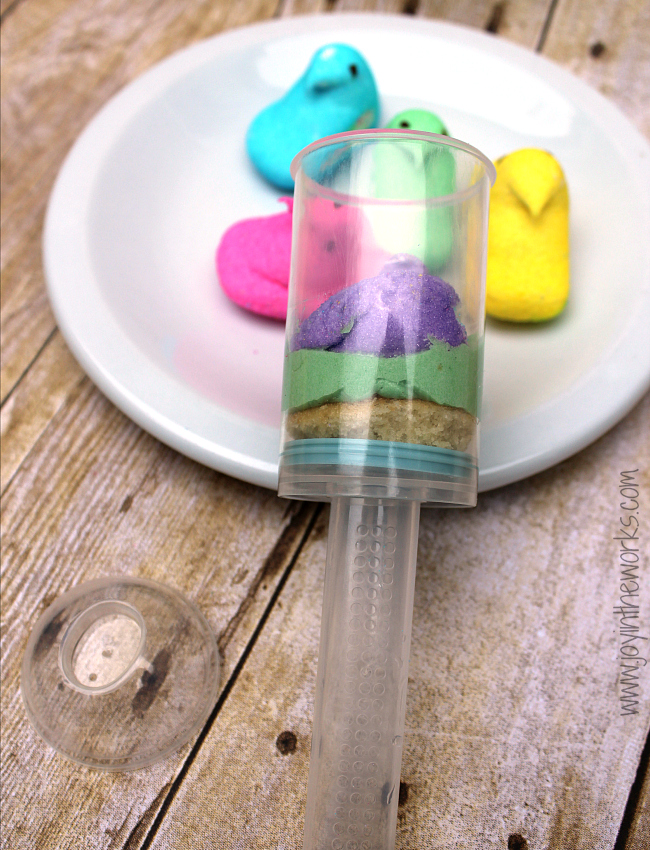 One thing you may want to do with your Peeps Push-Up Pops is do a pattern with your colors (i.e yellow-pink-purple-yellow-pink-purple) We chose to focus on the spring colors and not do a specific pattern because I didn't want to worry about having enough of one particular color of frosting or Peeps or something. And sometimes, a random non-pattern is your pattern (at least that's what I tell myself!) However, if your kids are helping you, adding a pattern could be a nice way to add a little learning to their day!
Patterned or not, I think the kids and I came up with a pretty cute contribution to the Easter party we were attending.  They were a bit messy to eat, but I think it was worth it!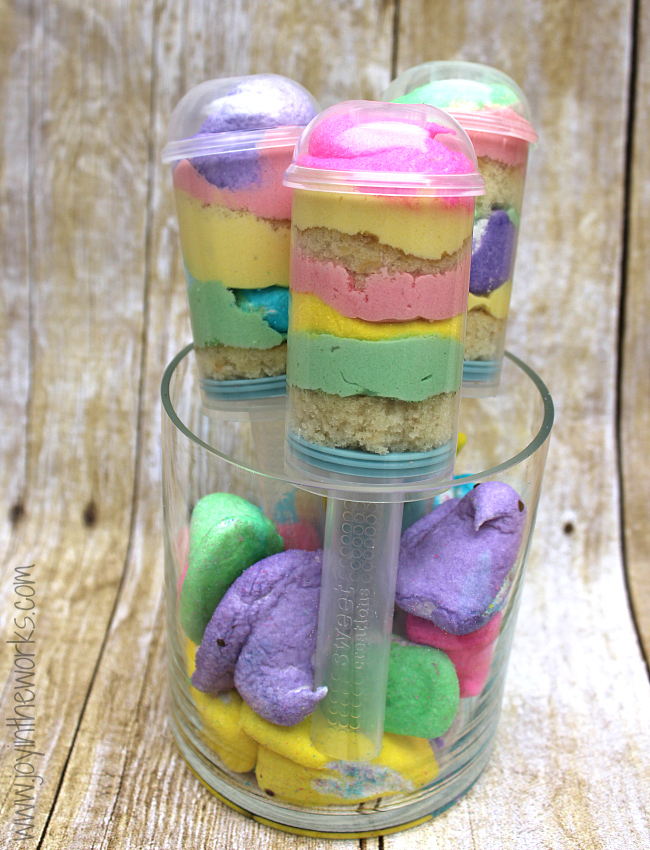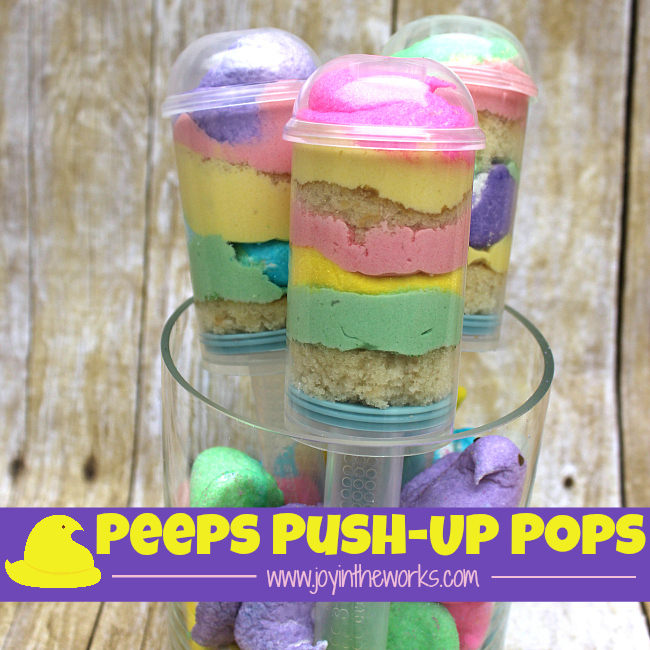 Looking for other Spring Food Crafts to do with your kids? How about these Spring Easter Cookies made with Twizzlers or a Graham Cracker Barn with Candy Garden?
Save
Save
Save