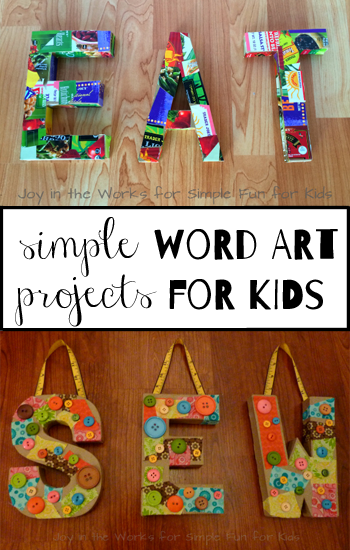 Today I am guest posting for Christina over at Simple Fun for Kids. She has a wonderful blog with tons of easy, fun learning and art activities for kids with very little prep (my favorite kind!) I feel so fortunate to be able to write for her!
Every Christmas, the kids create a homemade gift for their grandparents and other family members.  This year the kids created some themed "word art" for their grandmother, an avid sewer.  Check out the details in the post here.
The ease and creativity of this craft project led us to create more kid made word art, this time for our house!  Project number two was the word "EAT" for our kitchen, using canned food labels.
Word Art
We are all looking forward to our next word art project and have come up with a list of other great words and themed objects to go with them.  Read through to the end of the post to see our list of ideas in pictures.
So go check out my guest post at Simple Fun for Kids: Simple Word Art Projects for Kids and then share some of your own ideas for word art.  Can't wait to hear what you think!