We have been having lots of fun with gold coins around here lately. We did a St. Patrick's Day St. Patrick's Day Scavenger Hunt looking for an entire pot of them and we played lots of different games and activities from Gold Coin Table Hockey to Gold Coin Tic Tac Toe. But my absolute favorite is this St. Patrick's Day Gold Coin Flip Game.
This post may contain affiliate links. You can read more about our policy on our disclosure page.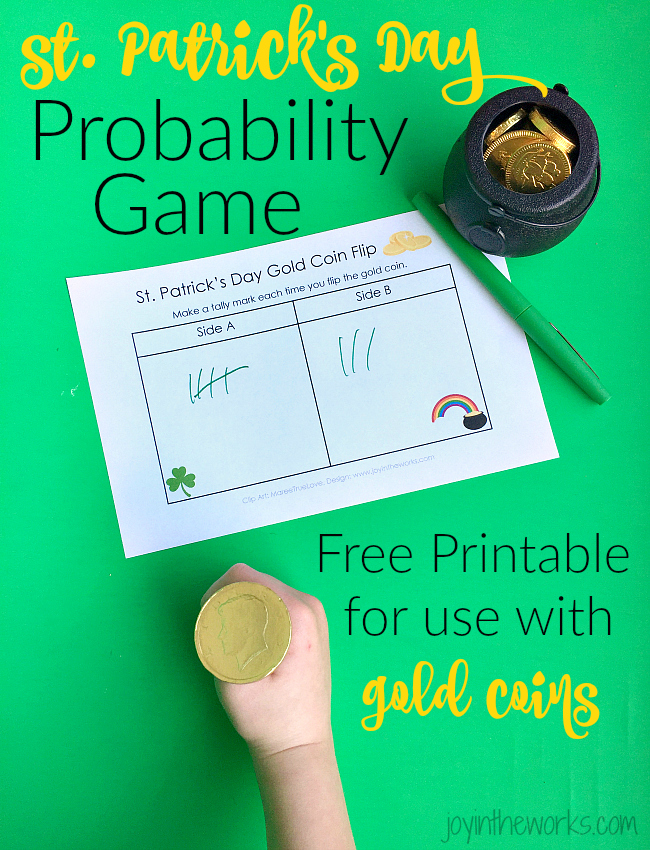 St. Patrick's Day Gold Coin Flip Game
Supplies Needed:
Gold Coin (We prefer chocolate of course!)
Free Printable Tally Sheet (available below)
The reason I love this activity is because it is covers a variety of educational elements and the kids just think its just plain fun! I use coin flipping as an activity to teach probability (what are the chances that the coin will land on "heads" or "tails") and after we make our prediction, we learn about an easy way to record our results with tally marks. For some reason, I find that little kids love making tally marks!
A few notes about this printable: For all of our gold coin games, we have been using a variety of types of chocolate gold coins- from pirate coins to Hanukah to Kennedy Half Dollars, so we did not use "heads" or "tails" on the printable. I wrote Side A and Side B so that you can can designate each side.
Speaking of coins, there are some other great options if you are not interested in using gold chocolate coins. I think doing green and gold shamrock coins would be the perfect festive St. Patrick's Day addition. You could simply spray paint one side of the coin green, if you purchased these gold shamrock coins. Or you could glue these coins together to get one side of each color. If you do colors, you could write the colors on the top of the record sheet under Side A and Side B.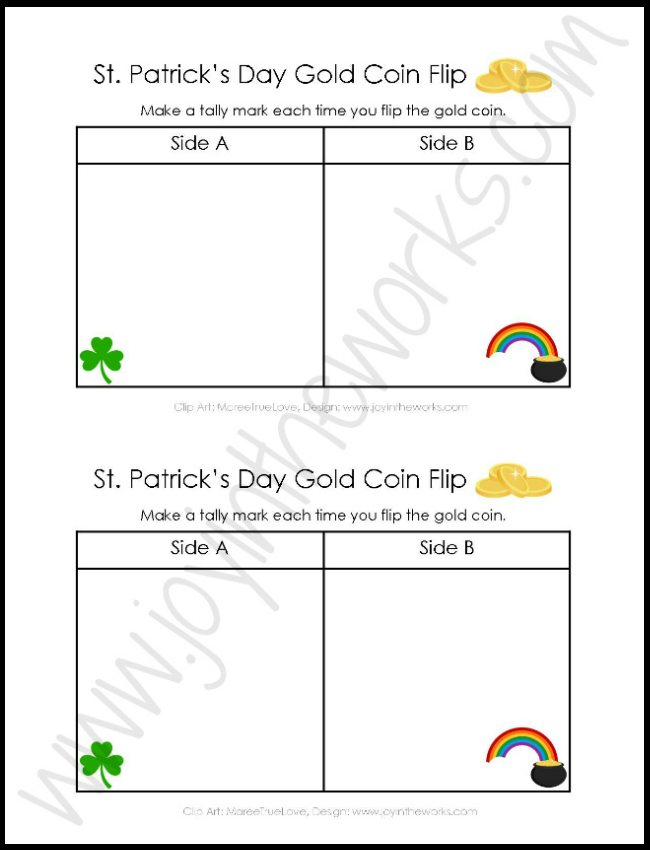 Another thing to note when you print out the St. Patrick's Day Gold Coin Flip Tally Sheet- there are 2 record sheets on one printable page. Therefore, you only need to print out half as many pages to the number of children you have and then simply cut the pages in half at 5.5 inches.
After you have your printable and your gold coin, it is time to teach the children about probability and explain the best way to flip a coin. If they haven't already learned about tally marks (making 4 lines and crossing it over with a 5th line, to make it a bundle) now is your chance to teach that as well. My kids would keep flipping coins over and over again if I didn't give them any guidelines, so I told them after one side got to 20 (or 4 bundles) they could eat their coin. Of course my kids wanted to keep going just in case I let them eat more gold coins!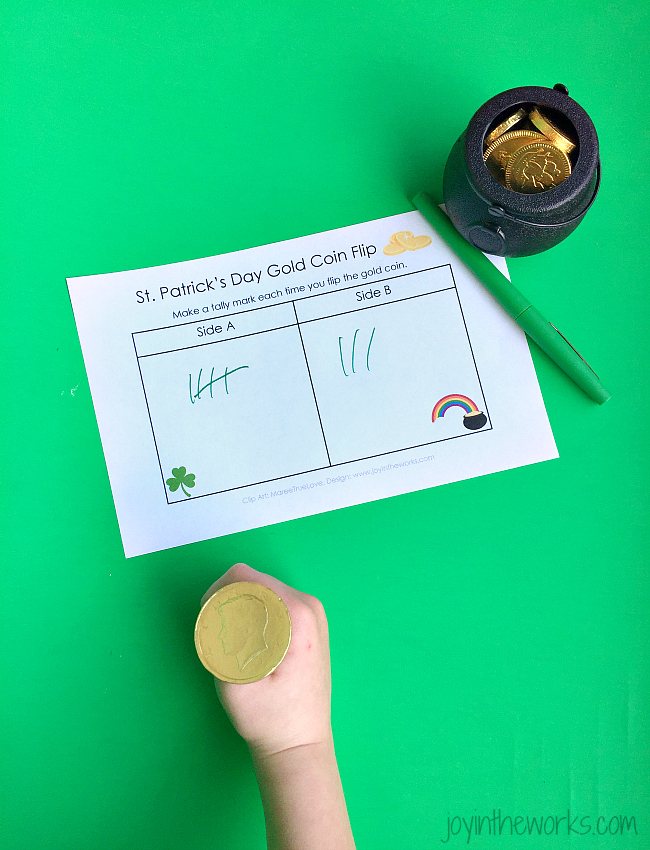 I think this St. Patrick's Day Gold Coin Flip Game would be the perfect addition to a St. Patrick's Day party, a classroom center, your homeschooling curriculum or even just a little St. Patrick's Day fun at home. You know how much I love using holidays to give us something special to celebrate and to look forward to in the midst of the monotony of motherhood! =)
Save
Save
SavDo youDoDoDo you like to do seasonal activities with the kids for different holidays? Got any favorites you want to share? Just comment below!