You know how much I love simple, easy prep games right? Well, it can't get much easier than these St. Patrick's Day gold coin games. We started with a big collection of gold coins for our pot of gold in our St. Patrick's Day Scavenger Hunt and then the kids just started playing with all the extra coins. The ideas just flowed out of simple play. We have put together a list of our favorite games below.
This post contains affiliate links. You can read more about our policy on our disclosure page.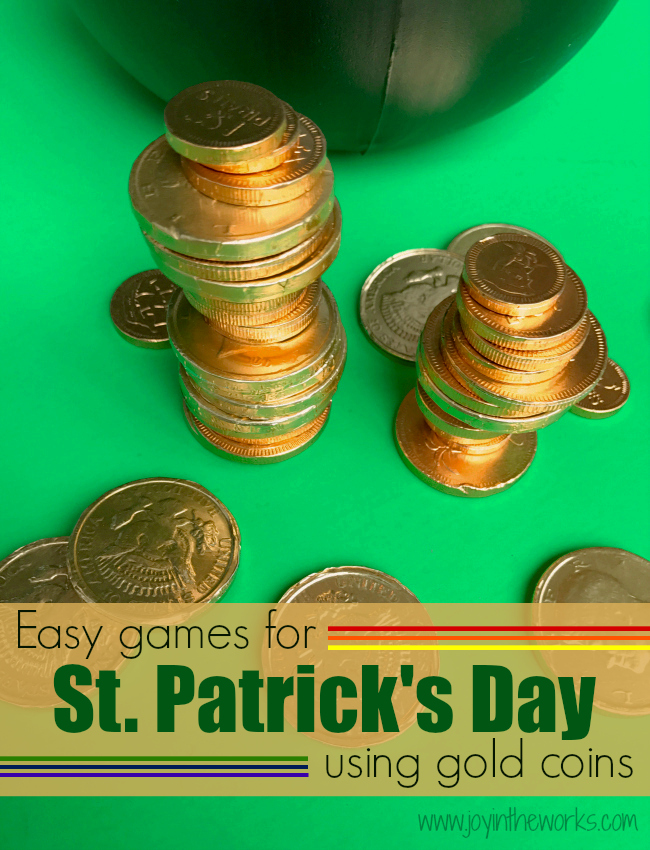 St. Patrick's Day Gold Coin Games
Gold Coin Sorting
Supplies Needed:
Gold coins of various sizes
Mini Black Cauldrons (or bowls or anything to sort the coins into)
We started out simple and had my toddler sort the different sizes and kinds of coins into various pots of gold. Make sure you have coins of various sizes and patterns (if you look closely at the pictures, you will notice we had pirate coins, Kennedy half dollar coins, Hanukah coins and even some shamrock coins in the mix. This easy gold coin sorting activity was perfect for my youngest son.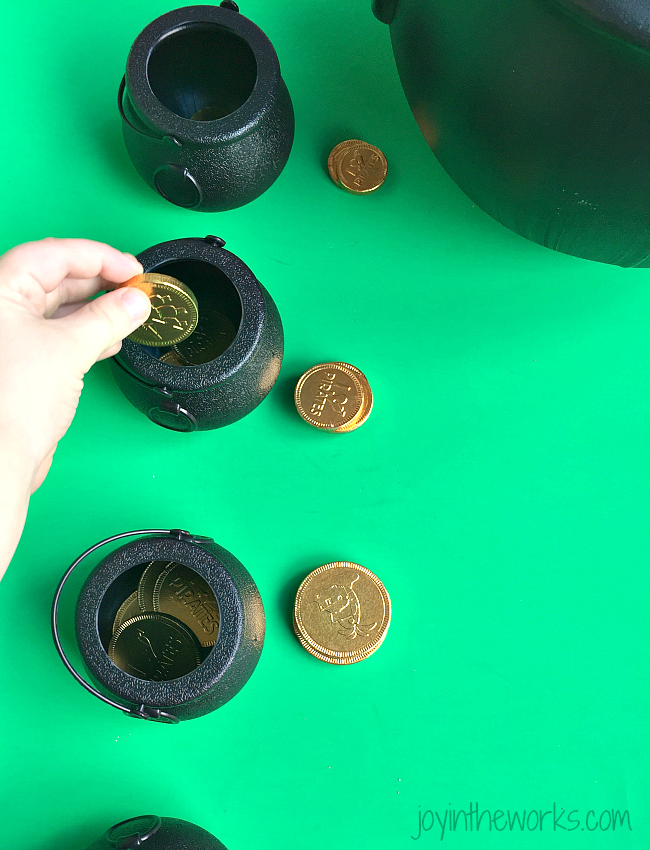 Tic Tac Toe with Gold Coins
Supplies Needed:
Gold Coins of at least 2 different sizes
Tic Tac Toe board (Make a simple board using card stock and washi tape– shamrock themed or otherwise. Or just even draw one yourself!)
Gold Coin Roll and Measuring
Supplies Needed:
Gold coins of various sizes
Ruler
Tape (I used my leftover Washi tape, but you can just use masking tape for labeling whose coin lands where)
My sons came up with this activity. They had fun trying to roll their gold coins on its edge to see how far they would go. Of course, I threw in an extra educational element by marking and measuring how far the coins could roll, which ones rolled further and why. This kept them occupied for quite a while as it is hard to get the coins to balance long enough to roll far!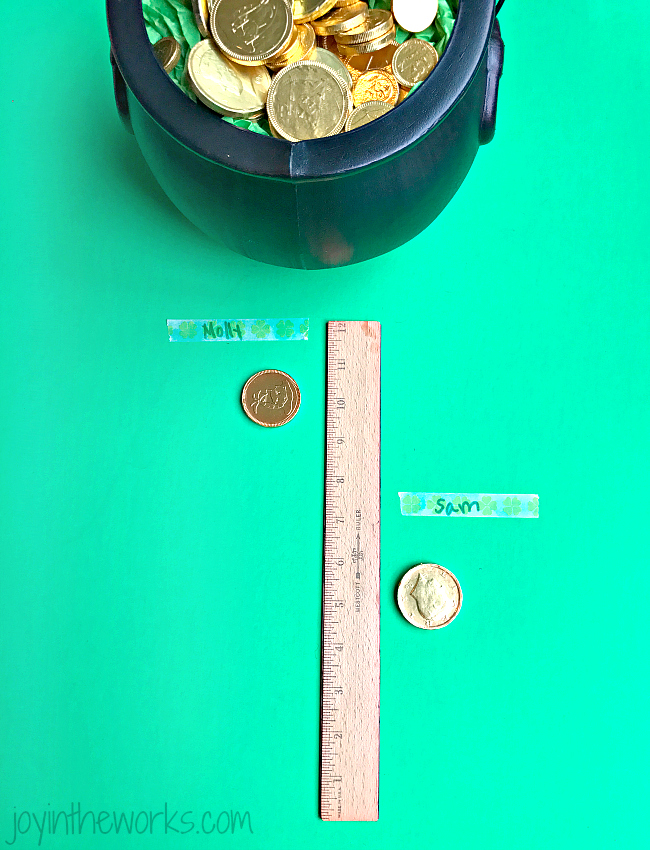 Gold Coin Table Hockey
Supplies Needed:
Gold coins
Goals (you can make goals out of whatever you want, but we have this set, love it and used the goals from it)
Seriously, who can pass up an opportunity to play a little table hockey? I tell you, when I let my kids play a game that actually involves flicking or throwing things, they love it because they feel like they are breaking the rules or something! Because the chocolate gold coins are breakable, we just used fingers to flick the coins back and forth toward the goals. If you aren't using chocolate gold coins, but plastic, you could use spoons or some sort of paddles to make it extra fun!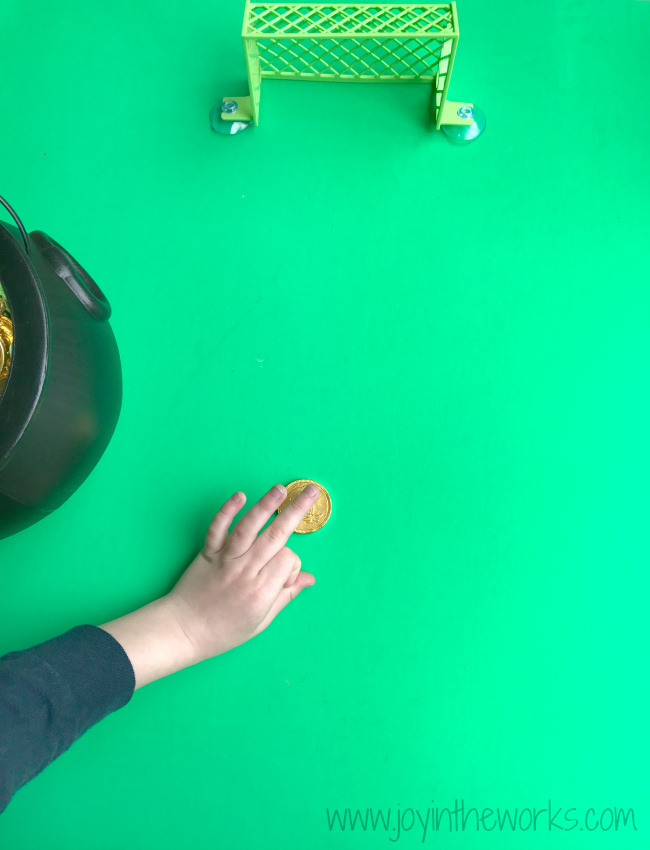 Gold Coin Flip
Every kid loves flipping coins and as a former teacher, I love using this activity to teach kids about probability and tally marks! You can get a free printable record sheet and details about this game in a separate post called St. Patrick's Day Gold Coin Flip Game.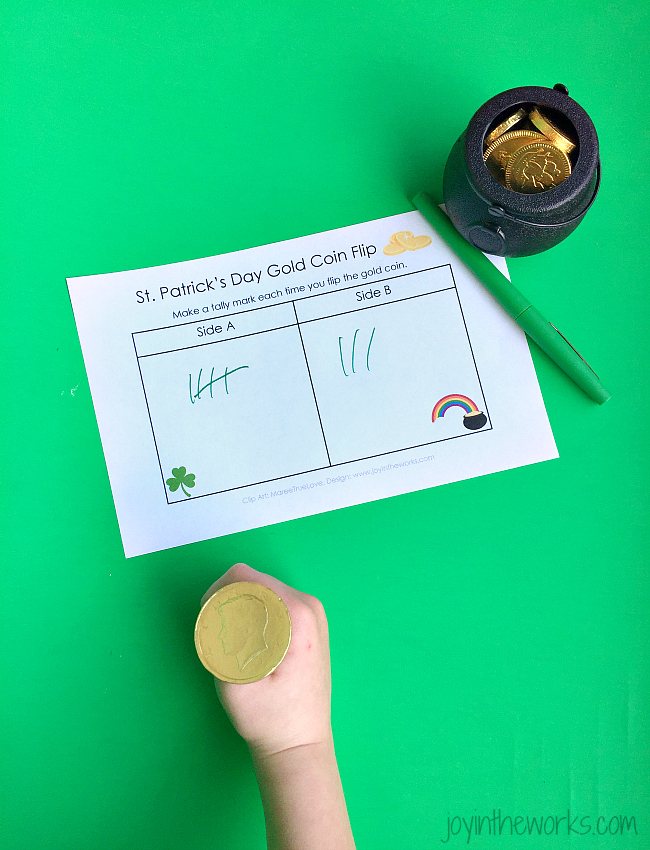 Gold Coin Stacking Towers
Supplies Needed:
Gold coins of various sizes
Maybe it is just because my boys are competitive, but this was the first thing they started doing when presented with a whole bunch of chocolate gold coins (besides eating them, of course!) In fact, I must admit, I got in on the action as well- trying to build the tallest tower with coins of all different sizes. This is a great STEM activity as they had to use quite the engineering skills to figure out how to support their tower and make it sturdy despite needing to balance it on some really small coins! If you wanted to take it a step further, you could let the kids pull in other supplies to help them with their goal and see what they come up with.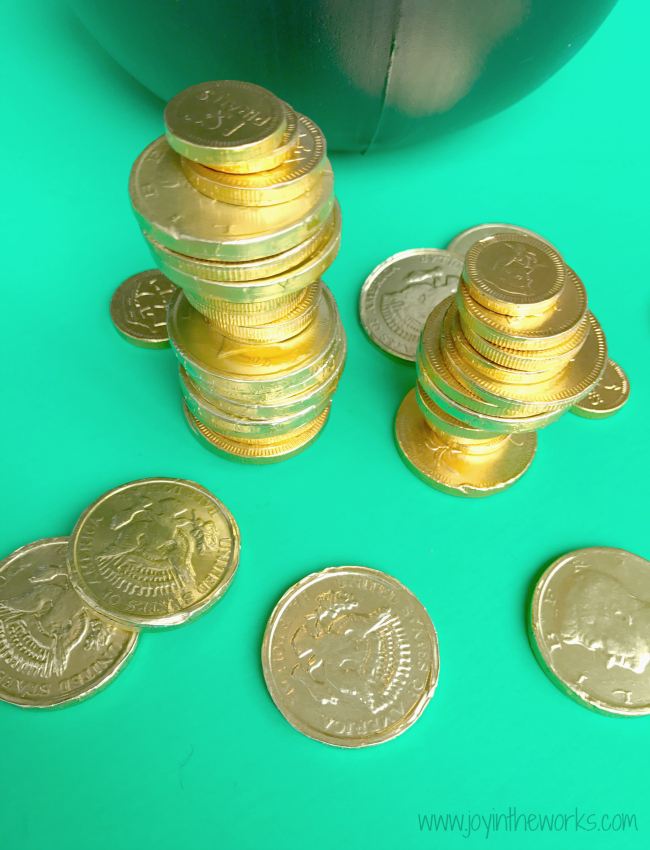 Last, not only did we do a Pot of Gold Scavenger Hunt, but we also just enjoyed hiding the gold coins around the living room for each other to find. Sometimes we did warmer/colder and sometimes we did clues. And sometimes we just had to hunt for chocolate gold coins like it was an Easter Egg hunt! Thankfully, we got to eat the ones we found! =)
So that's 7 different easy St. Patrick's Day gold coin games, but there are so many more! Any creative mamas or teachers out there that can come up with more ideas and share them with us? I am always looking for more low prep activities like these.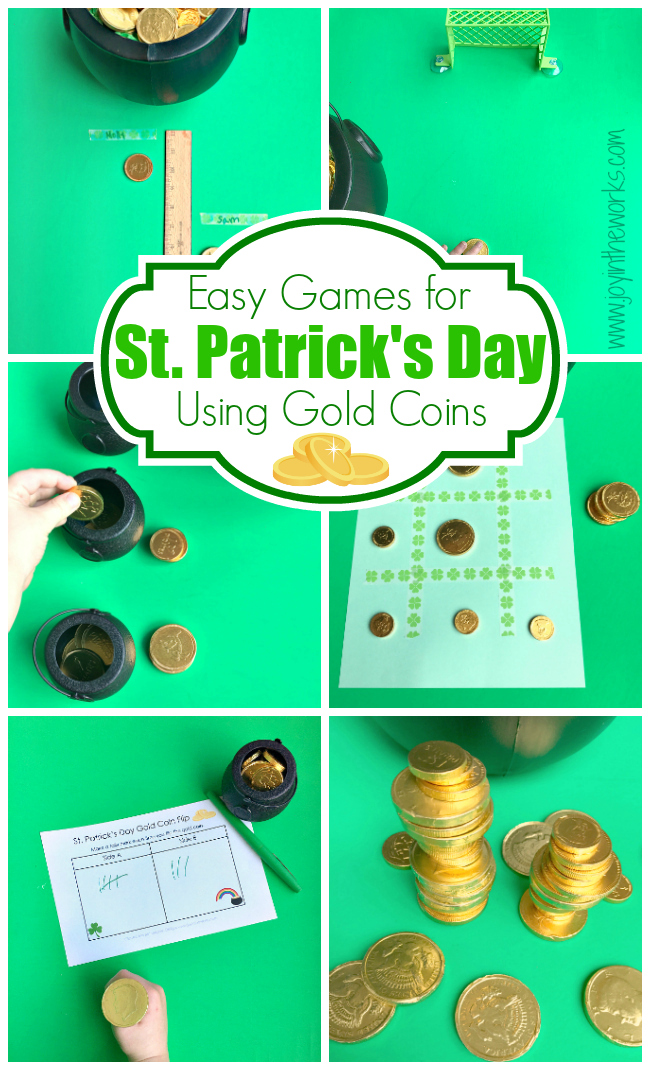 Save
Save
Save
Save
Save
Save
Save
Save
Save
Save
Save
Save