St. Patrick's Day is almost here and you know I will use any excuse I can to make the day (or any day really) more fun around here. While we aren't doing an official party this year, we will do some fun St. Patrick's Day activities at home. Our day will start with a Pot of Gold Scavenger Hunt and will include lots of gold coin games. But every celebration has to have a festive, themed snack, so we came up with a St. Patrick's Day Snack Mix where the kids can build their own snack following this printable follow-along instruction sheet. For those of you who are doing a St. Patrick's Day party, I created a snack bag topper for anyone who wants to bring their snack home. And of course, I am giving it all away free at the bottom of the post! =)
This post may contain affiliate links. You can read our disclosure policy for more information.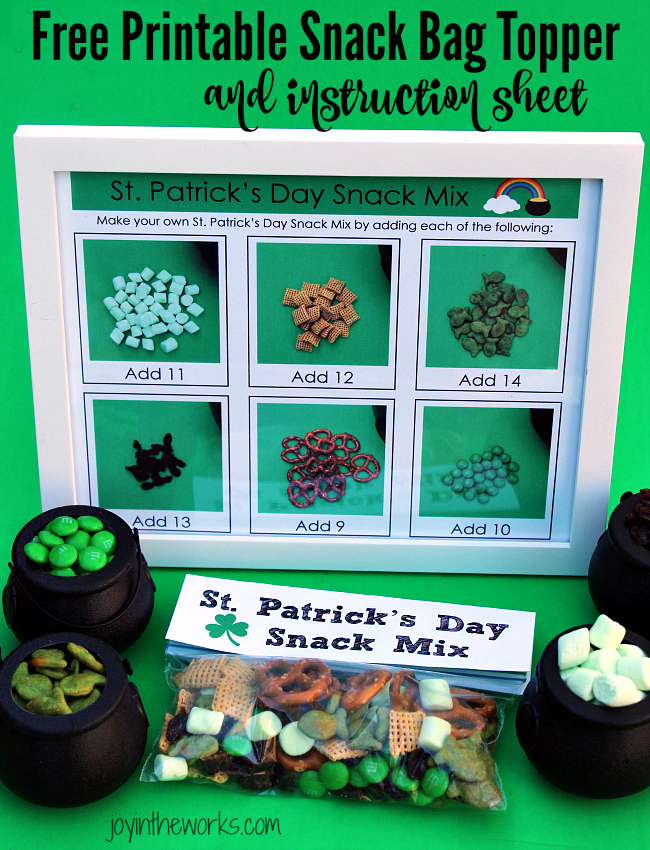 St. Patrick's Day Snack Mix
Supplies Needed
*You can use any snacks you want to create your St. Patrick's Day Snack Mix, but if you want to have the kids practice their counting and following directions with this printable, then you will need to purchase the following.
Mini Pretzels
Corn Chex Cereal
Mini Marshmallows (We used green, but white will work too)
Green goldfish
Raisins
Green M&M's
Mini Black Cauldrons (optional for serving the snacks)
Snack Bags
Snack Bag Topper (optional, available at the bottom of the post)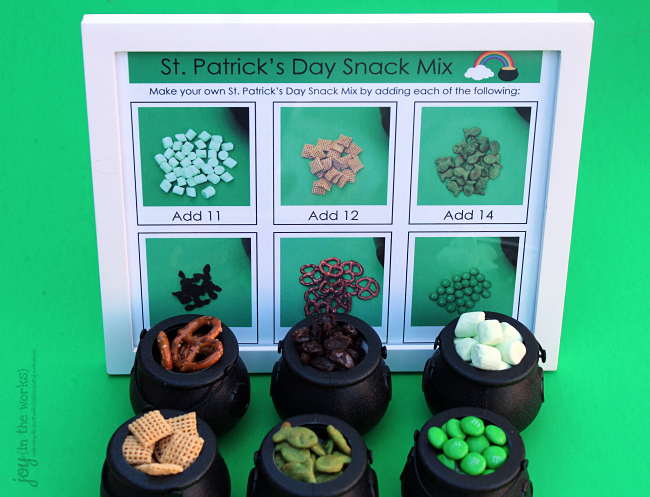 As you know, I like to add an educational element to many activities I do with the kids. Having a printable follow-along instruction sheet works great for kid's parties and I did one for Valentine's Day, as well as my son's class Halloween party (printable coming soon for the last one) It encourages independence and is a great way to practice counting.
You will want to start by purchasing your green snacks and then print out the St. Patrick's Day Snack Mix Printable (available below). I chose to put my snacks in separate little black pots, but any bowls or cups will work. The kids can eat then their snack on-the-spot or they can put it in a snack bag to save for later. If you go that route, feel free to add the snack bag topper I made. It fits perfectly with the snack bags you can purchase at the store. Just be sure to have the kids write their names on the back.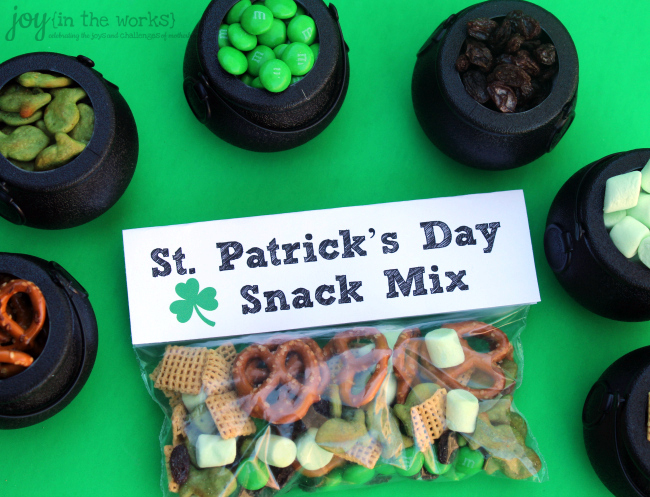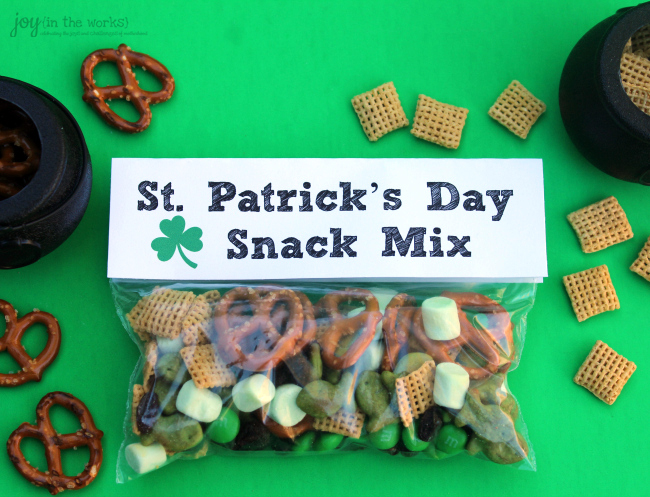 The St. Patrick's Day Snack Mix printables are available if you sign up for emails below. Feel free to just use one of the printables if you don't need them both. Regardless, I hope that your St. Patrick's Day Snack Mix and the other activities I have shared on the blog make the day more fun and festive for the kids!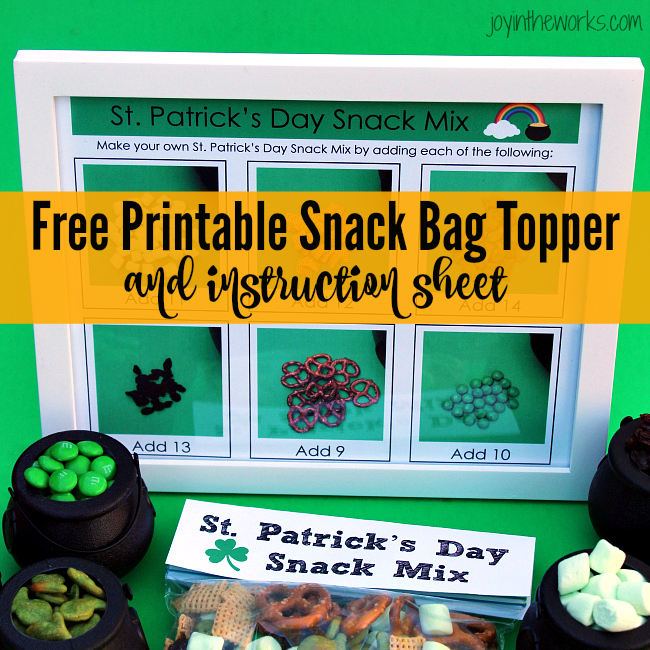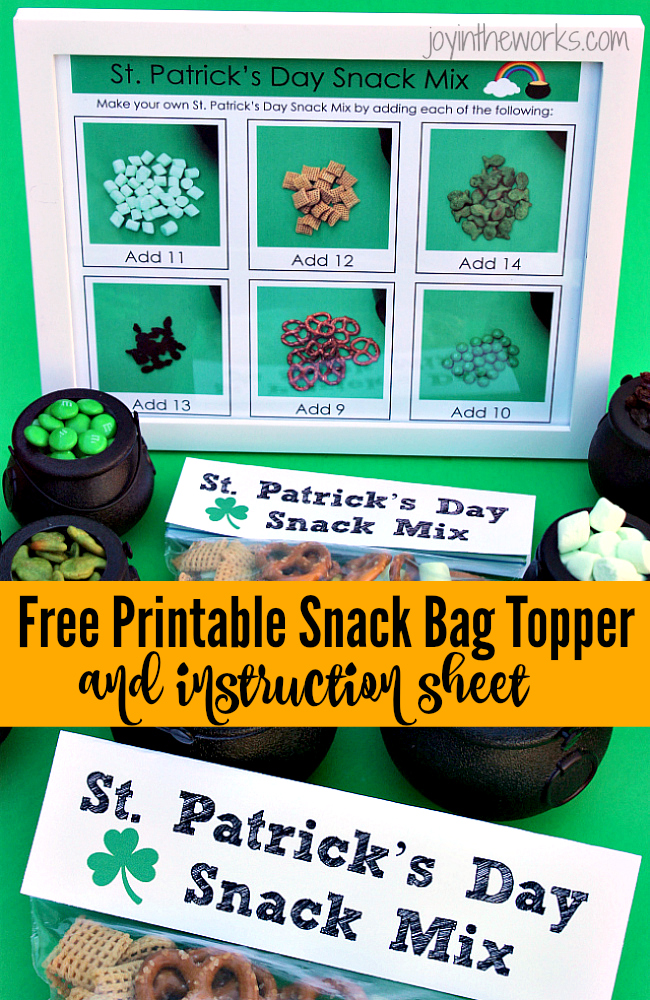 Save
Save
Save