I can't help it. I love giving little gifts and I will find any excuse to do so! And St. Patrick's Day is no different. I made a few simple treats (Any excuse to dip things in chocolate!) and couldn't eat them all myself, so I had to give them away as St. Patrick's Day gifts! Plus, when you find Lucky Charms lip balm, how can you not create a matching gift tag to go with it?! So, all of a sudden, I had several St. Patrick's Day gift ideas that I just knew I had to share with you all!
This post may contain affiliate links. You can read more about our policy on our disclosure page.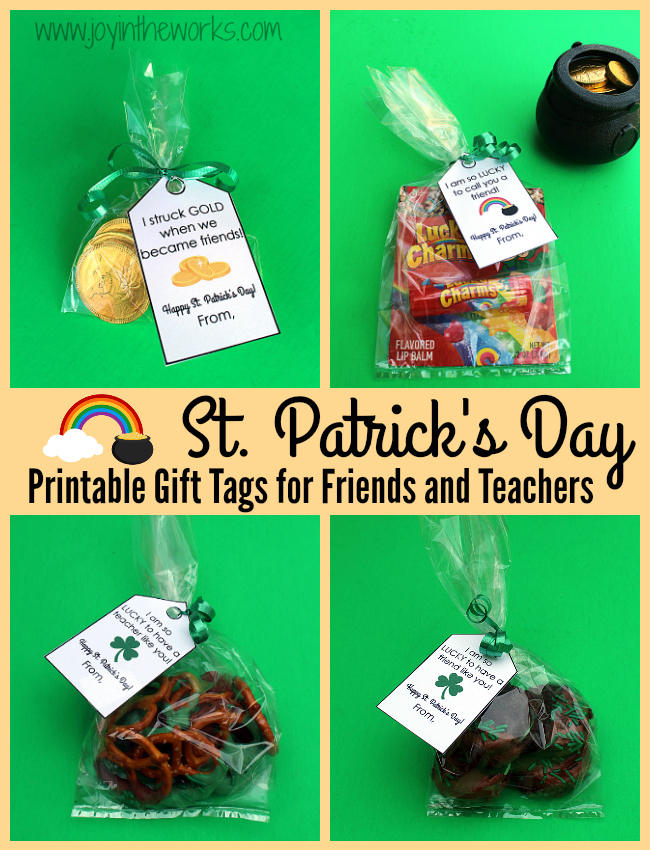 St. Patrick's Day Gifts and Gift Tags
When you are thinking of an easy treat you can give away, the first thing you should always be thinking of, in my opinion, is what can I dip in chocolate? =) I tell you: If you put a lollipop stick in something, dip in chocolate, wrap it in a cellophane bag with a themed gift tag and people will thing you are so crafty! Really!
So for St. Patrick's Day, when I saw Mint Oreos, I knew I had a winner- it's already green and chocolate- what could be better?! I dipped mine in chocolate and in a green candy coating (which can also just be for drizzling) and added some green jimmies, to make them extra festive looking.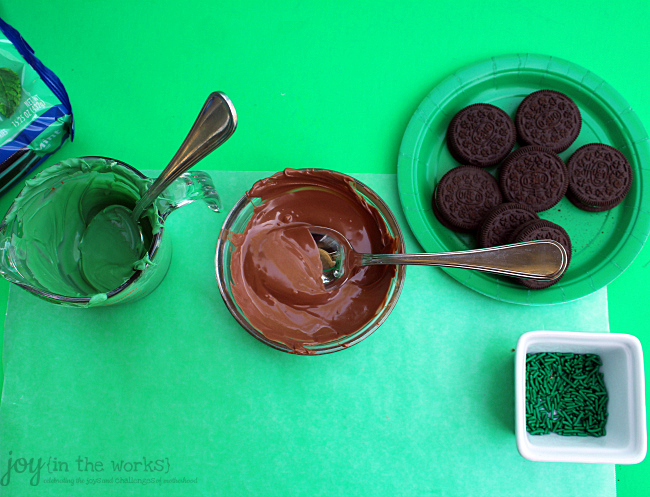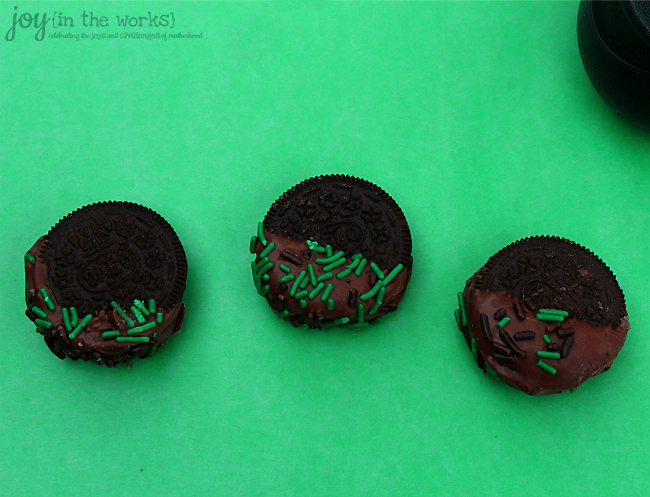 I think they look (and taste!) great on their own, but when you bag them up with a matching gift tag? They look fantastic!
After I finished making myself sick dipping the Oreos, I looked around for other things to dip since I had extra chocolate and green candy coating. When I saw the mini pretzels, I thought they would make the perfect combination of sweet and salty (and green!) and be another great addition to my St. Patrick's Day gifts. It is really so easy once you have your melted chocolate and candy. The key, in my opinion, is to only dip part of the food in chocolate, so you don't have to get quite so messy and find a way to hold them while dipping them completely. If you are going to add sprinkles, be sure to do it before the chocolate or coating dries. It happens fast!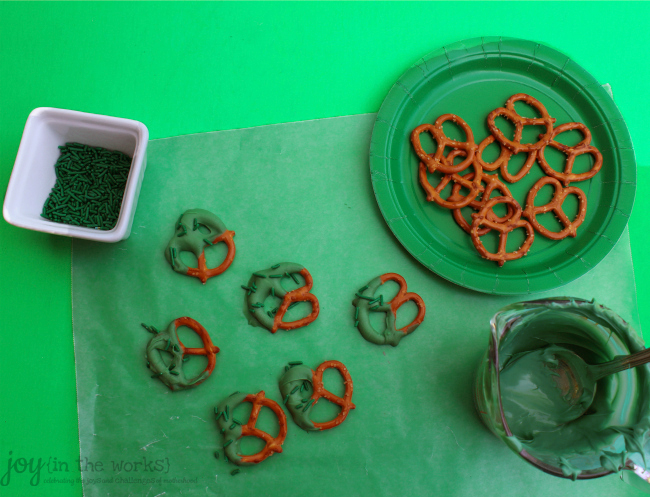 When your dipped pretzels are dry, bag them up and add one of the tags. I used the following for my son's 1st grade teacher. But I there are other options as well.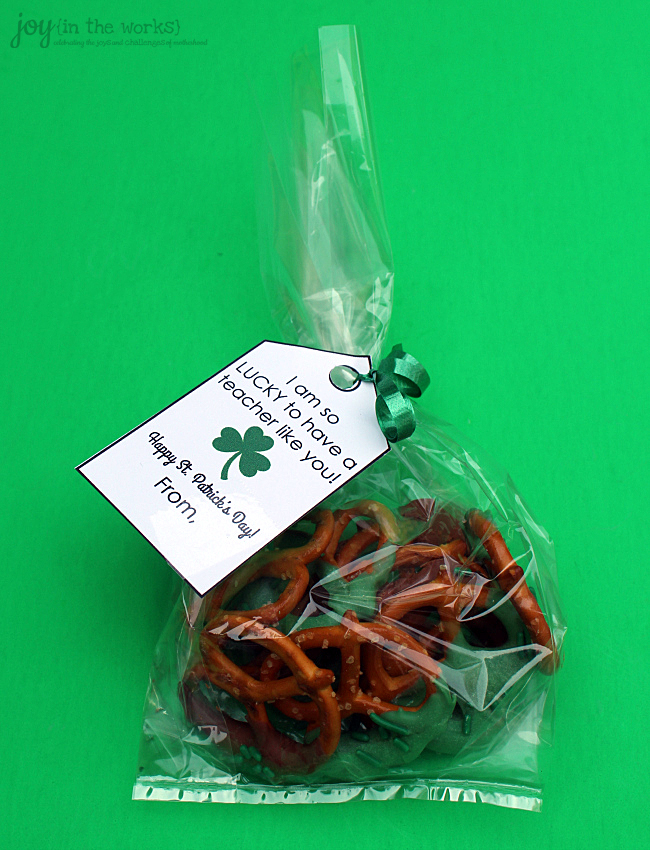 Now, I stand by the theory that you don't have to actually make a treat in order to do a small gift for someone for St. Patrick's Day (or any other holiday). It is really more about the thought (and the presentation!) So, when I saw this Lucky Charms lip balm at the Dollar Tree, I knew it would be the perfect "token" gift for St. Patrick's Day that doesn't involve any effort. Perhaps for a daughter or for a girl to give to her friends? Of course, boys can give chapstick too. They make tons of cereal, candy and soda flavors that boys would love.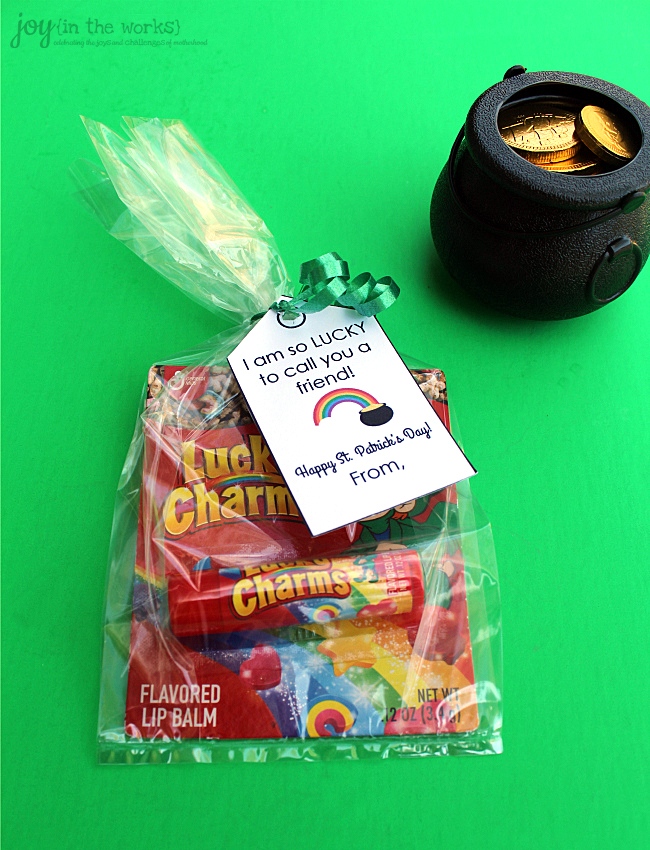 Seriously, how cute is this Lucky Charms lip balm? I had to show you a close-up without the cellophane because I love it so much! =)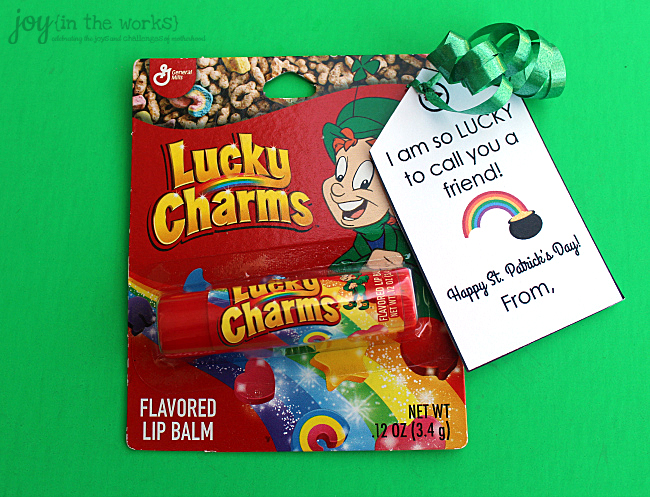 Another easy St. Patrick's Day gift is just a bag of chocolate, either in the form of chocolate gold coins or Rolos candy which also have a gold wrapper. There are gift tags that would work for all of these ideas as well- as well as rainbow candy. You could do Rainbow Twizzlers, Skittles or Airhead Extremes rainbow bites.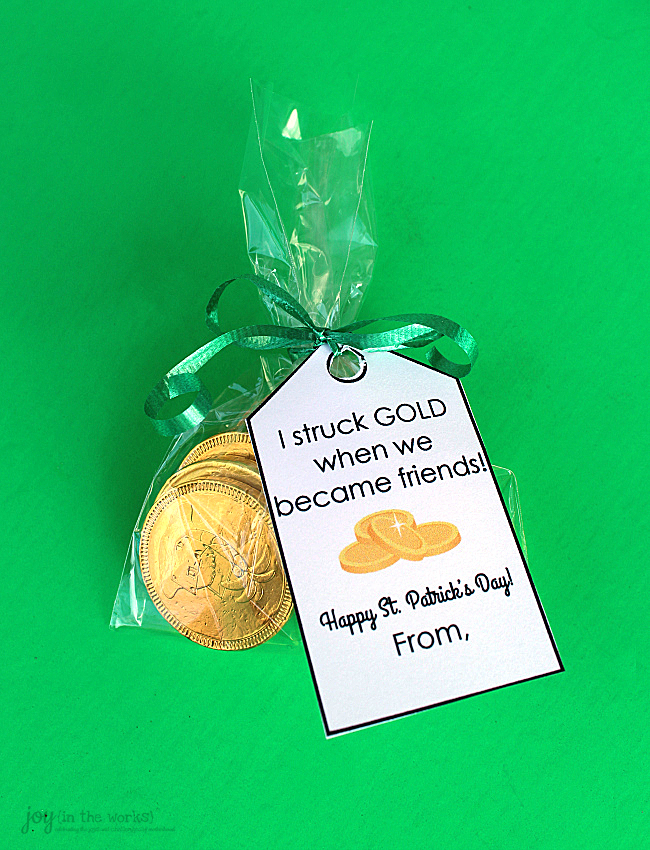 I tell you most anything can be a gift- especially if you add one of these cute St. Patrick's Day gift tags I made. There are options for friends, teachers and kids. I know gifts aren't necessary for holidays like St. Patrick's Day, but not only can a token gift be something thoughtful you can do for someone else, but if you are like me, you actually enjoy it and it gives you joy!
(On a side note, If you are like me and you love giving little gifts, have you checked out the book The Five Love Languages by Gary Chapman? It outlines how giving and receiving gifts is the way some people feel and show love. That's definitely true for me!)
Here is a sneak peak of some of the St. Patrick's Day gift tags I made. The set of includes 12 different gift tags on 2 sheets. They will work for most all St. Patrick's Day Gifts as they include generic messages and pictures of items relating to the holiday, including rainbows, shamrocks and gold coins. You get your copy by signing up for emails below.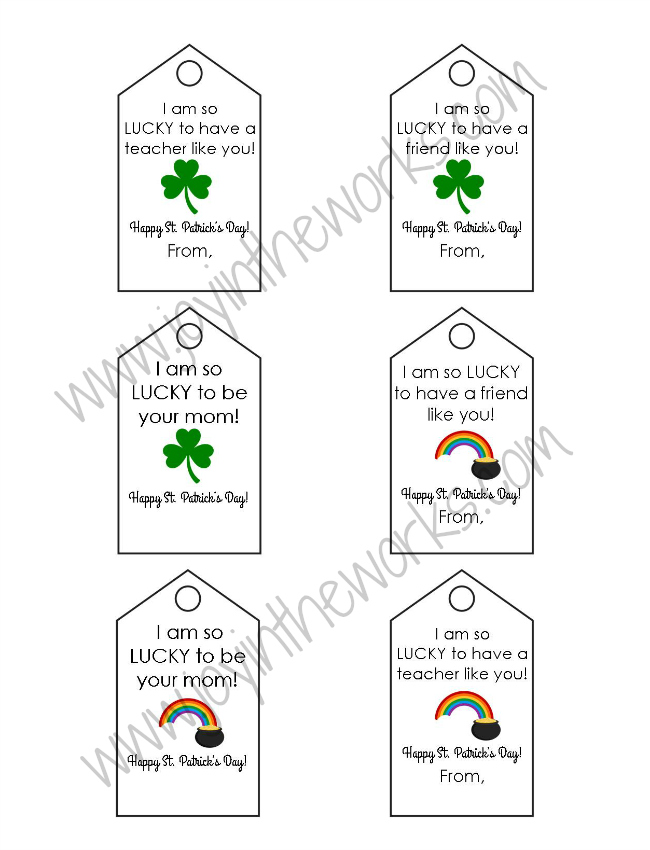 What about you? Would you ever give St. Patrick's Day gifts? Do you like to give gifts to people throughout the year and will come up with any excuse?! I would love to hear from you. Just comment below!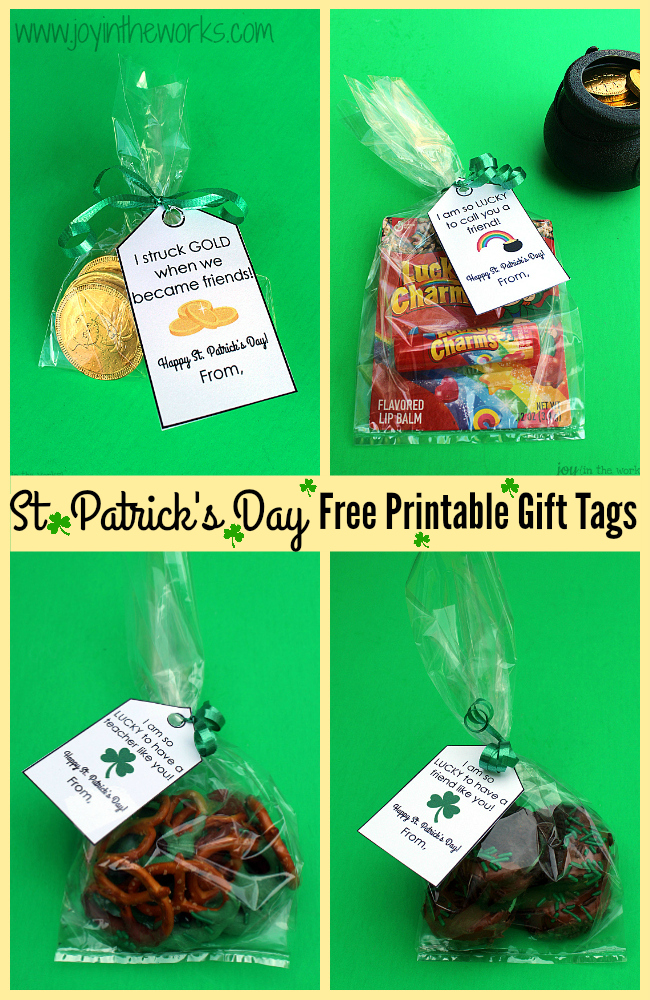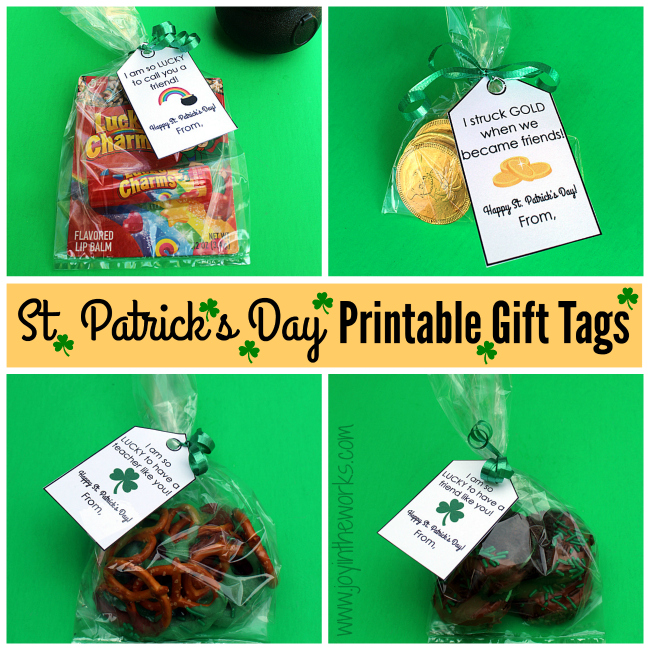 Save
Save
Save
Save
Save