There was so much fun to be had at our Super Mario Birthday Party that I had to actually divide it into 2 posts!  If you are interested in seeing the invitations, menu printables, food, decor and favors, check out part 1.  Want to know how to keep those kids entertained and happy, then you are in the right place!  This post covers all the Super Mario party games and activities that we did.
Just a reminder that some links in this post may be affiliate links.  Check out my policy here.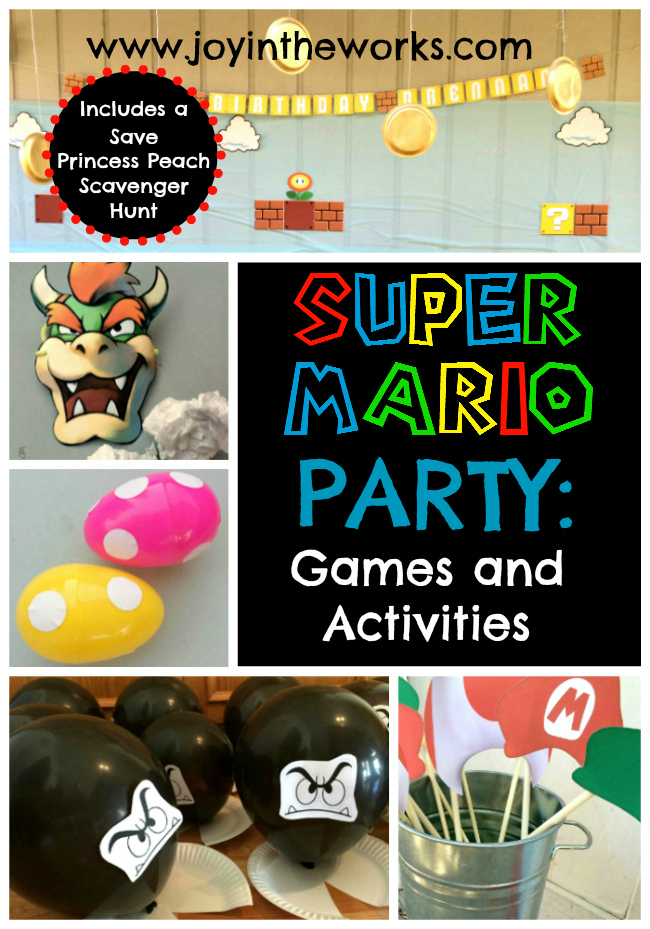 Just a reminder that many of these Super Mario birthday party games and activities are inspired from other bloggers.  Check out my Pinterest board for a ton of great ideas, but these two bloggers are my favorites: Borealis Blog and  Chica and Jo If I got an idea specifically from one of these sites, I will link to it so you can see the original and get the directions.
Super Mario Party Games and Activities
This is where the success of a party lies in my opinion.  If you have bored and mischievous kids at a party, no one will be happy! The main activity was the obstacle course where the kids jumped up and hit the gold coins (instructions and details on how to make your own are at the bottom of the post on Borealis Blog)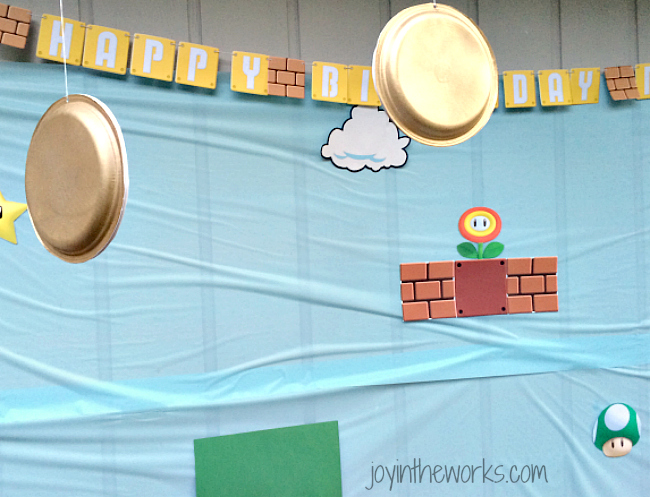 Next, we hit the King Boo Balloons (no picture) and stomped the Goombas (get the faces at the very bottom of the post under Downloads from Borealis Blog) The kids loved this part but, it went fast for how long it took us to make them all!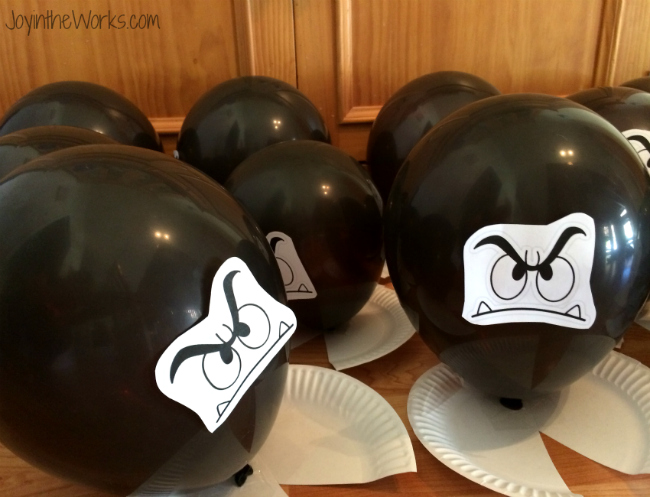 -jump over or run around the piranha plants (no picture here either, but go to the Borealis Blog for their photo and instructions!)
-swing over the chasm (once you have a tree rope swing like the one we created for the Star Wars Party, you have to incorporate it into all your parties! =)
The other hit of this party was the Save Princess Peach Scavenger Hunt.  If you know anything about the video game, you know that Bowser always kidnaps Princess Peach and Mario has to save her.  Therefore, no Super Mario Party is complete without saving Princess Peach!  You can buy your own Princess Peach doll
and then hide notes around the yard until you find her. My husband is quite the storyteller, so he created a fun story with clues that I  have now put in a separate post and the store for you to purchase.  You can read more about it here.  And buy the printable scavenger hunt in the store here.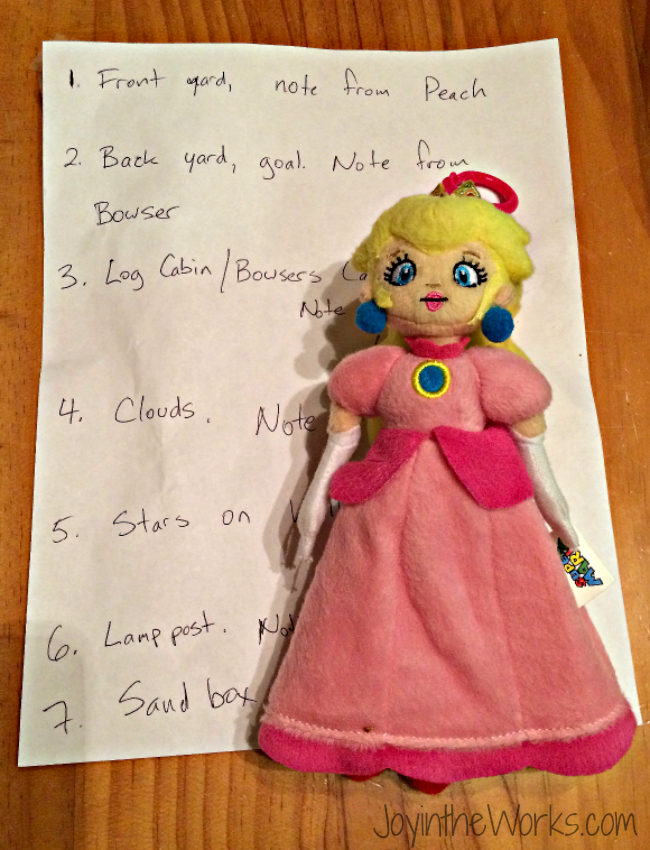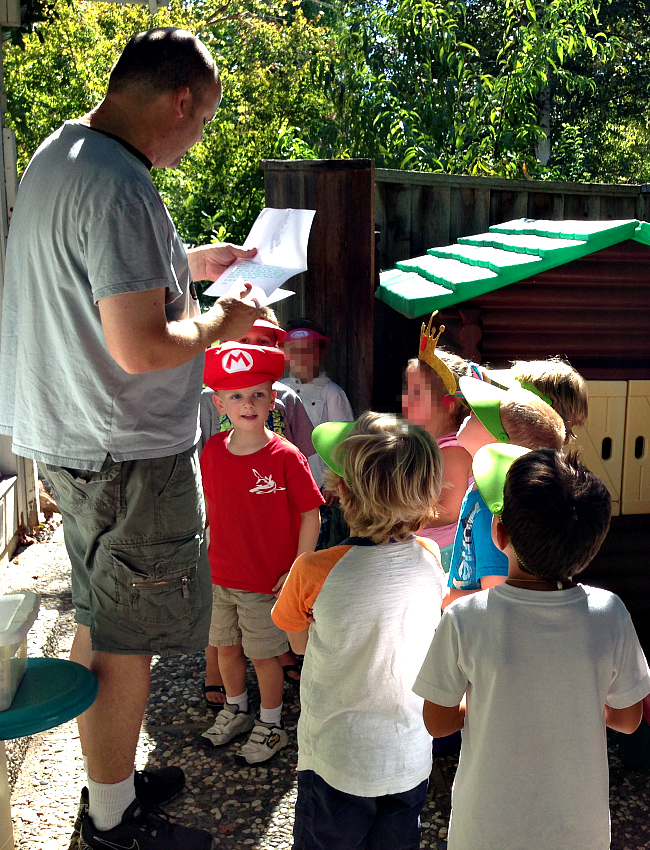 Another fun thing we did was Fight Bowser with iceballs and fireballs. This was a fun way to get my older son involved.  He put on a Bowser mask and ran by with Princess Peach in his arms.  Thankfully the kids were ready with fireballs (not shown) and iceballs (shown below) that were really just orange and white tissue paper crumpled up. The kids loved getting the big kid!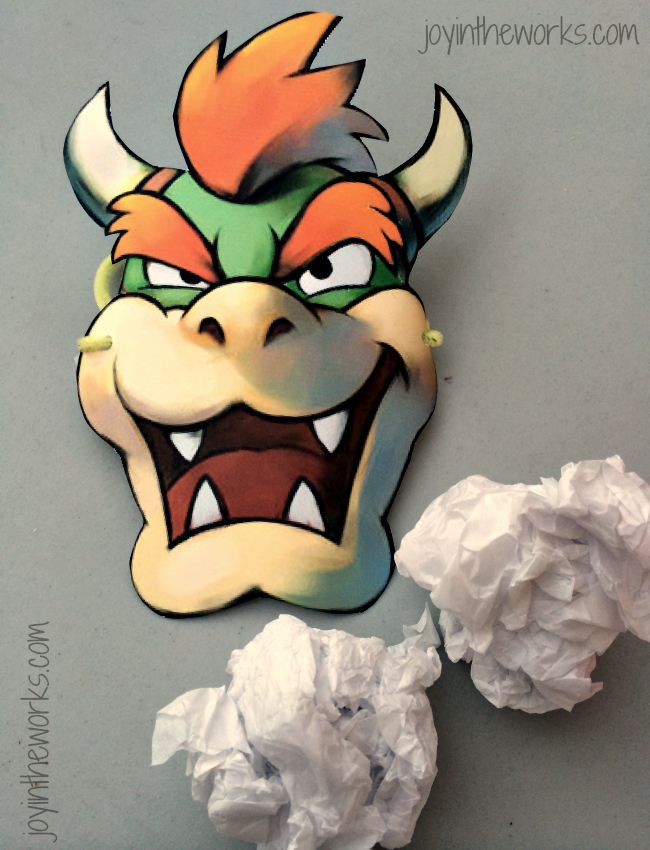 I have seen these Yoshi eggs (another item from the video game) done in several different ways for a Super Mario party game.  The most common way is to take white plastic eggs and then draw or stick colored dots on them.  Of course I only like to use what I have on hand so I used colored plastic Easter eggs and put white dots on them to make Yoshi Eggs. There are several things you can do with the eggs once you make them.  You can hide them (with gold coins inside too!) or even do activities that you would do with regular eggs like relay races on a spoon or an egg toss.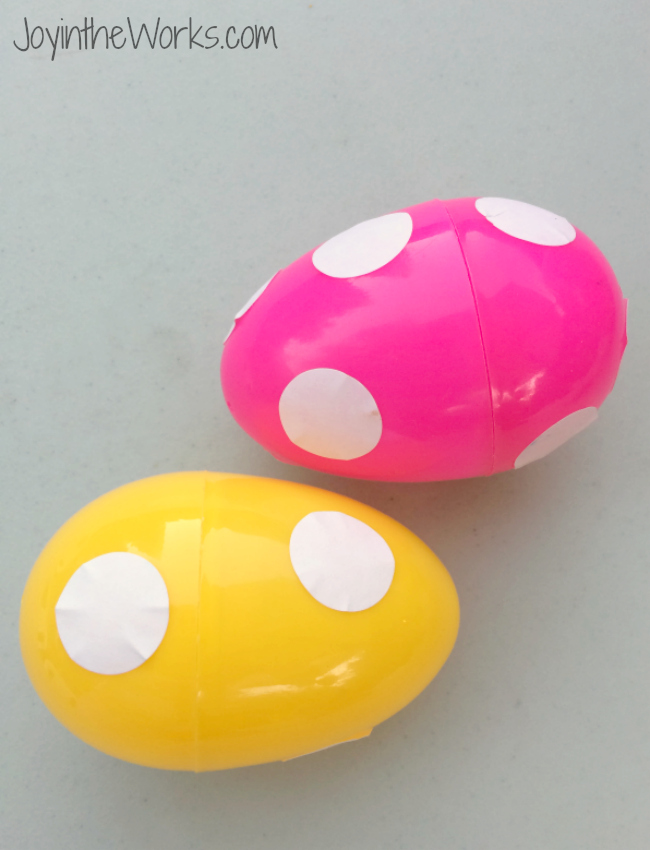 There are a few other activities that didn't get photographed.  One was a Question Mark Block Pinata and then we had a few filler activities to keep the kids busy during a lull or a set up for the next game.  We played Mario, Mario, Luigi (Also known as Duck, Duck Goose) and Mario Says (Simon Says).  They are simple games but the kids love them!
It may seem like we did a ton of activities with this party, but since we didn't have a bounce house or a big play activity for this one, I wanted to be sure that the kids had enough to do.  Because as I always say, if you don't keep kids busy at a birthday party, then you are going to end up with cake smashed in your couch or kids in tears! I don't ever think you should rush kids through an activity, but I think it is important to watch and see when the kids' interest starts to wane and move them on to something else engaging before the trouble starts. I also think you should have some extra filler activities ready to go (like Mario Says) just in case. You never know how fast or slow things are really going to go!
And so sorry I didn't get as many pictures for all the games and activities we did- I was too busy leading the kids in the activities!  I hope you still get some ideas to get you started.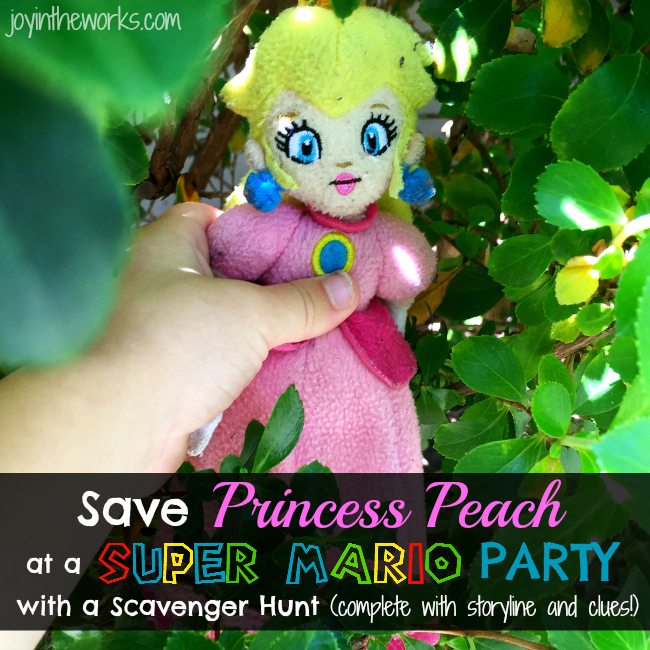 Save