As you know, one of my all time favorite activities is planning children's parties and Valentine's Day is no exception! I have lots of ideas to share, but the one thing I make sure to always include in my party plan for classroom parties is a food craft. A food craft is an activity where kids can make or assemble their own creative snack and then they can either eat their treat right away or they can save it for later. I came up with over 20 different Valentine's Day food crafts for kids that would be a perfect activity for a Valentine's Day Class Party at school.
This post contains affiliate links. Please read our disclosure page for more information.
Valentine's Day Food Crafts for Kids
When planning a party for children, I think the most important thing you can do is plan good quality, engaging activities.  If the children aren't engaged and entertained at an event, things often become rowdy and chaotic. And not only does that not make for a fun party atmosphere, but it also often leads to more serious behavior issues in the children. Therefore, combine the need for interesting, fun activities and the need to serve some sort of food or snacks at a party and you get a food craft!
The easiest food craft (although it's not really a craft in this case, more of an activity) is simply a cookie decorating station. It is simple and can provide lots of options for creativity and older, more advanced students can take it to the next level. Check out this Valentine's Day Cookie Decorating Bar by Passion for Savings as they do a great job setting it up.
You can also choose to forego the cookies and make it a cupcake decorating station like the one done by Women Living Well.
Or you can give the kids a little more direction with their cupcake decorating and ask them to make X and O Cupcakes like Red Couch Recipes. How fun would it be to use the finished product in a game of Tic Tac Toe?!
I have to say though, that I really love all the cupcakes that have been turned into "Love Monsters" for the love holiday. They are just so cute and look easy enough for children (and me!) to do. Go to Sunshine and Hurricanes (1)  The Cake Blog (2) and I am Baker (3) for each of their own adorable versions and specific instructions. But I can say that I know my boys would love any activity that involved candy eyeballs!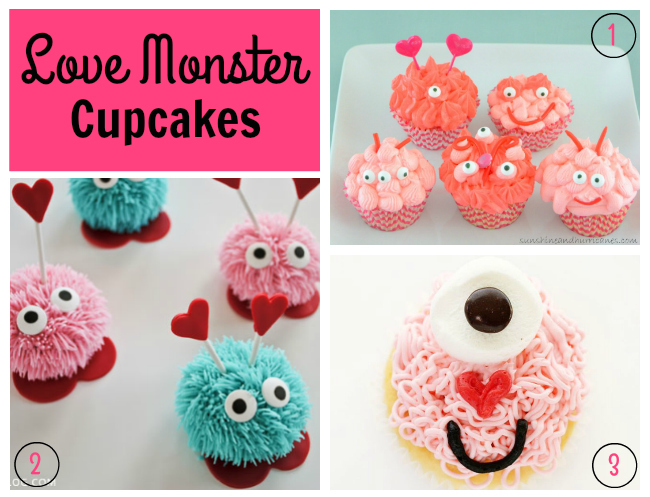 I found some other really cute Love Bug and Love Monster Valentine Food Crafts as well. Like how about having the kids decorate a doughnut with frosting and sprinkles and add vampire teeth to make a Doughnut Love Monster from Thrifty Fun? It would be perfect if the class party was in the morning, too. Or if the class was a younger group, they could simply decorate Valentine doughnuts with heart sprinkles like Crazy Style Love.
Similar to the Love Monster, The Decorated Cookie came up with a Marshmallow Love Bug. Honestly, not only is this one so cute, but it would work really well for the upper elementary class party as it is more involved and has more complicated instructions. This is a quintessential food craft and I know it would be a fun activity for kids to build during their class party.
I found a few other great options for decorating cakes and similar items. One that is so clever (and something I would have never thought of!) is a Twinkie Heart Cake by Smart Schoolhouse. I absolutely know that the kids would love cutting the Twinkies and putting them back together in a heart shape. Then they could decorate the top of their "cake" with frosting and sprinkles. I would plan on bringing paper plates so that the kids could take them home and wouldn't have to eat an entire "cake" at the party!
Another easy thing to decorate at a class party is cake pops. Even better is this No Bake Cake Pop version from Vegas Family Events – how smart is that?! Not only does it look easy, but they came out really nice looking as well.
Looking for more creative food crafts? Check out these Rice Krispies Valentine Mice from Kid Friendly Things to Do. Raising Life Long Learners made a similar Rice Krispies Valentine Mouse, but she adds frosting to the top, which would give the kids one more step do in the process of making their snack. (which is good thing if they are older- remember: engagement and interest is the key!)
We have talked about a lot of cakes and cookies and sweets but if you want go a bit healthier, how about using strawberries as your base? Some of these would work better for older students as they require more manual dexterity.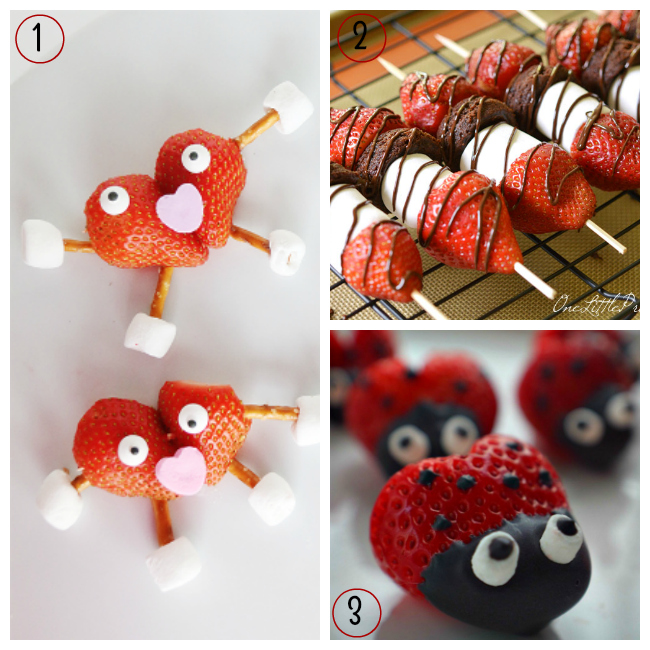 I love these little Strawberry Heart Men (1) by Crafting Chicks. And One Little Project did these gorgeous Strawberry Brownie Skewers (2) and while they may not be healthy, I think the kids would love putting them together.  Last, Kid Friendly Things to Do made these Heart Shaped Chocolate Covered Strawberry Ladybugs that look like they taste delicious and are so fun to make!
However, if you want to do a completely simple food craft, how about just having the kids make their own Valentine Snack Mix like this one from Cutting Tiny Bites? Or how about this fun S'more Snack Mix from A Night Owl Blog using honey graham goldfish? I also created a printable with follow-along directions for kids to make their own Valentine's Day Snack mix all the while practicing their counting skills! Check it out here: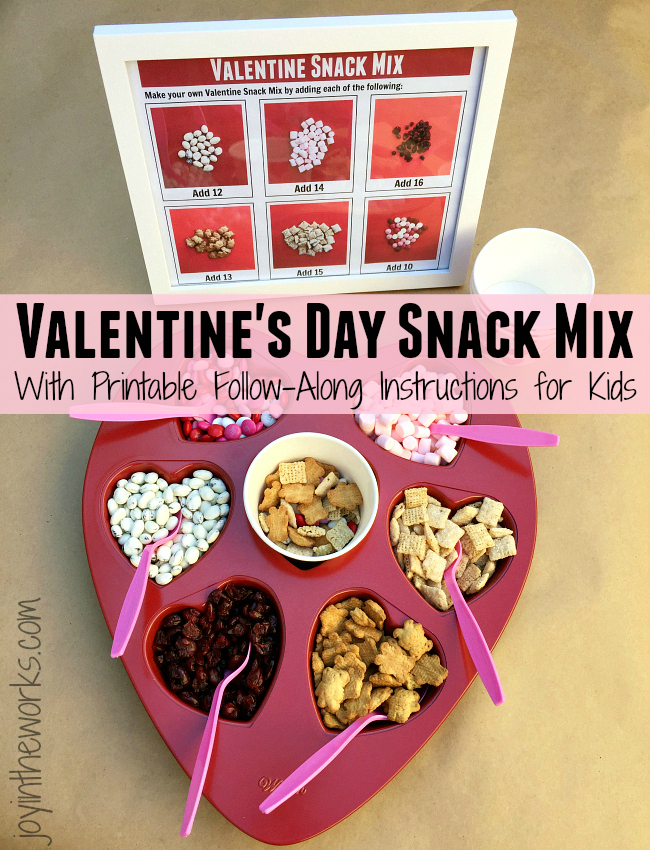 I think my favorite of all the graham cracker Valentine's Day Food Crafts is this Tic Tac Toe Graham Cracker Snack using conversation hearts. What a clever idea by Sippy Cup Mom!
I think I saved the best for last as these Cupid's Arrows from Organize Everything are truly my favorite! They are so cute and they look so easy for kids to make! I think they would make the perfect food craft for a Valentine's Day Class Party.
I also came up with my own version of Cupid's Arrows using marshmallows in these Cupid's Marshmallow Arrows– I think if you did the non-candy melting version, the kids can definitely make their own at a class party.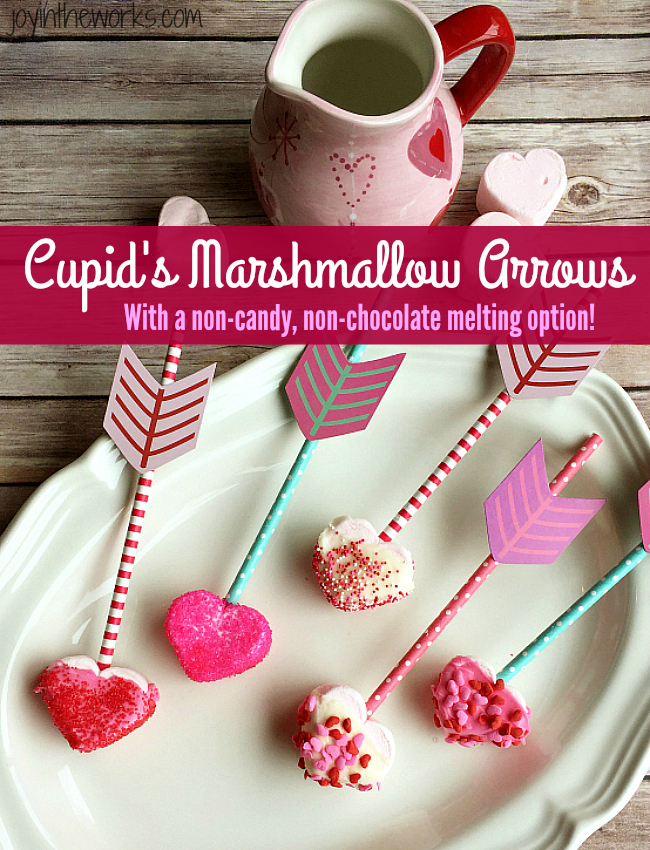 I saved the best for last. Truly. I came up with this Love Shack: A Valentine Candy House and I just know that kids would love building them with all of that yummy Valentine candy! You can check it out here: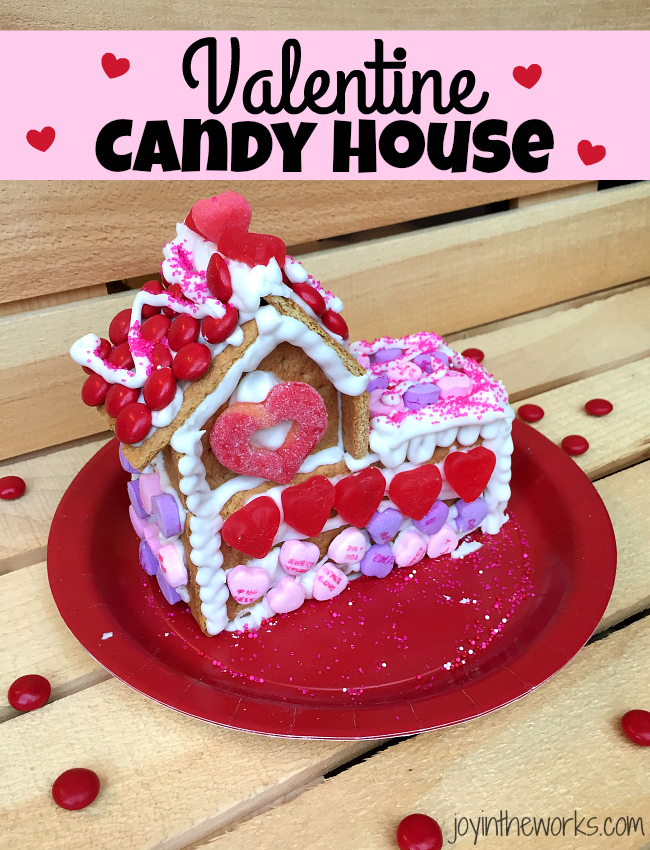 What do you think? Do you have a favorite on the list? Do you have any others to add? As I said, when I plan a class party, a food craft is always the first thing on my list to plan, so I am always looking for more ideas to add my repertoire. In the meantime, I put together a list of some of the supplies you will need from Amazon to do the food crafts listed above.


Now that you have the food for the party set, are you looking for activities for a Valentine's Day Party for kids? Check out Cupid's Target Practice and the Conversation Heart Catapult.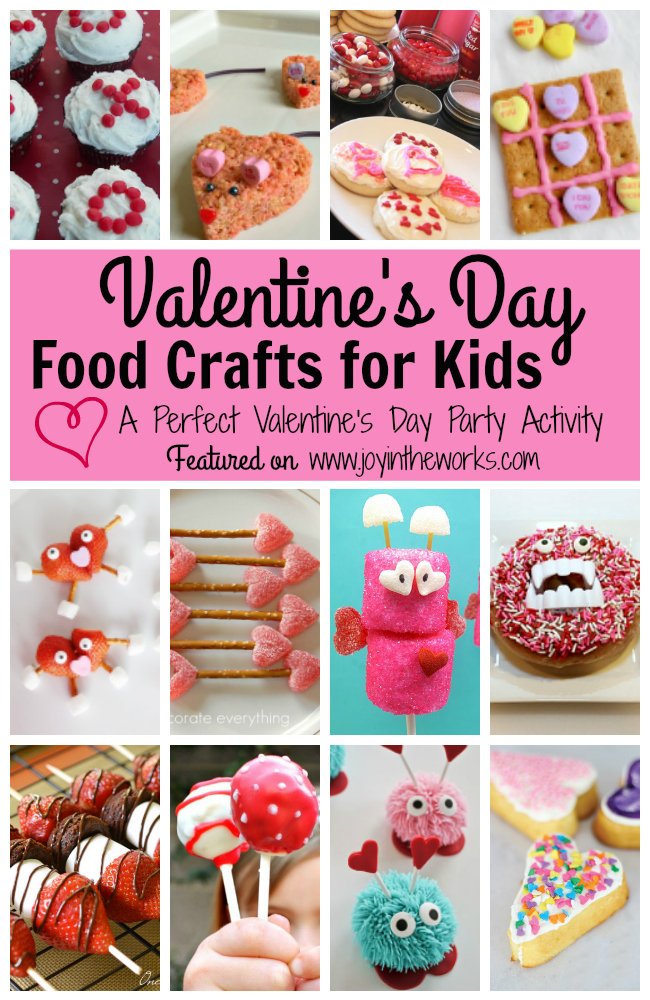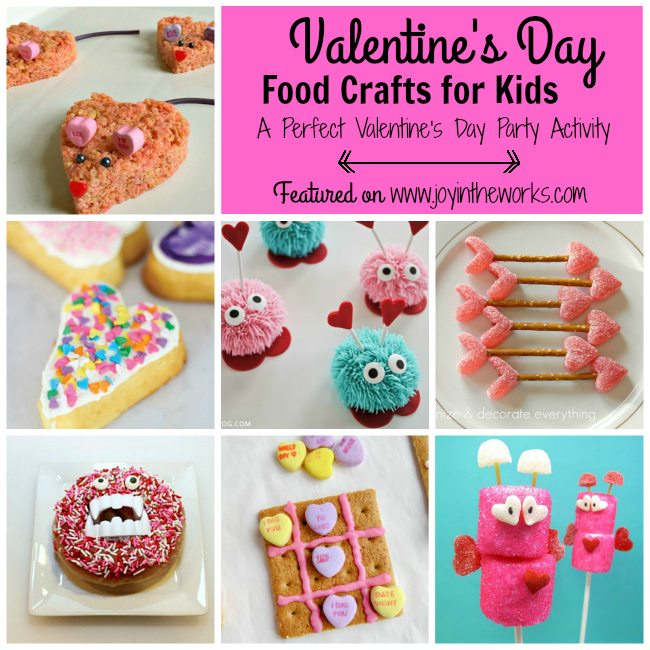 Save
Save
Save
Save
Save
Save
Save
Save
Save
Save
Save