Whether I am planning a party party or just want to have some festive holiday fun around my house with my kids, I am always looking for easy holiday themed games. And while I found some creative game piece ideas for Tic Tac Toe that I wrote about here, sometimes Tic Tac Toe can get boring!
But I still love Tic Tac Toe as a game with my kids because it's easy to prep and all my kids (from my littlest to my biggest) can play! So in order to make this Valentine's Day Tic Tac Toe more exciting, I added a sensory component to make it a Valentine's Day Sensory Tic Tac Toe Game! Not only is it more fun to play, it also gives a great sensory and fine motor experience for my kids that need it!
This post may contain affiliate links which may provide me with a percentage of any sale made at no increased cost to you. You can read all about it in my disclosure policy.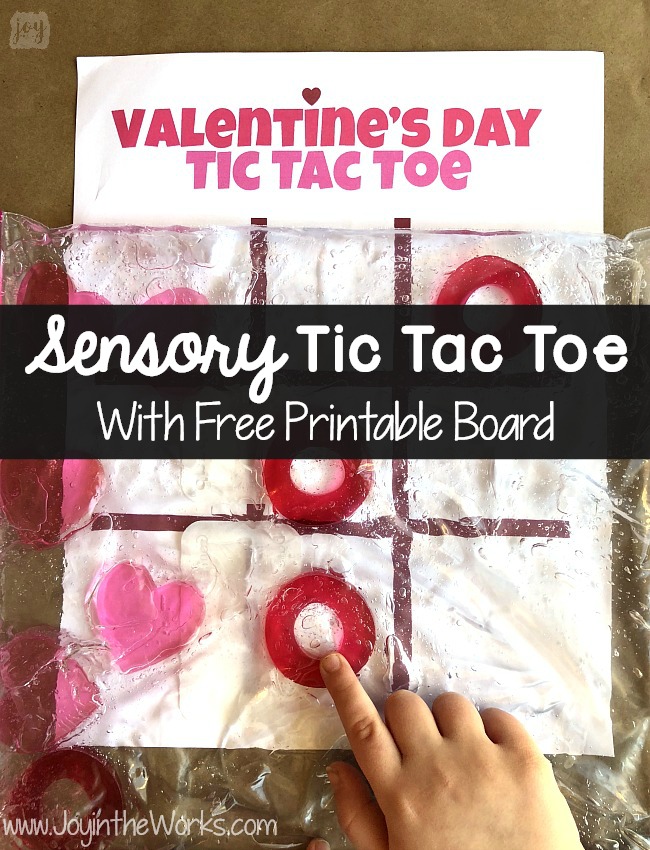 Valentine's Day Sensory Tic Tac Toe Game
Supplies Needed:
Hair Gel
Acrylic Game Pieces (I found the original Acrylic Tic Tac Toe game at Target in the Dollar Spot, but you can try using these Acrylic Pink and Red Hearts)
Gallon Sized Plastic Zipper Bags
Tic Tac Toe Game Board (Game board and extra pieces for regular play available to download at the end of this post)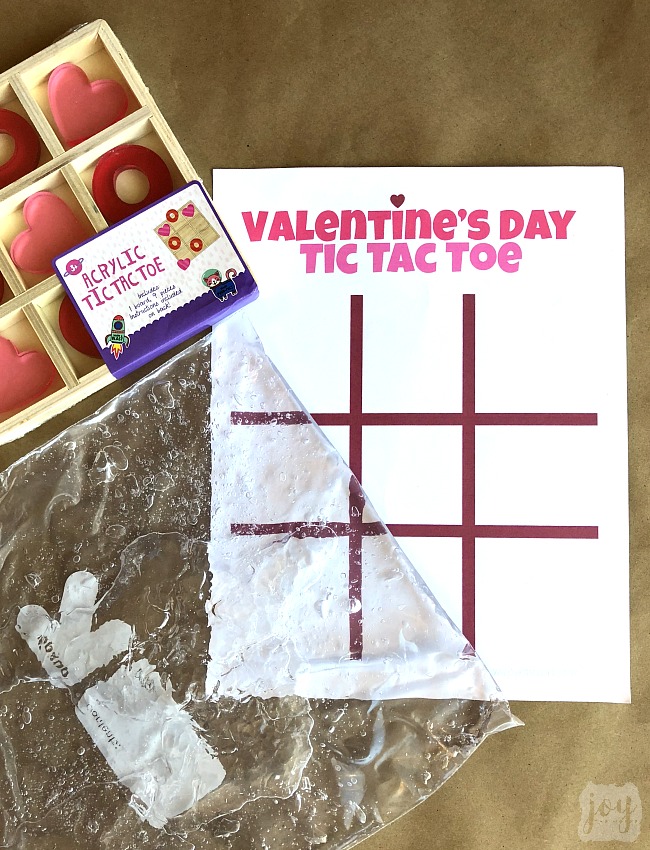 While I forgot to take pictures of the hair gel, I started by taking the biggest container of hair gel I could find and I dumped it all into a gallon sized freezer zipper bag. At first I tried adding red food coloring to the bag to make it more festive for Valentine's Day, but you can only imagine what a big bag of red liquid looked liked!! So I decided just to stick with clear hair gel for my Valentine's Day Sensory Tic Tac Toe Game. Trust me, you will be glad I did because you didn't want to see pictures of that!!
Anyway, after the clear gel was evenly distributed throughout the plastic bag, I put in the acrylic Tic Tac Toe game pieces. Next, I separated the game pieces by color/shape and pushed them to the edges. Last, I laid the sensory bag on top of the Tic Tac Toe board. Then we were ready to play!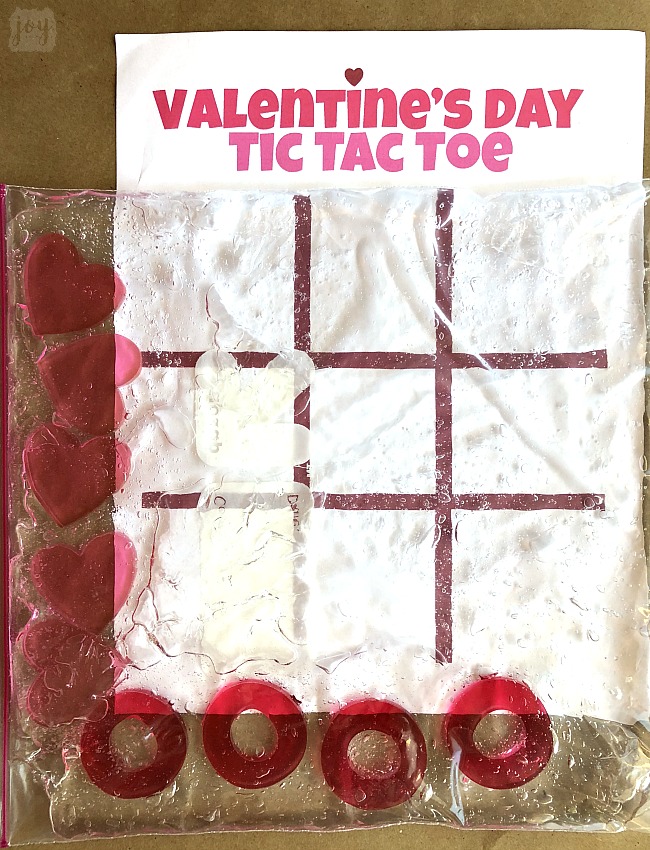 I have to admit that I had a lot of fun with this one! There's just something about pushing around the Tic Tac Toe Pieces in the squishy bag that is so appealing! And as I said, it takes work, so this Sensory Tic Tac Toe Game was great for developing fine motor skills in my little one who needs it.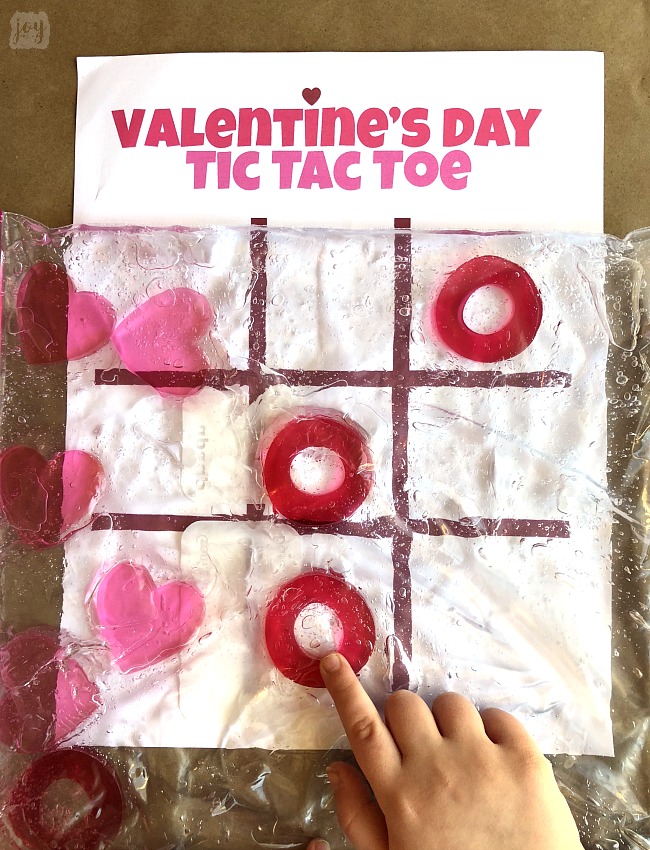 After I played a round of Valentine's Day Sensory Tic Tac Toe with my littlest one, everyone in the family took a turn playing because it's just so fun to squish and push those pieces around! I will warn you, though, be careful that your game pieces don't have any sharp edges (and you use a good quality bag!), so that you don't poke holes in your bag when you are pushing your pieces into place. If you have a rough edge and it rips a hole in the bag, then you have gel everywhere and that's just not fun to clean up!!
Once everyone got a few games in, I got inspired with some other games and activities we could do with the sensory bag, so we moved on to a Sensory Alphabet Heart Hunt! You can find that (with another free printable!) here (link coming soon).
Looking for the free printable Valentine's Day Tic Tac Toe Board so you can play too? Simply enter your email address at the bottom of this post and it will be sent straight to your email inbox! As an added bonus, you get X's, O's and Hearts so you can play the non-sensory version of the game if you want too! (If you would prefer not to, then just print out the game board.)
Do you have any simple sensory games and activities you like to play? Please share in the comments below as I am always looking to build up my repertoire!