Have you ever noticed the most popular way to celebrate Father's Day is with a barbecue? (or a barbeque, depending on where you live and how you spell it =) Ask anyone and they will tell you that Father's Day is synonymous with a dad and his grill.  I don't know who started the tradition, but I am guessing it wasn't a Dad.  Why not?  Well, if your house is anything like ours, my husband, "the dad", is the one who does the barbecuing.  So on his day, not only am I asking him to cook his own food, but I am asking him to cook for the rest of us as well!  What kind of celebration is that?!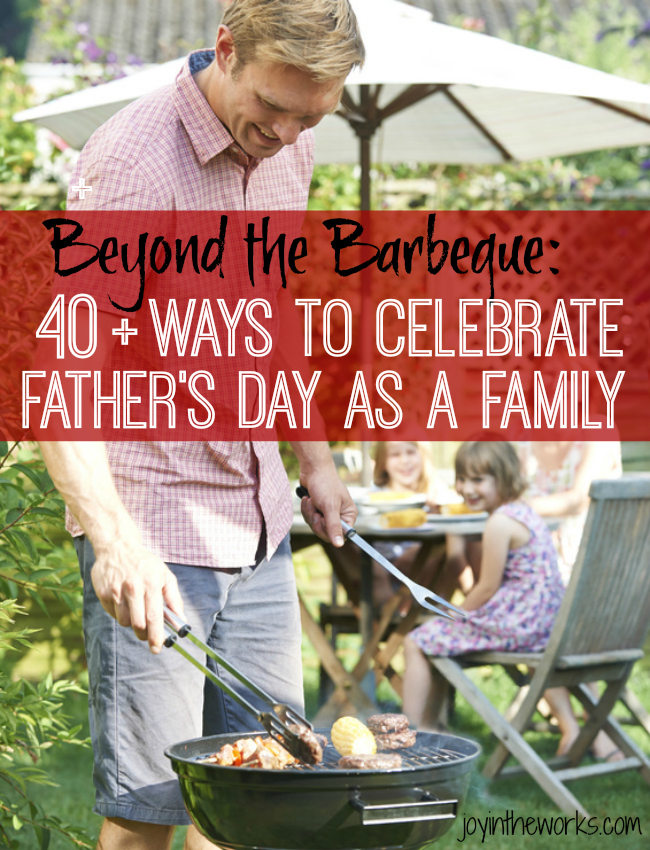 Moms are pretty vocal about just wanting a break on Mother's Day, is it possible that Dads want the same? Gasp- might there be some Dads who actually need a break from all the responsibilities of parenting, working and and helping run the house as well?  Now I am not suggesting that he get to spend the day alone (well I guess he could on Saturday or something ;) because the holiday is actually set up as a family holiday (just like Mother's Day).  It is an opportunity for children to honor their fathers and let them know how much they love and appreciate him.
So instead of planning a day of more work for my husband with a barbeque, I have been doing some research and talking to dads about how they would like to spend Father's Day with their family.  Now everyone is different and has different interests, so I put together a wide range of activities- something for the sports fanatic, the outdoor enthusiast, the foodie etc. I also tried to list activities for a wide variety of age groups as well- obviously you aren't going to do indoor sky diving with a toddler and your teenager probably wouldn't be interested in going on a mini train ride!  So just pick and choose with what works for your family's interests and abilities. (I included as many links as I could think of to make your search and planning easier.  Some are affiliate links.  View my policy here.)
Got anything to add?  Add them in the comments below and I will try to add them to the post to keep the list going!
40+ Ways to Celebrate Father's Day as a Family
Go to a baseball game (remember it doesn't have to be a major league game– there are some great minor league teams as well)
Bowling
Rock climbing (indoor or outdoor)
Golf (traditional, mini golf or the driving range)
Batting cages
Make your own pizzas for dinner (for an extra special twist- have the kids set it up like a pizza parlor, complete with aprons, ordering pads etc)
Hiking
Lawn games (bocce ball, croquet, corn hole etc)
Indoor sky diving
Video game marathon
Root beer taste test (or any other favorite food)
Indoor trampoline park
Bike riding
Woodworking (think simple like a birdhouse, a boat or a pinewood derby car)
Go karting
Paintball
Amusement park
Museums (Discovery Museums, Science/Technology, Art or History Museums)
Camping
Boating (This could be a simple boat ride or something more adventurous like kayaking, paddle boarding or pedal boating)
Car museum or car show
Board game marathon (check out the preschool board games that won't make you want to poke your eyes out here)
Do a puzzle together
Concert in the park (check your local library or recreation guide to see if there are any nearby)
Water slides
Obstacle course (make your own or find one locally)
Find an old fashioned soda fountain or candy shoppe (or have the kids set up one at home)
Drive-in movie
An in home cooking class with your kids (Taught by Chef Dad! The kids can even dress the part if you have a foodie to celebrate on Father's Day)
Boat racing (use and test a variety of different materials from tin foil to wine corks to popsicle sticks!)
Water sports (jet skiing, water skiing or surfing)
Art studio (i.e. Paint your own pottery studio)
A photo scavenger hunt (check out Pinterest for tons of free ones!)
Swimming (lake, pool or ocean!)
Hiking (I prefer to call them "walks" especially when the kids are with us!)
Visit a winery (only one that has a play space or playground for kids)
Trains (museums, rides, parks etc)
Festivals (I found a beer and bacon festival on Father's Day weekend called Baconfest!)
Have a day of sports (wiffle ball, soccer, softball, basketball, football etc)
Carpet picnic dinner of pizza and his favorite movie
Make homemade ice cream
Buy and build a big Lego set as a family (Bonus points for sets that take Dads back to the good 'ol days, like this VW Bus, the Ghostbusters Ecto-1 and the DeLorean from Back to the Future!)
Visit a nearby National Park
Stay home and do nothing but hang out as a family! =)

Like this post? Want to see more kid friendly ideas and real life stories that will make you cringe, laugh and nod all at the same time? Sign up for emails and follow me on social media on
Facebook
,
Twitter
,
Instagram
or
Pinterest
.