This post may contains affiliate links. You can read our policy here.

We recently purchased some ping pong eyeballs at the dollar store for a Halloween decoration I saw on Hoosier Homemade.  But because they were so cheap, I bought more than we needed and the kids have taken to playing with them.  All. the. time.  As in, I find them under the couch, in the bathroom and in the covers of my bed!  In the midst of all that play, we have come up with a few simple games using plastic eyeballs that would be perfect for a Halloween class party, especially since they require little to no prep (my favorite kind!) I know all us room moms are scrambling to come up with age appropriate ideas for our kids' class Halloween parties that won't break the bank or give us a Pinterest headache! Here are our favorites from the week.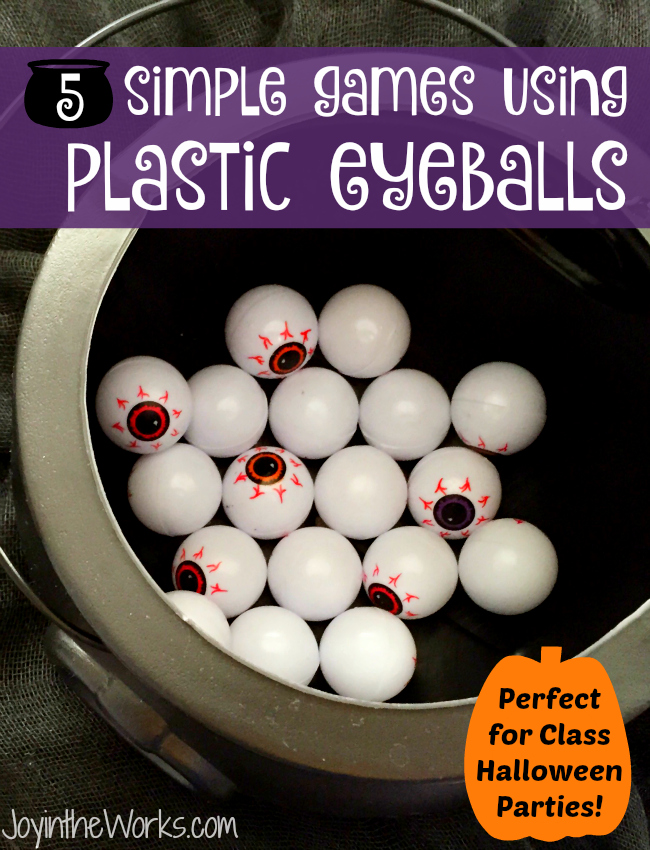 5 Simple Games Using Plastic Eyes for Class Halloween Parties
1. Eyeball Pong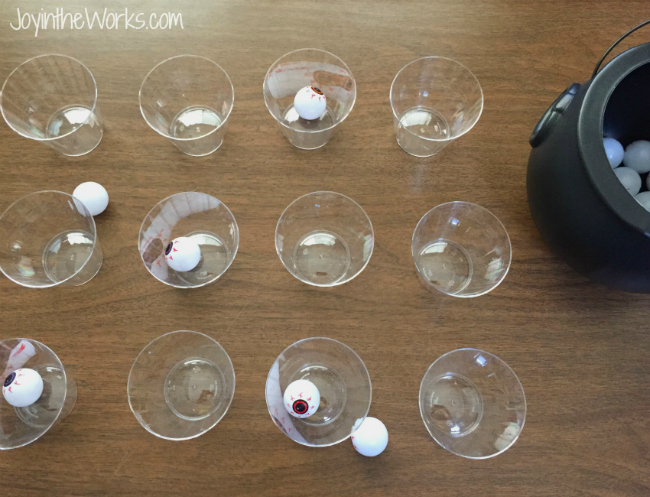 This game is simple and but oh so fun!  And some of you might remember a similar version of this game from college, but that's a post for another day ;)! There are a variety of ways to play this Halloween version.  You can set up plastic cups with water or without.  The kids can bounce the balls off the table to get them in or throw them from farther away.  Depending on the cup size, you may need to weight them down with something small like a quarter or stick some tape underneath them so they don't topple over.
2. Guess What's Missing?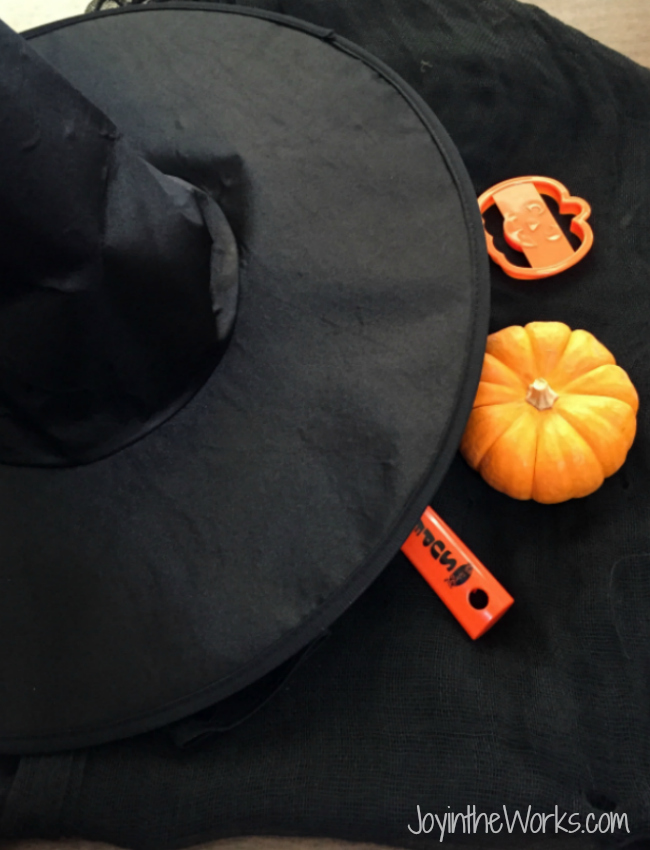 This has always been one of my favorite games ever since I was kid.  It's simple, really.  Pick a variety of Halloween objects (including a plastic eyeball) and hide them under a witches hat or a dark piece of fabric.  Give the kids a chance to memorize the items, then cover them up and slide one away without the kids seeing. When you reveal the items again, the kids take turns guessing what's missing!  It's simple, but fun, I promise!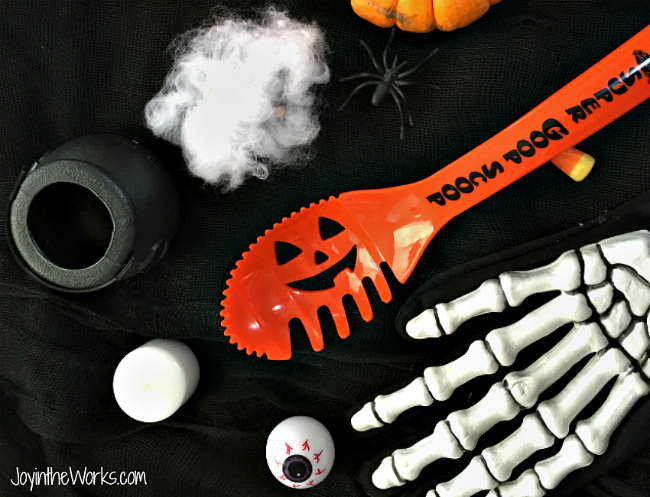 These are some of the Halloween objects we used in our Guess What's Missing? game.  We used a skeleton hand, a candle, a plastic spider, a Jack-o-Lantern scoop, a mini cauldron, a bit of spider web, a mini pumpkin and a plastic eyeball, of course!
3. Eyeball Hunt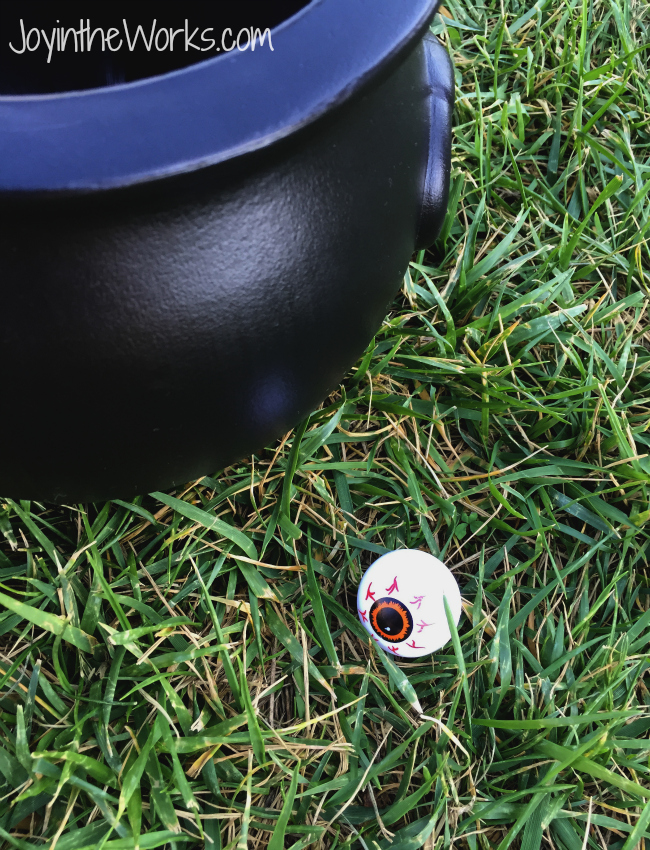 My 6 year old son actually came up with this Halloween game and I loved his creativity!  Instead of hunting for Easter eggs with an Easter basket, my son was hiding plastic eyeballs and finding them with a black witch's cauldron! He invented Halloween Eye Hunt! =)  Again, a simple game, but kids love to play any games that involve hiding and finding objects.
4. Wall Maze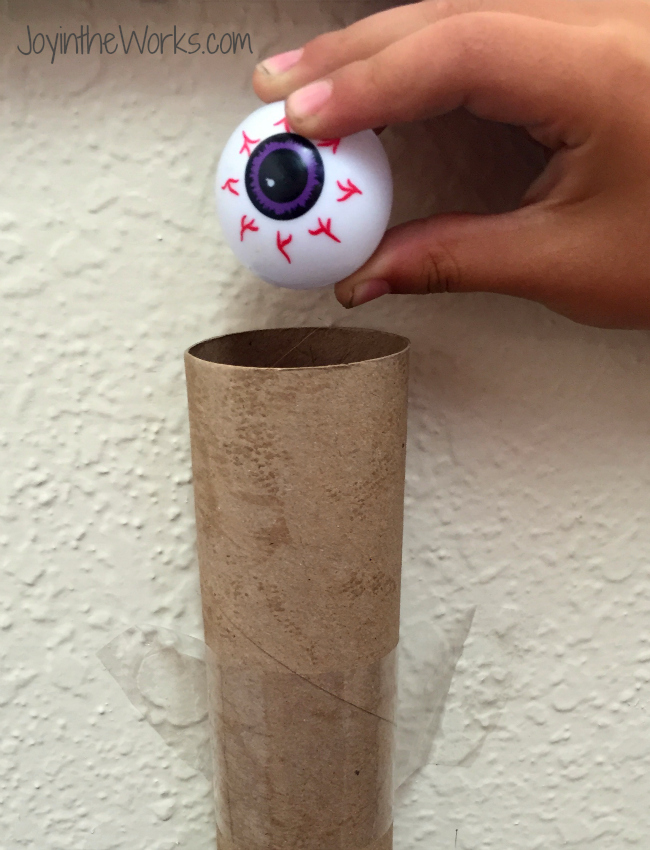 This activity is fun because it involves the kids building and creating their own wall maze contraption.  Simply give the kids a basket of tape and paper towel and toilet paper rolls and let them create!  When we make a wall maze at our house, we have fun finding and experimenting with other household objects that might work as well. We have used ladles, plastic scoops, funnels and a variety of items out of our recycling bin (like water bottles with the ends cut off).  The children enjoy making the wall maze about as much as they enjoy dropping the plastic eyeballs through over and over again!
5. Sink or Float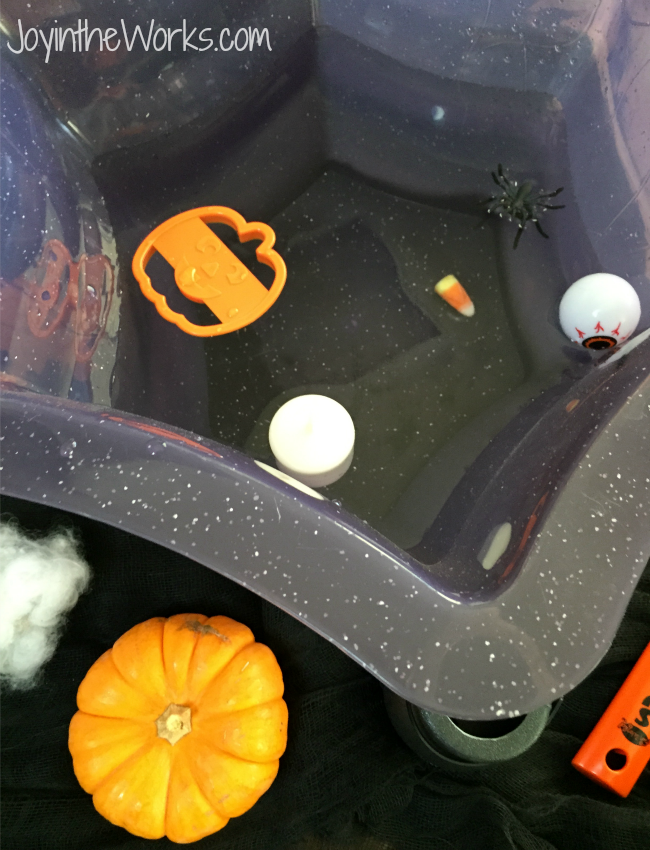 This last game is an oldie but a goodie.  It is a simple Halloween Sink or Float game.  We used plastic eyeballs, cookie cutters, candy corn, plastic spiders, mini pumpkins and much more to see what would sink or float in water.  We used a Halloween punch bowl filled with water to conduct our experiment, but you could also use a cauldron or a pumpkin trick or treat bucket.  I like this activity because it is always my preference to use an educational activity even on holidays! =)
Looking for more games and activities for your class Halloween party? Follow me on Facebook where I am sharing lots of fun Halloween activities, crafts and foods perfect for school or home!
Save