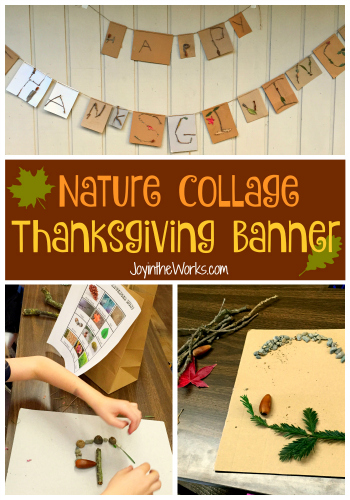 Thanksgiving is almost here and I thought I would share this Nature Collage Thanksgiving Banner I made with the kids.  It was so easy to make and I just love the look of it. The best part was that we made it into a two step activity, so it could fill lots of time on Thanksgiving Day if you are trying to keep the kids entertained while the turkey is cooking.
We started this activity with a Nature Scavenger Hunt.  Instead of re-inventing the wheel, I just went on Pinterest and printed out a few of their amazing free printables.  Here are a few of my favorites. Scavenger Hunt Printable from Montessori Nature , Forest Treasure Hunt by Playground Hunt , Scavenger Hunt Nature Walk by The Bird Feed NYC
Next, I attached the printable to a brown paper bag and took the kids out on a nature walk.  They loved looking for the various items (the acorns were our favorites) and filled their bags quickly.  We took their treasures inside and the children poured out the contents of their bags on a tray.  Each child had a piece of cardboard next to them (simply cut up a cardboard box, if you don't collect random pieces of cardboard for no apparent reason =)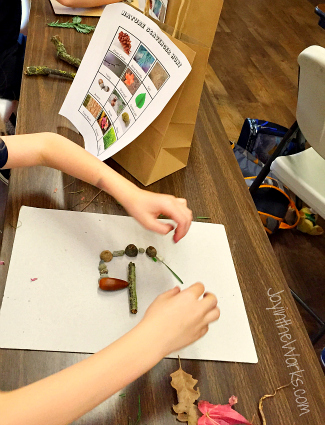 The most important part of the Nature Collage Thanksgiving Banner is the letter formation.  We chose to do the words, "Happy Thanksgiving", but you could do something shorter as well, like the words "Grateful" or "Blessed". I worked with a larger group of kids, so each child only had to do 2 or 3 letters each.  For the younger children, I wrote the letters for them in pencil on the cardboard, but with the older kids, I gave them a liquid glue bottle and told them to get creative!  And boy did they- they had so much fun gluing items from nature on their letters.  We used items like leaves (various colors and kinds), acorns, moss, twigs, grass, bark and small rocks.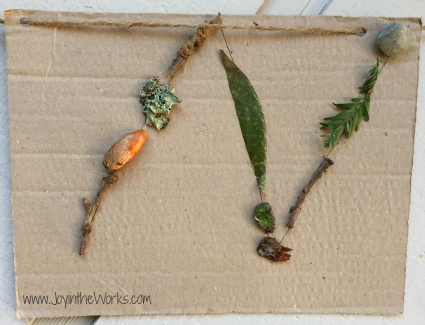 After the children finished with all the letters, we let them dry and I used a hole punch to punch holes in  the cardboard and laced it with twine.  If you do this activity on Thanksgiving Day and you don't have a lot of time to lace the cards or wait for it to dry, simply lean up the cardboard pieces on a mantle to display their work.  It is such a natural and beautiful work of art that everyone will admire for years to come!