One of my favorite things about Easter and Spring is the abundance of gardening, fresh vegetables and carrots! Although, admittedly I love vegetables and carrots more for decorating and play than cooking and eating, but that's another story. ;) Anyway, The Carrot Seed by Ruth Krauss is one of my favorite classic childhood stories and after reading it to my 3 year old one day, I decided to make a Carrot Sensory Bin with a dramatic play element.
This post may contain affiliate links. Please refer to our disclosure page for more information.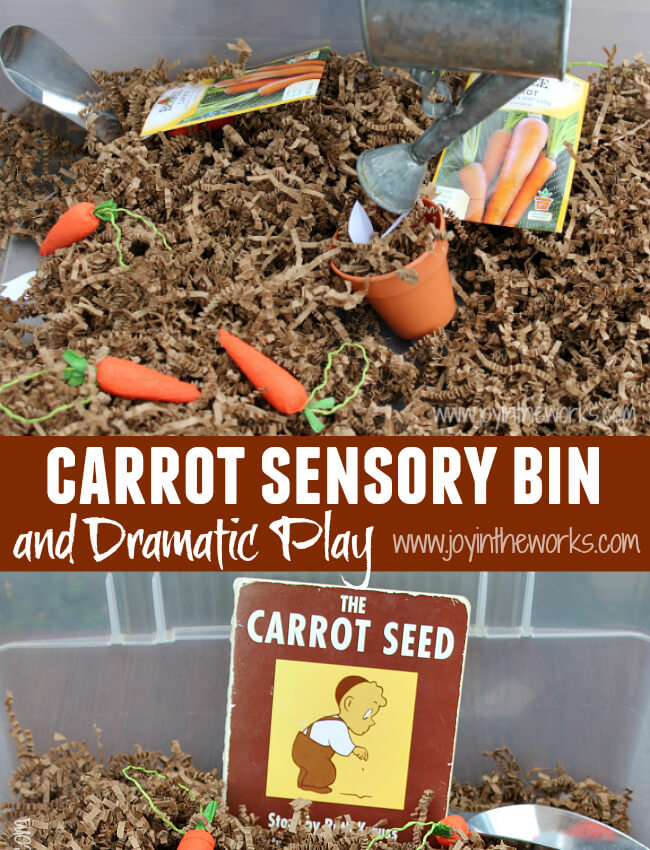 Carrot Sensory Bin with Dramatic Play
I know it's important for kids to get messy and honestly, we do spend a lot of time playing around in the dirt outside, but I decided for this gardening activity, I wanted it to be more of a guided inside activity, so I didn't want to use real dirt. Plus, I found the cutest paper carrots in the Target Dollar Bins, and I thought it would be so fun to create an entire paper garden around them. Therefore, I found "dirt" that would still give my son a sensory experience, but wouldn't get dirt all over my floor!
Not only do I like this sensory bin because of the clean-up factor, but I also like it because it has a wide variety of opportunities for kids to explore and do dramatic play. I started by collecting my supplies. I have listed them for you below:
Supplies
Plastic Bin
Paper Filler
Carrots (I used paper carrots from the Target Dollar Spot, but any type of pretend carrots will work)
Watering Can
Plastic Flower Pot
Shovel or Scoops
Carrot Seed Packets
White Paper for Seeds
To start, I grabbed whatever bin or container I could find and filled it with brown paper "dirt". Next, I took some carrot seed packets and emptied out the carrot seeds, saving them for later (because I know it's also important that kids get a chance to garden and experience real dirt!). Then, I added the flower pot (make sure it's plastic and not a real terracotta pot!), the watering can and the shovel. Last, I added the play carrots and the "seeds". The seeds were easy enough to make, I just cut them out of white paper. They don't look like real carrot seeds (I was surprised about how small they really were!) but they were big enough that my son could play with them in his bin for dramatic play and represented seeds well enough.
Once you have your carrot sensory bin and dramatic play set up, it's time to let the kids play! If you are looking for a few guided play tips, read on for a few things we did for dramatic play.
We started by talking about what the seed needs to grow. We scooped the "dirt" into the pot and put the seed in and "watered" the seed. We pretended to pull up weeds around it like in the story The Carrot Seed by Ruth Krauss (you could even add something that looked like weeds). Next, we pretended that the carrots grew in the pot out of the seed. It was all very exciting! If you have read the book, you know how exciting it is when the carrot "comes up" just as the little boy knew it would. =)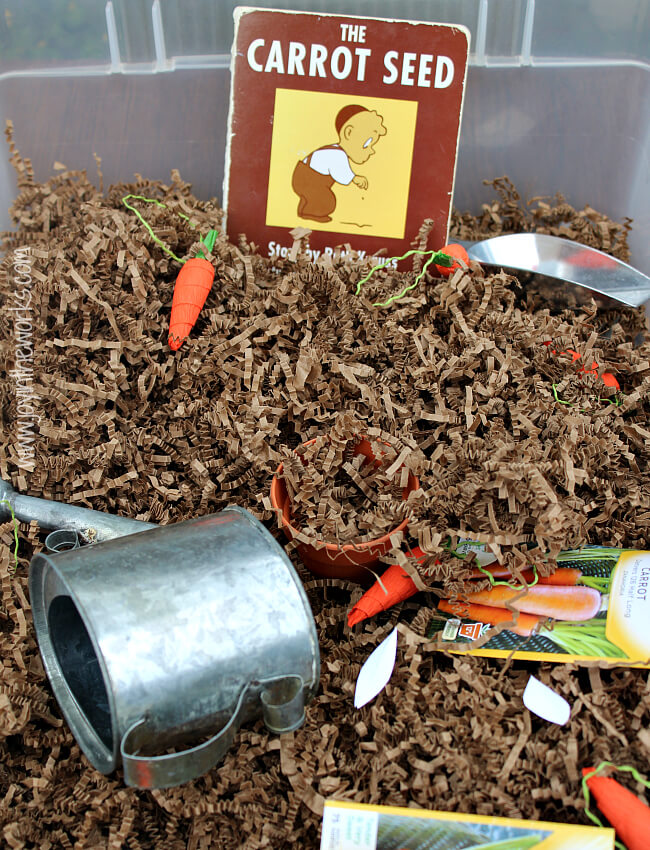 While I used the carrot sensory bin for some teaching, I mostly just observed my little carrot gardener and let him play. Here are the things that I noticed he did with the carrot sensory and dramatic play bin:
-Put the seeds in the seed packets
-Scooped the "dirt"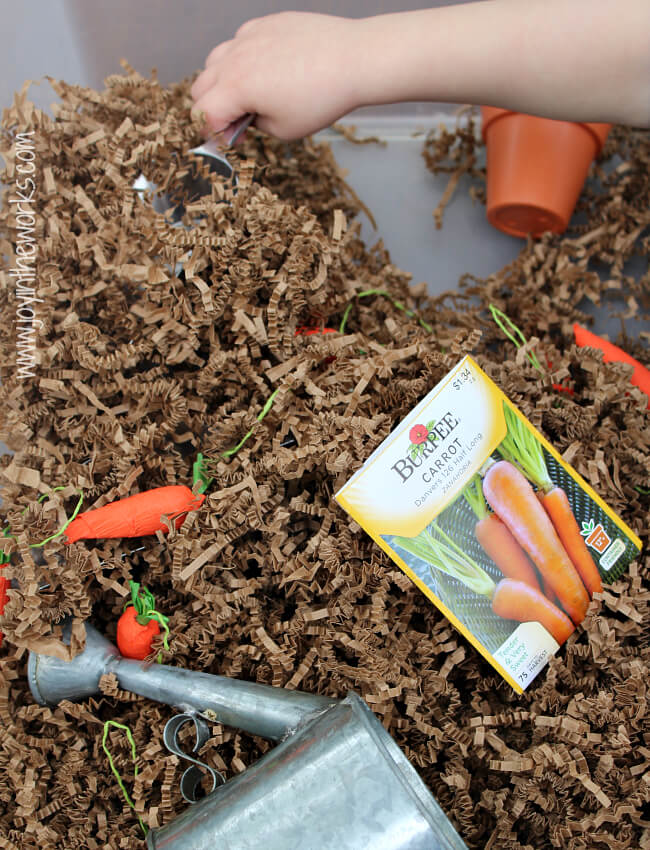 -Planted seeds in the dirt in the flower pot
-Watered the seeds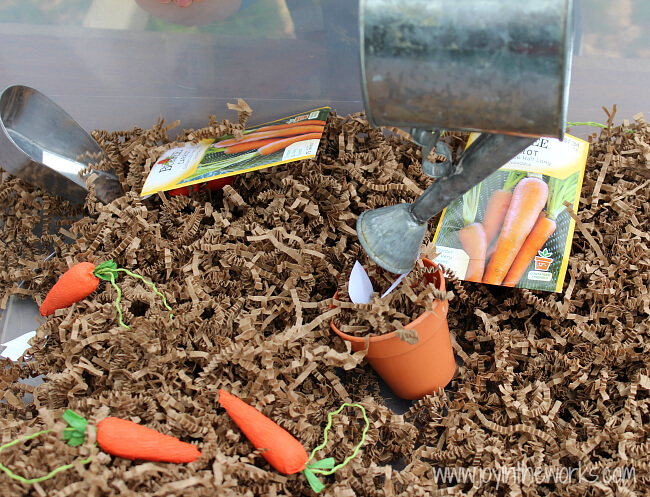 -Made the seeds "grow" into carrots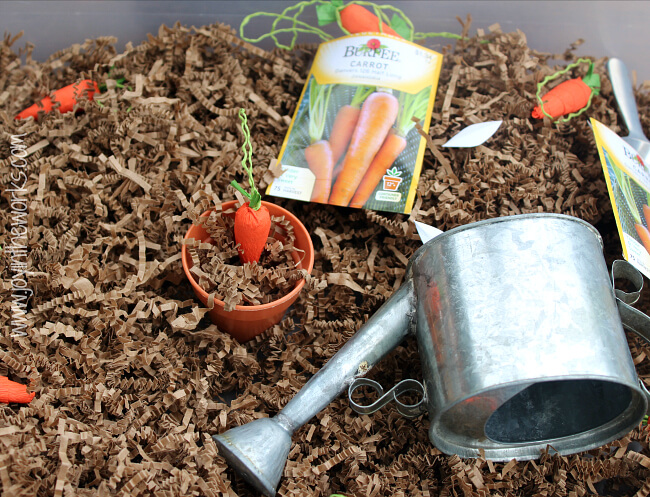 -Picked the carrots
-Collected the carrots
-Filled the seed packets with carrots.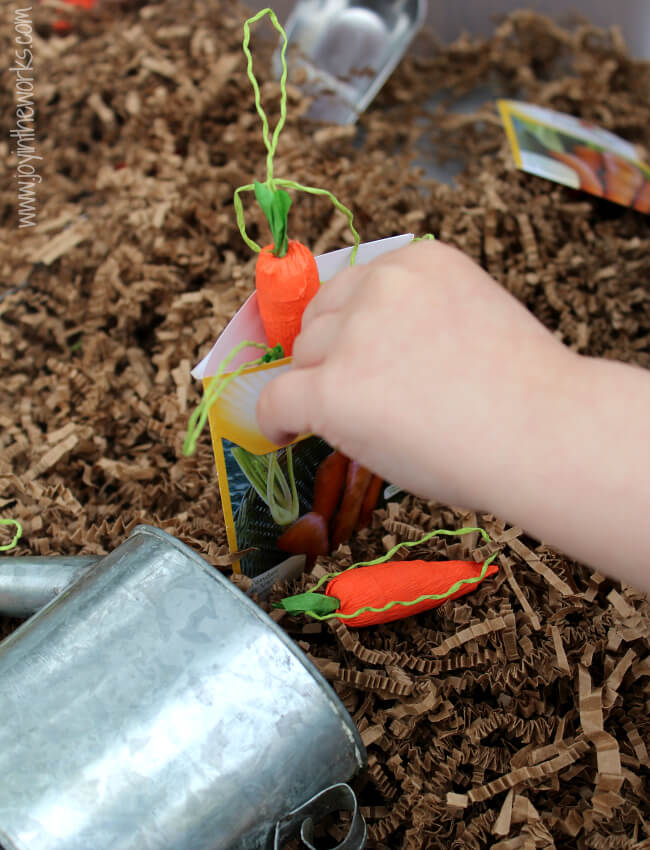 -Filled the scooper with carrots, as well as the watering can!
You can tell my 3 year old and I had a lot of fun with this one, as it was a great spring activity. I must admit that when my creative 7 year old came home from school that day, he also liked playing with the carrot bin also. It is great for imaginary play for any age!
What about you? Do you have any gardening activities you like to do with your kids or students at this time of you? Share them below!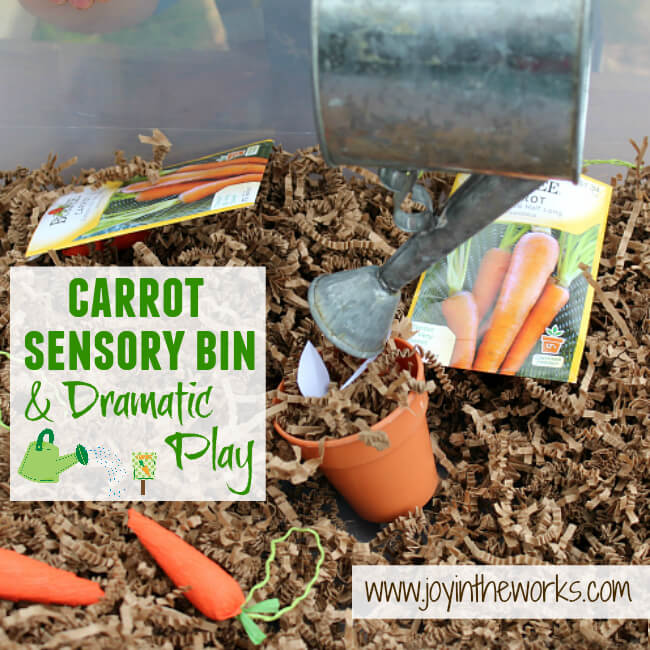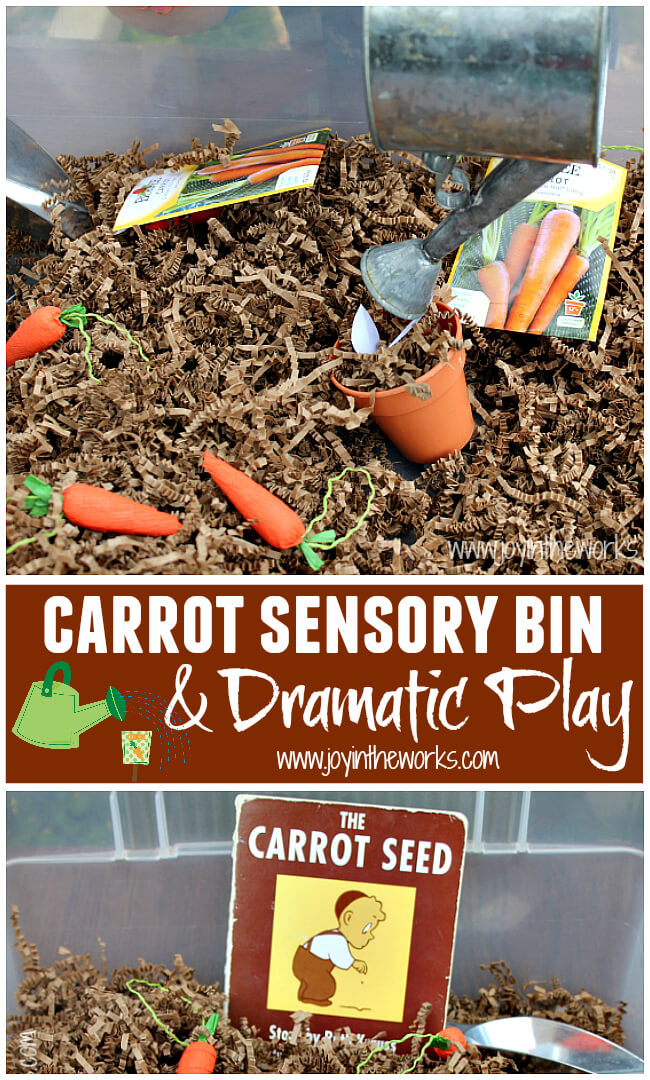 Save
Save
Save
Save
Save