It's time! You didn't think I would let a candy holiday like Easter go by without doing another catapult did you? Do you think my kids would actually let me skip over an opportunity for them to launch candy everywhere as part of an educational STEM activity? Of course not! Not only did they love the Jelly Bean Catapult we made for Easter, but I think this candy catapult might have been one of their favorites too!
This post may contain affiliate links. You can find out more by reading our disclosure policy.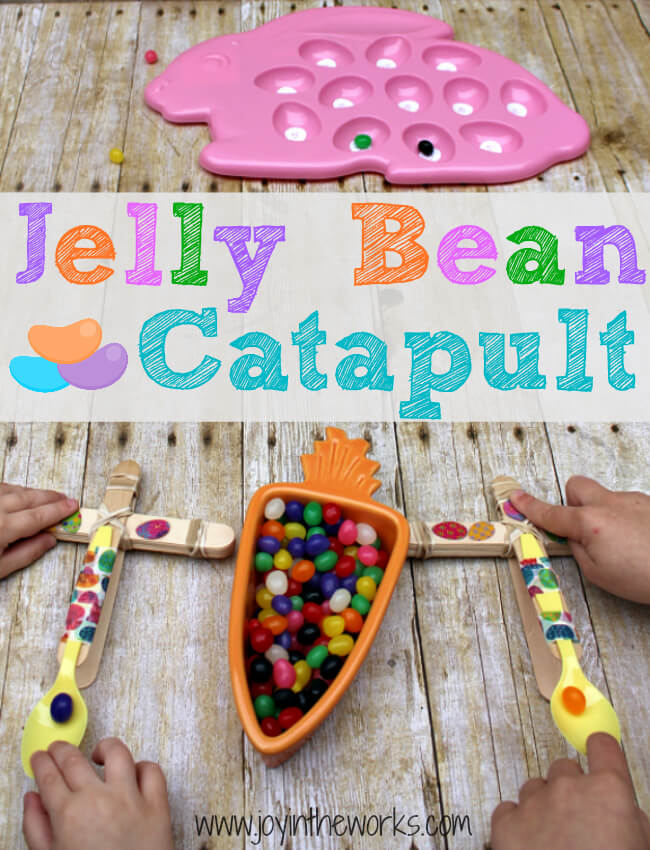 If you are new to Joy in the Works and you are wondering what I am talking about, we have been making these easy catapults for each holiday and my kids just love it! We made a Christmas Catapult and launched gum drops and marshmallows (and it was recently featured on the popular website, Red Tricycle) and we also launched conversation hearts with a Conversation Heart Catapult for some Valentine's Day fun. Most recently, we launched yummy marshmallow shapes with our Lucky Charms Catapult for St. Patrick's Day.
Clearly, we are all hooked on our holiday catapults! As I said, any time my boys are given permission to launch candy or sweets, they are definitely in. For Easter, we continued with the targets and point values we started for St. Patrick's Day as a way to help bridge the gap between the varying age levels and abilities of my boys. With a 13, 7 and 3 year old, I definitely have to make some adjustments when I am trying to come up with family fun activities. My toddler has finally learned how to launch the catapults, the 7 year old is trying to hit the target and my teenager actually uses strategy to try to get the highest score. My husband and I usually volunteer for the "making sure the jelly beans aren't poisonous" job. ;) But onto the instructions!
Jelly Bean Catapult for Easter
Supplies:
Jelly Beans (or any Easter candy)
Catapults (Jumbo Craft Sticks, Rubber Bands, Plastic Spoons Any color spoon works!)
Easter Washi Tape (Optional for decorating your catapult)
Easter Stickers (Optional for decorating your catapult)
Egg Target or Rabbit Shaped Target (Optional for catching the jelly beans)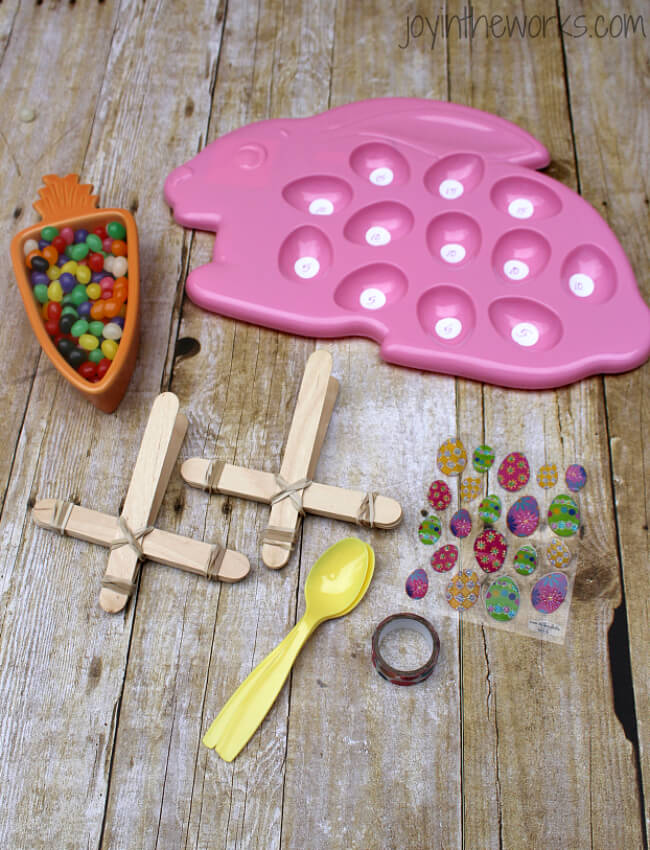 As always, we start the catapult building by reviewing the instructions by Devin Collier in his blog post entitled How to make a marshmallow catapult. Yes, for some reason, I need to review them every time we do this activity! But a quick refresher is all I need because it's so easy.
Next, comes the optional part.  Because I am trying to extend the activity for my kids and make it extra festive for the upcoming holiday, we decorate our catapults for the upcoming holiday (in this case Easter). For the Jelly Bean Catapult, we used Easter Washi Tape and Easter Stickers. The only way that effects the directions on Devin Collier's site is that instead of attaching the spoon using rubber bands, we use the washi tape. We also like to add stickers to our catapults as well. (Peeling off stickers is great fine motor practice.)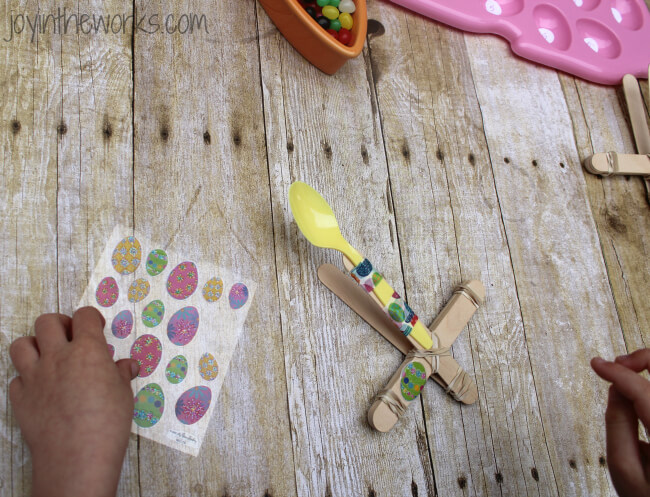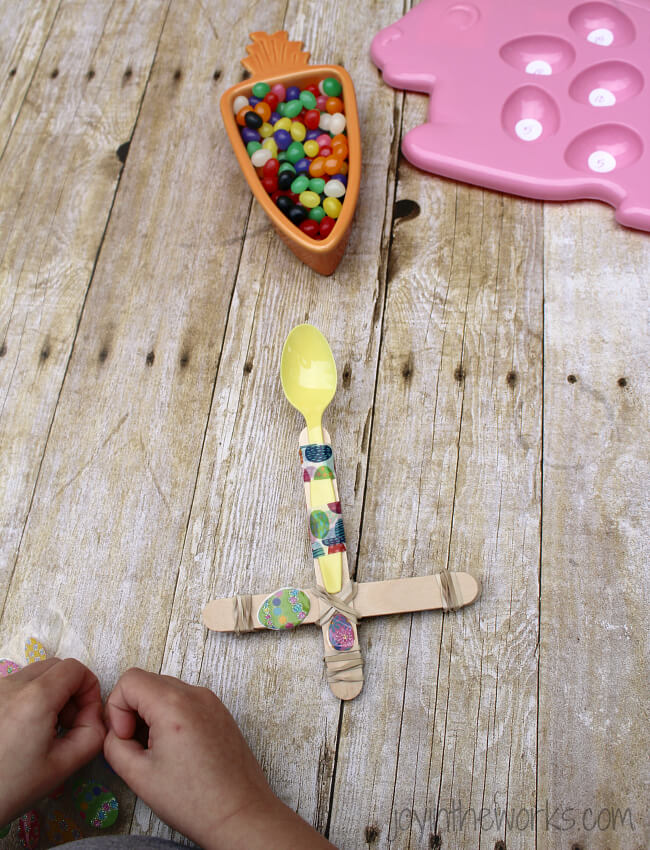 After you have built your Jelly Bean Catapult (decorated or plain), it's time to set up your target. As I said, this is also optional, but it adds a more advanced level that my older son enjoys. We used this Rabbit Egg Serving Tray, but here's another egg shaped one as well. You can use these white round stickers to add point values, making some targets worth more points depending on their location and difficulty level.
If you are interested in adding another activity just for the little ones, this would be a good time to have them sort the jelly beans by color. Not only does it give them a special job (and keep those little hands busy), but it's a great learning opportunity for them to review their colors. An added bonus is that if each person is assigned only one or two jelly bean colors to launch, it might cut down on disagreements when tallying scores at the end knowing whose is whose.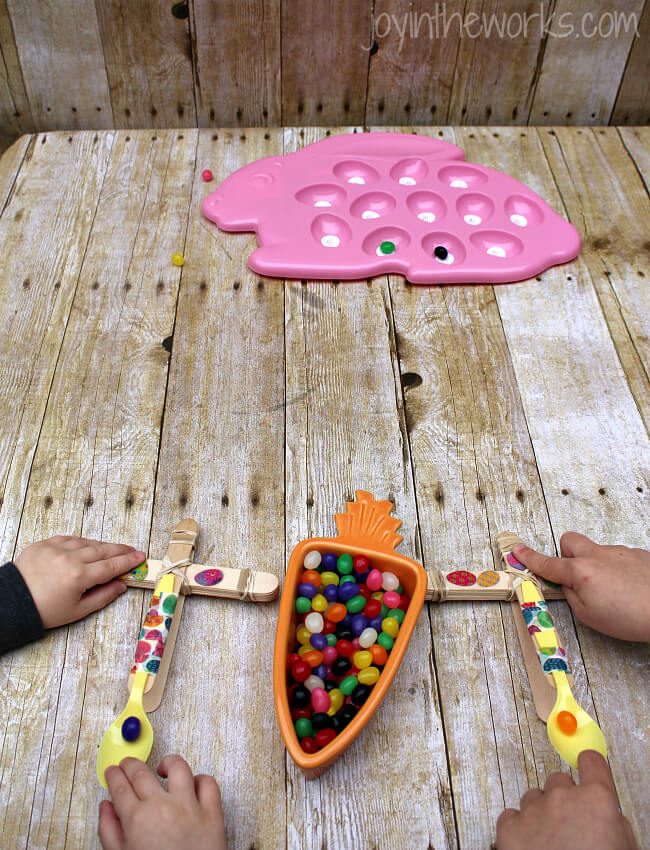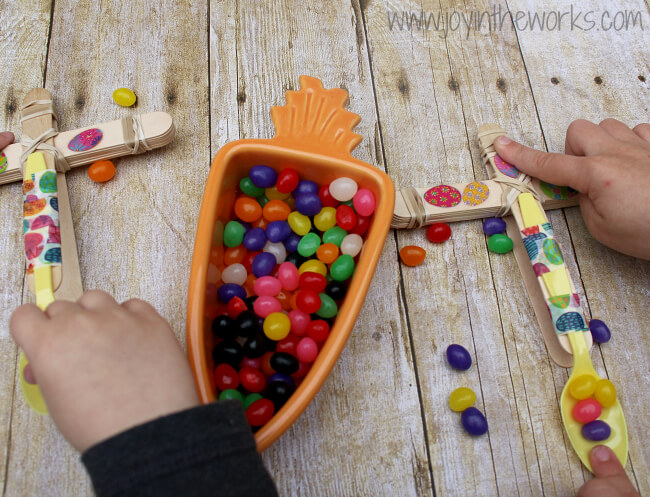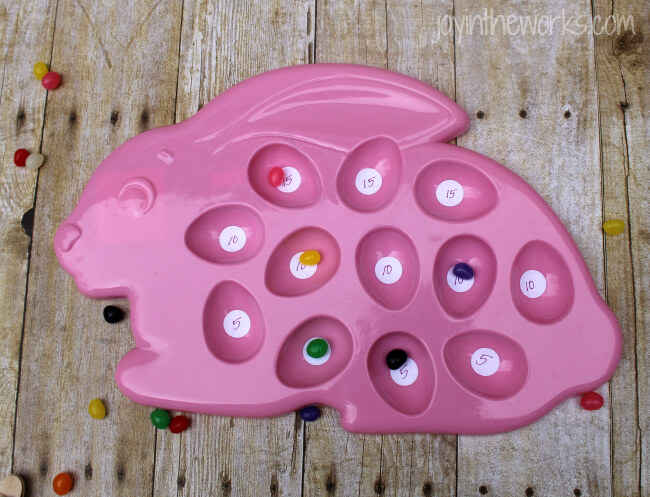 After lots of laughter and flying jelly beans, it was time to tally the points. I continued with the differentiation for my kid's abilities and understanding. For instance, this time the 3 worked on his number sense by counting the jelly beans into groups of 10. The 2 older boys added up their point values and we even did some fun math problems (Based on where they landed, 1 yellow jelly bean + 1 green jelly bean = How many points total?)
Now I don't know if it is because jelly beans are one of my favorite candies or because I think the rabbit tray I found is so cute, but this Jelly Bean Catapult for Easter might just be my favorite of all the catapults so far! Of course, I am already thinking about what we are going launch for the next holiday! Any ideas? Please share them below!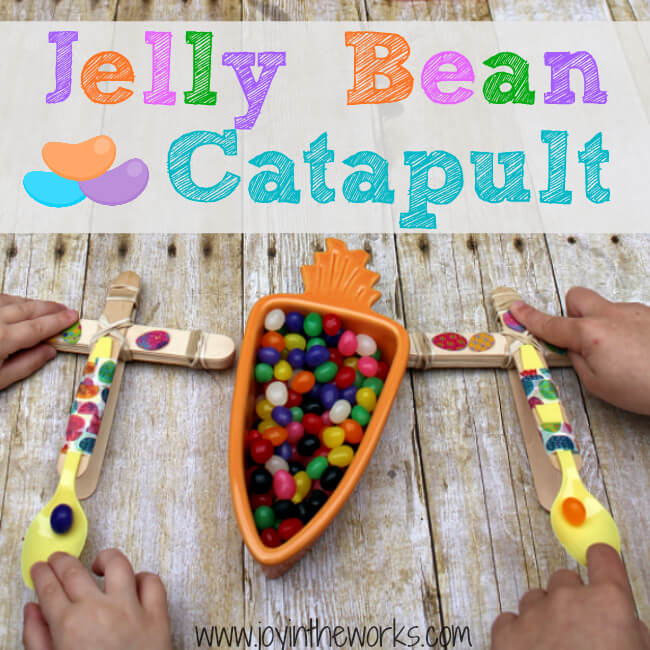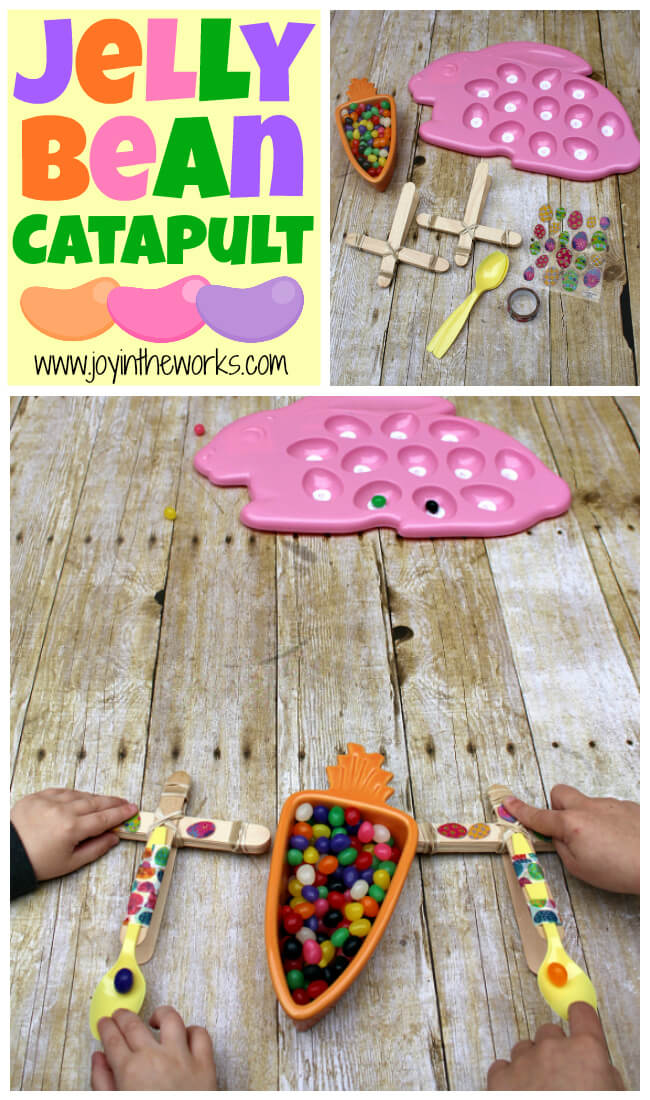 Save
Save
Save