Do you know that feeling when you finally get to do something with your kids that you have been planning for a long time? That's how I feel about this Graham Cracker Haunted Mansion! It has been in the works for years!
I admit we went all out this time, as it started out as a simple DIY Halloween Gingerbread House, but we turned it into a Graham Cracker Haunted Mansion!  Of course, that had nothing to do with me! I just mentioned the idea of making a replica of Disneyland's Haunted Mansion as a pipe dream to my husband and he created this amazing Halloween Candy Haunted Mansion for us!
Not only did my kids and I have a blast decorating our Graham Cracker Haunted Mansion, but you could save this activity for after Halloween too! What better use for all that leftover Halloween Candy!
This post may contain affiliate links. For more information, check out my disclosure page.
Graham Cracker Haunted Mansion
Supplies Needed:
Graham Crackers
Royal Icing (We turned ours grey, but were hoping for black lol)
Halloween Candy (You can go with the classic Candy Corn and Mellowcreme Pumpkins or Halloween Peeps or Candy Corn M&M's or just use some of your leftover Halloween candy!)
Cutting Board, Platter or Plate (to build on)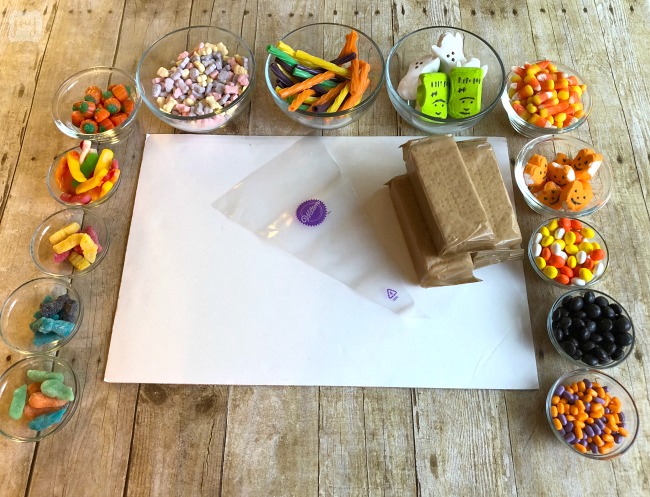 I admit that I tried to take pictures of every step of the process as my husband built this Halloween Graham Cracker Mansion, but the fun got in the way! The kids started decorating around the Halloween House and I had to lean in and out and all over the place to get some shots!
I fully admit some of the pictures are dark, grainy and full of shadows, but I had to try! I hope you are still able to see the process clearly, even though it wasn't the best set up for photography. However, in the end, I know it was set up for fun and that's what really matters! =)
How-to-Build a Graham Cracker Haunted Mansion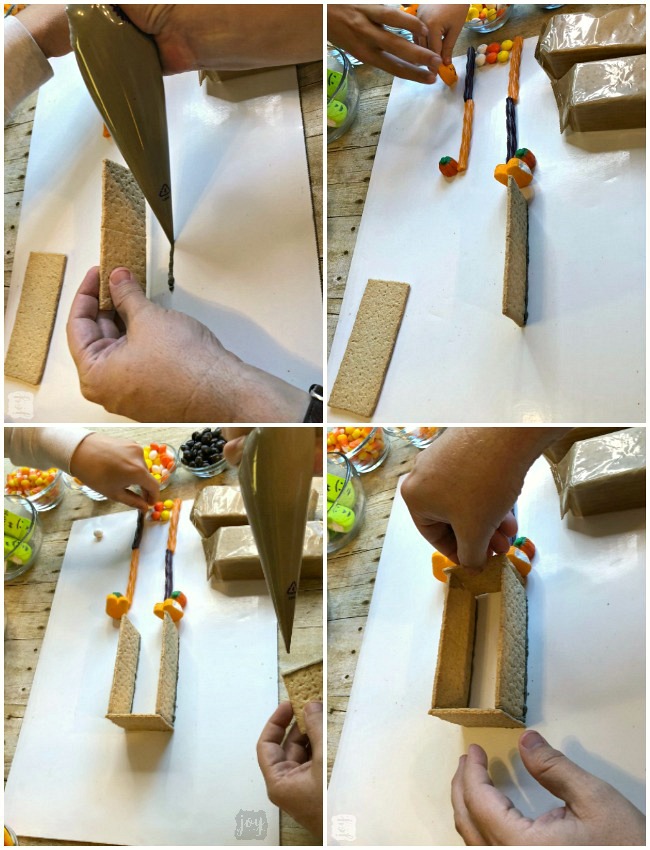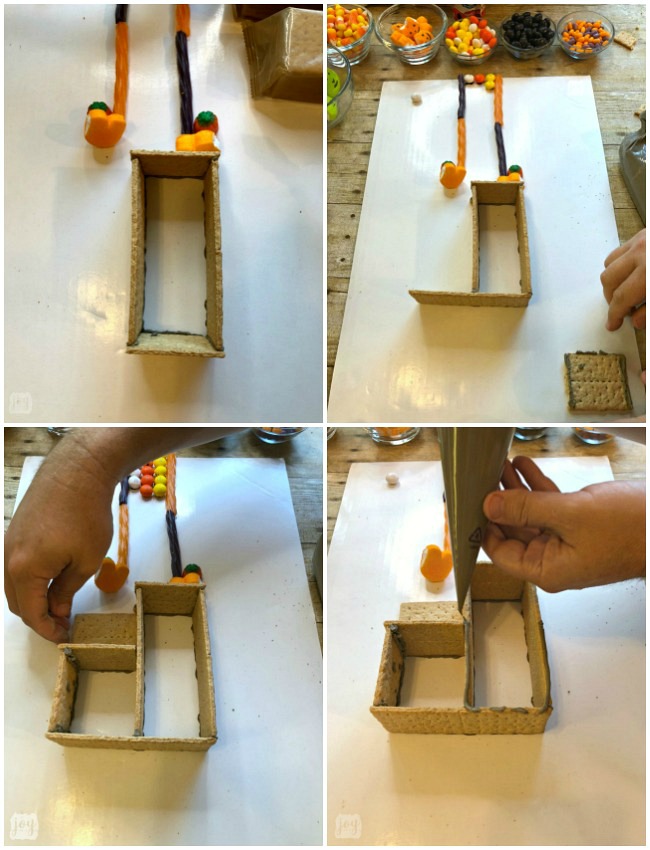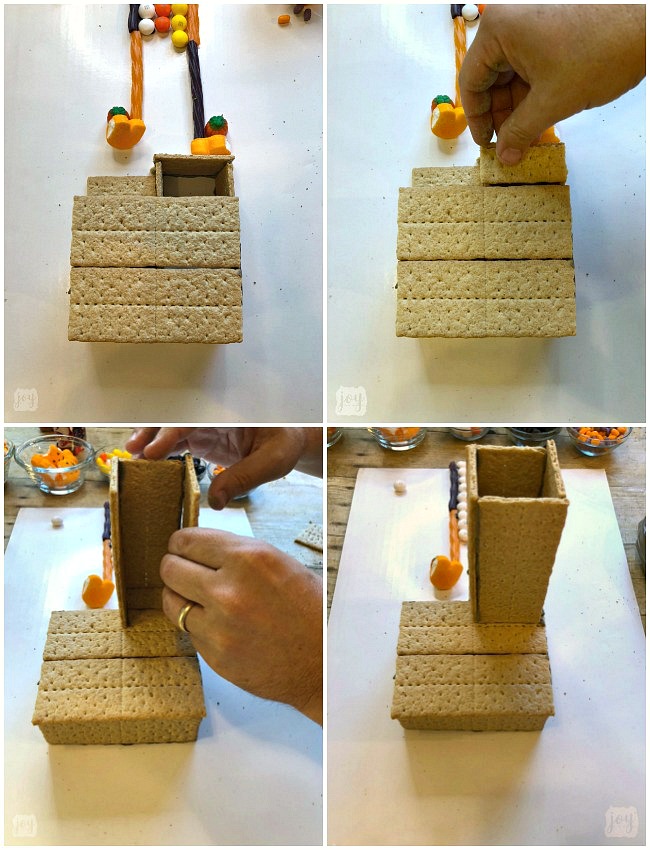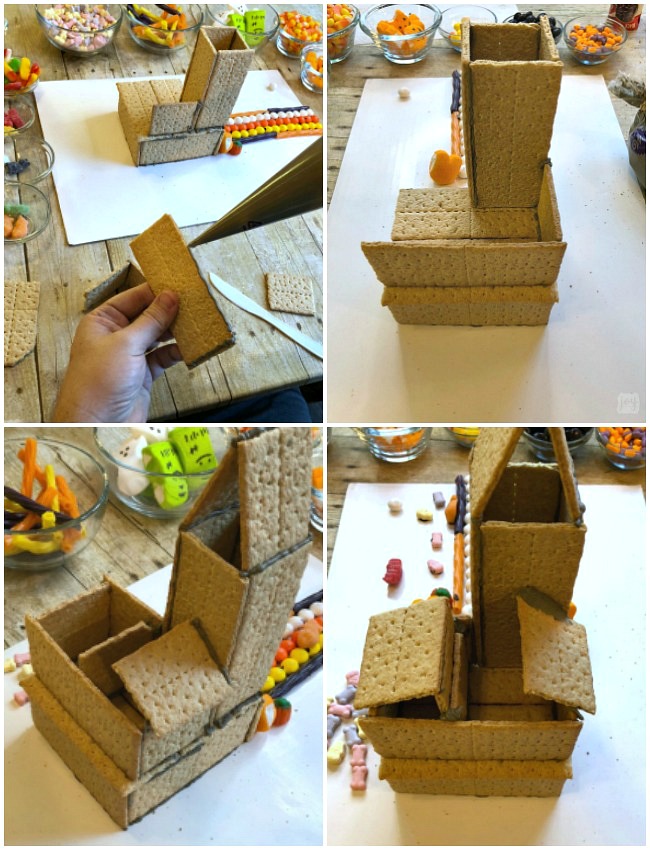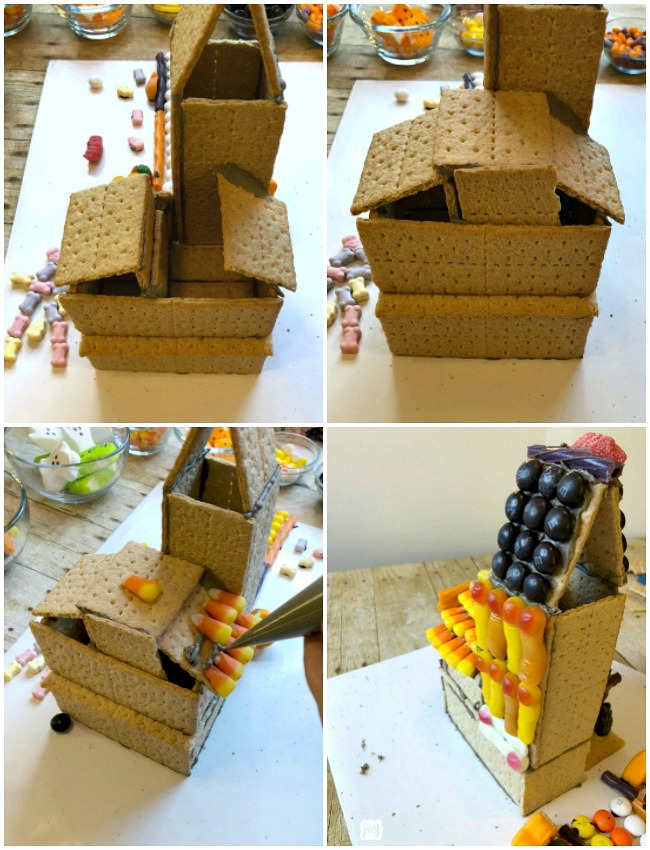 It's funny because the final product looks really complicated, but as I look over each step here, it really wasn't that hard! Just take it one picture at a time if you want to build the full Graham Cracker Haunted Mansion. However, remember you don't have to do what we did! The kids would still love decorating a candy Haunted House as long as there is candy involved! In fact, this Halloween Gingerbread House was so large that my kids got tired after awhile. We left it for awhile and came back to it later. But still with a house that size, I had to jump in and finish some of it!
The kids loved building the spooky graveyard surrounded by gummy cats and rats. They loved the pumpkin patch we built and the M&M pathway! I personally loved the bones and skulls on the front porch! But everyone's favorite was the way we put the ghost coming out of the tower! It was the perfect spooky touch! Anyway, enjoy the many pictures of our DIY Graham Cracker Haunted Mansion! (And remember, you don't have to make yours look like ours, you just need to sit down and have some Fall Family Fun!)
The Finished Product