This shop has been compensated by Collective Bias, Inc. and its advertiser. All opinions are mine alone. #SweeterTogether #CollectiveBias

Summer is in full swing and  I am always on the lookout for activities that not only entertain the kids, but also encourage imagination and creativity as well.  Oh and it has to be very little prep on my part.  That's not too much to ask, is it?! ;)  I actually think this DIY Ice Cream Shop and old fashioned Soda Jerk Hat fit the bill!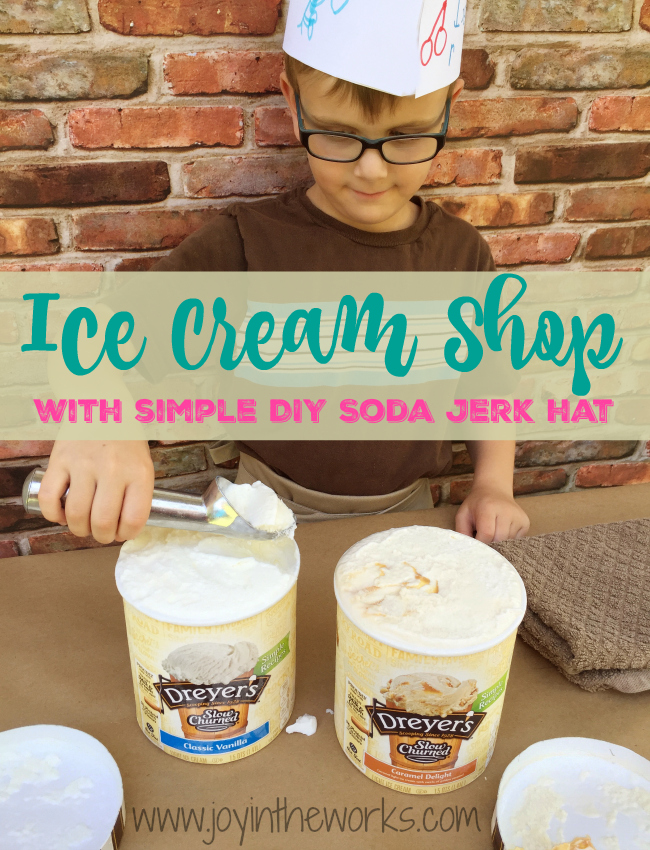 We were recently shopping at our local Walmart Neighborhood Market (can I just tell you I recently discovered one in the next town over and I was so impressed!  It was so neat and orderly and the produce and groceries looked fresh.  Plus Walmart's products are always cheaper- by a lot!) and we were in the ice cream aisle when I saw the DREYER'S SLOW CHURNED® Simple Recipes line.
I got so excited as I am always on the lookout for foods that have less chemicals and additives and these ice creams are made with real, simple ingredients.  With 3 kids ages 2-12 and my knowledge of food and health growing the longer I have been a parent, I have learned how important it is that we are feeding our kids real foods without GMO's and dairy from cows that aren't treated with rBST (a hormone).  Honestly, I am so excited that DREYER'S is getting on board with this and it makes me feel completely comfortable feeding this to my toddler and my older kids.  In fact, it also makes me feel comfortable feeding ice cream to my friend's kids as well!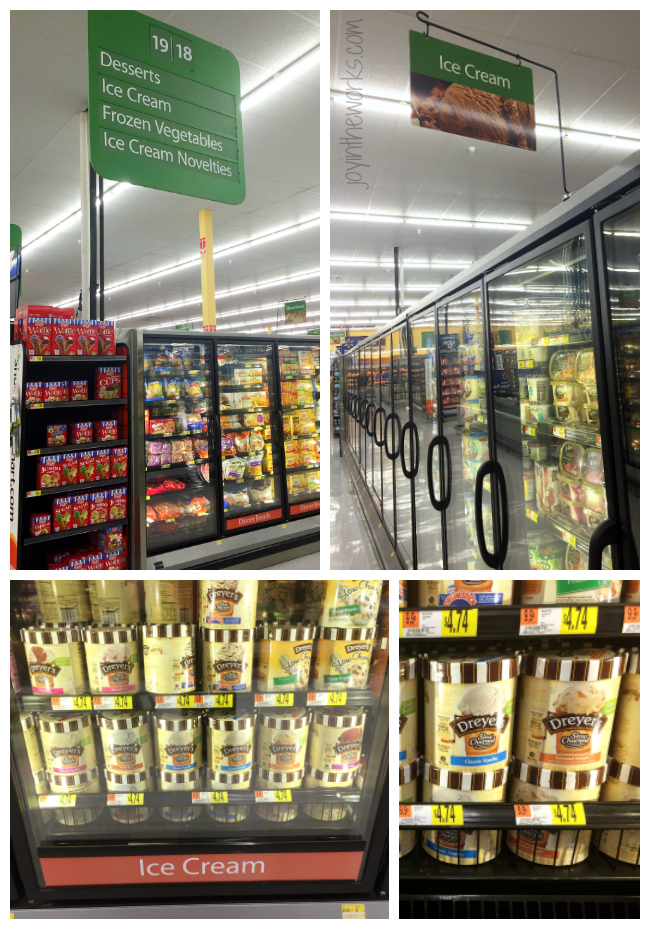 So that's what we decided to do!  We decided to forget the neighborhood lemonade stand this summer, that gets old fast. Instead we made an Ice Cream Shop to sell ice cream cones to the neighborhood using the DREYER'S SLOW CHURNED® Vanilla Light Ice Cream and DREYER'S SLOW CHURNED® Caramel Delight Light Ice Cream (flavors we knew all the kids would like and with no artificial colors or flavors, we knew the neighborhood moms would feel comfortable with us giving it to their kids)
DIY Old Fashioned Ice Cream Shop
In order to create an old fashioned ice cream shop, we started with the following supplies: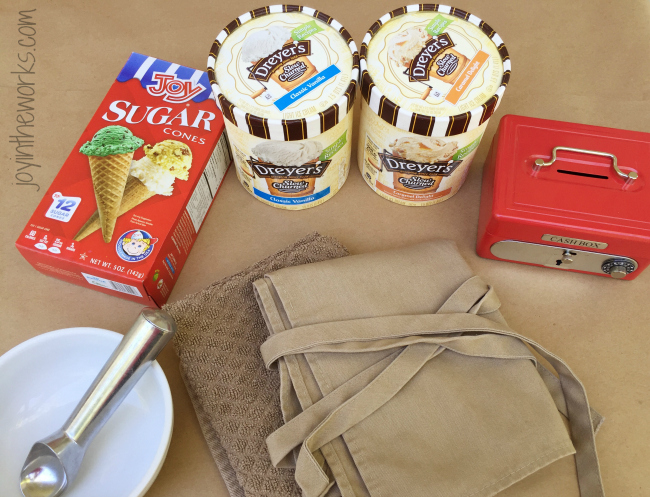 -DREYER'S SLOW CHURNED® Vanilla Light Ice Cream and DREYER'S SLOW CHURNED® Caramel Delight Light Ice Cream
-Ice Cream Shop sign (Simply take some poster board or a regular piece of paper and have the kids write the words, the pricing and draw an ice cream cone.)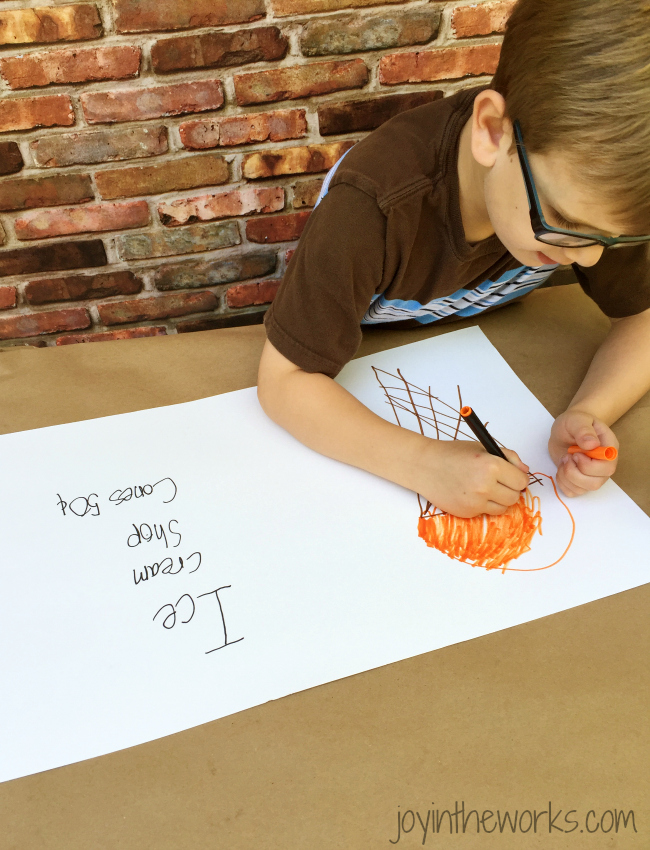 -Dishtowel or wipes for the mess
-An ice cream scoop and a bowl to set it in when not in use
-Cones or disposable bowls and spoons
-Money box (optional) and money to make change (if you are actually going to sell them)
-An apron (optional)
-Soda jerk hats (optional, but so fun!)
In my opinion, no old fashioned Ice Cream Shop is complete without a soda jerk hat! You know the type right?  Those hats the workers at In-N-Out wear or that you find at an old fashioned ice cream parlor?  Now if I wasn't always coming up with ideas last minute, I could have ordered these hats on Amazon or made them completely by hand like this blogger.  But I am just pulling the fun together last minute, so instead we started with a printed hat and the kids turned it into a soda jerk hat.  We got our hats from In-N-Out Burger, but you can also pick them up at Krispy Kreme Doughnuts if that's closer for you.
DIY Old Fashioned Soda Jerk Hat
Step 1: Gather your supplies.  You will need a hat, cardstock (any color will work!), glue, scissors or a paper cutter.  You will also need markers or something else to decorate the hat.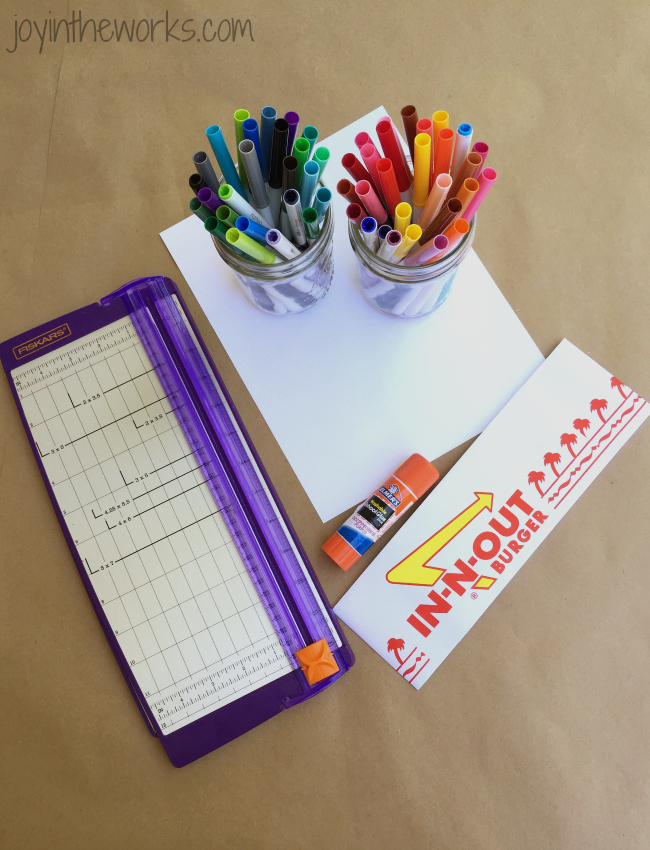 Step 2: Measure your hat.  The In-N-Out hat measures 11 by 3.25 inches if you decide to use this one as your base.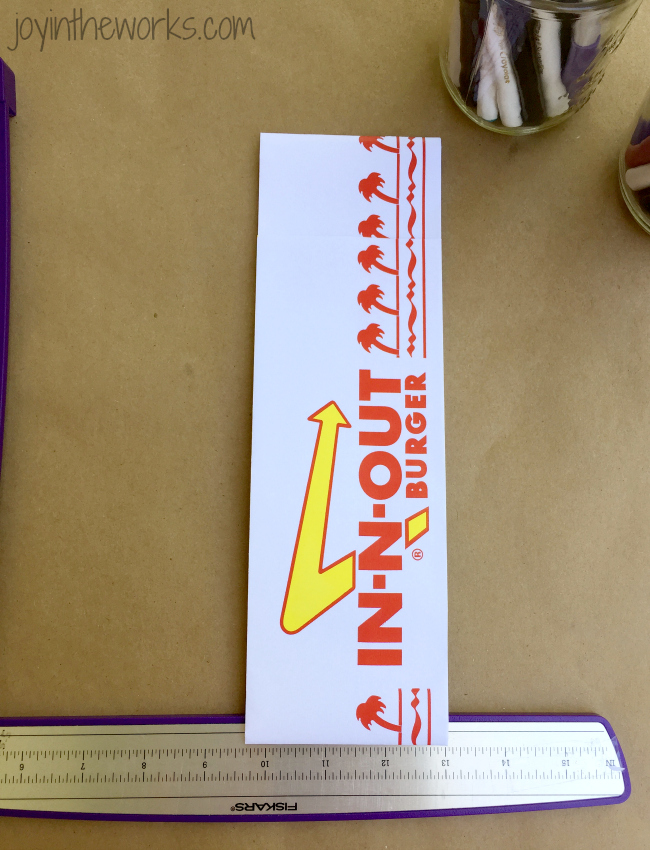 Step 3: Cut pieces of card stock measuring the same size as your hat.  Keep in mind that your child's head may be larger than the hat and it may need to be stretched larger (these hats are typically adjustable).  If this is the case, then plan on cutting more pieces to fit the full length of the expanded hat when it is on your child's head.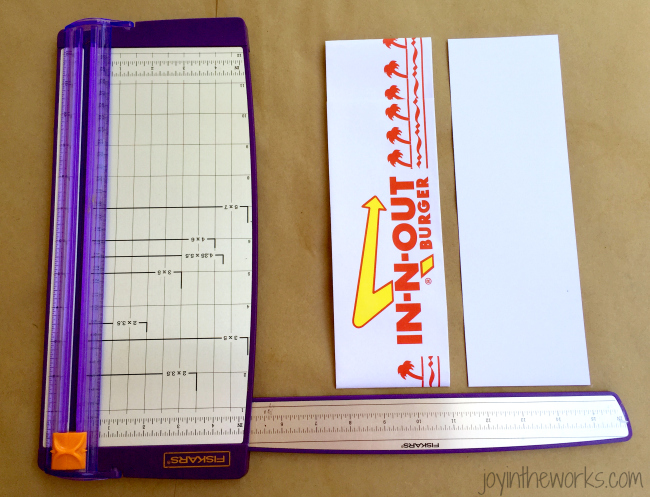 Step 4: Have your child decorate the pieces of paper for their ice cream hat.  My son decided to call himself an "ice cream maker" while he worked in the Ice Cream Shop.  He went with a simple design, but your child could decorate it in any way they wanted- with stickers, stamps, patterned tape or if you are feeling really bold, you could pull out the paint or glitter! =)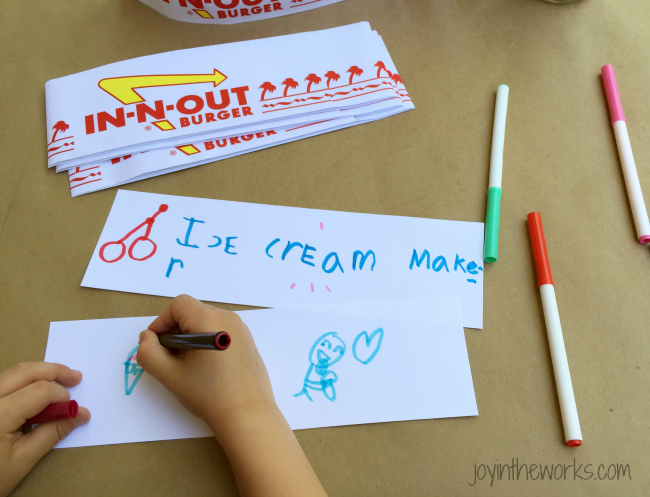 Step 5: Glue the decorated paper on both sides of the soda jerk hat and let dry.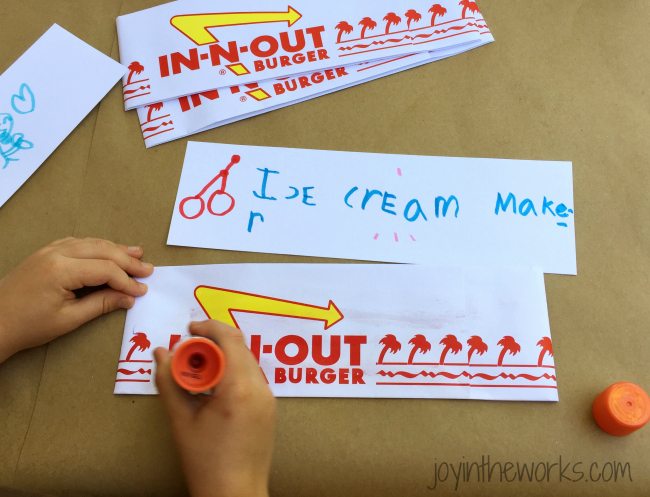 The finished Soda Jerk Hat: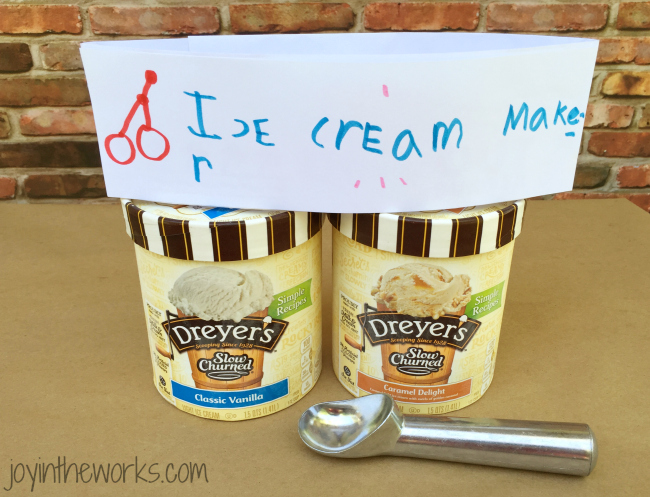 Now you are all ready to start serving ice cream in your Old Fashioned Ice Cream Shop: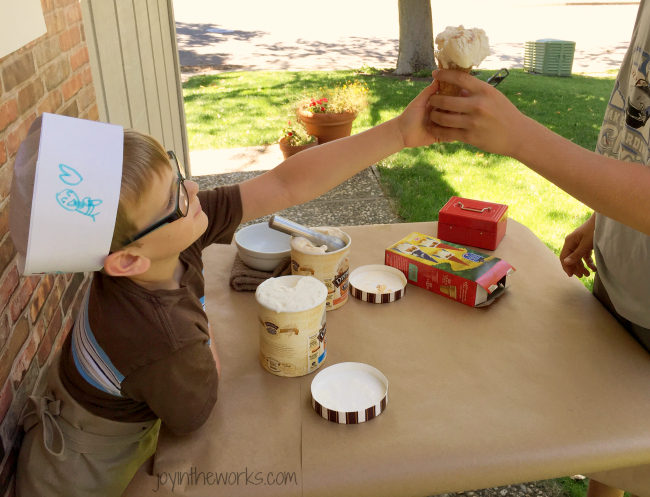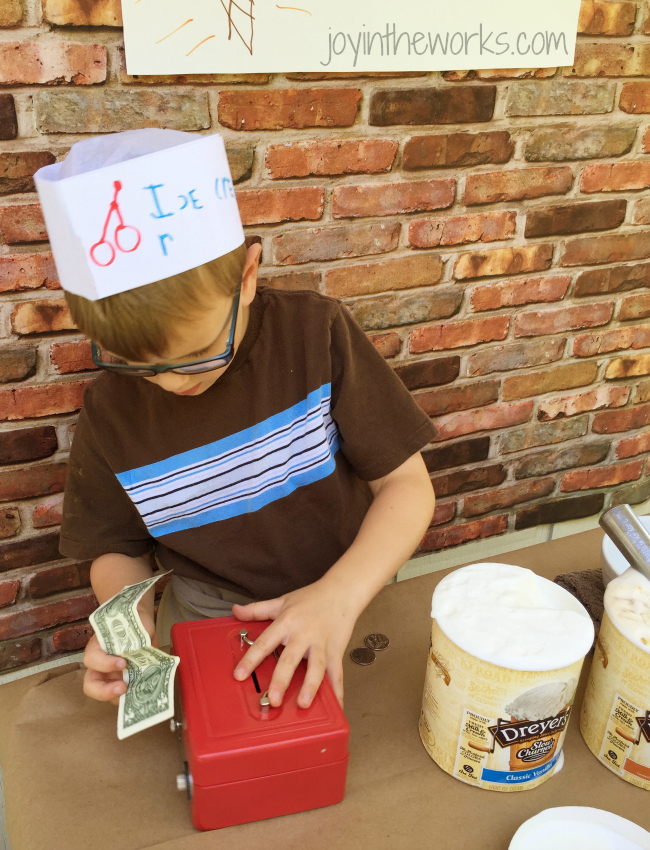 Want to learn more about DREYER'S SLOW CHURNED® Simple Recipes Ice Cream? You can find more information here. You can also follow DREYER'S on social media.  Check them out out on Facebook, Pinterest and Instagram.  Oh and I dare you not to cry with this sweet video! Last, there will be demos in the month of June!  Check out this link to see if there are any in your area.  We should never pass up an opportunity with ice cream! =) Happy Summer!