Am I the only one who has a hard time finding a gift for Father's Day or any holiday really where I have to get my Dad or husband a gift? I feel like it's the classic, "What to get the man who has everything" scenario. In our house, we have been working on giving gifts of experiences and "consumables" instead of more useless stuff and this Handy Man Gift Basket filled with "Manly" Snacks really seems to fit the bill.
This post may contain affiliate links. See our disclosure page for more information.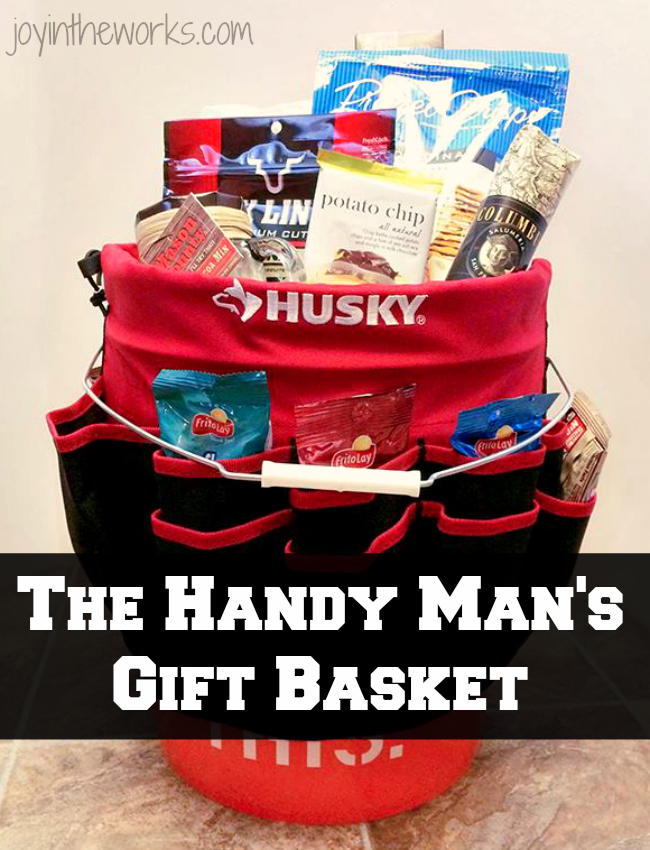 You know how much I love to create DIY gifts for different holidays, but one year I was even hired to create gifts and I could not have been more excited! Except when I had to come up with the actual gift. ;) I was hired to create a gift "basket" for a group of construction workers.  Thankfully I got a little help from the boss lady, who knew about the lifestyle and needs of her crew and we were able to create "The Handy Man's Gift Basket". This idea works well for any man who is handy or likes to work with his hands at all. Or even just the man who simply likes to putz around the house, not really doing anything at all. ;)
We started our Handy Man Gift Basket with an orange home depot bucket (which I was told no construction worker can never have enough of!) and then purchased this handy tool insert called a Bucket Jockey
. Upon researching, I found out there are a lot of different types of buckets and inserts (even a cooler!) and I have listed some below:


Next comes the best part, filling the "basket"! Instead of filling the bucket up with tools and things that a construction worker might already have, I decided to fill it with consumables: food!  Even better, I created a basket theme using "man snacks".  Here is a close up of what I came up with: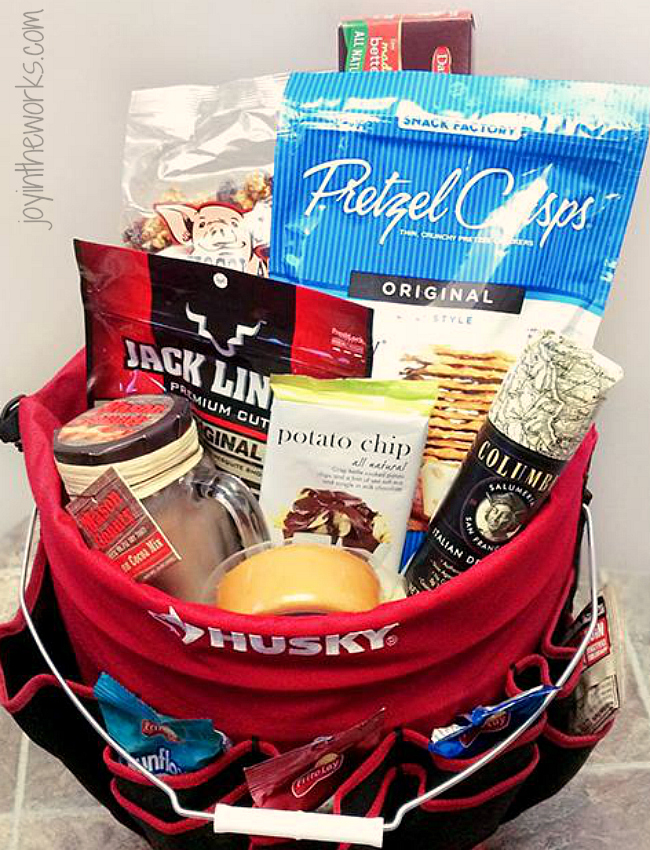 The Handy Man's Gift Basket
In order to fill the bucket and the bucket insert, I had to find food that was small enough to fit in some of the small outside tool pockets. I started by scouring the displays by the registers of Home Depot for snack sizes and I am happy to say that I hit paydirt! I found snack sized sunflower seeds, nuts, beef jerky, Clif bars, corn nuts etc.
Next, I went over to Cost Plus World market and found things that were also classic "guy food"- like bacon flavored popcorn and bacon flavored hot chocolate in a cool mason jar mug.  I also got things like salami, cheese and crackers and pretzels.  But I had to include to sweets like chocolate bars with potato chips!  You can't get anymore manly than that! ;)
I found a few snacks that will work for a similar "Man Snacks" theme on Amazon and shared them below:


So, if you are stuck and are still looking for a gift for that "manly man" who has everything, considering a Handy Man Gift Basket!  You can fill it with food like I did or you could fill in the pockets of the bucket caddy with things that are more tool related- duct tape, paint brushes or home improvement magazines or gift cards!
Regardless of what you fill it with, I have a little tip when filling your bucket and making it a gift. I took packing paper and stuffed it down in the bottom so that the bucket looked full and more like a gift basket.  I also considered tying it up with cellophane and then tying it closed with rope, duct tape or caution tape, but in the end I ran out of time, of course! ;)
The Handy Man's Gift Basket was a huge hit with the boss and the crew (it helped that the boss also put their bonus checks inside!) and it was such a great reminder that, something as simple as food can still be a big hit. Have you had the same experiences? Do you like to create gift baskets in creative containers? Please share your favorites below!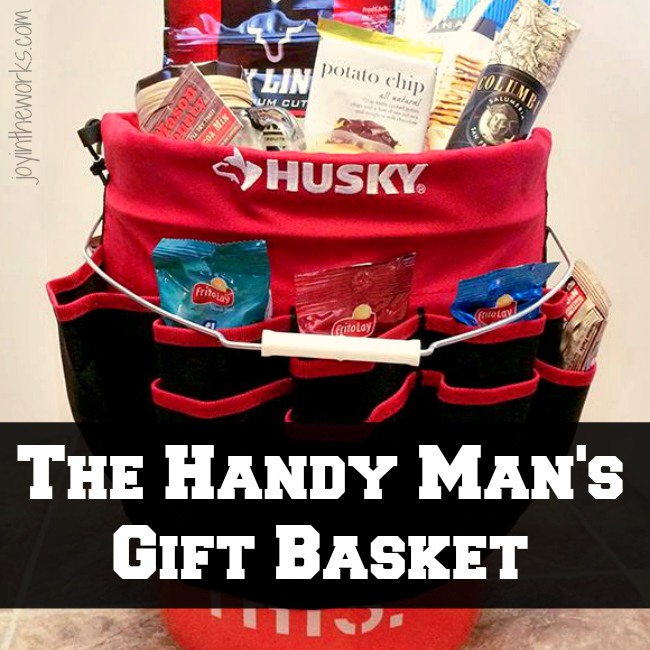 Save