I think Rice Krispie Treats may be one of my favorite cookies at any time of year, simply because of their ease. But add in a holiday shape and some festive sprinkles and then you have the perfect Valentine treat! Read on for more details on the Chocolate Drizzled Heart Rice Krispie Treat Pops.
This post may contain affiliate links. Want to know more? Read our disclosure policy.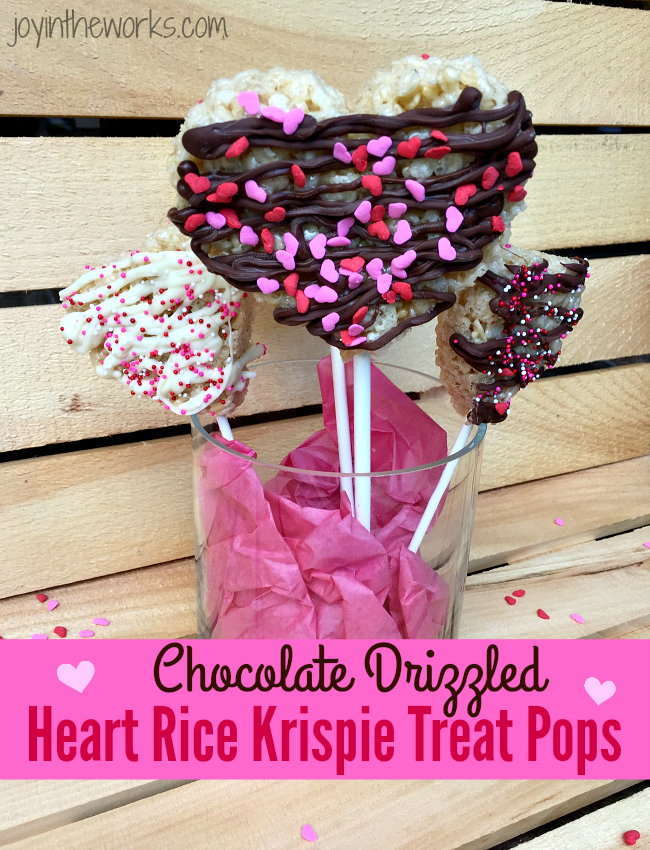 Heart Rice Krispie Treat Pops
Supplies Needed:
Rice Krispies
Marshmallows
Heart Cookie Cutters
Cooking Spray
Lollipop Sticks (There are a variety of lengths available. I personally think it is just about preference)
Valentine Sprinkles
Drizzling Chocolate (optional decorating option)
Cellophane Treat Bags (optional)
Heart Rice Krispie Treat Pops start with simple Rice Krispie Treats. Or Crispy Rice Treats, depending on the brand of cereal you use. =) You can find the recipe anywhere- even on the back of the box or the back of the marshmallows. The recipe will include many of the ingredients below (including butter which is not pictured!). Depending on what you want to drizzle and shake on afterwards, you will need to purchase those items as well.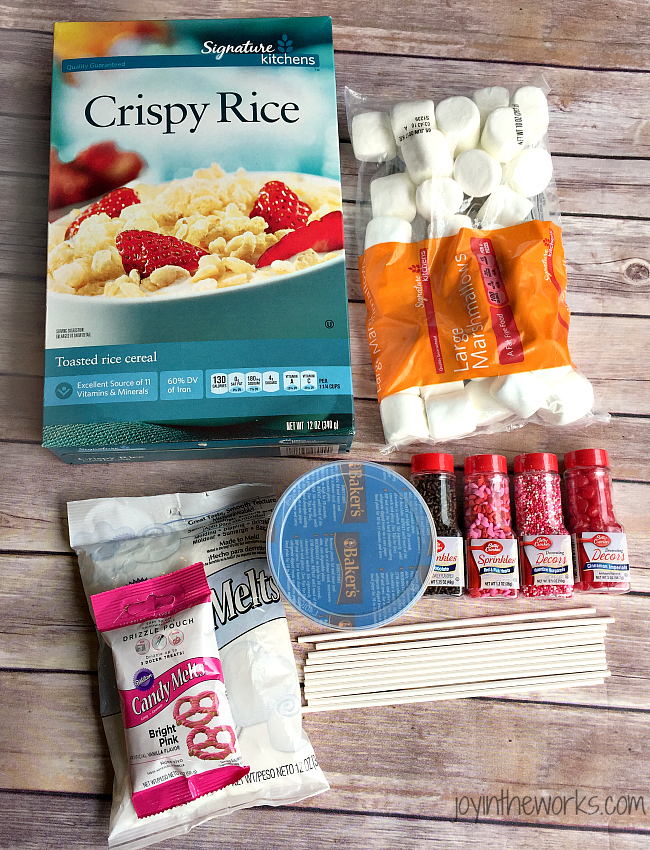 After you have made your pan of Rice Krispie Treats and they have cooled sufficiently, you will want to use a cookie cutter to cut out the desired shape (in this case, hearts for Valentine's Day!) To avoid sticking, I spray the cookie cutter with cooking spray between cuts. I also recommend metal cookie cutters because the sharp edges are crucial for successfully cutting out the heart shapes.
Next, you will want to eat clear away the edges and put the hearts on a separate plate.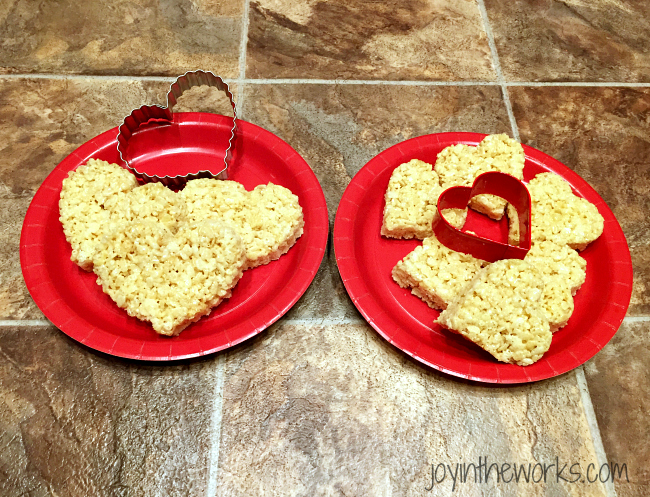 Carefully insert the lollipop/cookie sticks into the Heart Rice Krispie Treats.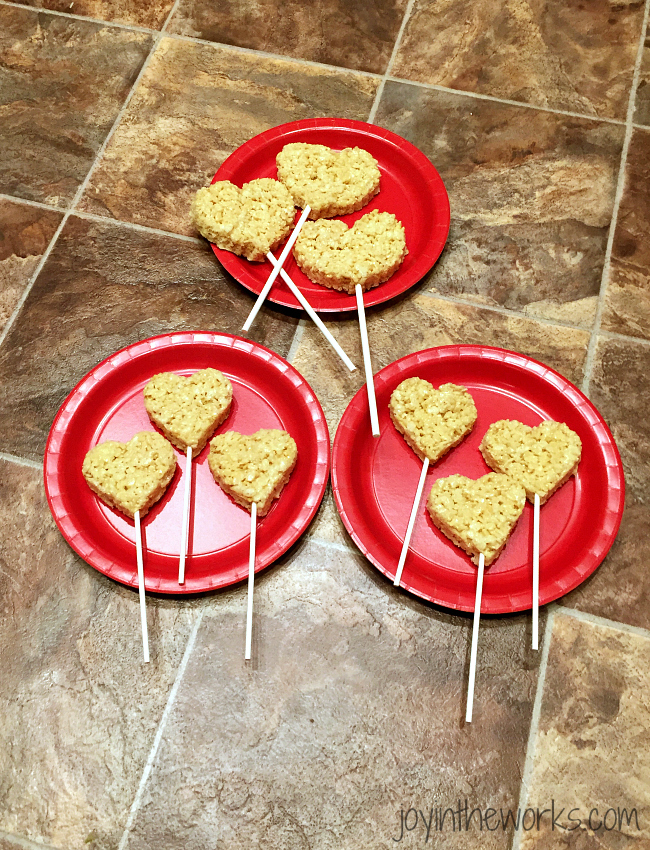 Next, I melted chocolate and drizzled it on the hearts. I love the Wilton Drizzle Pouches for their ease and options for colors and flavors. I opted not to dip the hearts completely as some people do because I thought that would make it much too rich for kids. I also opted to make some of the Heart Rice Krispie Pops smaller and some larger so that both kids and adults could enjoy the treats.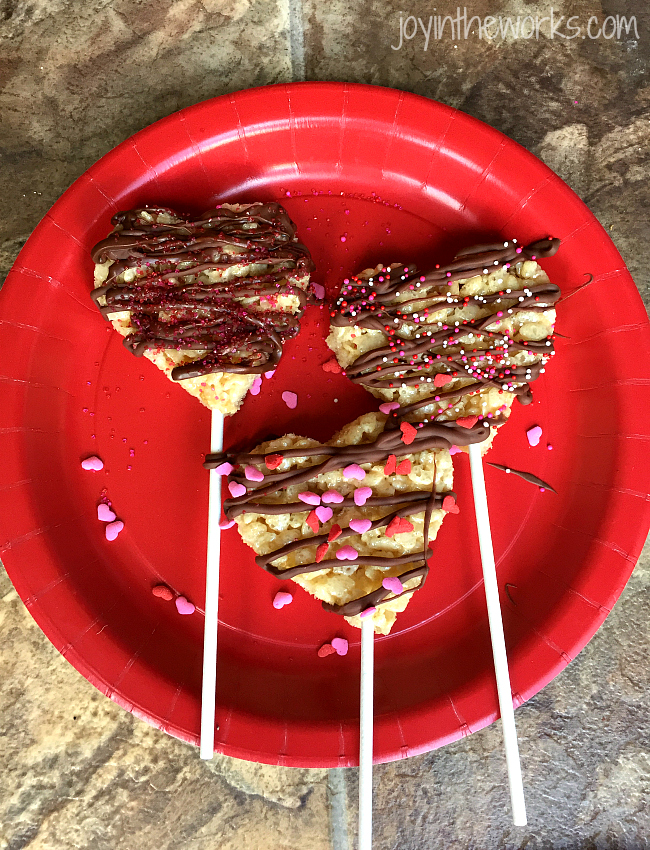 If you don't have the Wilton microwaveable drizzle pouches, you can also simply drizzle melted chocolate from a spoon. I used that method for the chocolate and white chocolate. I couldn't figure out how to photograph that step, however. It's a good thing I am not a food blogger as I have no clue how they coordinate so much at once!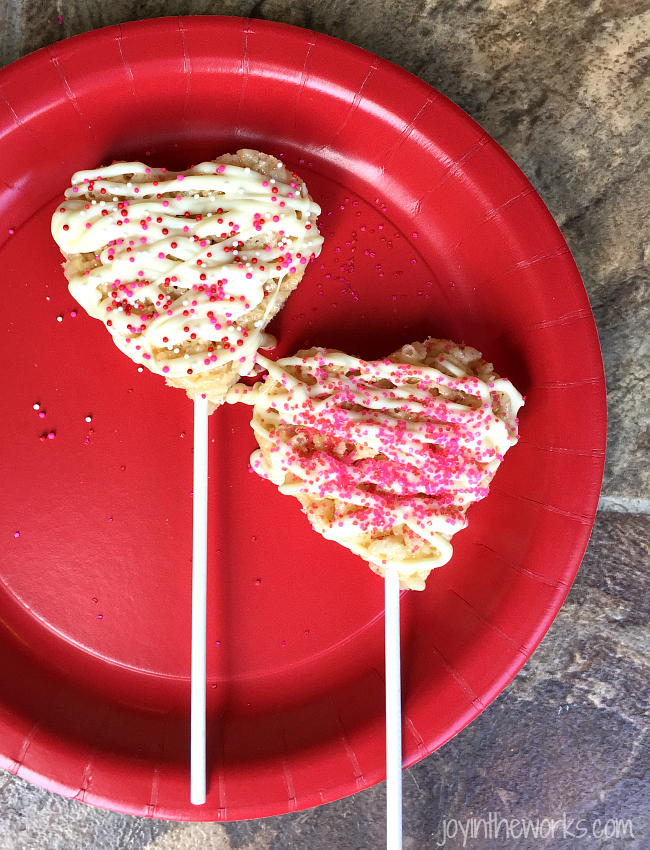 The last step was sprinkling on the…yup, you guessed it, sprinkles! Make sure you get them on while the chocolate it still wet so they will actually stick! Then let the Heart Rice Krispies dry on the plate.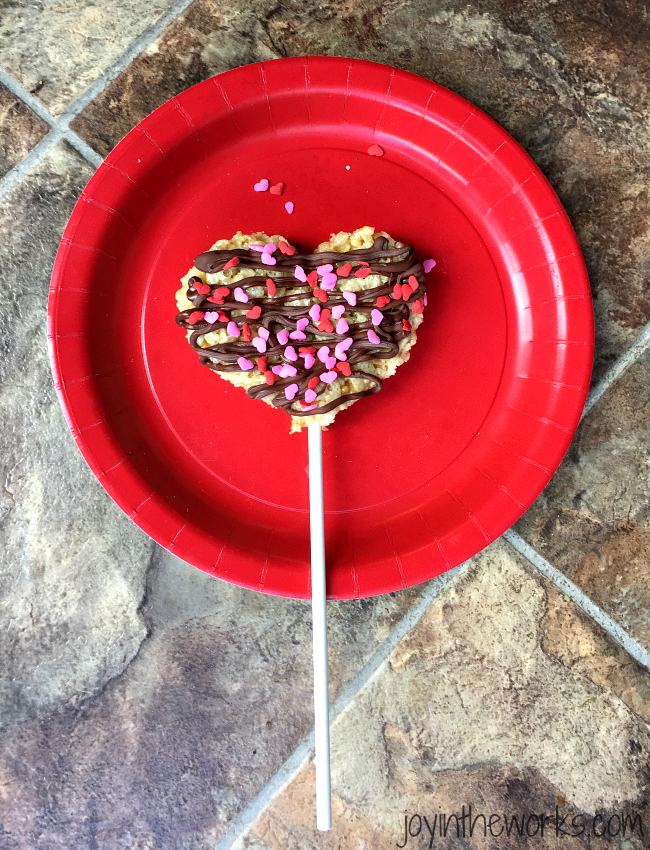 The last and best step? Eat and enjoy! Your Heart Rice Krispie Pops will taste great the day you make them. But if you want to save them for a few days, be sure to seal them up. I am not sure how long or under what conditions they will turn stale, simply because my family ate them too fast! =)
I also think Chocolate Drizzled Heart Rice Krispie Pops make a great Valentine gift as well. A neighbor, teacher or friend would be sure to feel loved if they received one of these treats on Valentine's Day! Simply add a cellophane bag and a ribbon!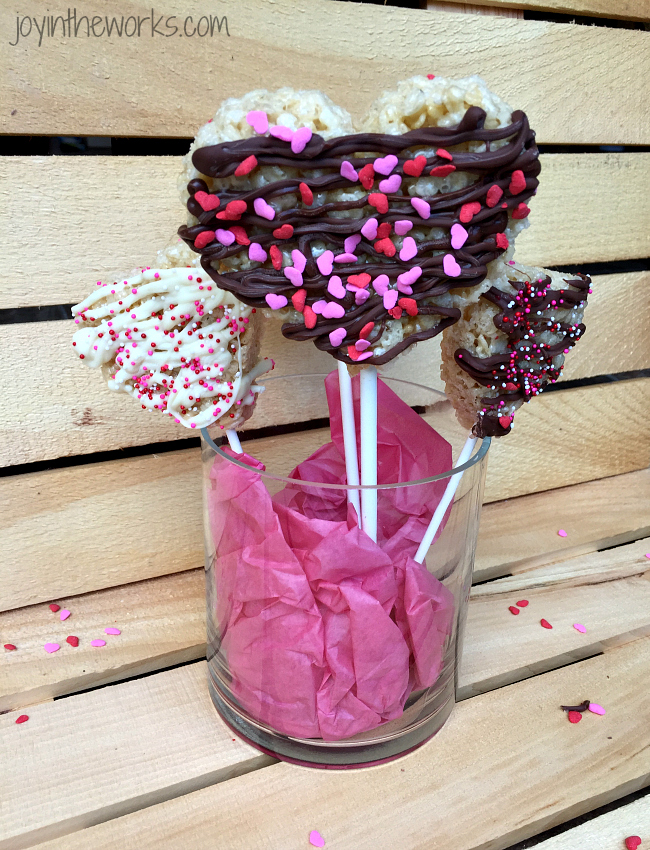 Looking for other Chocolate Dipped Valentine treats? Check out these Valentine Oreo Pops using Chocolate Strawberry Flavored Oreos and these easy Chocolate Covered Heart Marshmallow Pops!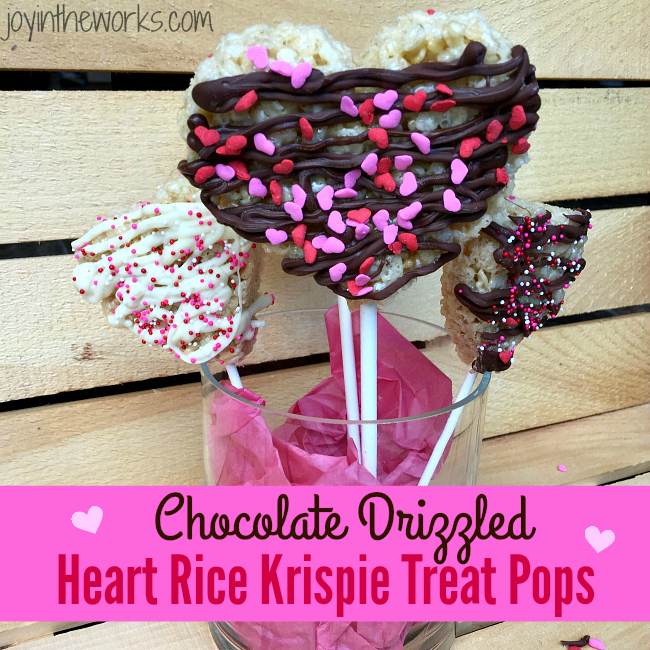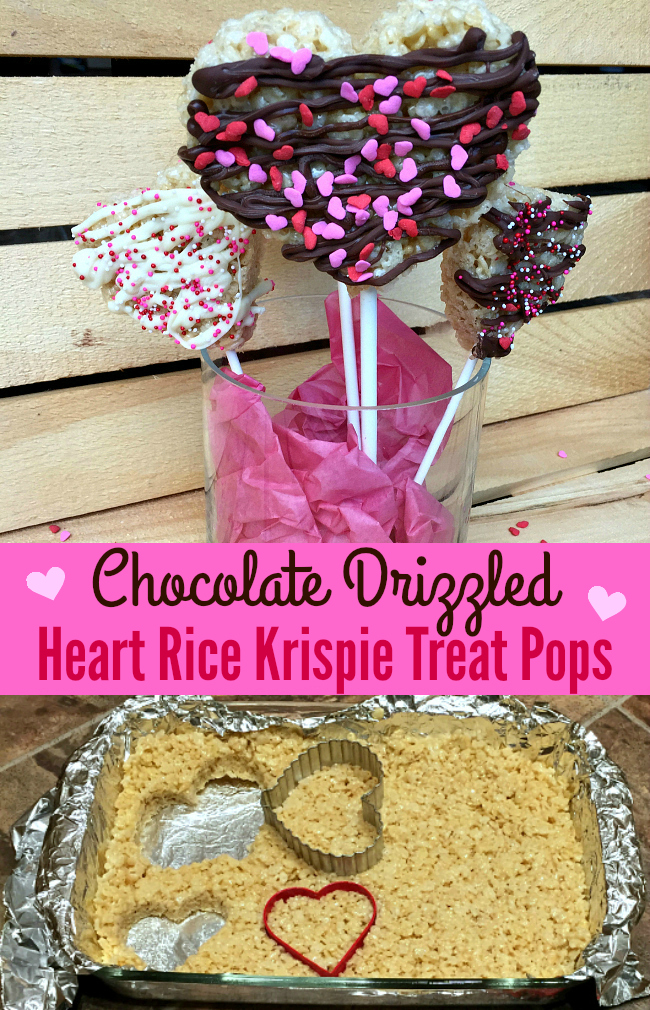 Save
Save
Save