You know by now how much I love to have a little holiday fun and St. Patrick's Day is no exception! When I was teaching, we would use Lucky Charms cereal to do some sorting and graphing activities in the classroom, so I decided to do something similar at home and use Lucky Charms to make Lucky Charms Catapults for some St. Patrick's Day fun! I even took it a step further this time and I added "pot of gold" targets with different point values to engage kids of all ages!
This post may contain affiliate links. You can find out more by reading our disclosure policy.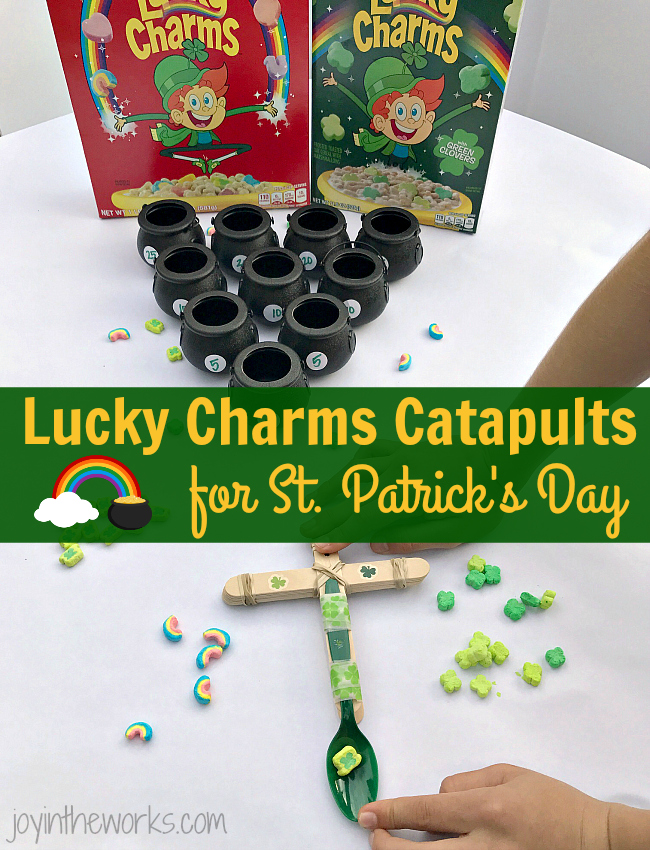 If you have been a reader of Joy in the Works for any length of time, you know that my kids and I love making catapults. We made a Christmas Catapult and launched gum drops and marshmallows (and it was recently featured on the popular website, Red Tricycle) and we also launched conversation hearts with a Conversation Heart Catapult for some Valentine's Day fun.
Well, now my boys are hooked! Any chance I give them to launch candy or sweets, they are definitely in! And for St. Patrick's Day, we added a new element to this STEM activity with our pot of gold targets. Because I have 3 boys with a large age gap (Currently 13, 7 and 3) I need to make sure my activities have a variety of levels of ability and engagement. While my littlest one was just learning how to launch the Lucky Charms cereal, my teenager actually enjoyed trying to get the marshmallows into the pots of gold with the highest point values. This activity can definitely be differentiated to various age groups which is another reason I think this activity is a winner.
Lucky Charms Catapults for St. Patrick's Day
Supplies:
Lucky Charms Cereal
Catapults (Jumbo Craft Sticks, Rubber Bands, Plastic Spoons Any color spoon works!)
Shamrock Washi Tape (Optional for decorating your catapult)
Shamrock Stickers (Optional for decorating your catapult)
Pots of Gold/Black Cauldrons (Optional for catching the marshmallow shapes)
As always, I start my catapult building by reviewing the instructions by Devin Collier in his blog post entitled How to make a marshmallow catapult. The images and steps are laid out so clearly that even a non-spatial mom like me can follow them! ;) Also, as a reminder, you do NOT have to make a fancy, themed catapult for each holiday! I only do the extra details because it's fun for the kids to decorate and because I will take any opportunity I can to get a little crafty! So, please feel free to just make the basic catapult outlined on Devin Collier's site. If you want to do a little more, then check out my Conversation Heart Catapult where I give more descriptions about how I "fancy up" my catapults for each holiday.
But for the Lucky Charms Catapults for St. Patrick's Day, you will need to get started with your finished catapult, your Lucky Charms cereal and your pots.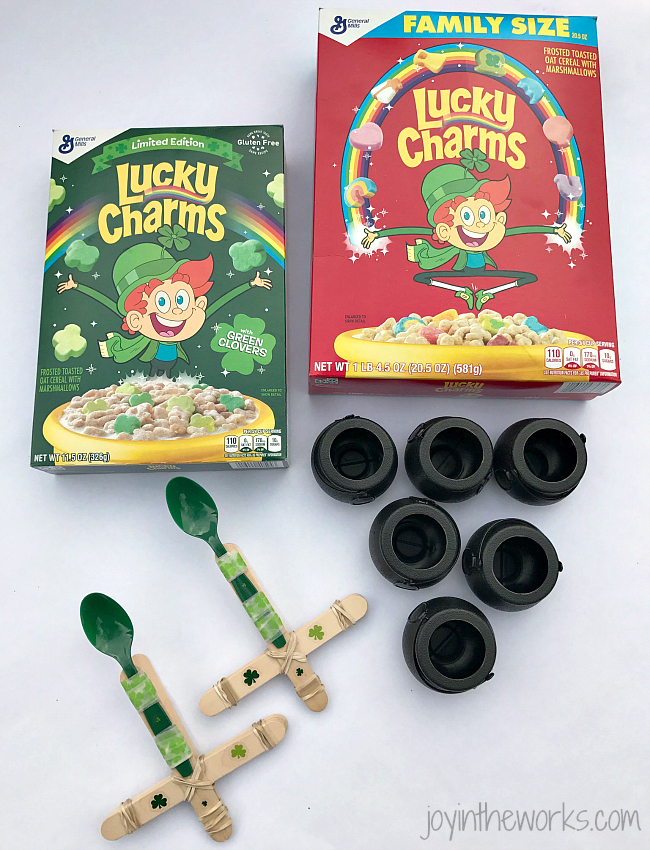 Here is a close-up version of the finished St. Patrick's Day catapult:
The next thing you need to do before you begin launching marshmallows is set up your targets. Again, you don't have to do this part, but it added an extra level of fun for my kids. We used black cauldrons leftover from Halloween that doubled as pots of gold for St. Patrick's Day.  We lined them up in a simple triangle shape and then added white round stickers with point values. Adding a competitive piece like this will get my teenager interested every. single. time.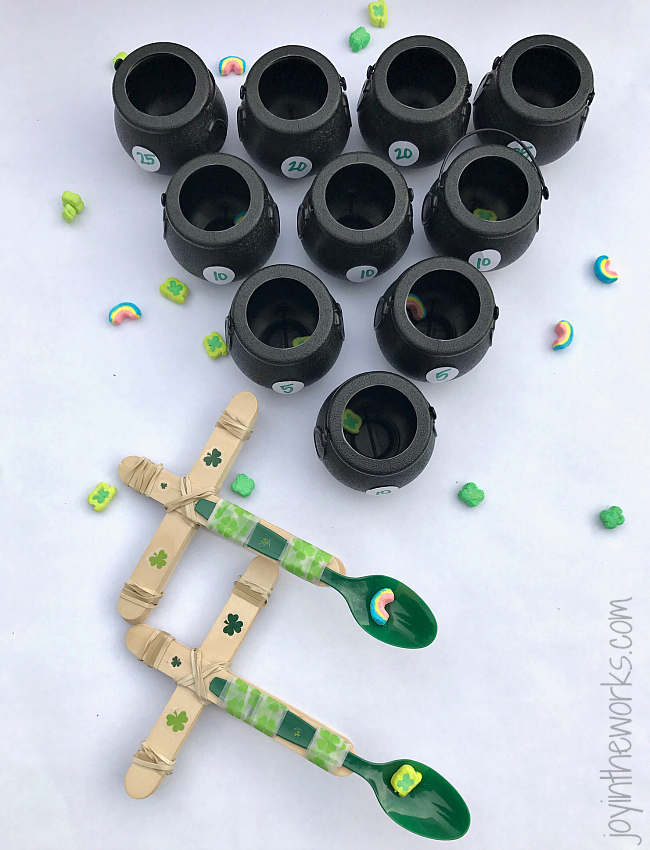 Another important step before you let the kids go nuts is to divide up the marshmallows out of the Lucky Charms cereal box. It just makes it easier if each child gets assigned a marshmallow shape (or two) ahead of time so they can keep track of where their launched item lands. I think we all remember the jingle from when we were kids, so feel free to teach your kids about "pink hearts, yellow moons, orange stars, green clovers" etc. while they sort. Of course, if your kids are like mine, it will be a one for the pile, one for my mouth kind of scenario, but they will still get the job done!
After everything was sorted, it was launch time! At first, there was waiting and taking turns, but as with most things, it just became a free for all in the end! I am still finding green clovers in the grass several days later…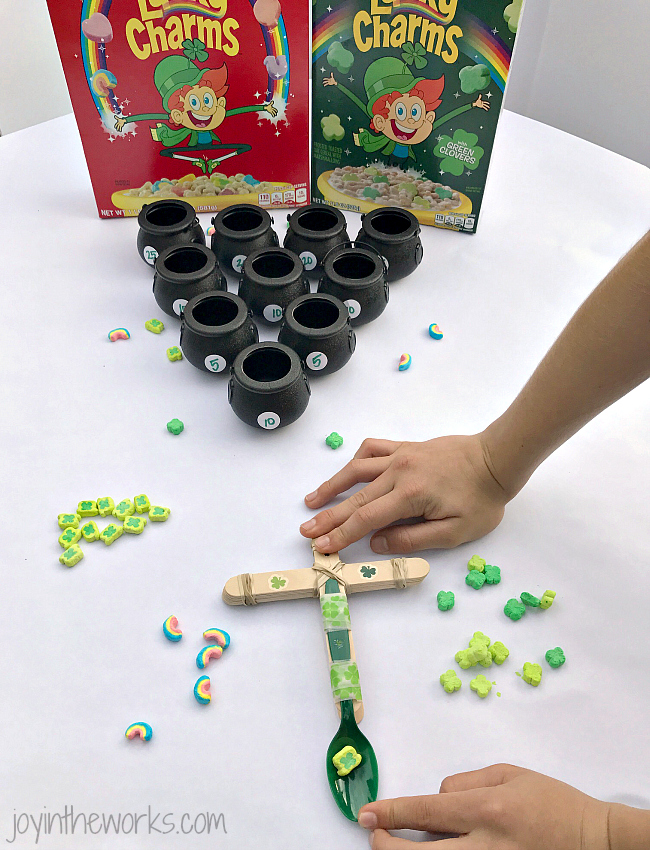 After it was all said and done, I did put on my teacher hat and made the kids count the marshmallows that made it into the pots (the 3 year old) and then add up the point totals (the 7 year old), for an extra educational piece. Of course, their mouths were full of sugary sweet marshmallow shapes, so they didn't complain all that much! ;)
This Lucky Charms Catapult ended up being a great family fun activity for my kids with a wide variety of age ranges and with an educational twist (They don't even know what STEM means, but it definitely fits the bill!) it made me happy as well. Hope you enjoy it as well!
Any questions or experiences with this activity? Simply comment below!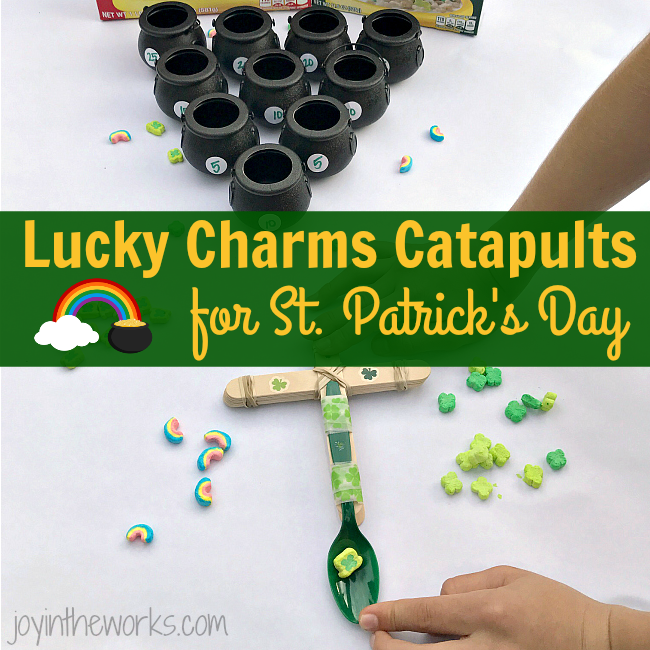 Save