Is there any better combination than chocolate and strawberries?! Not in my book- especially on Valentine's Day! If you like those flavors together as much as I do (and like things to be minimal effort!), then these Valentine Oreo Pops that are chocolate dipped Chocolate Strawberry Oreos are the perfect treat for you to make on Valentine's Day!
This post may contain affiliate links. See our disclosure policy for more information.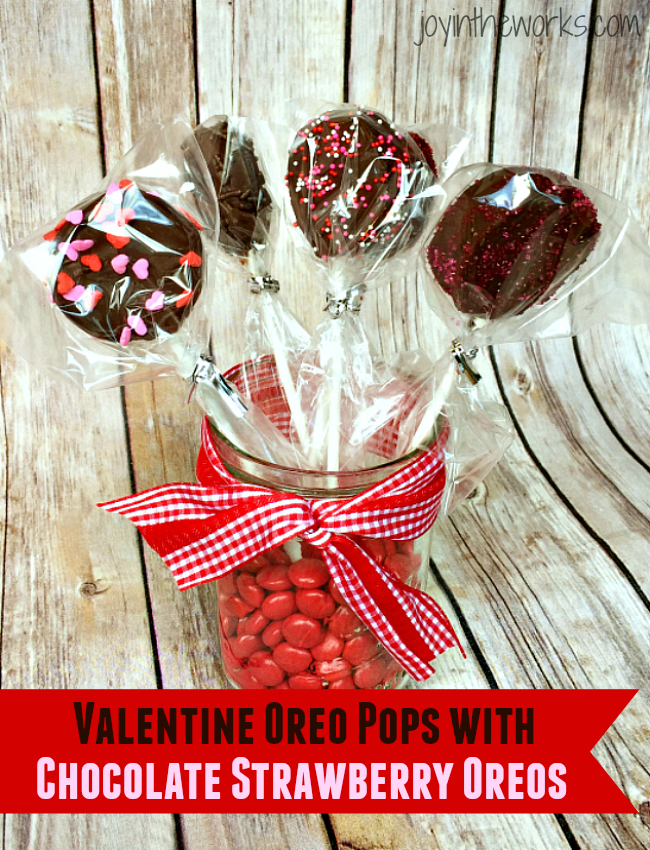 Valentine Oreo Pops with Chocolate Strawberry Oreos
Supplies Needed:
Chocolate Strawberry Oreos
Dipping Chocolate (I used Bakers Dipping Chocolate, but any kind of melted chocolate will work)
Lollipop Sticks (There are a variety of lengths available. I personally think it is just about preference)
Valentine Sprinkles
Drizzling Chocolate (optional decorating option)
Cellophane Treat Bags (optional)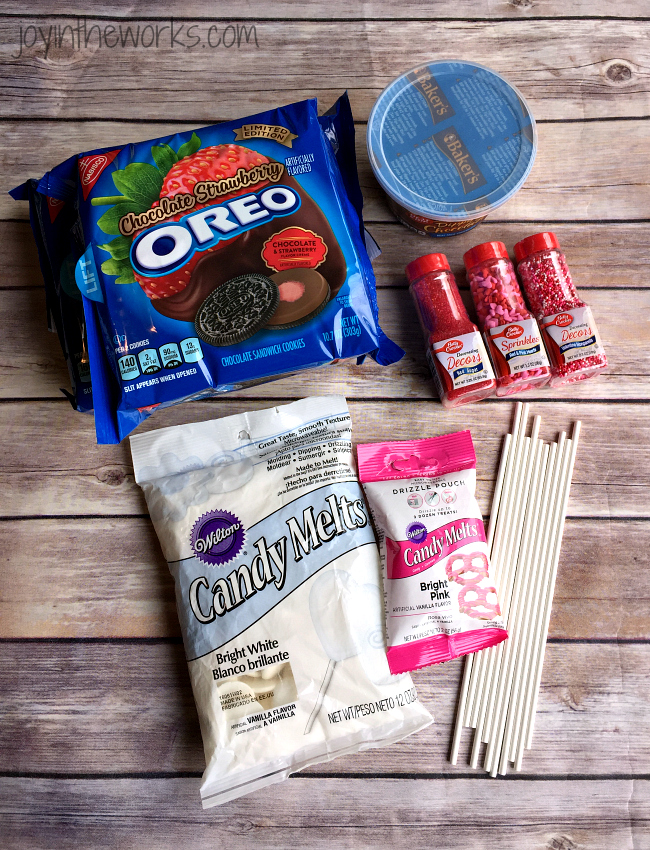 Step 1: Insert sticks into Oreos.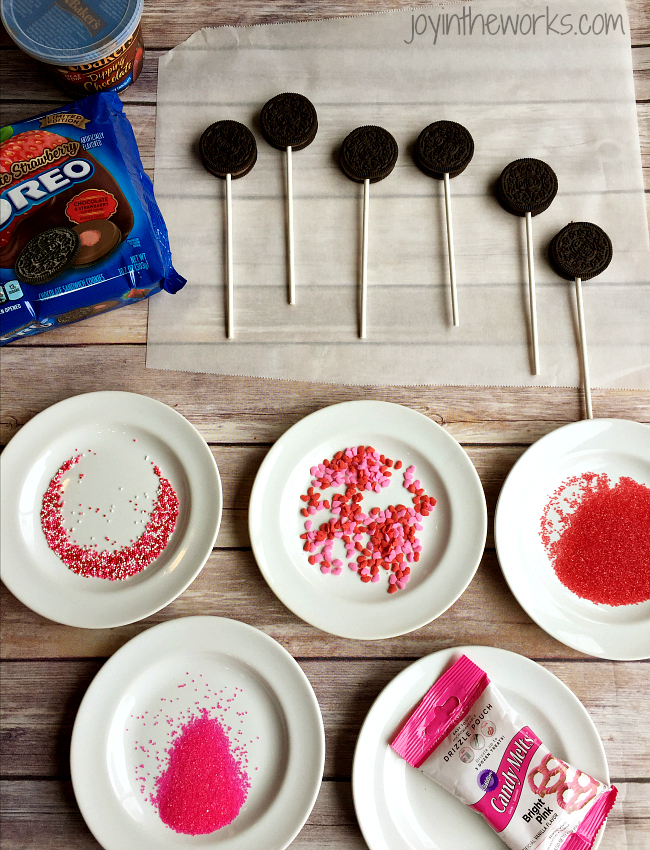 Step 2: Melt chocolate.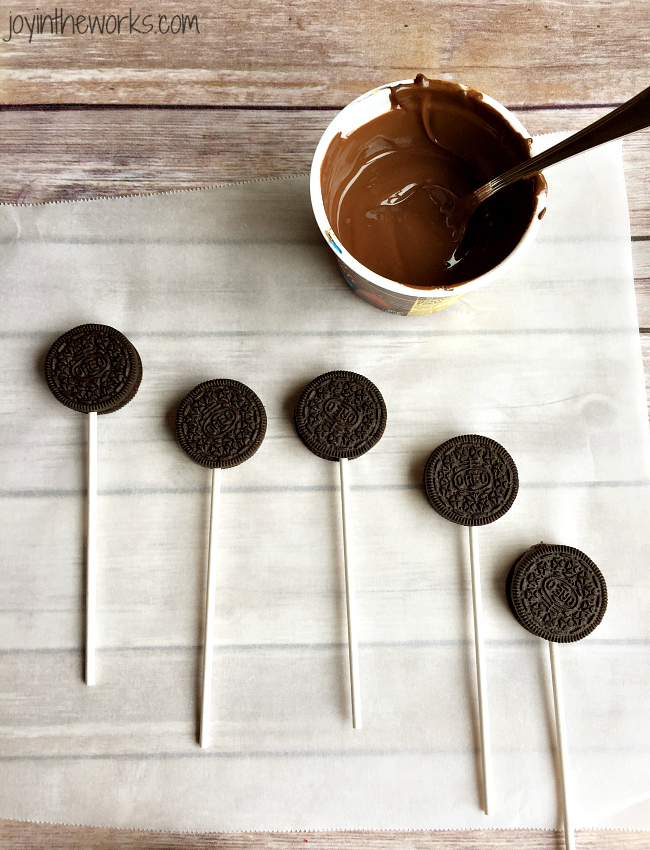 Step 3: Dip Oreos into chocolate. If you have problems with the Oreos falling off the sticks, just grab a table knife and spread the chocolate on the Oreo, like frosting. I only experienced that issue when the consistency of the chocolate wasn't quite right.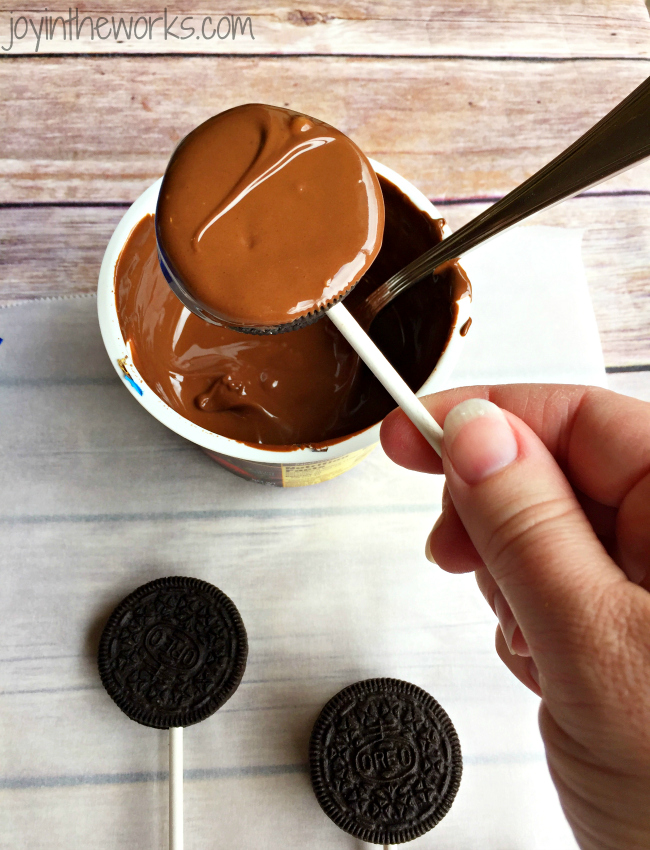 Step 4: Start by rotating the stick so that you don't have any drips. Next, while the chocolate is still wet, sprinkle hearts (or other sprinkles!) on your Valentine Oreo Pop.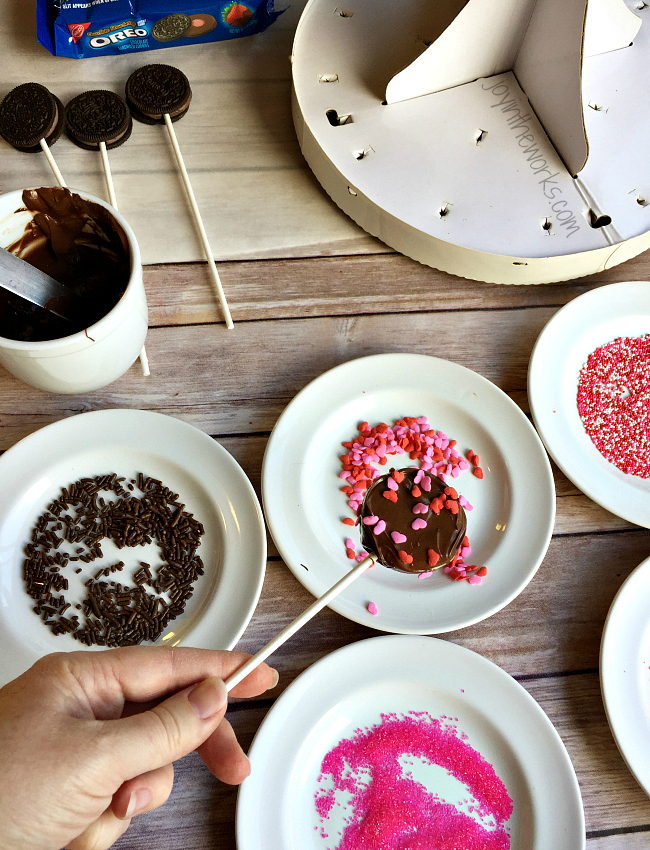 Step 5: Insert Oreo Pop into cake pop stand (or just punch holes in a shoe box or lean in a tall glass), watching for drips. Drips shouldn't be a problem if the melted chocolate is thick enough.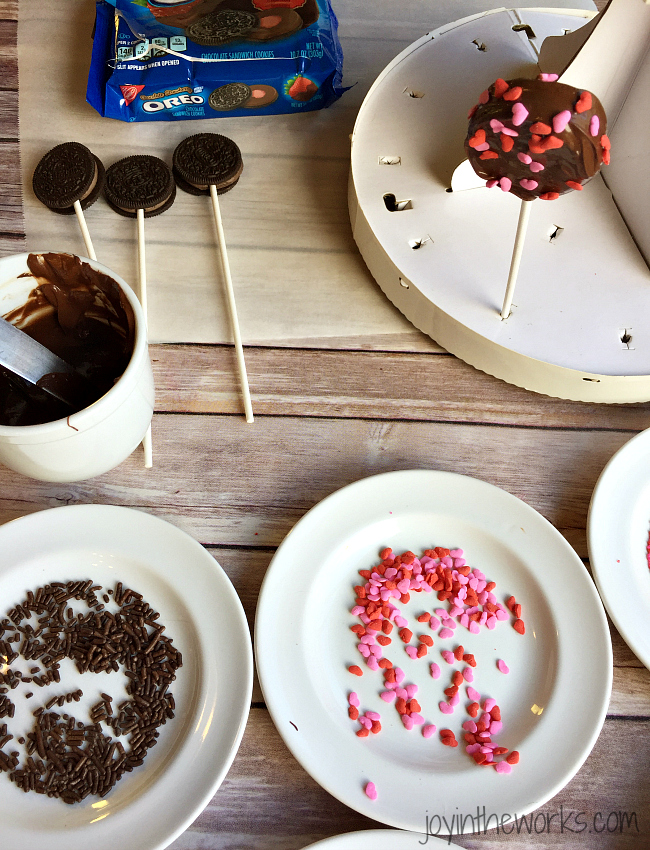 Step 6: Repeat steps 1-5, alternating sprinkle types.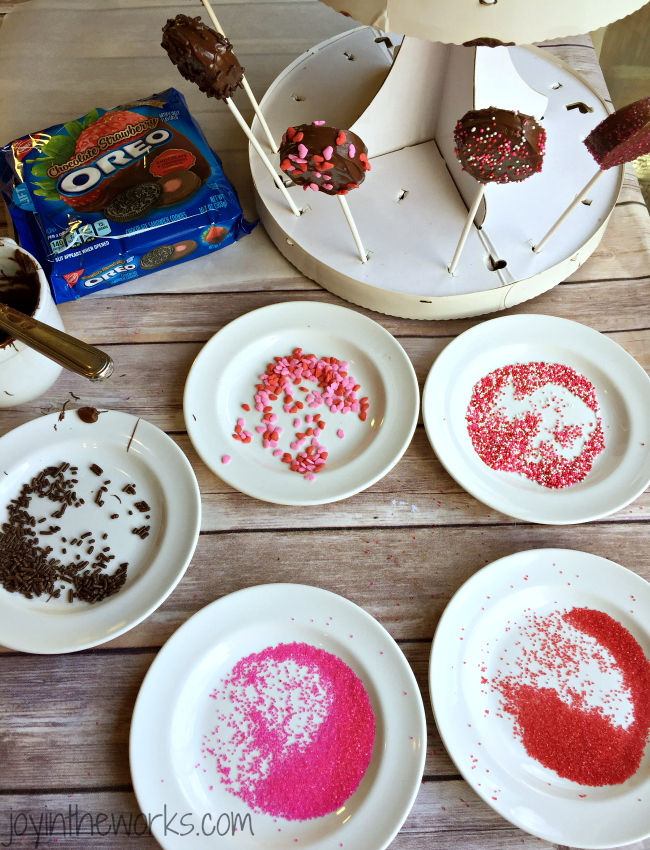 Step 7: Wrap Valentine Oreo Pops in cellophane treat bags if desired. Add a ribbon for an extra festive touch if you are giving them as a gifts.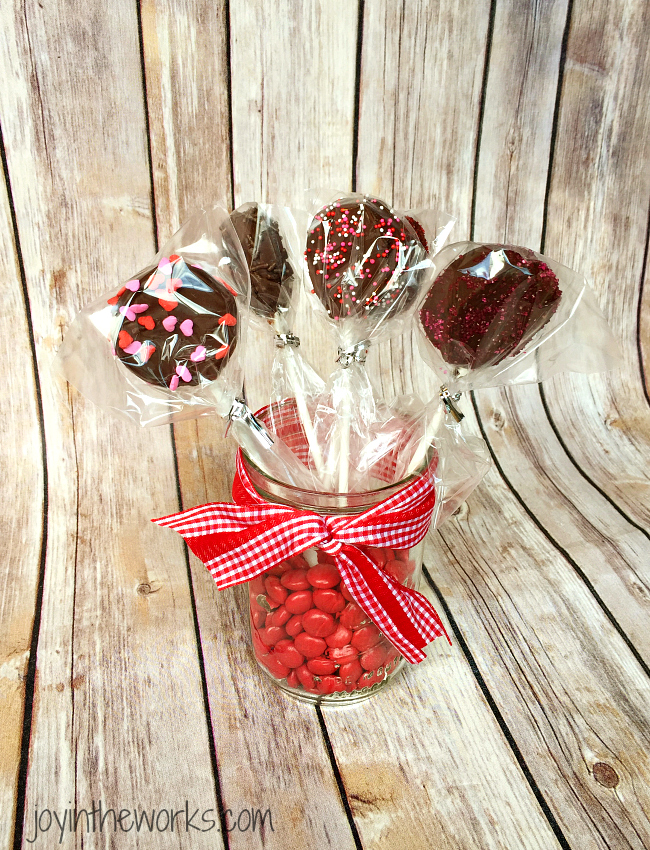 What do you think? I just love how they came out! Of course, I love most everything Valentine's Day and think anything dipped in chocolate and covered with pink and red hearts is a win! Happy Valentine's Day- enjoy the treats!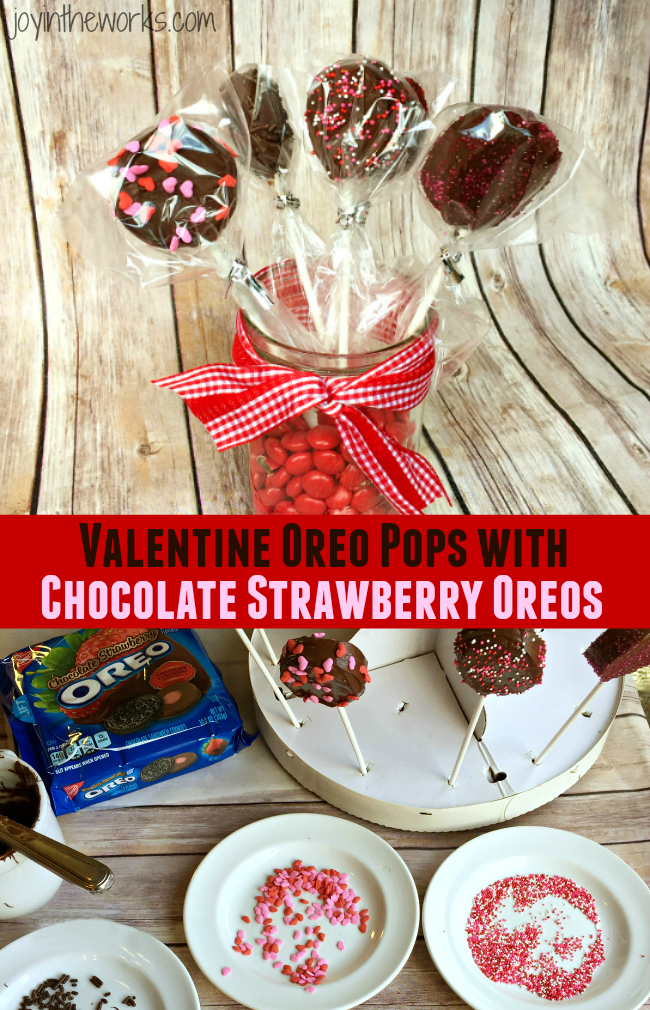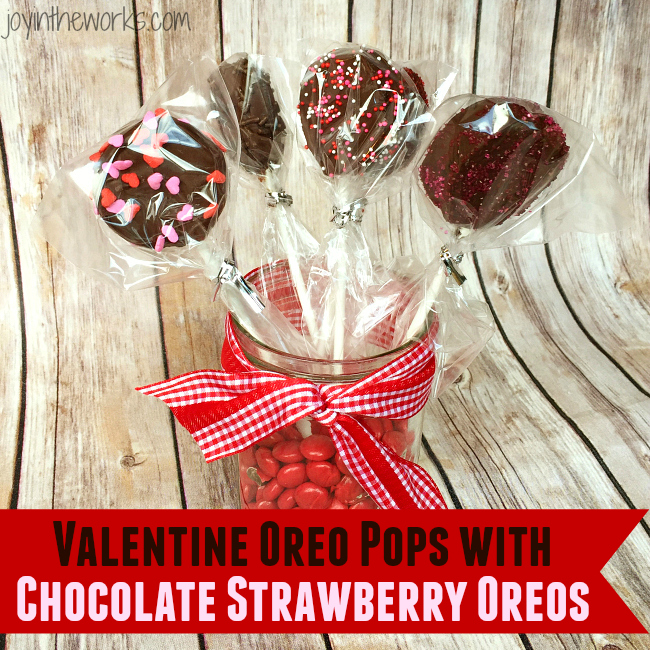 Looking for more Chocolate dipped Valentine's treats? I went on a chocolate dipping frenzy- check it out: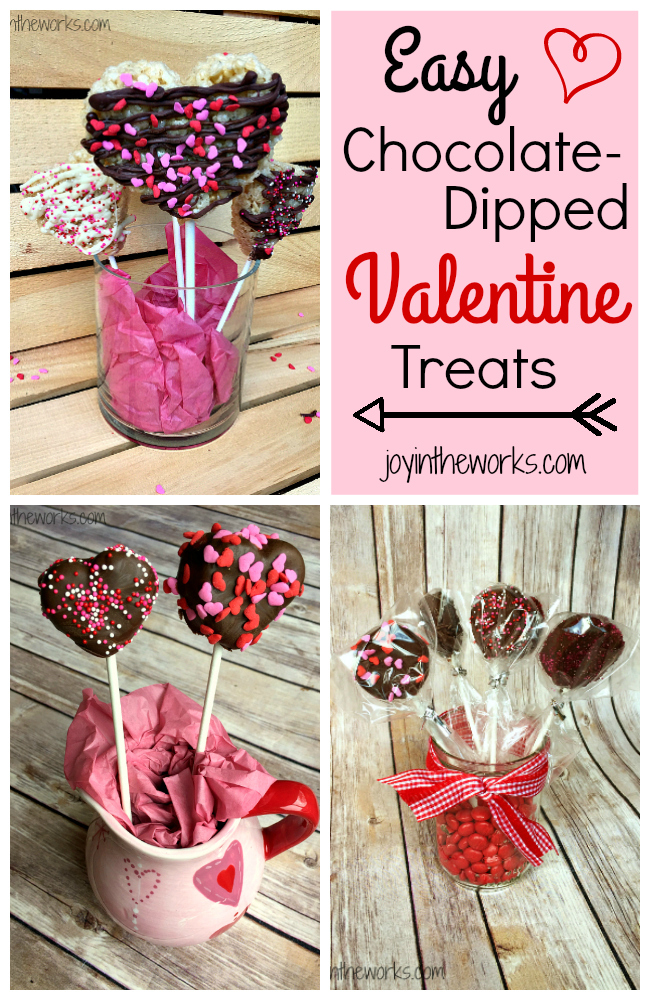 Save
Save
Save
Save