I think we all know that St. Patrick's Day can get a little silly, especially for those who celebrate with Leprechaun traps and replicate those mischievous Leprechaun's antics (Green toilet water anyone?!) when they escape. While we don't do that at our house, we do have fun activities like a scavenger hunt for a pot of gold and lots of different games using chocolate gold coins. One silly thing we did come up, however, was creating a Leprechaun Mr. Potato Head! What better way to celebrate an Irish holiday than with an activity based on a potato, the food they are famous for?! I only wished it was like the original Mr. Potato Head where you actually played with a real potato!
This post may contain affiliate links. You can read more on the disclosure page.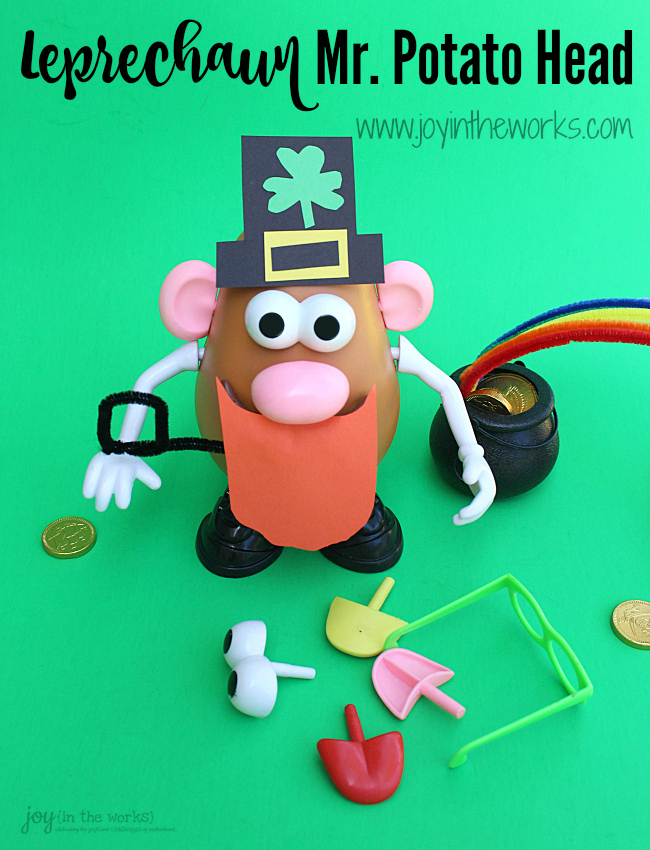 Leprechaun Mr. Potato Head
Supplies Needed:
Construction Paper
Pipe Cleaners
Glue
Scissors
Tape
Pencil
While I think this might be the easiest activity I have ever shared on the blog, I couldn't help myself because it was just so fun! Depending on the age of your child, they can help you build your Leprechaun Mr. Potato Head or you can do the crafting and they can do the the playing. In our house, one of my older kids helped me design and make the Leprechaun, while the toddler got to play with it.
The first thing we did was gather our supplies and start designing our Leprechaun. We used a pencil to draw a black hat on construction paper and cut it out. We added a yellow buckle and then drew 3 hearts together and a stem to make a shamrock on green paper. We glued all of the pieces of that hat together and taped the hat to Mr. Potato Head's head.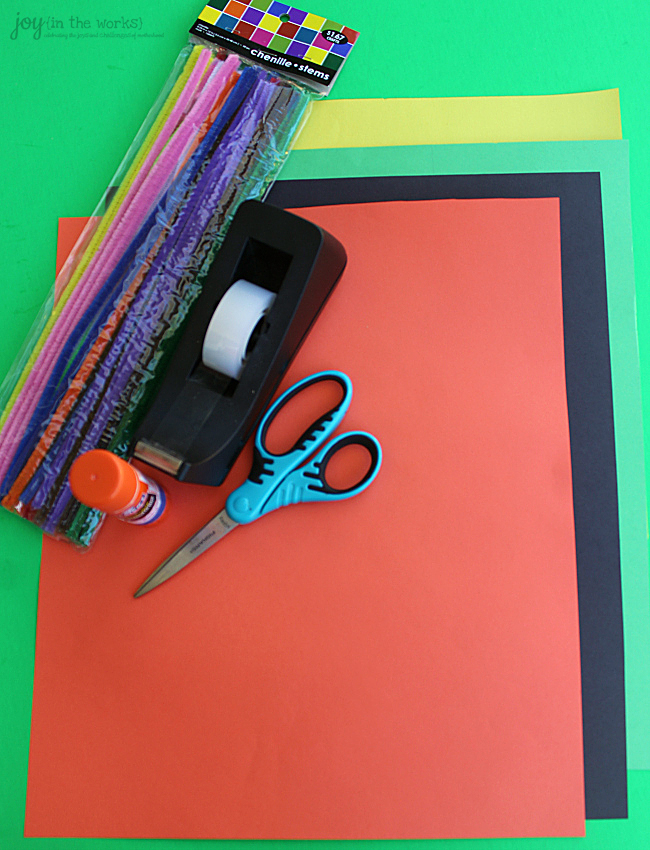 The only part that took a little bit of planning was the Leprechaun's beard. We started with a Mr. Potato Head mustache and traced the outline for the top of our beard onto orange construction paper. They needed to match up to make it work. We traced the top of the toy mustache for the top of the orange paper beard, but simply hand drew the bottom of the beard. Next, we cut out the beard and taped it directly onto the mustache.
Next, we took our pipe cleaners and created a black pipe (If only they still made that accessory for him!) and stuck it into the mouth hole. We then began assembling our Leprechaun Mr. Potato Head. The pipe went in first (use tape if you need to) and next the beard (with hidden mustache) and the nose go in together to hold them in place. Next, have your child add other body parts- from eyes to ears to feet!
Feel free to get silly here and add whatever pieces your child wants, wherever they want! The goal is fun here, not perfection or copying the one you found on Pinterest!! My kids' enjoyed creating their Leprechaun Mr. Potato Head and then playing with him afterwards. There were no "rules" as to what he had to look like (after I got my pictures for this post, of course! =)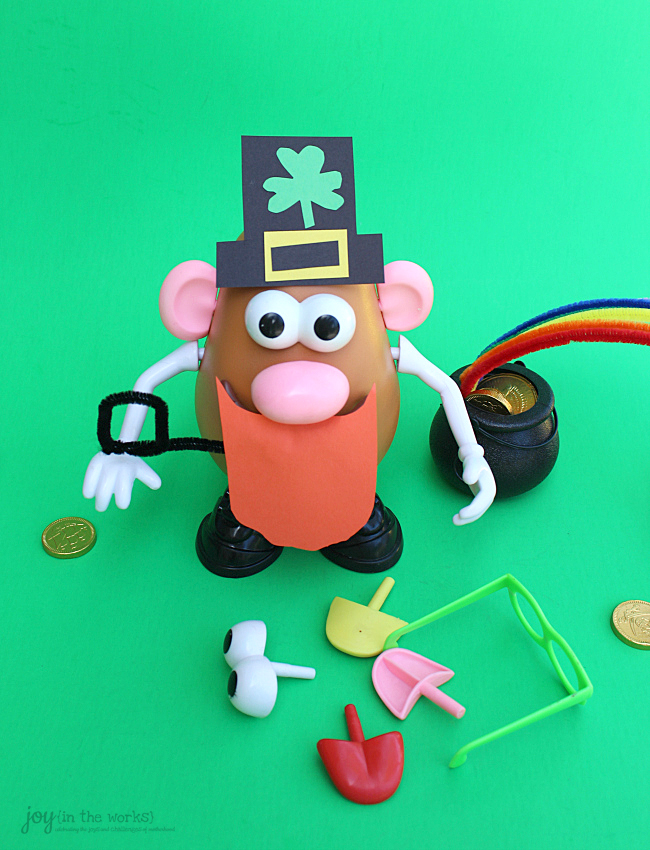 The last step is optional, but my kids really enjoyed creating and playing with the Leprechaun accessories as well. So, not only did we use our mini black cauldrons and gold coins to create a pot of gold, but they loved making a rainbow out of pipe cleaners as well.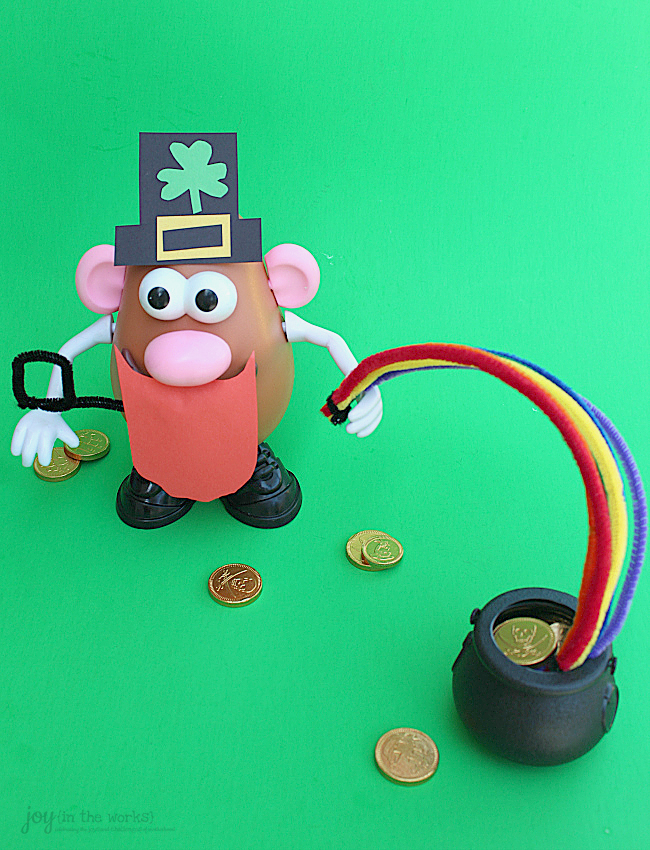 While this is an extremely simple imaginary play activity, I wanted to share it anyway, because it seems a lot easier and more appealing than making a mess of flour in the kitchen and leaving little Leprechaun footprints all over the place. =) Those of you who do that for the kids- you rock! Either way, here's to making the days more fun!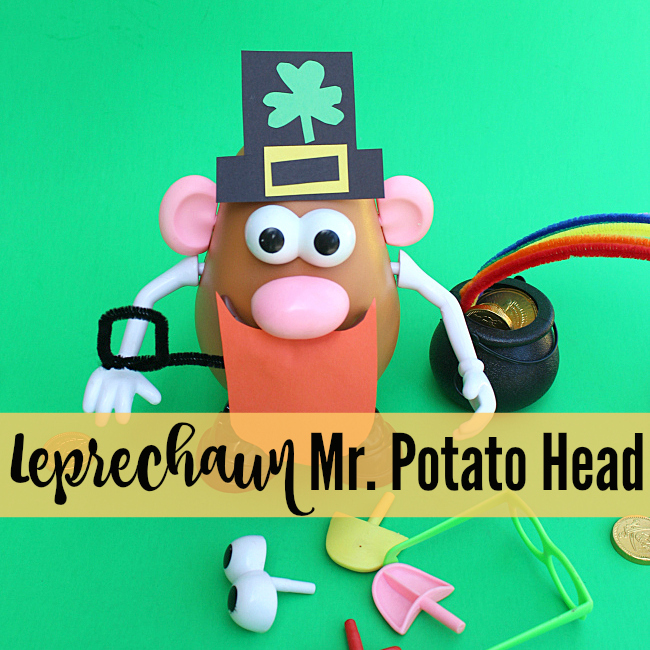 Save
Save