We all know how tricky Leprechauns can be creating hi jinks around the house, leaving little green footprints and a mess behind. The kids make these fantastic Leprechaun traps but never seem to catch anything. ;) Thankfully, it doesn't matter because it's the pot of gold everybody really wants and now we have a St. Patrick's Day Scavenger Hunt that will help us find it!
This post may contain affiliate links. Please see our disclosure page for more information on our policies.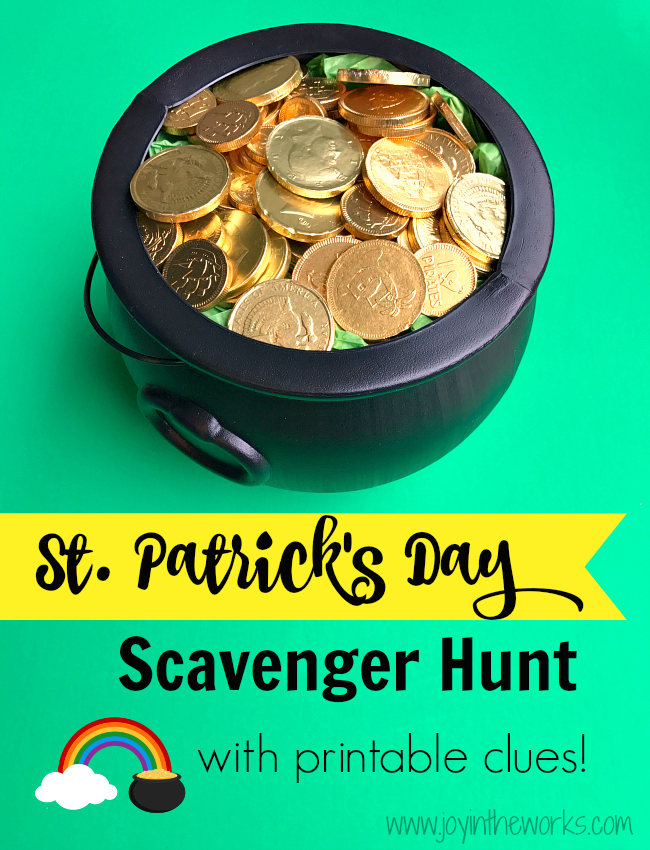 St. Patrick's Day Scavenger Hunt
We had lots of fun creating this scavenger hunt complete with story line about Lucky the Leprechaun. In our story, Lucky was a very forgetful Leprechaun, so he had to leave himself notes to find his way back to where he hid his pot of gold. Thankfully, we intervened and got to the notes first!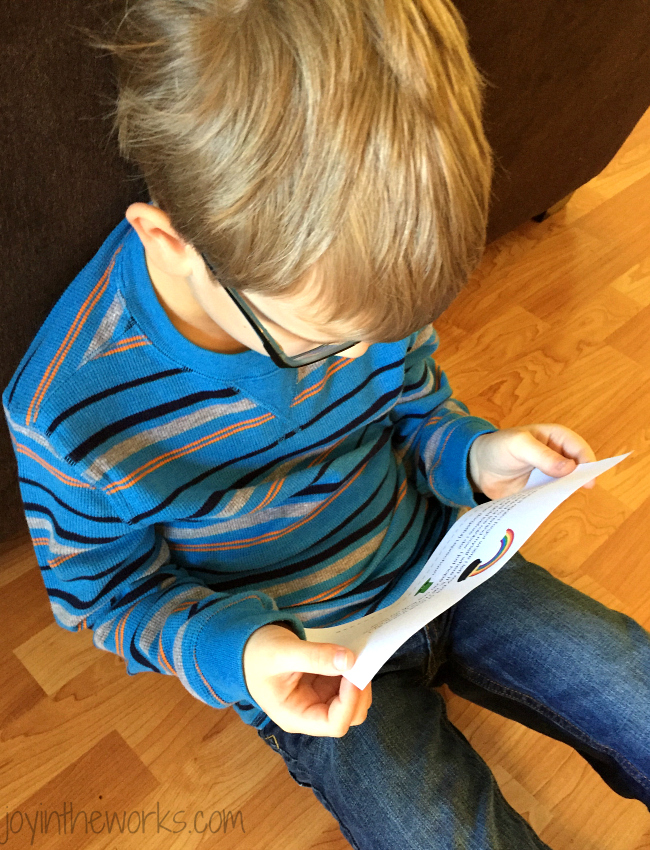 The kids loved following the clues all around the inside of the house until they discovered Lucky's pot of gold that he had hidden in the closet!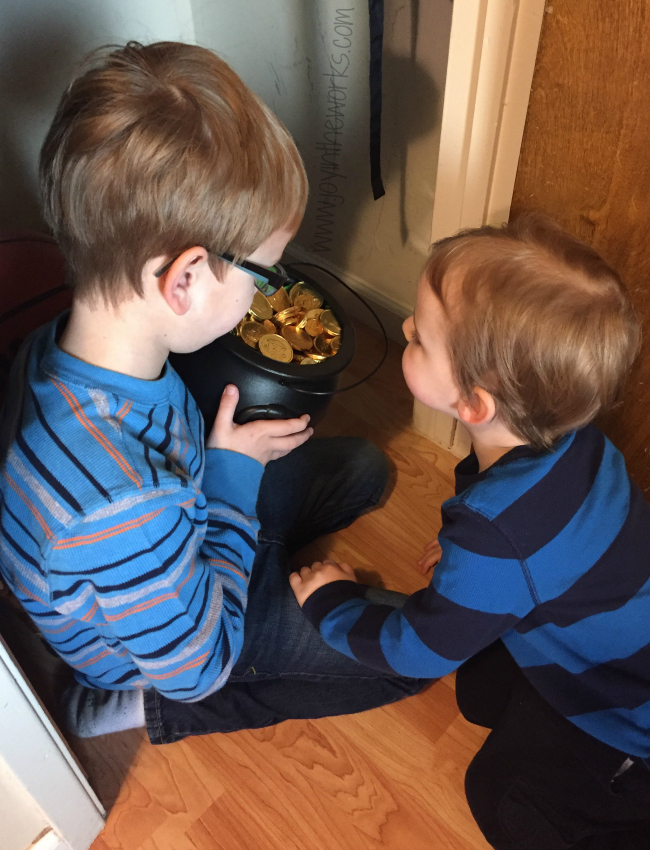 Of course, the gold was actually chocolate gold coins that we had to eat right away before Lucky found out! Don't worry we didn't eat them all, we shared some of our loot with our friends and neighbors. And while we don't have any chocolate left to share with you, we CAN share the printable St. Patrick's Day Scavenger Hunt with you! =) All you have to do is sign up below.
When you sign up, you will receive a copy of the scavenger hunt in your inbox. Print it out (regular paper is fine) and cut the clues apart. A tip: leave the first clue attached to the top story part as it will help them get started and know where to go first. Put the story note/1st clue where you know the kids will find it. If you are doing a Leprechaun trap, perhaps set it off and leave the note nearby. If you like, you can add some other other tricks and mess left behind by Lucky. Need ideas? This post from the Dating Divas has tons of great ideas about how to replicate the tricks of a Leprechaun.
The hiding places for the other clues are pretty obvious, but feel free to get creative within the constrains of the clue. For instance, if a clue says to check under the bed, get creative with which bed (a dog bed?) or where it is under the bed. If this is for older kids, make them search! It's good practice for them when they are looking for their lost shoe in the morning before school! ;)
The final clue sends you to find the pot of gold where you "keep the coats" We have a coat closet and a hall bench that could work. Get creative with hiding your pot of gold and don't forget to fill it with gold coins! You can find the pot of gold on Amazon, as well as a variety of types of chocolate coins.
Interested in doing more with the chocolate coins? Check out this post of easy games using gold coins for St. Patrick's Day! In the meantime, I hope your kids enjoy this simple St. Patrick's Day Scavenger Hunt and they find the pot of gold before Lucky remembers where he left it!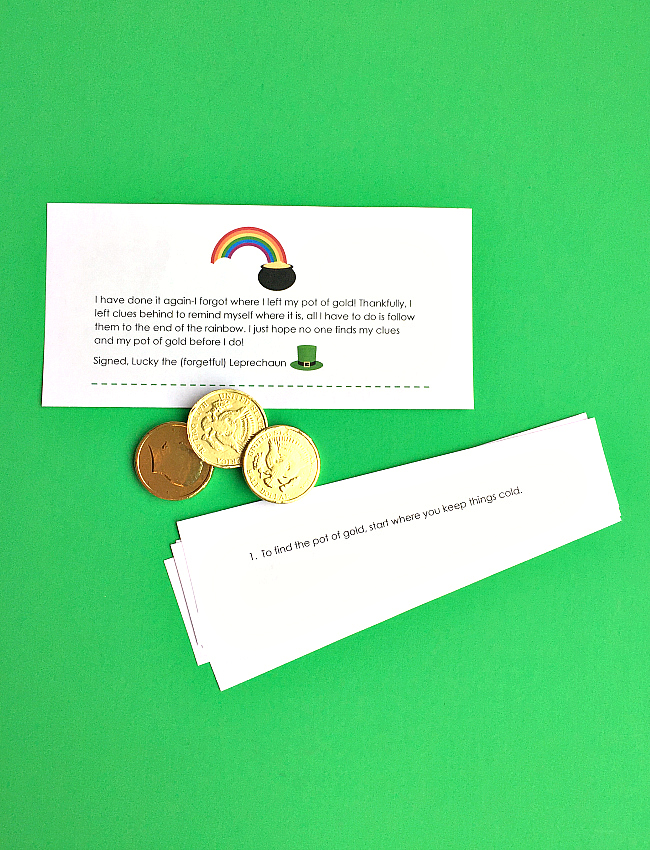 You can download your free printable St. Patrick's Day Scavenger Hunt below: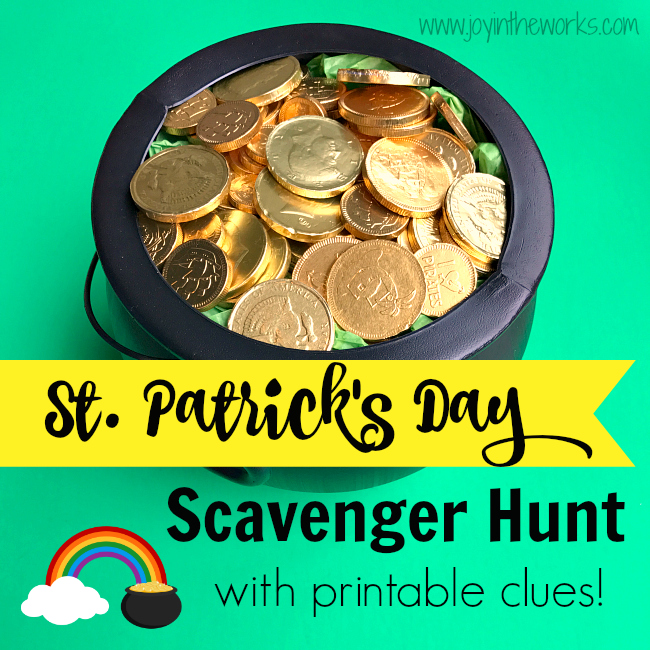 Save
Save
Save
Save
Save
Save
Save
Save
Save
Save
Save
Save
Save
Save