Have you ever noticed that one of the go-to strategies to help kids with behavior change or working toward a goal is using some sort of star chart or rewards based record system? It seems to be the standard in positive reinforcement for kids.  And no, they aren't always just for stars.  I have seen check lists and sticker charts and even ones with money, toys and treasures attached!  Which begs the question, how can moms get in on that action?  I want some of the goods too!  In fact, I firmly believe that moms should use be using something like star charts for themselves.
I confess I am an extremely imperfect mom. I yell too often, am impatient, forgetful and I am frequently late! I could go on and on about the things I want to work on improving as a mom and in other areas of my life. (Don't worry I can acknowledge that I am a pretty awesome mom too! ;) But the point is, I have lots of habits that I want to break.  I think if we are honest with ourselves, we all do.  That's why I think that Mommy needs a star chart too!
I know it might seem crazy that mommy has her own reward chart on the refrigerator next to the one that's rewarding Billy for not hitting his brother.  But, here is why I think it is important: first, kids need to see that mommies and daddies make mistakes, that they aren't perfect and that they too have areas that need improvement.  Seeing your parents as fallible, gives kids permission to admit they are the same.  There is so much pressure on children (and adults!) to be everything and do everything just right and I think we need to take a stand against that pressure.  As they say, change starts at home and I actually think something like a star chart for mommy can help.
When an adult comes out and puts a reward chart on the refrigerator with a behavior they want to change, it shows the child that not only do adults struggle just like kids, but they are willing to admit it too. What's even better is when the adult models making the effort to change that bad habit.  It shows that they won't simply accept the negative part of ourselves as something they are stuck with.  Putting up a chart on the wall shows that mommy is owning up to the behavior, taking responsibility for it and making an effort to change it.
Another, more obvious, benefit of having your own rewards chart for your whole family to see is the simple accountability it gives you.  If your kids and your spouse know you are trying to stop yelling as often or quit drinking diet coke or get more exercise, then they can help track your progress and encourage you in your attempt. In fact, my 6 year old and I worked together as a team today as he put stars on my chart every time I told him I was frustrated and angry  instead of raising my voice.  He acted so proud of me and knew that I was working hard to be a better mom to him. Here is my laughable attempt at a selfie with him after I got another star (just always keeping it real here at Joy in the Works!!)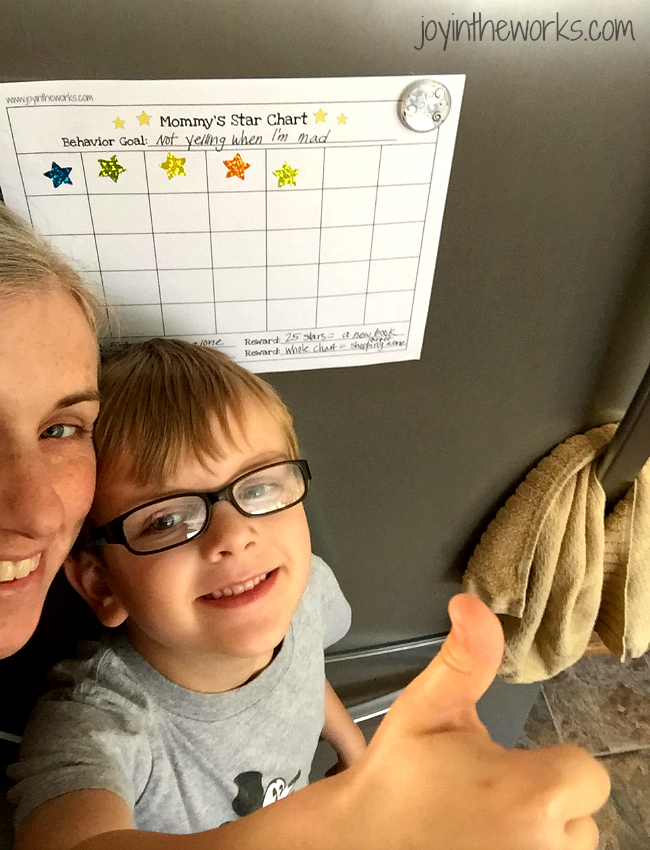 Being real and vulnerable with your family can actually bring you all closer together because if you let your kids encourage you in the process, it makes them feel like their voice matters, that they are a contributing member of your family.  And the honesty and communication you are modeling with your struggles sets the stage for everyone to be more honest with each other.  As your kids grow up and are faced with tough decisions and situations, you want them to feel like they can be honest with their struggles as well.
But at the end of the day, I think we all know what the best benefit of a star chart for mommy is- the rewards!  Don't forget, just like we do with our children, to set rewards for yourself along the way.  If you make it a week without diet coke (I think we all know what my next chart will be for!) then give yourself a reward.  It doesn't even have to be a big thing- how about just an hour "off", where you get to hide in your room to read that book that has been sitting on your nightstand for months now?  Or what about a run to Starbucks in the morning instead of your regular brewed coffee at home?  Get creative, but reward yourself!  Change is hard and every day, every good decision counts!
On my "yelling chart", I have set up some small rewards like a new book and time alone writing during the day without kid interruptions, but am most excited about the shopping trip when I fill my whole chart.  Home Goods and Target are in the same shopping center in my town.  Add a coffee in the mix and I am in heaven!  What kind of rewards would you set for yourself if you were working toward a behavior change?  What are some small or big ways that you can celebrate your accomplishments?
Or would you ever consider even doing a mommy star chart?  Do you think it is okay for your  kids to see that there are areas that you need to work on or do you feel like all of that should be private?  Remember I am talking about small tangible changes, like giving up sugar or being on time.  I think you should be honest about the big issues as well, just not necessarily with your kids! And I do want to remind you if you are working on a behavior like yelling, often times it can really help to talk to someone about why you are so angry.  And if that yelling is frequent or makes you feel out of control, please talk to your healthcare provider right away.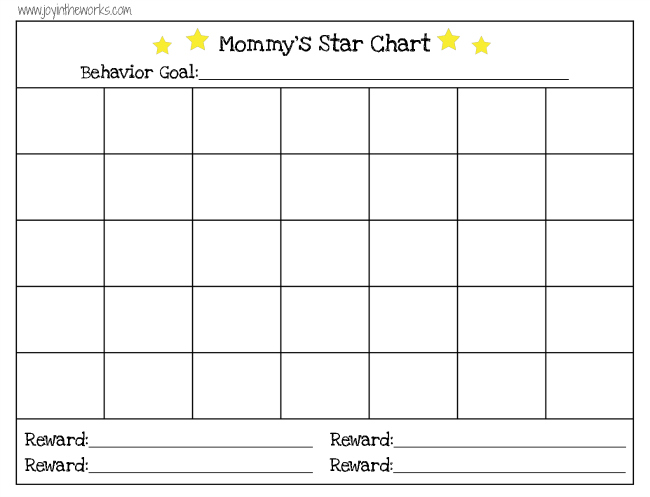 **To help you start working toward change, I have included a free printable "Mommy's Star Chart". You can fill in the behavior you would like to change at the top and set up your own rewards and goals at the bottom.  There are two printable options- one that is a monthly calendar where you are working on earning one sticker per day. Yay- a sticker! ;) The other simple chart is to mark down each time you make a better choice.  So I got 4 stars just today for keeping calm when the kids didn't listen to me when I asked them to do something.  Again.
Download the SIMPLE MOMMY STAR CHART
or the MONTHLY CALENDAR MOMMY STAR CHART
Let me know if you decide to work toward a change in your life- big or small.  I think moms could always use more encouragement.  Also, if you aren't a sticker chart kind of mom, I hear there are great apps now for this kind of system as well.  However, I don't think it has nearly the same benefits as sharing your efforts with your family as a mommy star chart does. But whatever gets us off that poisonous, yet amazingly delicious diet coke right?!