As you know I am always looking for ways to incorporate the kids into the holiday and give them fun, easy activities that keep them busy happy.  Plus, I am always looking for ideas that you can throw together with items around the house- I like to call myself a "fly-by-the-seat-of-your-pants crafter" ;) My best ideas come at the last minute- I think that's part of the personality of a teacher.  A teacher always has to be ready to come up with an activity at the last minute, to adjust and create in the moment, with whatever you have on hand.  And even though I am not in the classroom in the traditional sense right now, I totally believe that "once a teacher, always a teacher"!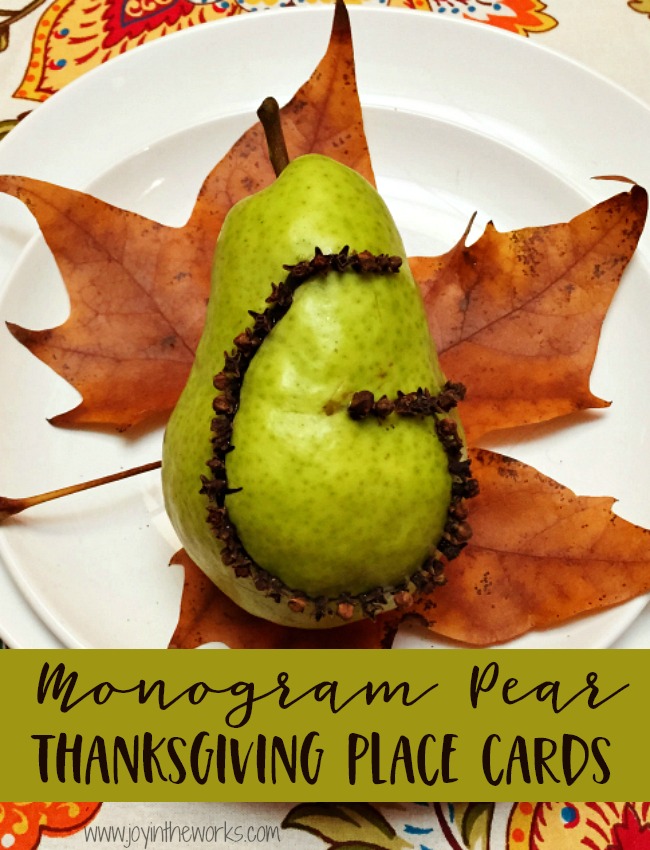 Anyway, the kids and I had fun creating pear monogram "place cards" for everyone at Thanksgiving dinner.  I think people usually associate cloves with oranges, but I think cloves are great anytime in the fall or winter.  We decided to use fragrant cloves to make these place cards.  Pears are a beautiful fruit and the soft texture is perfect for inserting cloves easily.
Supplies Needed:
-Pears
-Cloves
-Sharpie
-Band aids (or thimbles if you happen to have them on hand!)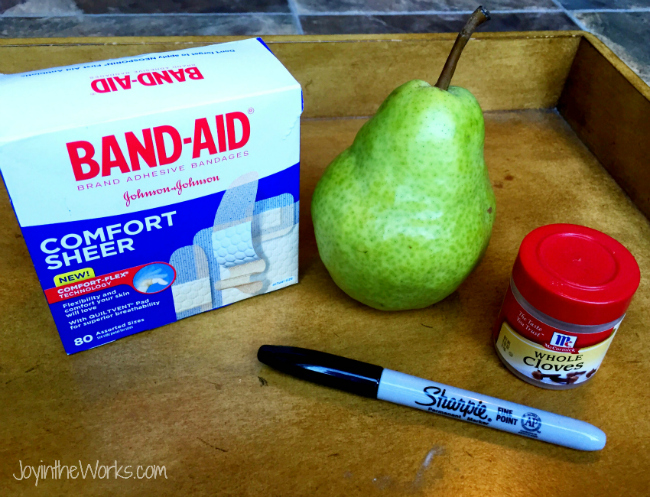 Instructions:
1. Using a sharpie, have the children write their first initial on the pear.  Help those who need it.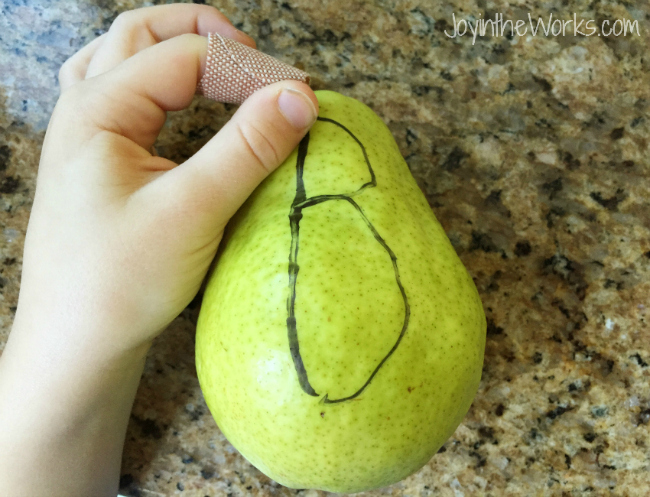 2. Put on a few band aids on the kid's fingers to protect their fingers from the sharp cloves.  If you happen to have thimbles on hand, even better, but as I said, I am all about whatever I have on hand!
3. Insert cloves, starting at one end of the letter and continue in the same direction.  Because the cloves are sharp, if you jump around where you put the cloves, it can scratch your hand. Also, I recommend putting the cloves close together for a bolder look, but you certainly could space them farther apart if desired.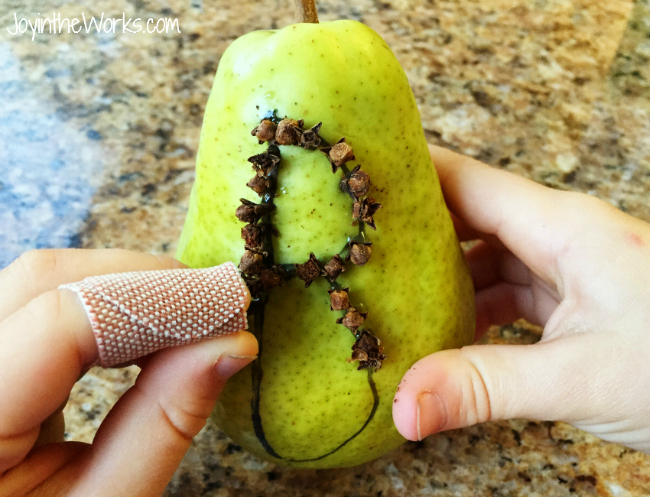 4.  Have the kids show off their handiwork and place the pears at each place setting. It's that easy!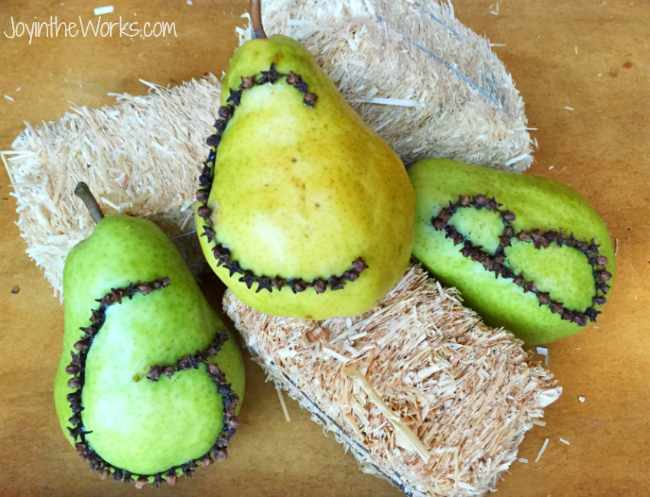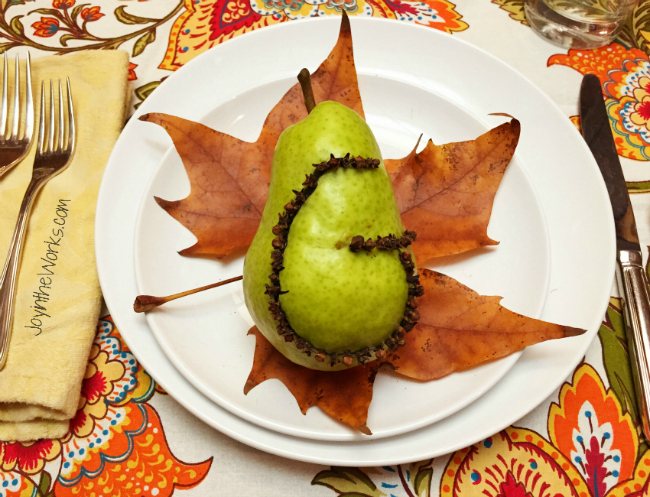 Variations:
-Use apples or another fruit instead of pears.
-Spell out a word or phrase like "Happy Thanksgiving" or "grateful" instead of using them as place cards.
-For the younger children and toddlers, draw or print out a pear shape on light green construction paper or card stock.  Cut them out and draw the outline of the first letter of the children's names.  Give each child a brown marker and show them how to make dots inside the letter.  It has a similar look to the cloves and then they get their own version of the monogrammed pear!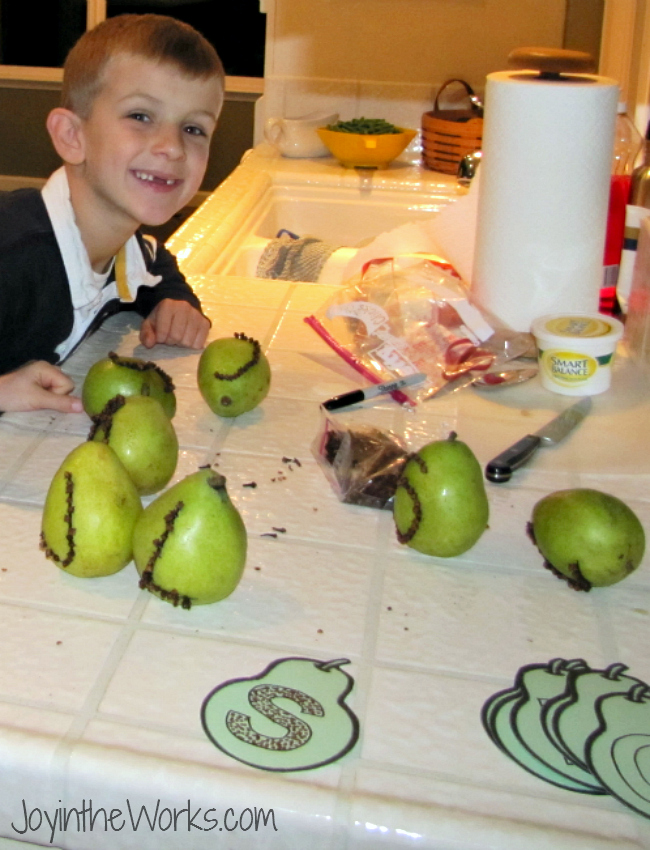 What about you?  Have you ever worked with cloves before? Can you think of any other variations to this project (that don't require a lot of work ahead of time, of course!!) or do you have any other kid crafts for place cards?  Please share your ideas below and have a Happy Thanksgiving!